Fishing Guide Erik from Nordic Sea Angling has sent us a fantastic report of a weeks fishing holiday with his family to Vesterålen one of our most family friendly destinations in the whole of Norway.
It is an excellent account of his weeks stay and by the looks of it the whole family absolutely loved it and I am sure they will want to return soon. If you would like to book a weeks fishing with friends or family then call us and we can talk through our packages on offer. The office phone number is 01603 407596. I will hand you over to Erik now and enjoy:
FISHING REPORT
Many months of waiting were over. At last we were in place at Vesterålen. I myself have been to Vesterålen several times before and I knew what was waiting but the family with my Mother, Thomas and my dear girlfriend, Karina have never been. The first glimpses of the Cabins were striking and the feeling of luxury when you stepped into the cabin spread in the family. Immediately, rods, baits and equipment began to be prepared while a couple of fat steaks were on the grill and a few cold ones became opened. Vacation at work, very different but felt really good. Everyone was very tired after the long drive and the first night sleep went very quick.
We Set course for the nearest Halibut grounds in the morning, only a dozen minutes from camp. Halibut was the main objective of all three family members and the big question mark was; Are we going to have any halibut? I myself knew that the chance was good but didn't dare to promise anything, fishing is fishing and Halibut could be happy.. However, it wasn't long before Thomas moaned to the fact that his rod was bent against the surface of the water and the reel just screamed! Nor did it stop screaming, but the fish rushed long and heavy from the boat. Quickly, we reeled all the gear in, and we went after the Halibut.
The fight started to hurt Thomas's forearm and the fight was brutal, even in my eyes. An angry and cranky fish at the other end of the line did everything to tire out Thomas and he tried all the means to tire back. Finally, the fish came from the bottom and gave up the fight and we were able to secure a fantastic Halibut of 158 cm.. A start on the fishing we could never dream of. First fish, first Halibut and 158 cm estimated at around 55 Kilo Amazing!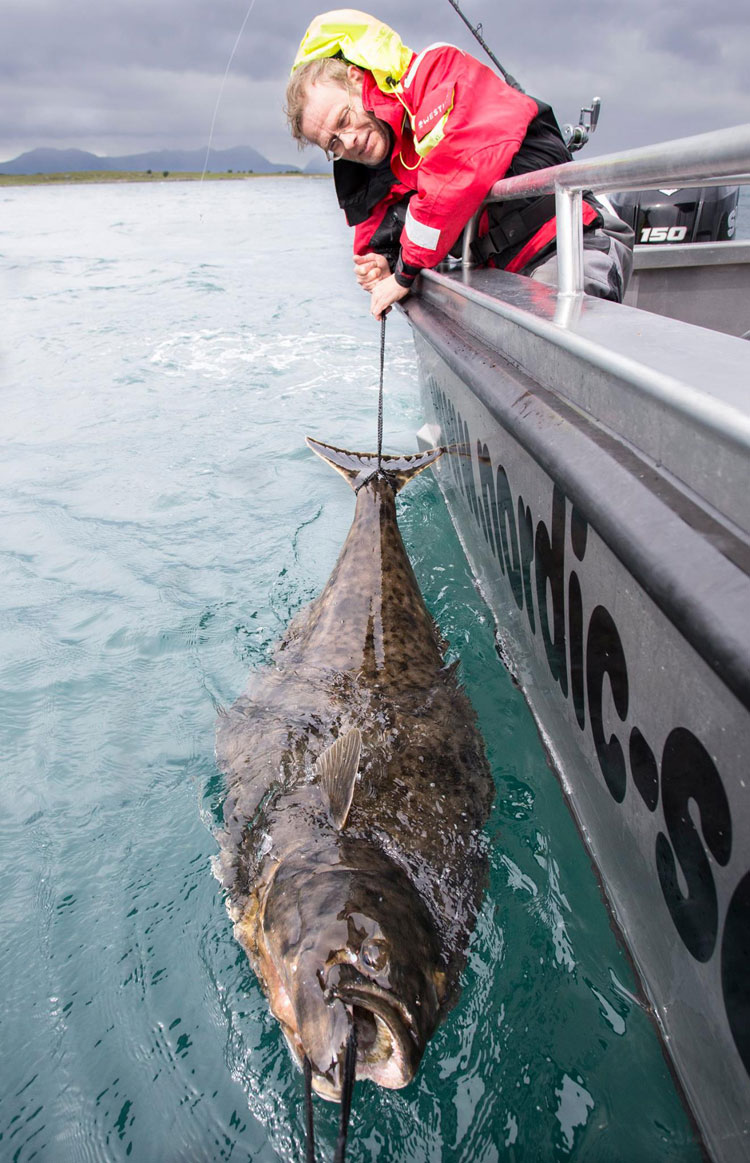 We started a new drift and Thomas presented his jig in a very good way and smack the next fish was on. Once again a heavy rush and I began to imagine another good fish. After driving over 100 yards in search of the fish, Thomas had the command and the fish had quite quickly seen defeat. However, it was anything but small and Thomas could add a 130 cm long Halibut estimated at around 34 Kilos to his CV. Now it was just too good to be true and the family had clearly hit a huge high already on the first day. We felt pretty happy after a couple of Halibut so we pulled out into the Eidsfjorden to try some deeper fishing.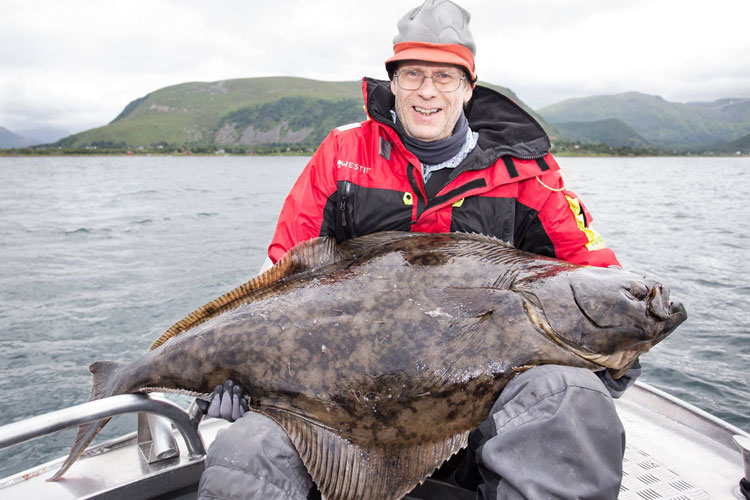 Redfish, Whiting and Cod were the result of a couple of hours of fishing before we headed for port and felt very pleased with the first day. Christian the guide showed very carefully where we were going to fish and Monday's goals were set. Cod and Ling, but who would have guessed what was waiting for us.. 4 other boats joined us on the journey in the weak winds, radiant sun and a rolling swell. Once on the spot we met exactly what Christian had described, huge amounts of bait and hunted predators just under there.
Drift after drift we had bent rods and we caught several really nice Ling both on bait and jigs before me and my mum got a good one double hook up. Mum was puffing and moans and I tried to keep the face but feel how heavy it is.. Fighting mine hard to get it in before my mums so I can help her land what looked like a good fish. When mine was landed it was measured at 159cm…. and Mum was still playing hers.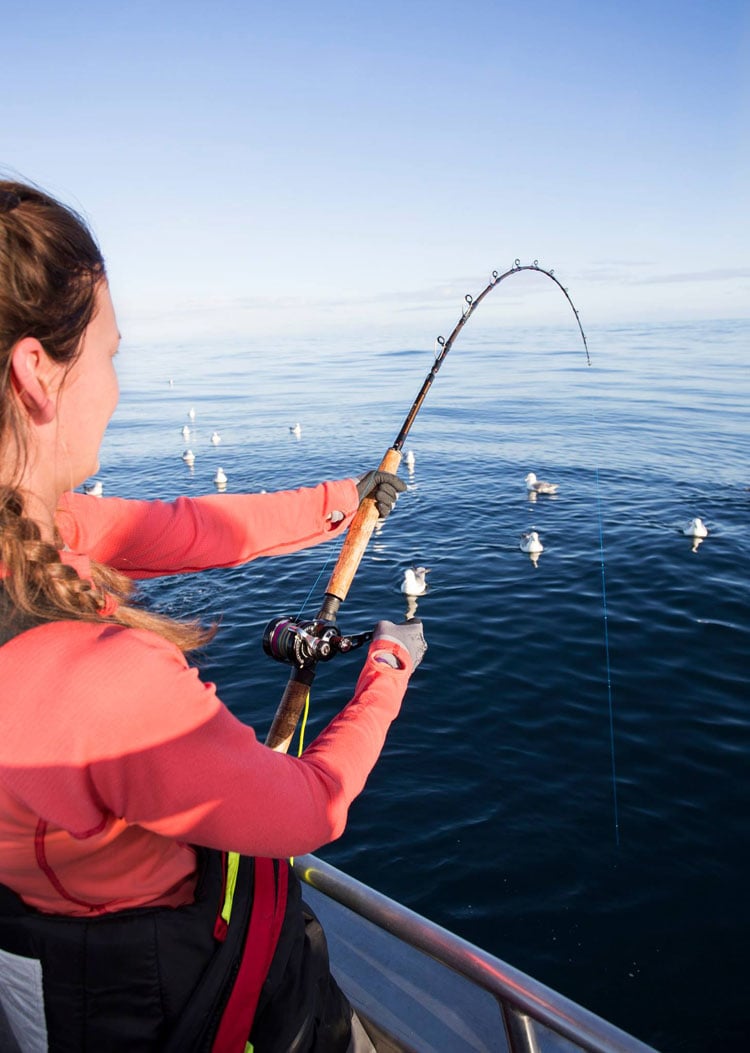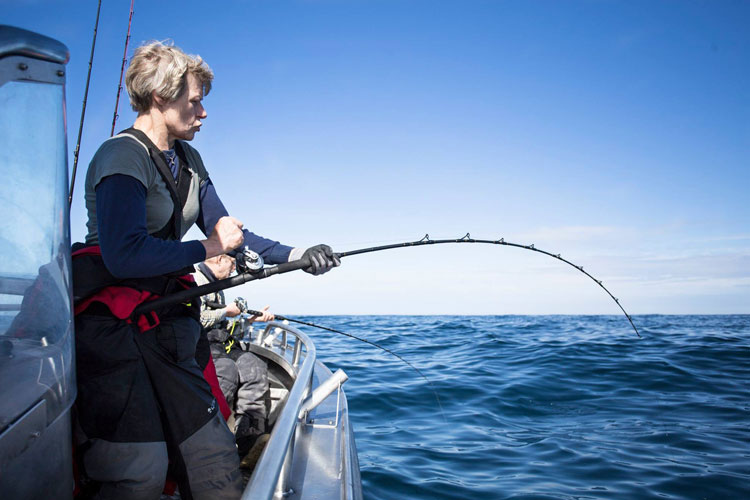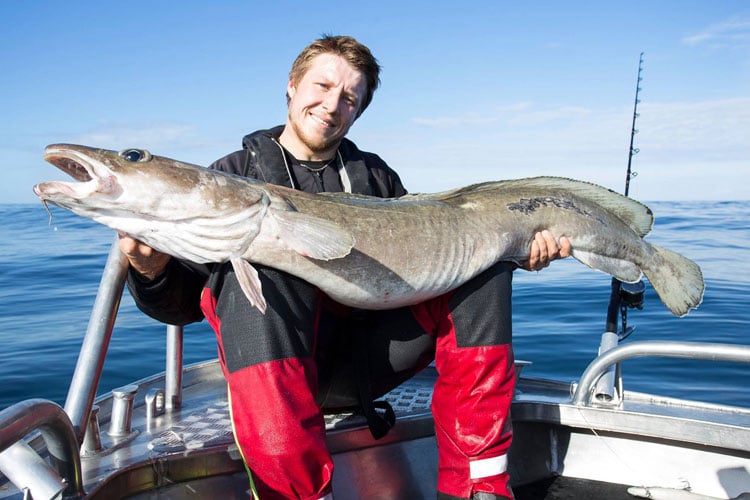 When her Ling broke the surface, we all shouted out, it was huge! With a whole 172 cm and weighed back on land after a number of hours, the scales show a total of 28,8 kg. Not only was her Ling 4,8 Kilos bigger than mine, it was also 1,8 Kilo heavier than the former NSA record, and so now my mother is sitting on the throne with her record Ling!!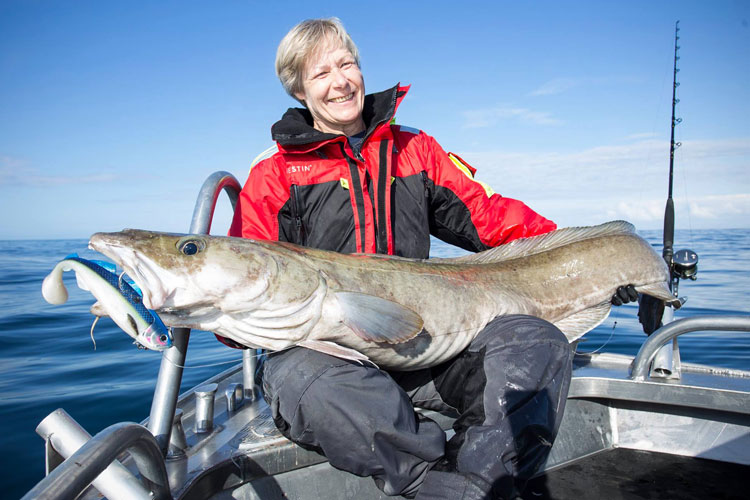 After catching another bunch of huge Cod around 15 kg and a couple of big Coalfish around 10-13 kg, we suddenly hear over the radio that the "Dödsmetall boat", a happy bunch had hooked a large looking Halibut. They say a little later that the Halibut has been secured and a magnificent fish of 172 cm is located at the boat. So we went to look and take some pictures. With this fish, the day ended and we all headed back to camp with a new record, so well done Mother.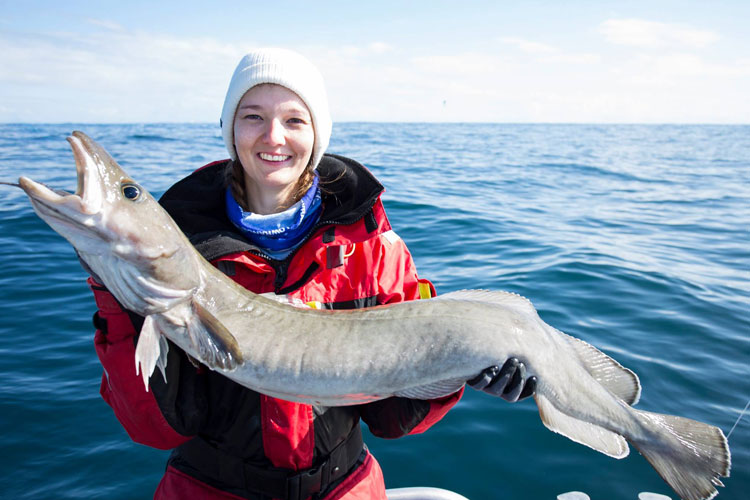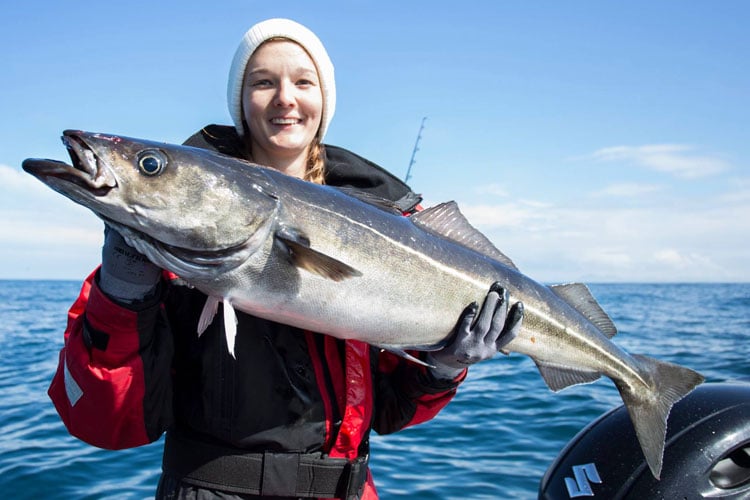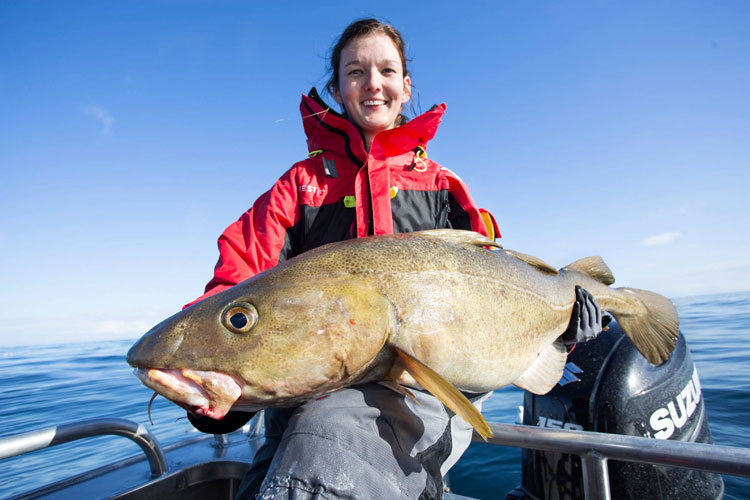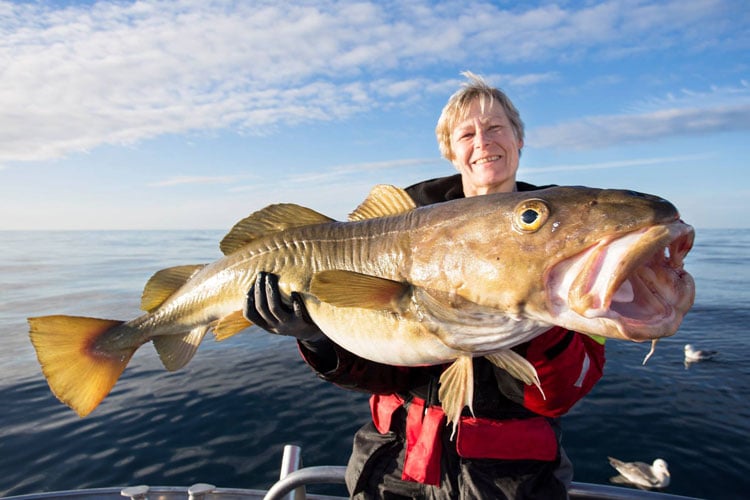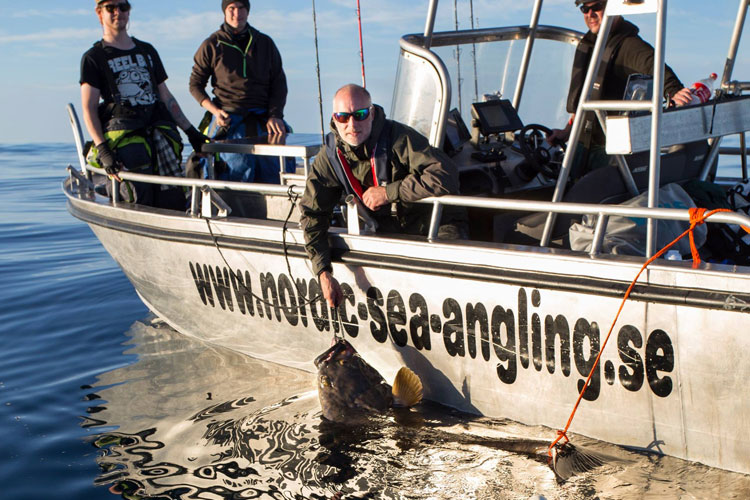 Vesterålen has once again shown itself from its best side and is indeed a fishing paradise for all! With its comfortable atmosphere around the camp and the high standard, this is perfect for families where you can almost always find nice fishing areas near the camp. It should be added that my family only tried fishing a few trips before but never during a wholehearted effort like this. However, I am quite sure that this is not the last time they want a holiday in Norway.
Thank you and tight lines
Holiday-Erik.
Thanks Erik that is a great read and we at Sportquest would love to congratulate your mum on her new NSA record. We strongly recommend this destination in North Norway for both fishing friends and whole families, you will be disappointed.
To view the full details of this destination in North Norway CLICK HERE
To view ALL our SEA fishing blogs CLICK HERE
Tight lines
Paul