This report from Farquhar in the Seychelles has just landed at Sportquest Holidays towers and the fishing looks to be out of this world. Grab a cup of tea and take a couple of minutes to read this write up and I am sure you will soon be dreaming of visiting there in the near future.
This week on Farquhar we welcomed back our great group of friends from Austria. This week started with morning neap tides which progressed to midday springs towards the end of the six days of fishing. The weather was perfect for 4 of the 6 days with clear skies, lots of sunlight and a light breeze which kept us from getting too hot on the flats. The wind picked up the tempo for the last couple of days and made the opportunities a little more challenging. The fish were out and about and plentiful this week, with the GTs being present in good numbers on the flats.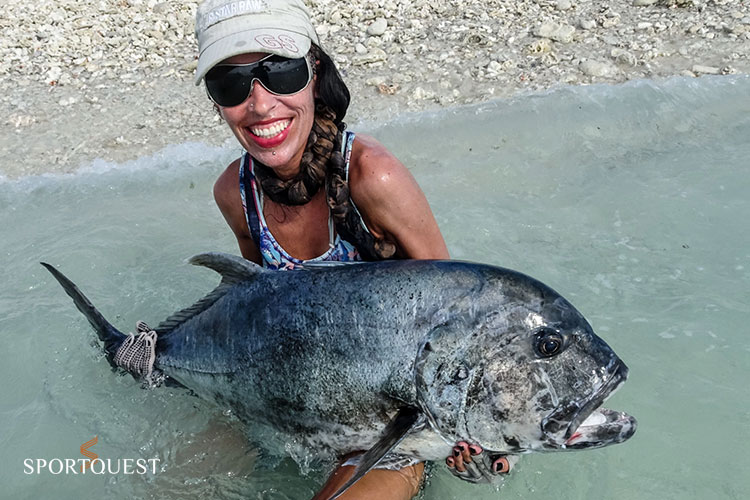 The duo of Marko and Thomas started their week off with 3 GTs landed, one of which was an incredible fish of 128cm! The fish was landed by Marko, it was spotted with another fish of a similar size late into a slow pushing tide; Marko made a great cast, started to retrieve the fly but lost his footing while standing on the boat. He jumped out the boat, somehow managed to land on his feet and hooked the fish. The fish tore off at a rate of knots towards a large group of coral bommies, fortunately with some quick thinking by Matthieu his guide they managed to free the line from the coral and eventually after a long fight the fish was landed! Thomas landed numerous GTs this week, some big bones and a jumbo-sized Golden Trevally.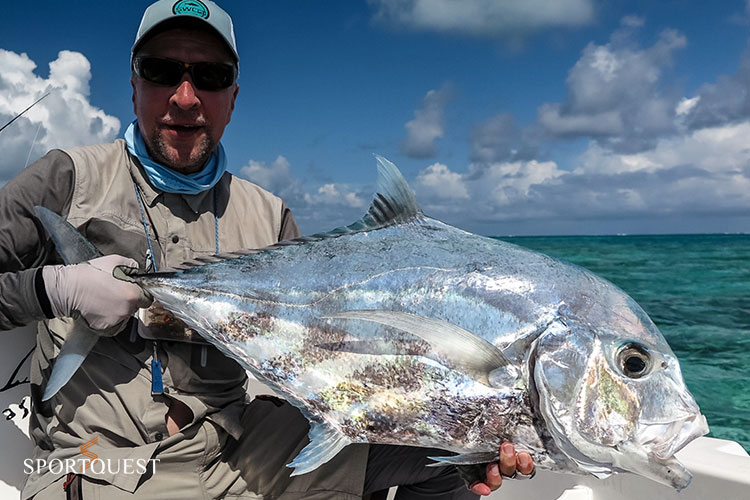 First timers to the Seychelles and Farquhar Atoll Christian and Helmut were treated to some fantastic fishing with numerous Bonefish landed. Christian managed to land his first GT on the fly with a very respectable fish of 98cm. He also managed to hook and land a large Barracuda, a Golden Trevally, Bluefin Trevally, Sailfish as well as a massive Indian Mirror fish which is a very rare and special catch.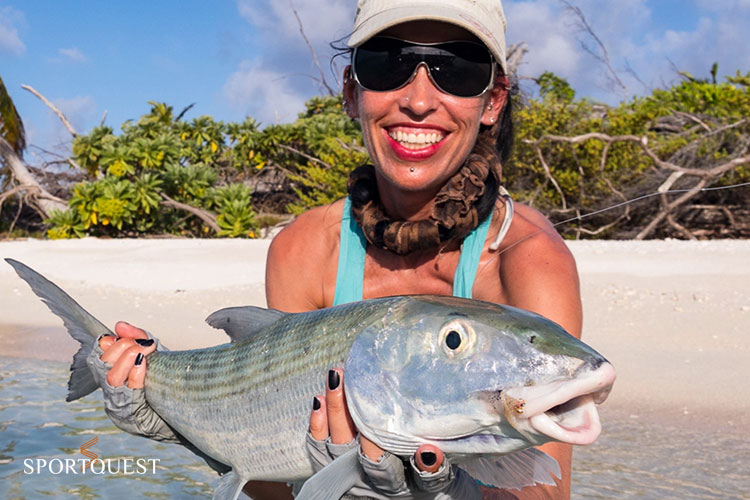 Also, first timers to the flats of Farquhar were couple Sophie and Stefan. They started their week in style with a GT hooked and landed with Stefan's very first cast of the trip! Stefan had a good week landing 2 GTs, lots of bonefish, countless groupers – of which one a giant Goliath Grouper and a couple of very decent Bluefin Trevally. Sophie managed to hook and land (amongst others!) two very special fish; a large bonefish of 68cm and on the last afternoon of the trip she managed a monster GT measuring out at 114cm, what a way to end her trip and land her first ever GT on the fly.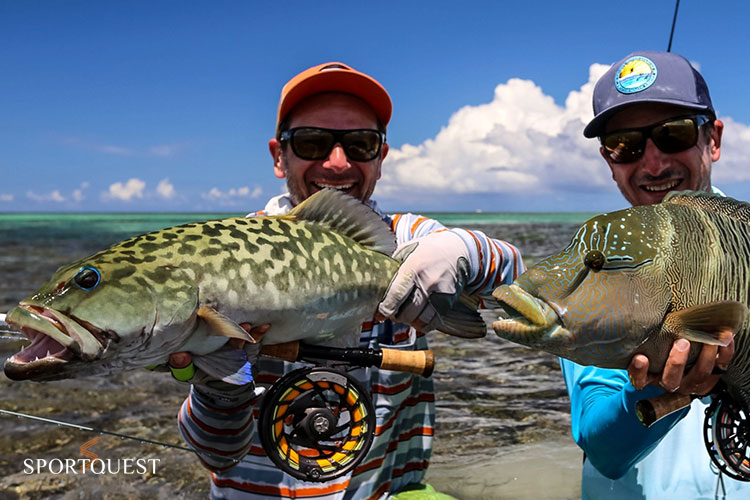 Alex and Stefan both managed to bag some incredible groupers, Boha Snappers, Napoleon Wrasse as well as a couple GTs a piece. In total, we hooked 40 GTs as a group and land 27. We saw a good number of larger fish on the flats which is a positive sign for the weeks to come. The Trigger fishing was tough this week, sadly none of the 4 we did hook coming to hand. The Bumphead Parrots also proved difficult, but we still managed to land two of the five hooked – one apiece for Alex and Micheal; this was Michael's first Bumphead on fly which made it extra special.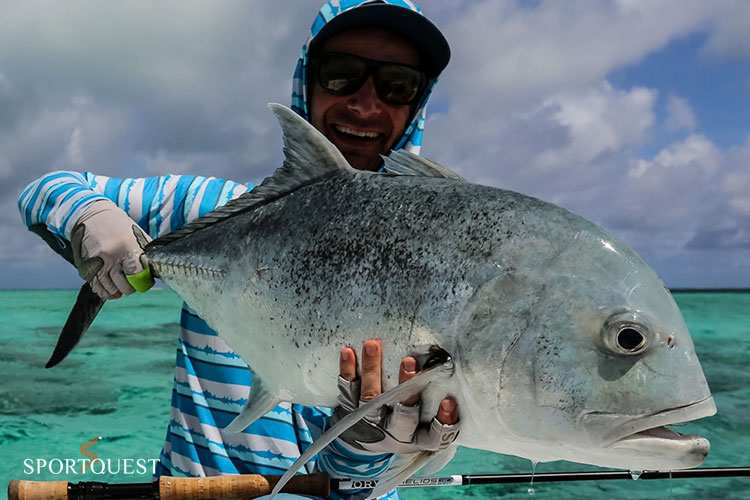 The Bluewater fishing was great and we managed to hook 5 Sailfish, landing 2, one for Waltraud and one for Christian. A couple of Yellowfin  Tuna were about which made us all very grateful at dinner time! The Grouper fishing this week was something to take note of as not only did we catch good numbers of fish we also caught exceptionally large Groupers, Boha Snappers and Napoleon Wrasse.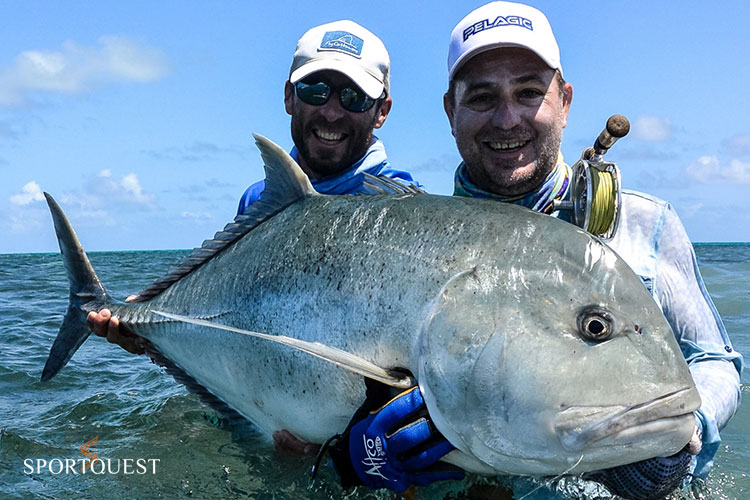 This was really a great week with special fish caught every day. We look forward to seeing our friends Fly Fishing again next year. Till next week, tight lines.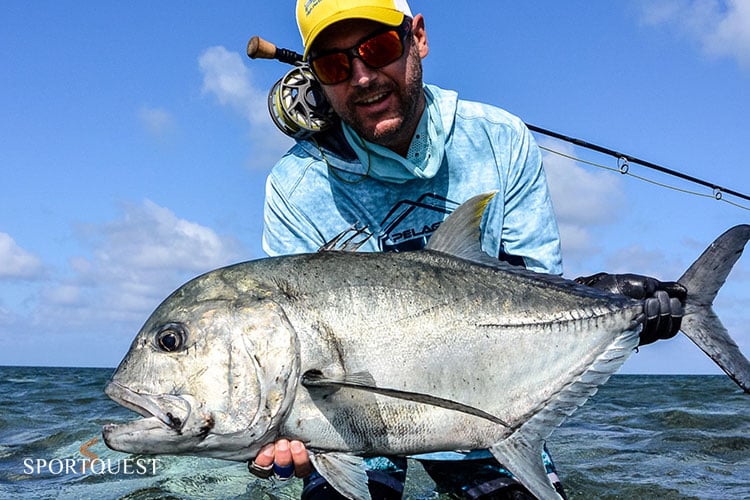 The Farquhar Guide Team
Wow, the fishing on Farquhar never ever fails to disappoint.
If this report has whetted your appetite and you wish to sample the exquisite fishing on offer there then what are you waiting for? Get booked up for either of our 2019 or 2020 Farquhar Fishing trips and you could soon be enjoying the delights of Farquhar Atoll.
Tight lines
Jonny