Farquhar Fishing Report Seychelles 02 to 09 March and after a productive week of preparations it was time for our first group of 10 customers to arrive on Farquhar. The group, who has travelled and fished with us multiple times, was obviously eager to get stuck into the incredible fishing Farquhar has to offer.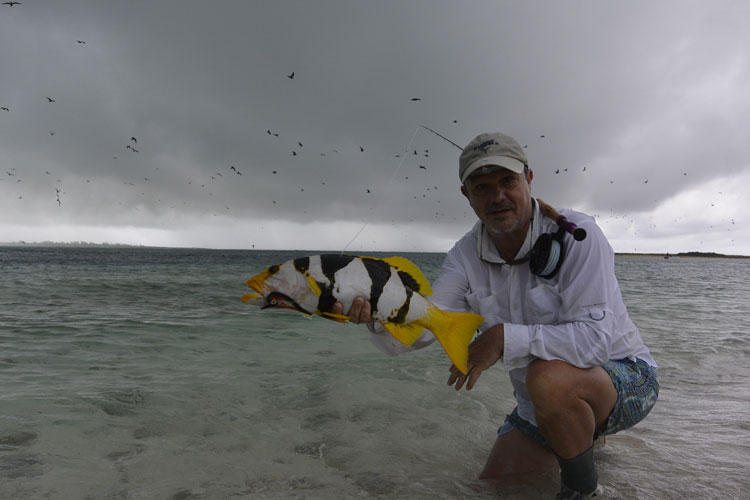 Sadly however the weather did not seem to get memo about our group's arrival and they had to battle some very overcast conditions and the odd rainsquall throughout their week. This made sight fishing tougher than normal, which was frustrating indeed as there were clearly some good fish around. There was however some really good Triggerfish fishing to be had, the fact that they were tailing in ankle deep-water allowing the classic walk and stalk everyone loves so dearly. A special mention must go out to Alberto for landing his first ever Giant Triggerfish and the first one for the season. Certainly one of the toughest fish to land on the flats, it will certainly not be forgot in a hurry.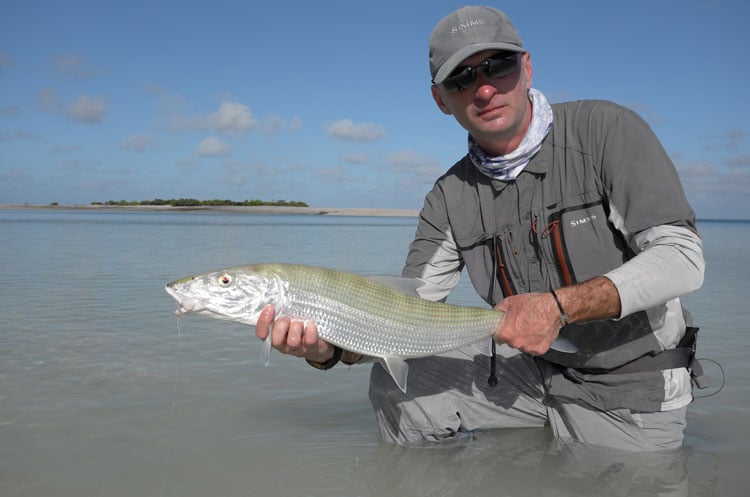 There were good numbers of GT's prowling the flats this week, unfortunately the conditions making it difficult for our customers to capitalize. Nonetheless they all stuck at it and were rewarded with some great fish, including Jean's first ever GT on the flats as well as Louis massive 118 cm fish! The benchmark has therefore been set very high and it's going to take a special fish to match or top this brute of a GT during the next 3 months.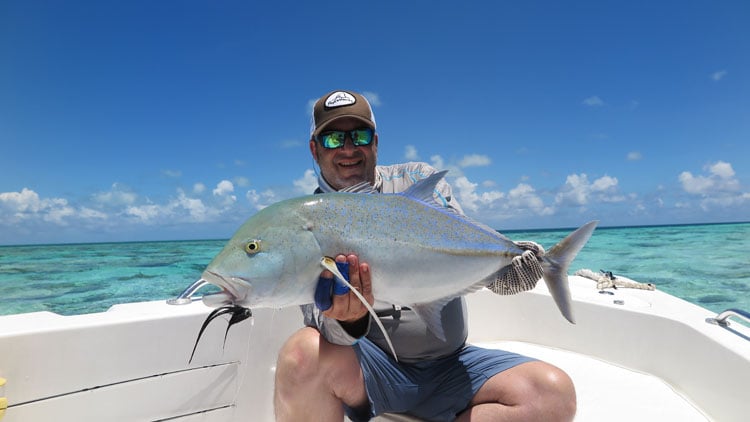 The cool weather did allow for some pretty spectacular Bonefish fishing, with shoals of these iconic game fish tailing over both the turtle grass and pure white sand flats. Our group took full advantage and racked up some really good fish as well as numbers throughout their trip. These in addition with some great Bluefin Trevally, Snapper, Grouper and a highly prized Napoleon Wrasse made up the bulk of the flats species landed.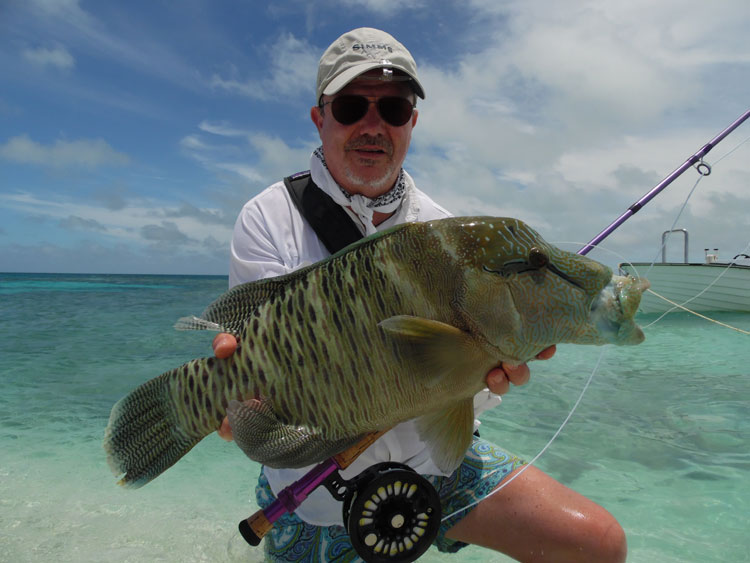 Farquhar does however offer some great offshore fishing at its disposal and so with the tough conditions on the flats the decision was made to go offshore during certain periods. Two Sailfish came out which is terrific considering it's not really the season, both fish being tagged before swimming away strongly. In addition to these fine fish, good offshore catches of GT's, Yellowfin Tuna, Wahoo, Barracuda, together with a 35kg Dogtooth Tuna rounded up the action.
It is weeks like this when conditions are not favorable just goes to show how good and diverse the opportunities are. For by changing things up and working with the conditions everyone returns home with lots of action and fish captures to their name.
I am personally so looking forward in hosting my first trip out to Farquhar in Oct 2017. As a self confessed GT and Triggerfish addict I just cannot wait, we have the full camp on my trips, so if you would like to join me in 2017 contact me in the office on 01603 407596
Regards Peter Collingsworth