Being in this line of work there are certain places that I would love to travel to and one day I am sure I will get there. The place that is on my radar at the moment is the Andaman Islands; it truly does offer the angler everything he or she could ask for.
If you are in to your light jigging, heavy popper work or any other lure fishing then the Andaman Islands will fit you perfectly. Take a look at this excellent report from our fishing guides based in Andaman and if you fancy ticking such a place of your bucket list then get in touch with us on 01603 407596.
Don't worry if you are a single angler as we have some prime weeks based around single anglers, we will build the group of mainly UK anglers that way you will not have to worry about any supplements. These weeks will be at the bottom of this report:
FISHING REPORT
Last season Andrea and Luca were in the Andaman fishing with us and had a great trip, so this season they booked the Rampage with Pietro and Carlo. They arrived a day earlier to avoid any hassle with the permissions on a Sunday arrival and decided to do an extra day's fishing as well, so we were more than happy to get out on the boat asap. And this is when it all started.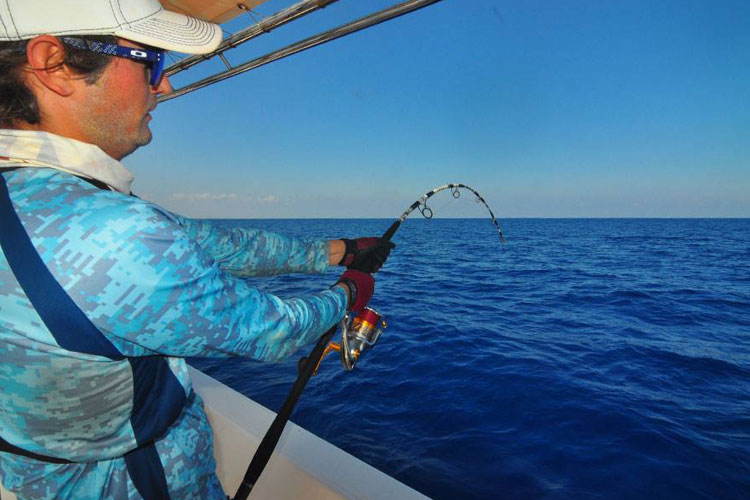 On day one we fished one of our closer spots, as we expected the prime spots to fire closer to the new moon. On getting to the spot we had some decent action on top water, landing some GT in the 18-20 kilo range, with the smaller lures getting hammered. Carlo, whom we shall name "jigging master," was, at 61 years of age, getting a taste of GT fishing for the first time and wanted to jig as much as he could. We started jigging and the action started non stop till we had to call it a day, with the light jigging really producing on the GT and Dogtooth.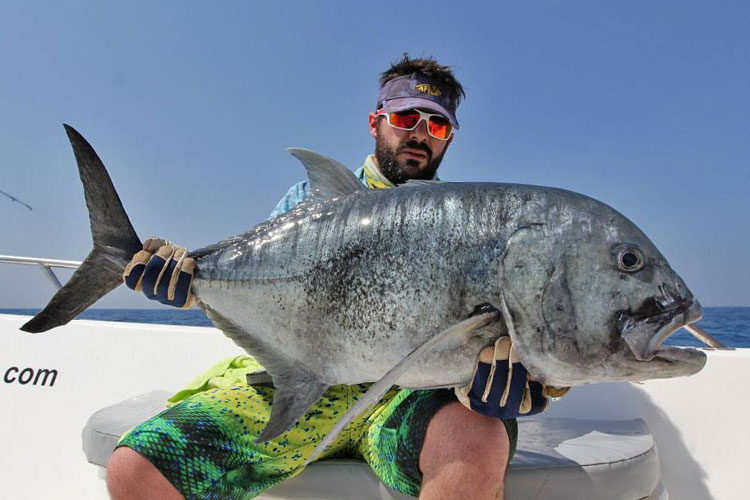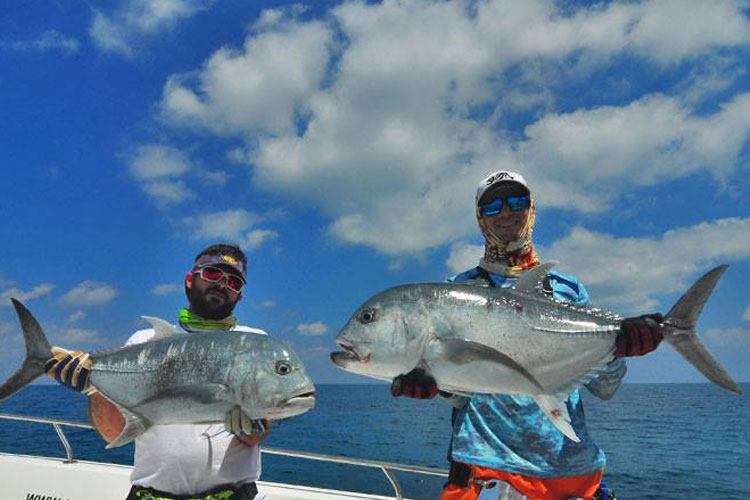 The next day we were off with an early start. Pietro's first cast got slammed by a good GT, which he got on board after a good fight, only to find his big Shout Kudako hook opened! Boy, do the GT's have some brute strength or what?! The guys landed some big barracuda on topwater as well as what looked like small crocodiles and we got a couple of really big hits from some real monsters but they did not fully commit to taking the lure. Andrea had a huge take and the line screamed off the reel under the heavy drag, but the big boys refused to stay hooked.
The guys were up to the mark on their tackle – they all had Daiwa Saltiga Dogfights and Shimano Stella's loaded with PE 10 & 12 and were not unwilling to nearly lock up the drags. This was just what we were looking for to fish a spot we have always liked for big fish in deeper water. There was a lot of surface action with baitfish fleeing and Garfish chasing all round – always a good sign that something mean and big is lurking. We were quickly rewarded with strikes from two nice fish; one came off and Carlo landed a nice GT in the 25 kg weight range.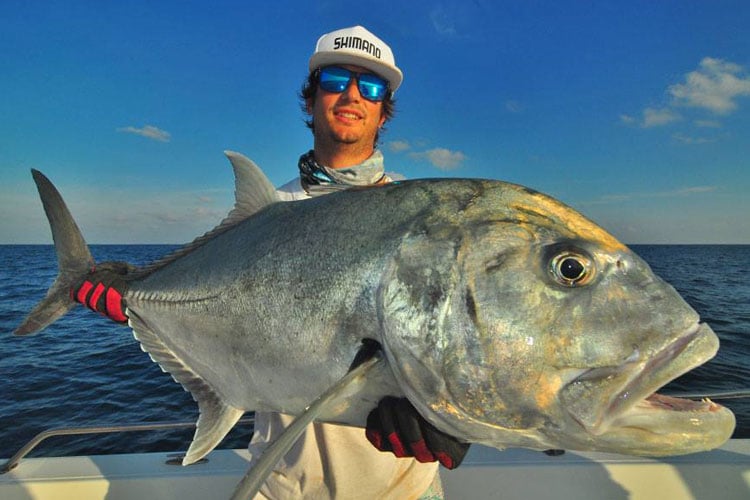 Moving to another deep spot we had a couple of smaller fish to start the action, from among a school of nervous fusiliers continuing further on the drift. Luca, who we dubbed the Iron Man for his ability to cast all day with big chuggers – almost like a robot – had his big Alles popper smashed and with the near locked drag, the Tokara rod doubled over and a great fight started with Luca finally coming out tops with the biggest GT he has ever landed; a great fish estimated at 41 kilos. Next up was Pietro who had just changed to a Fisherman popper and on his first cast with it, on the third pop, we saw a GT in the 35-40 kilo range come clean out of the water and smash the lure and literally hook itself and take off in the other direction. Pietro managed to get the fish under control only for the line to go slack and for a very disappointed angler to realize that his Gamakatsu GT recorder 8/0 was broken off clean.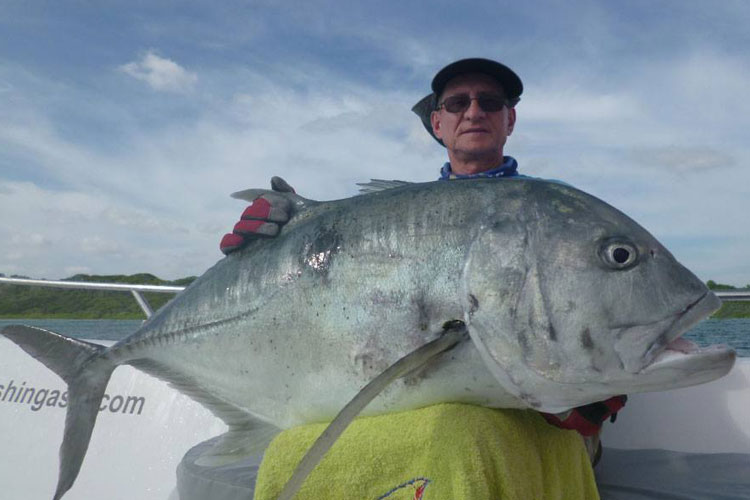 We then moved to one of our new jigging spots and were again immediately into the action with GT, Yellow Fin Trevally and Rusty Jobfish, coming in multiple hook-ups. The conditions looked perfect for a big dogtooth but unfortunately only a few puppies showed up.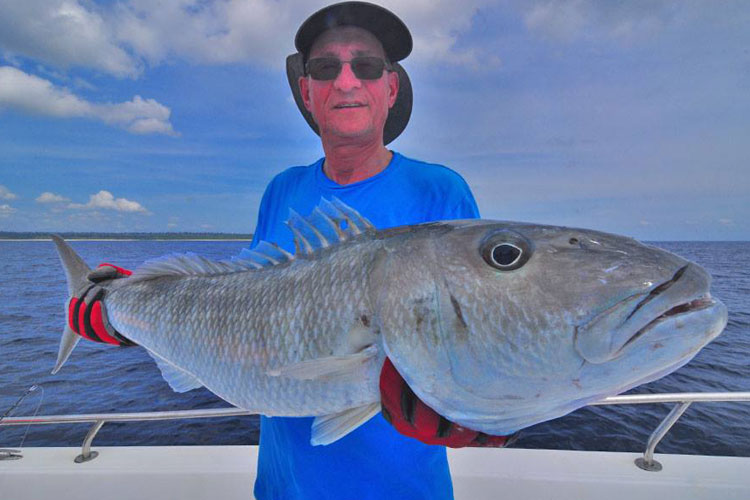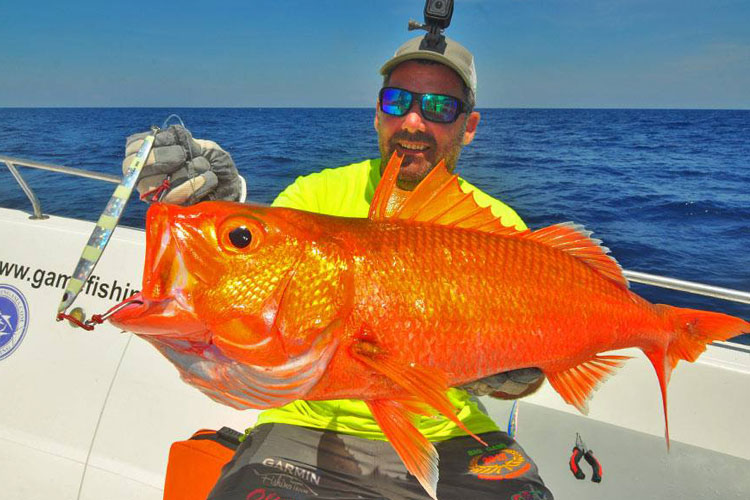 Carlo turned out to be a very good jigger, out fishing all the other anglers, so we decided to spend most of one day jigging. Kantha, our skipper, who likes every fishing style fast told Carlo to speed up the jig action to which Carlo replied that he would continue to jig in his style and proved Kantha wrong by landing fish after fish. There was a lot of amusement on the boat as the older anglers hooked fish after fish and the younger ones dropped fish after fish. We got some good Grouper, Ruby Snapper, Dogtooth, a massive green Jobfish and even Amberjack in some really good sessions through the day.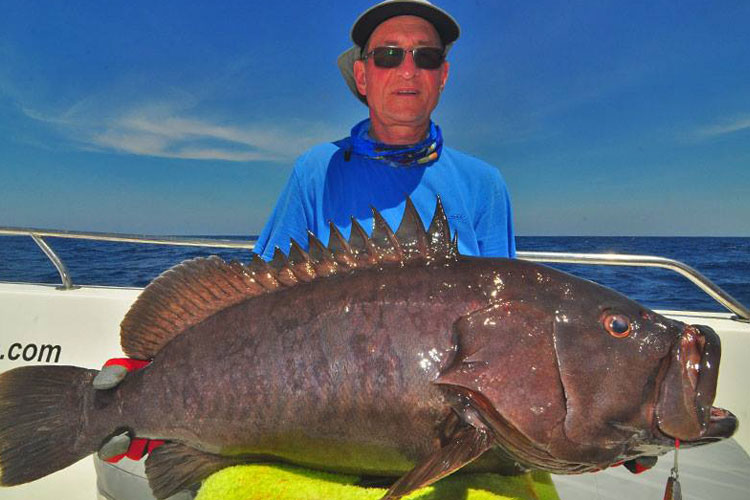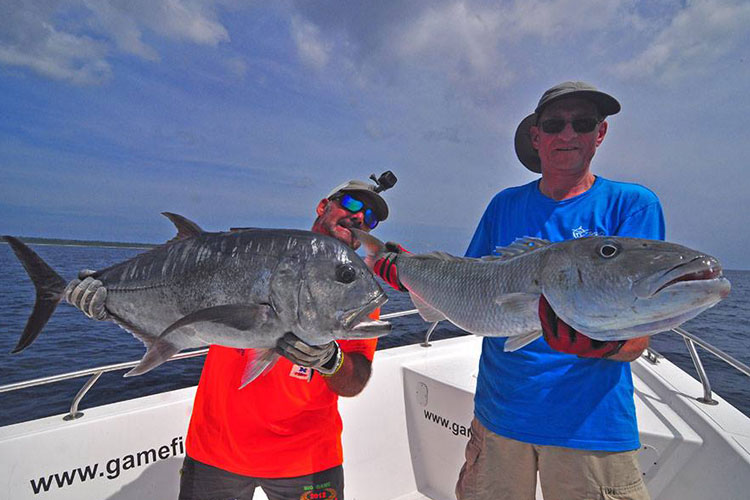 Sticking to best times for maximum top-water activity, we really nailed it with some great fish in the 25 to 30 kilo and some crazy bust offs, missed strikes and dropped fish, much to the anglers' disappointment. However, the spirit of the guys was great and they keep at it unflinchingly. Andrea had an awesome strike on his Patriot Design popper that was dragged from one side of the boat to the other twice before the 12 line burst at the PR knot and left him flat on his back on the deck.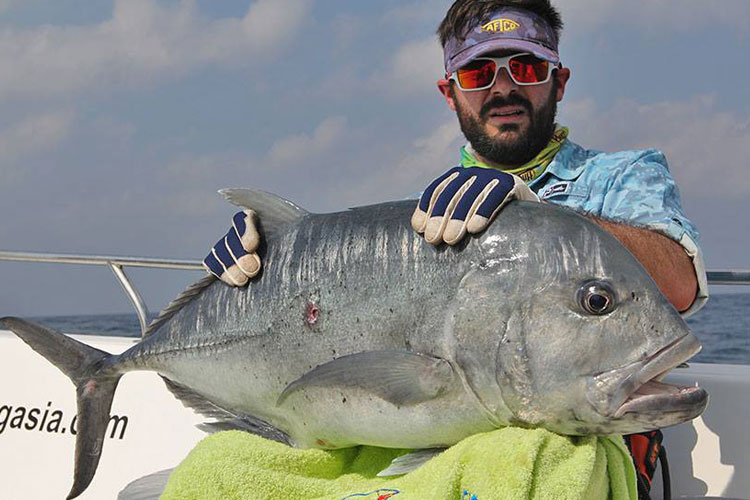 The crazy action continued on another deeper reef with all four anglers having one hit after another in, with really big fish, in the space of a few minutes. We lost every one, with was really disappointing, till Pietro had a great bite casting from up front. He shouted "big one" and we thought he lost the fish as he reeled and the line did not scream off but the fish swam to the boat and then once it felt the pressure it took off in no uncertain terms, screaming off over 50 meters of line and dragging Pietro to the back of the boat, we guided Pietro through the fight and moved the boat to give him the best fighting position and 8 minutes later we boated the biggest GT of the season so far – a really thick beast of a GT estimated in the 45 kilo range.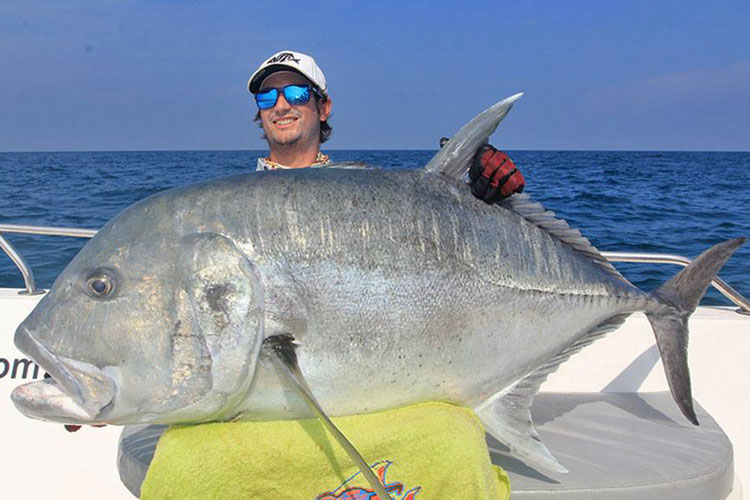 Moving to another spot Carlo the jigging master, silently working the Patriot design lure from the back of the boat, had a great take and the line screamed off. Andrea immediately shouted Doggy and we managed to boat a great dogtooth a few minutes later. Heading back to Port Blair to end the trip, Pietro asked if we could pop for a few minutes so we picked a channel on the way back with ripping current. A few casts into where the current was strongest and Pietro was on again to end the trip with 20 kilo GT.
What an amazing trip with some insane attacks and lots of fish and species, looking forward to seeing you guys back here next season.
Tight Lines
Tackle Used
Jigging Rod: Temple Reef, Major Craft, Patriot Design, Maria, Valley Hill
Jigging Reels: Shimano Stella, Shimano Biomaster, Daiwa Saltiga, Shimano Twin power
Jigs: Maria, Duel, Shimano
Popping Rods: Smith Tokara, Smith Keyolu, KOZ expedition
Popping Reels: Daiwa Saltiga, Shimano Stella
Popping Lures: Carpenter, Hammer Head, Patriot Design, Alles lures
Species Caught: GT, Dogtooth, Ruby Snapper, Rusty Jobfish, Grouper, Amberjack, Green Jobfish, Golden Trevally, Yellow Fin Trevally, Bluefin Trevally, Barracuda, Long Nose Emperor, Bohar Snapper
What an awesome report and just goes to show it doesn't matter what age you are just keep at it and don't give up. As promised below are some dates set aside for Sportquest Holidays anglers so they can join a group of like minded anglers. If you would like more details on these trips call us on the above number.
WEEK 1: 05/10/17 – 14/10/17 – 3 Spaces
WEEK 2: 08/02/18 – 17/02/18 – Full
To view this amazing destination in the Andaman Islands Click Here
Tight lines
Paul