Fishing Report – Villa Maria Lodge | Week 3 January 19 – 26 2018
The river has come into prime condition, a very comfortable level for fishing, and the clarity is about as good as it gets. The water level has continued to drop throughout the week making the fishing even more enjoyable. Wading has became super easy and casting can be short and precise.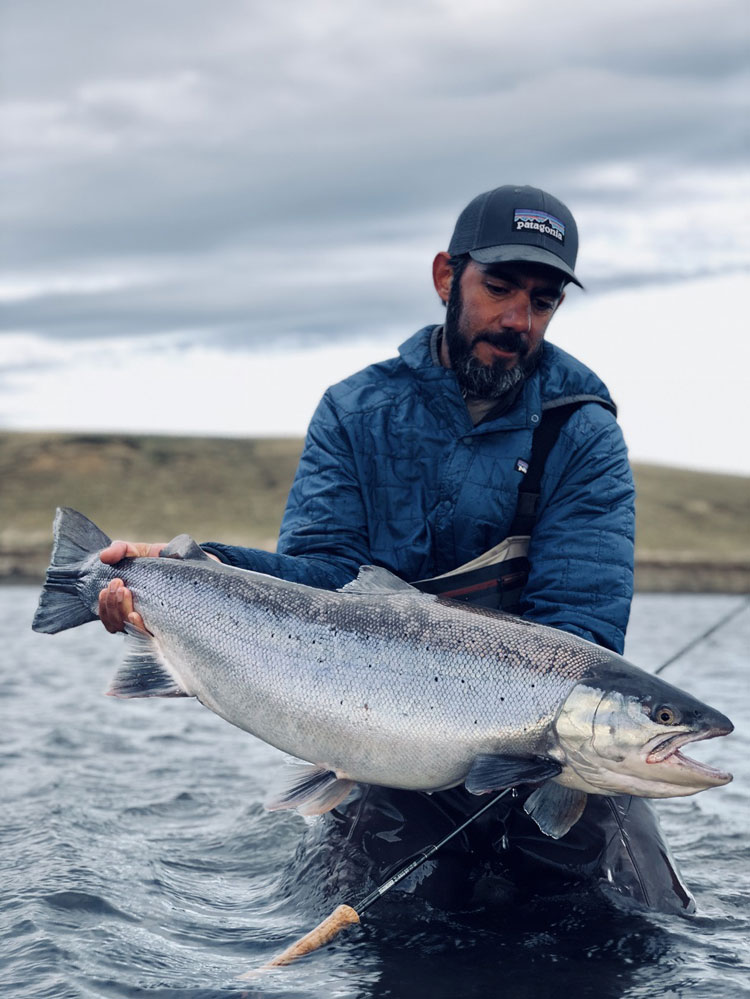 We had relatively cool temperatures to start the week, followed by unusually warm weather during the last two days. This caused water temperatures to be a little unstable. Due to the Rio Grande being a relatively shallow stream, the water typically cools overnight and warms up all the way till 4 pm. But this past week the swings between the highs and lows were huge. We recorded 7 degrees Celsius at its coldest, and 14 degrees Celsius at its warmest. Because of that, you have to be careful to choose the correct line+fly combination
The usual Tierra Del Fuego westerly blew throughout the week, with winds blowing more from the north on occasion. The northerlies bought some scattered rain showers that passed quickly over us. Most mornings were sunny with clear skies, while the afternoons became overcast, making for great evening fishing conditions.
With the clear water and dropping water levels we were able to fish smaller flies such as nymphs and green machines. The green machine was the fly of the week, while a few rubber-leg patterns such as the EMB produced results as well. The sunray shadow was another fly that made for some good and exciting fishing close to the surface.
As for rigs, there was no standard recipe. Usually starting with an intermediate tip is the best call, and according to fish's reaction (or lack of it), we'll try heavier tips on each pass. 
The run of fish looks like it has started to be more solid and more predictable, and as the river is getting lower the speed of the fish running upstream seems to be slower in comparison to 10 days ago. This makes finding fish in their usual spots a little easier, and I like that a lot!
The season is just starting and everything is getting better week after week!
Largest fish of the week: 21 lbs.
To see the full details of this lodge and all our Sea Trout lodges in Argentina Click Here
Until next week tight lines
Regards Peter