HOT OFF THE PRESS!! We have had this report from Å in Norway and from  what we can see the monster halibut are feeding..
During the past week, it has been fishing well for our guests after sizzling some halibut fishing.
A couple of gangs were really up for it when they arrived and went straight out to fish a bit of fun, where the fishing was quite crazy, many cod over 15kg and top fish all over 18kg.
The first days started with a bit harder winds than the forecast showed and we chose to fish in a little more weather-protected areas with a view to catch halibut. But because of the slightly worse conditions, fishing was a bit more sluggish. André and guests in the Guide boat managed to fool a nice halibut at 104cm (31.6lbest), which meant that Jonathan in the guided boat got his first halibut of his life, congratulations!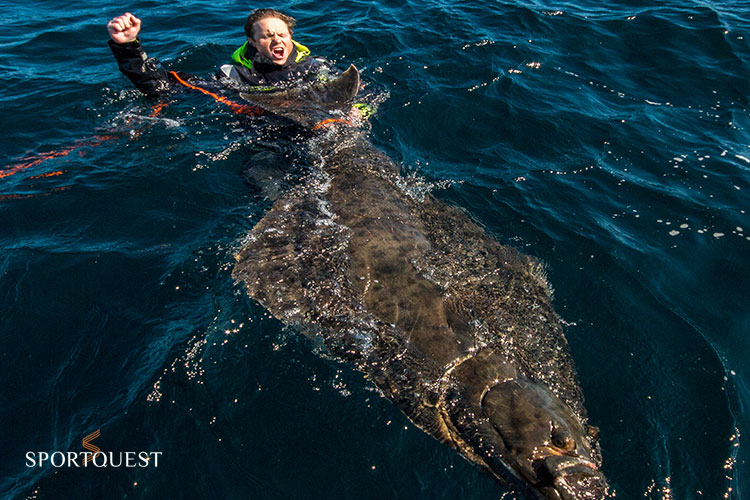 During Saturday fishing all boats went out after the halibut with a mixed result from the various boat teams. Several nice halibut were landed throughout the day with top fish of 142cm(86lb est). André was also out late in the evening / night with a newly arrived gang and they lost a really nice fish at the edge of the boat at an estimated 150 cm +(100lb+ est).
On Sunday it was rainy and windy so all boats stopped during the day and watched the final in the World Cup where we assume everyone already knows the result.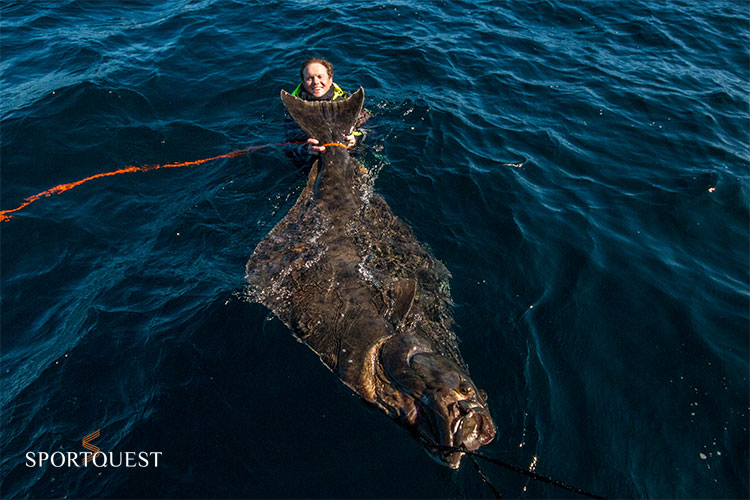 Many of the boats chose to fish for halibut on Monday in the immediate area while the guide boat and another 2 boats drove on a long trip with halibut and cod in sight.
Once in place, 1 halibut was reported before we first set up our first operation. Just minutes later, boat 2 lands another halibut, HOT! We fished for a few minutes where we got a pair of nice halibut. Boat 8 reported flounder 3 for the only 30 minutes into the fishing and we in the guided boat were not far behind it with today's first flounder of 83 cm (15lbest) and a bonus wolfish of about 4kg, we fished and caught a lot of cod between 5-12 kg.
In the middle of the day, I get a conversation from André who fishes after the flood where he tells of a new year's best on the halibut.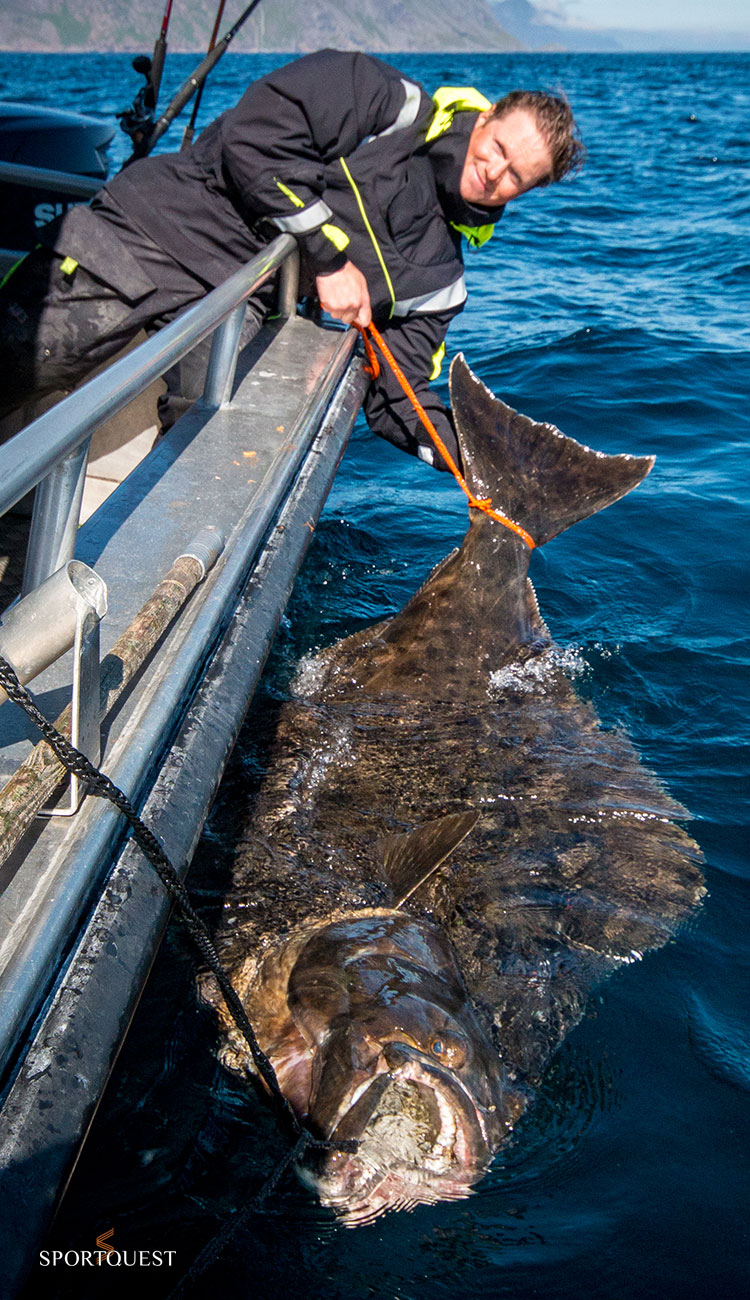 After a really tough battle with several bottom runs, after about 25 minutes, the fish was allowed to decline. Giant # 2 for the season measured a total of 202 cm (272lb) and this meant the new year best on Å. After some photography, this king got his freedom and swam quickly into the depths again.
The day at the end we started in the guided boat moving home to the camp but chose to stay and do a last run in an area that felt looked good. Just a few minutes into operation, it took a good deal in Kalles spout and the fight was in progress … 10-12 minutes later we were able to land a really nice fish that measured up to 146 cm,(95lb est) after some photos we released the fish in the blue.
We run an operation to say we to each other in this area, just two minutes till we hooked up again properly for Kalle who had to show once a time how to catch big fish after a shorter intense match, the fish got to the surface and measured to 133 cm (70lb est) as well this got to swim back home after some photos.
Now we look forward to new week and new tagged guests arriving during the day.
Tight Lines!
Alexander Lindgren & André Starkenberg
WOW WOW WOW What an amazing fish, thank you to the guides for sharing this report.
We have only 4 spaces left for the whole of 2019 on our hosted trips to Å
Why not come join us and catch your own monster with SPORTQUEST HOLIDAYS
Tight Lines
Matt