After hosting a fabulous group for Sea Trout fishing at Las Buitreras Lodge in Argentina, it was time to say our farewells as some of our customers moved on to Golden Dorado fishing and others started their journeys home as we began travelling to Estancia Cristina to see our new Glacier King Salmon destination for ourselves. After a 3 hour scenic drive from Las Buitreras we arrived in the quaint town of Calafate situated on the southern border of Lake Argentino. When they say lake it's more like an ocean, for I have never seen such an expanse of freshwater and its no wonder it is the largest lake in Argentina. The freshwater lake has a massive surface area of 1,415 km2 (546 sq mi) with an average depth of 150 m (492 ft), and a maximum depth of 500 m (1,640 ft).
Like all guests we spent our first night in the Edenia Hotel that sits proudly on a hill providing stunning views over the lake.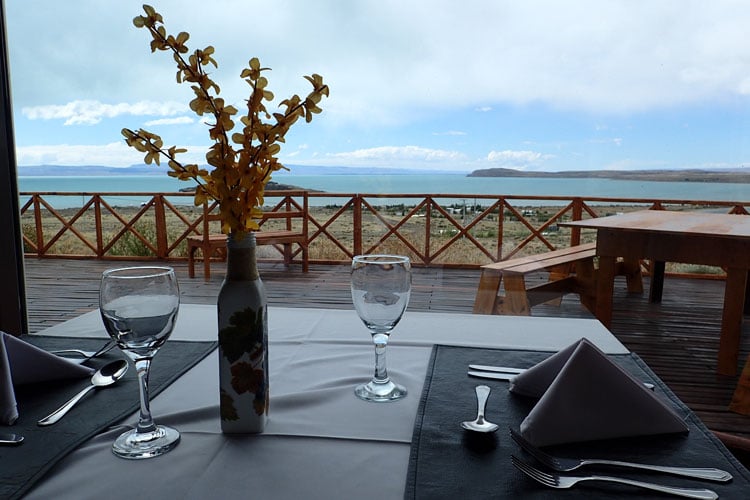 Look at that view from the hotel restaurant
In the morning we were picked up for the 45 min drive to the port where everyone was to take the ferry to Estancia Cristina. The ferry crossing takes 3.5 hours on the way out as it takes you on a glacier tour along the way. As I was there to go fishing a Glacier tour was not high on my priority list but let me tell you, what a wonderful experience. Once we were about half way we started to come across icebergs floating down the lake, which I thought at first looked big, however as we got closer and closer I could see how enormous and impressive these floating blocks of ice were. Eventually the captain of the ferry took us as close as he could so we could all get pictures of these very impressive Icebergs.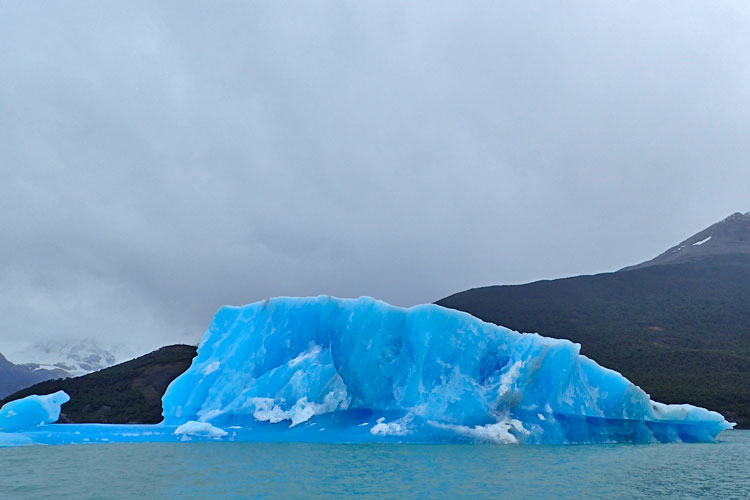 Just look at the colour of that glacier they are huge
After everyone had all the pictures they needed (As the boat is also full of day trippers out to see the glaciers) it was time to move onto Estancia Christina. Once docked you are welcomed by the staff that take care of everything for you, unloading your bags and delivering them to your room while we made our way to the octagon fishing lodge for a welcome briefing and introduction from our two guides for the trip. Once everyone had had a delicious lunch unpacked and settled in to their rooms, it was time to get our fishing gear on and our tackle set up ready for our first afternoons fishing.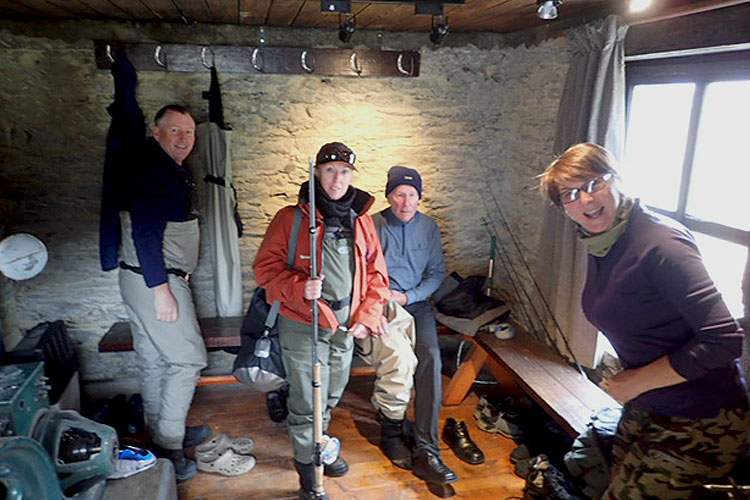 The equipment drying room just perfect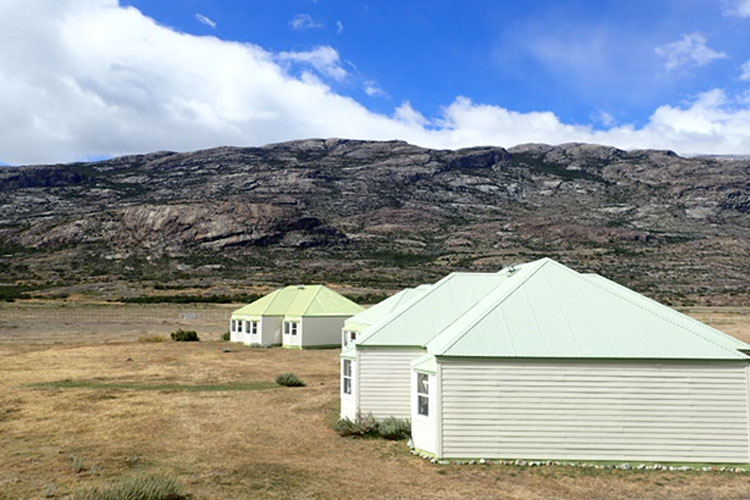 The fishing accommodation what a setting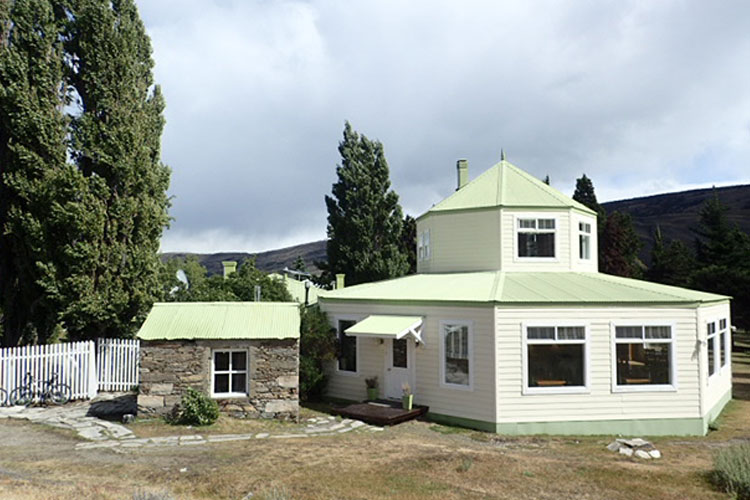 The fishing lodge. The perfect place to take meals and evening drinks
The fishing accommodation comprises of a separate bungalow that has 4 huge double rooms. One room is reserved for the guides and the other 3 twin rooms for customers, as there is a maximum of only 6 customers each week. Each room has its own private bathroom and all come with amazing views.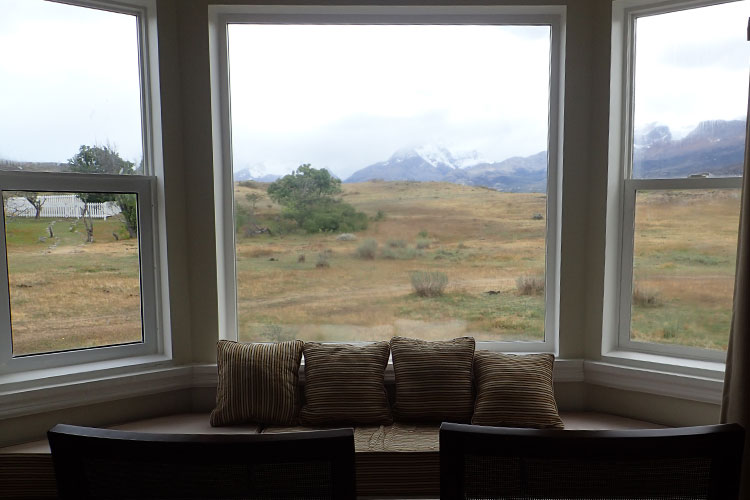 Amazing views of the Andes snow capped mountains in the background.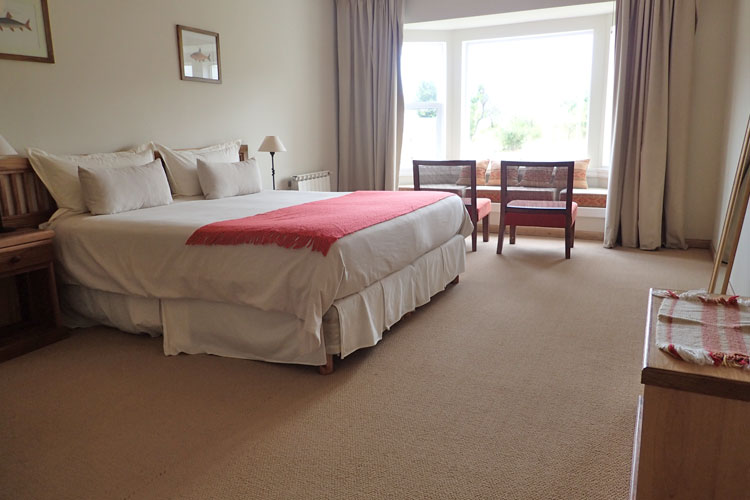 Fantastic rooms with everything you could ever need
The first thing that hits you about Christina is the sheer unspoilt beauty of the place itself.  Set right in the foothills of the Andes, there are glaciers, massive snow capped mountains, rock formations and huge boulders that have just been dropped by glaciers millions of years ago. Basically the whole place just looks like some dreamy movie set for a multi million pound Hollywood film production.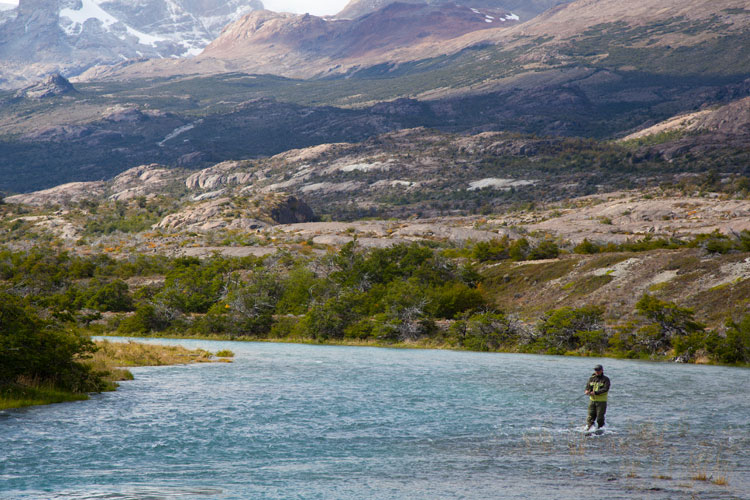 Fishing in the foothills of the Andes amazing
The fishing takes place along the Caterina River, which is 7 km long, and flows from the top lake in to Lake Argentino. Fishing is along the river from top to bottom, it also takes place along the shore of the top lake as the Kings rest before dropping down the river again to their spawning grounds. The top two thirds of the river has crystal clear water which as you fish towards the bottom third of the river, the water becomes cloudy and glacier blue as a small creek joins the river, however this does not affect the fishing in anyway.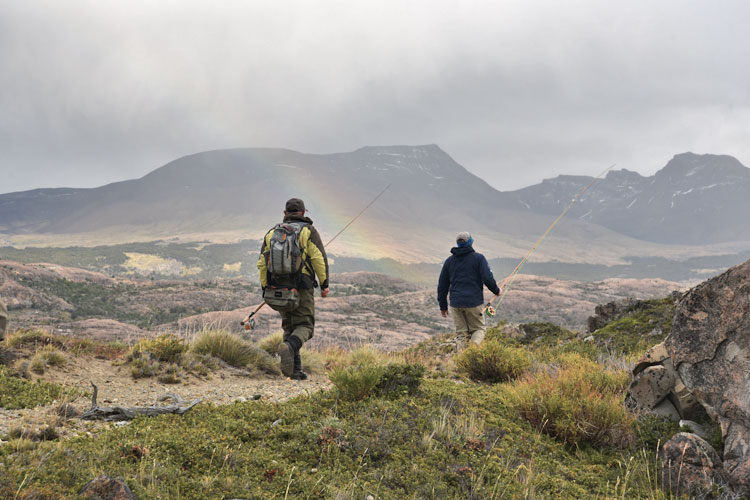 Walking to the end of the rainbow to find a pot of gold a huge King Salmon
Along the river there are a varied abundance of areas to fish, from long runs, perfect salmon buckets, riffles and holding pools. The fishing proved to be technical, as you must use all your skills to get your flies down deep and close to the bottom where the Kings are resting and holding. This means constantly thinking and changing your approach by changing different weighted flies , also adding additional weights to get the flies down quickly enough in fast moving water. Changing the angle of the cast, mending either upstream or downstream to suit the run anything and everything to get the fly down quickly so you achieve a great swing through the water.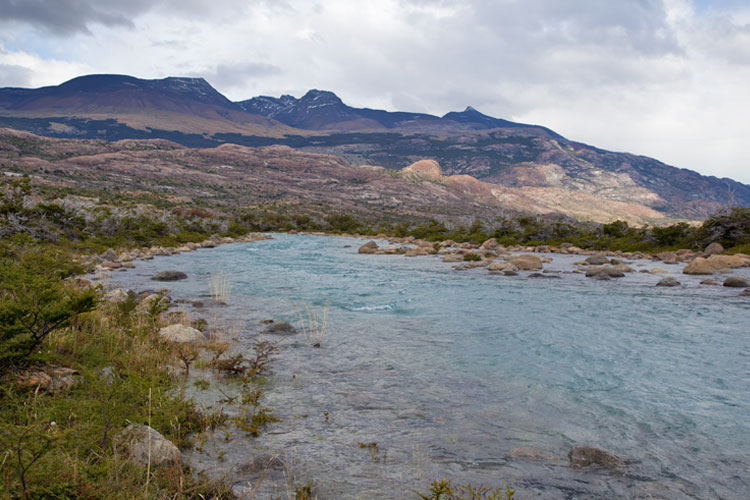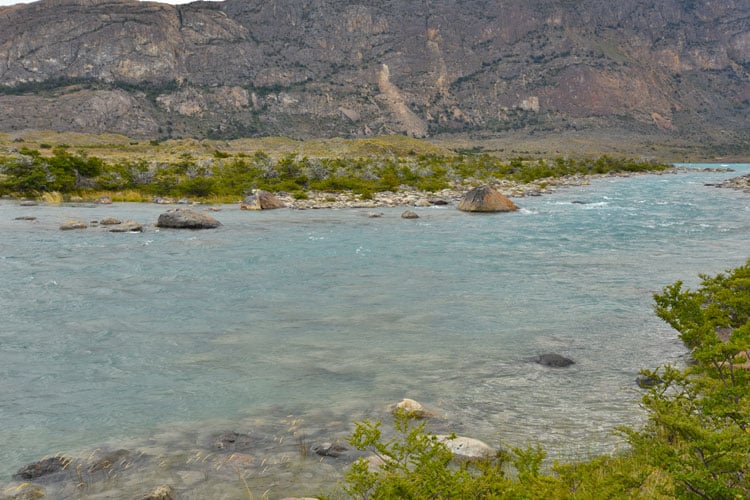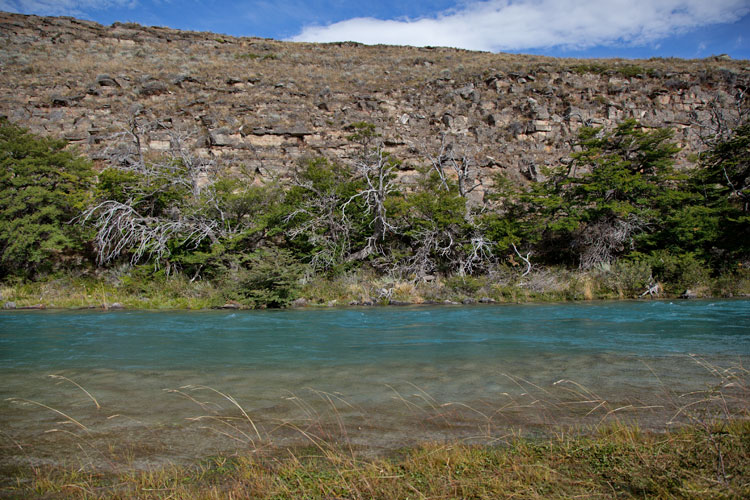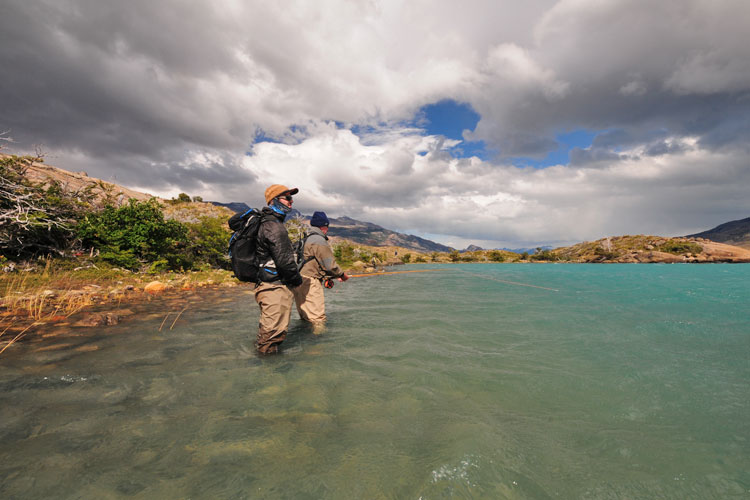 Along the whole length of the river the banks are rocky with lots of lush vegetation which makes the river extremely beautiful but only suitable for double handed fishermen. The river is not overly wide but spey rods of around 13ft allow you to have better line control. One point worth mentioning is that the fishing currently involves a considerable amount of walking which is a bit like a good hike up and down hills and over small rocky stones. Plus any wading can be challenging due to the sheer power of the water and smooth pebbles, so wading sticks are advised.
I have been fortunate enough to fish many places in the world, but I can tell you, standing there on the bank fishing my way down the river surrounded by snow capped mountains, with the expectation of any minute you would get a take was amazing. I can also tell you honestly I have NEVER seen so many huge Kings swimming and jumping in a river. The biggest fish I caught was 129.5 cm long and I witnessed many fish bigger than this swim right past me without a care in the world.
The Caterina River only has a run of King Salmon, so there are no other Salmon to contend with while you are target the King Salmon. The only other species that you will catch are Rainbows and Lake Trout.
After just one and a half weeks of our new fishing program, the fishing has been amazing. The smallest Salmon landed has been 7 kilos and the biggest 25 kilos. The average size has also been amazing with fish averaging over 14 kilos (30lb)  In total 16 fish have been landed and 10 lost (only fish hooked and played have been counted as lost, as we do not count missed takes)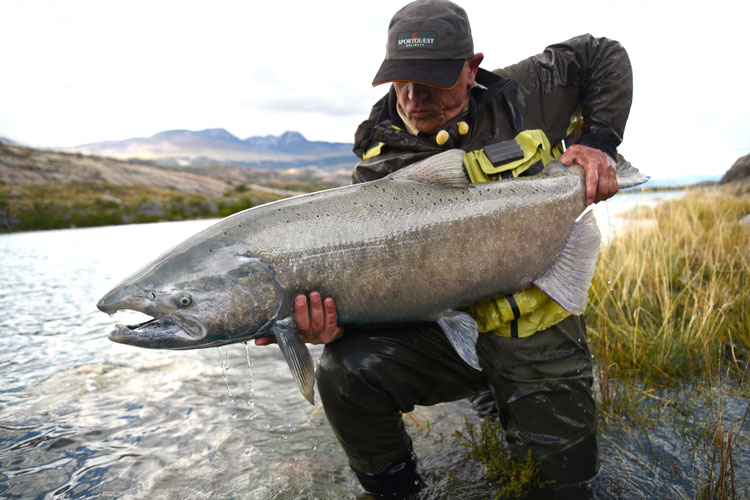 Peter Collingsworth with a 52LB King Salmon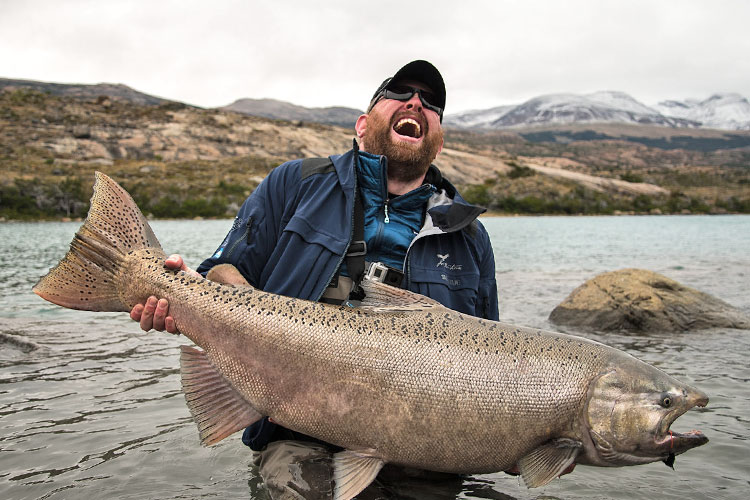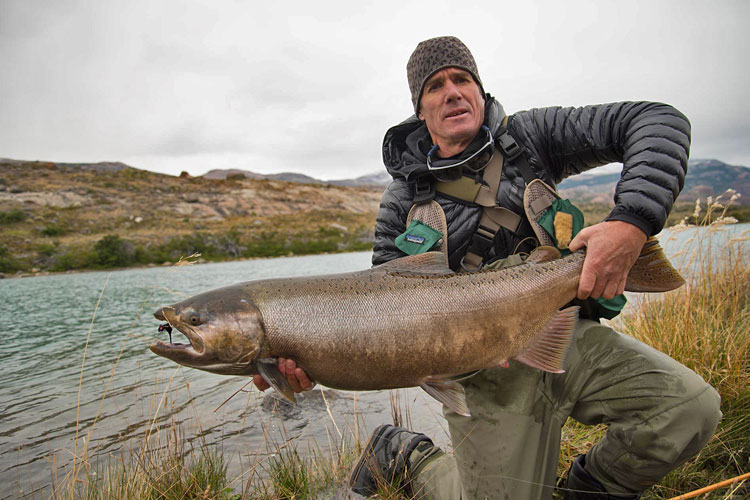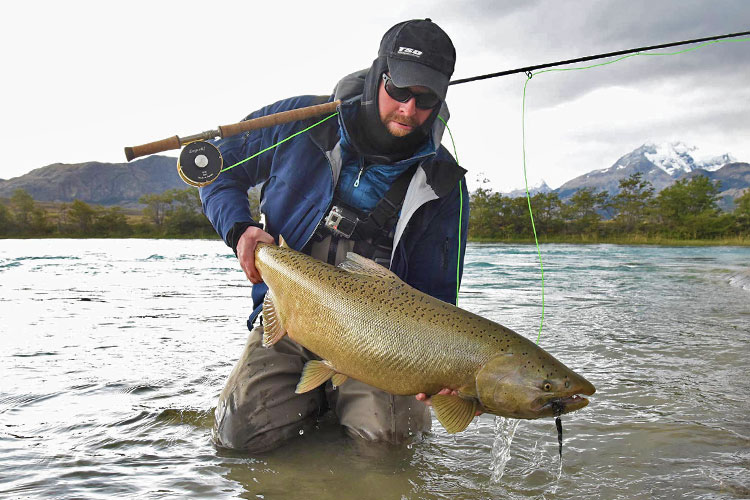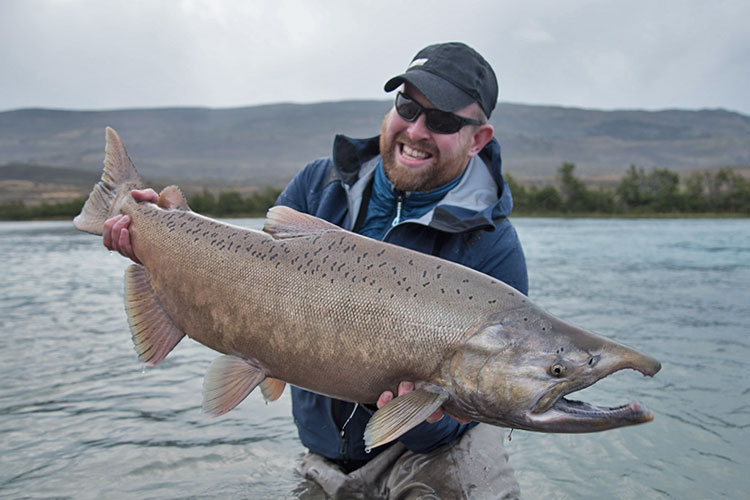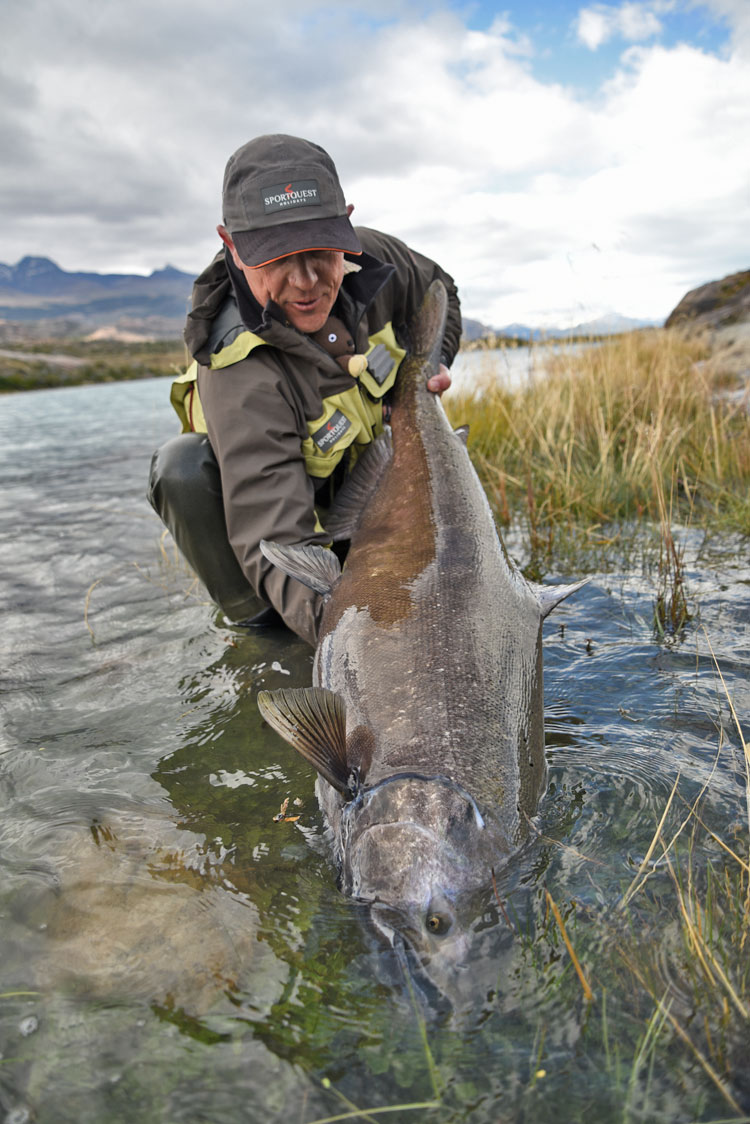 This was a spectacular trip and an adventure I will always remember, I am so looking forward to returning to this fabulous destination and hosting groups in 2017. You could say I fell in love with the Caterina River, mind you, if you experienced it for yourself you would also lose your heart to this place. We have learned so much during this initial period and have already made plans of how we can improve the program and set up which we are committed to have in place before 2017. As time goes by our guides learn more and more about the river and the habits of the Salmon, each year this place is only going to get better and better.
If you would like to join us in 2017 please be VERY quick. You can be one of the first to experience this fishing and be a pioneer, its all still so new that along the river we have ONLY so far named 3 places so come and catch a monster and you could be having a pool named after you. As I said be quick the season is ONLY 5 weeks long and with ONLY 6 customers per week that's only 30 people per year so as you can see availability is going to be tight.
Week 1: All bright fish but less fish
Week 2: Mixture of bright fish and a few starting to turn but more fish
Week 3: Mixture of bright fish and a few starting to turn but more fish
Week 4: 50/50 bright and coloured fish but lots more fish
Week 5: 30/70 bright and coloured but river packed with fish along the whole length.
Below are some great fishing pictures which gives you a feel for the river and the stunning environment,  if you would like more details either call peter Collingsworth in the office on 01603 407596 or Click Here.
I would also just like to add my personal thanks to Tony, Ali, John and my partner Tracey for all being such great company on this trip. Also two the two guides Juan and Thomas who looked after us throughout our stay.
Tight Lines Peter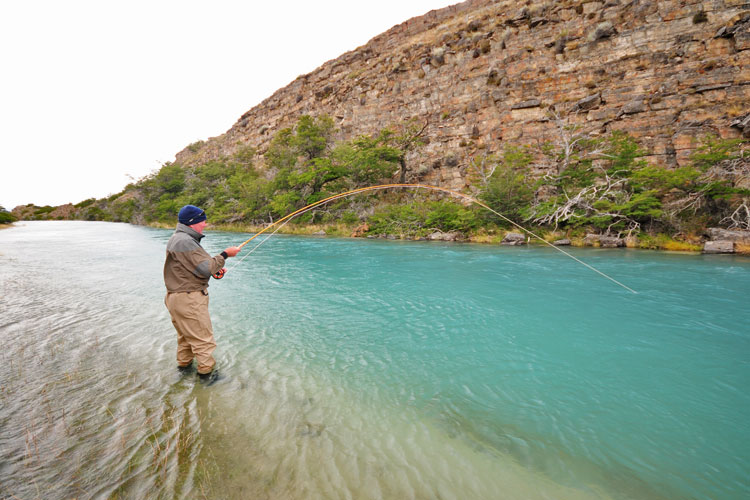 John playing a fish that unfortunately got away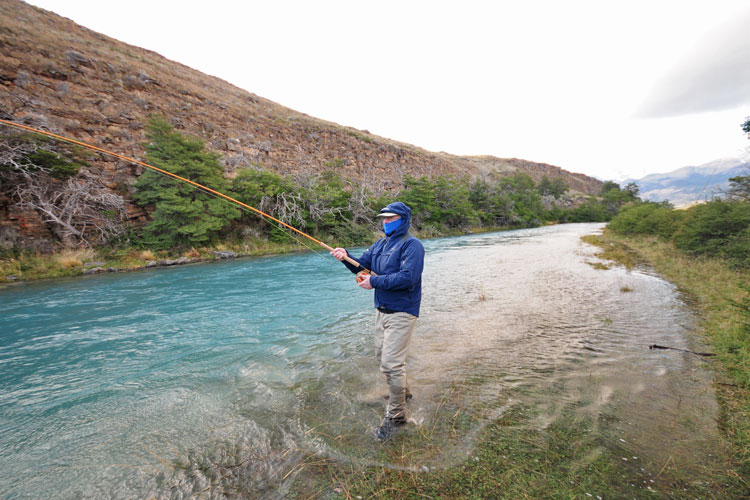 Tony also in to a fish that broke the leader, very strong fish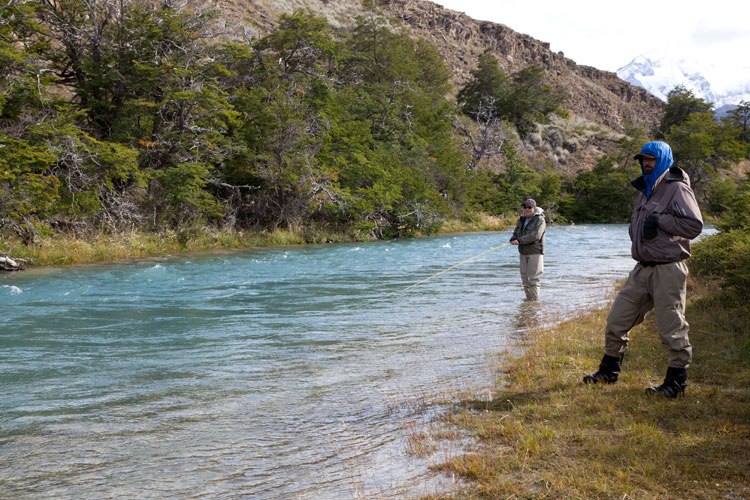 Ali fishing 'The Cut', one of the weeks hot spots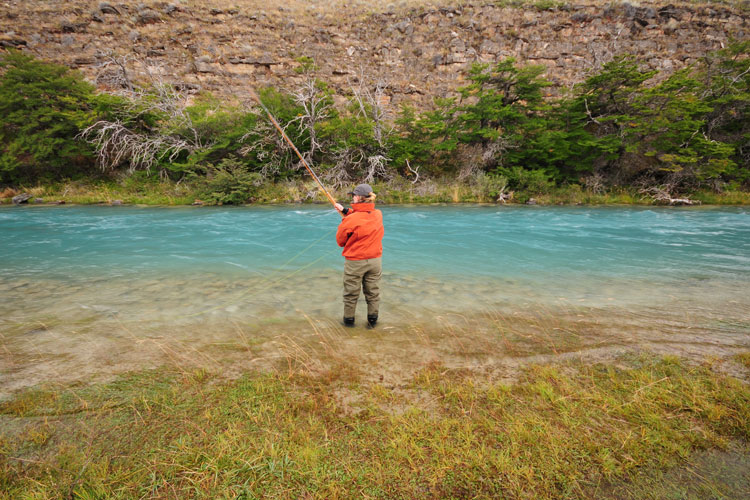 Tracey fishing fast water at 'The Cut'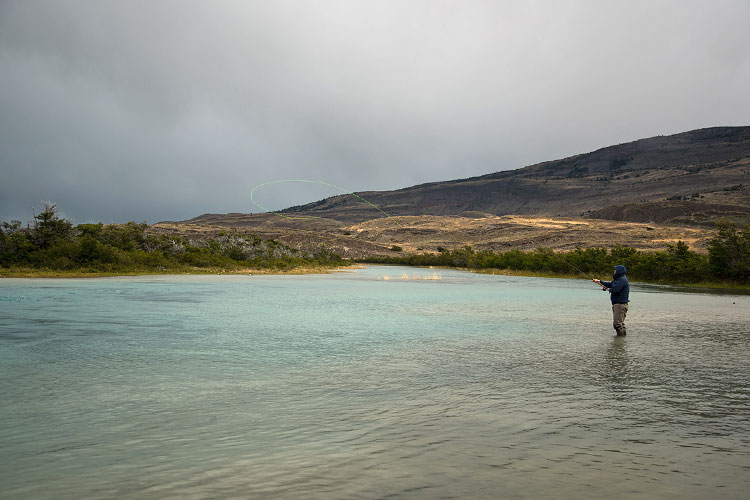 Fishing down from the 'Whalestone' pool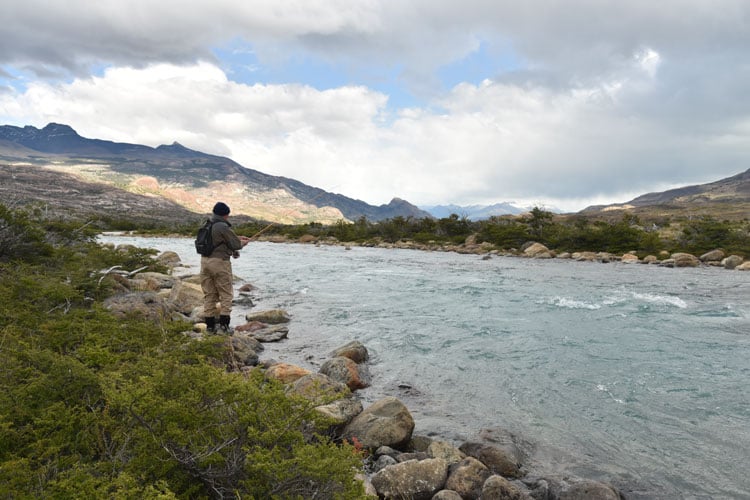 John fishing the top lake cut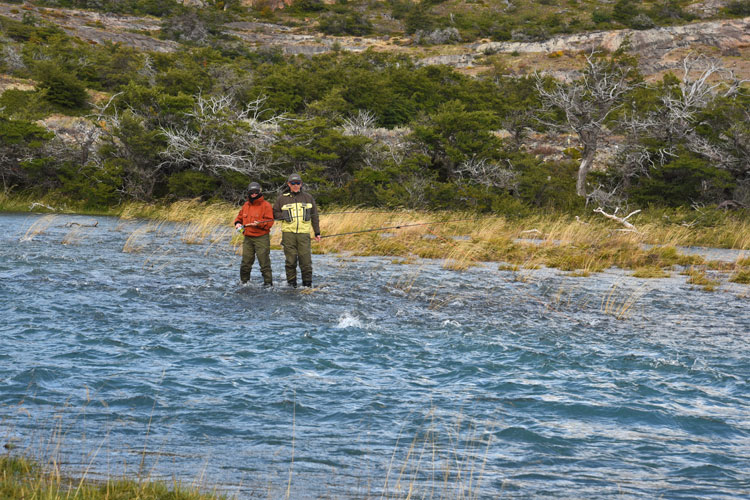 Peter guiding Tracey at the top of the pool
Peter fishing one of the many runs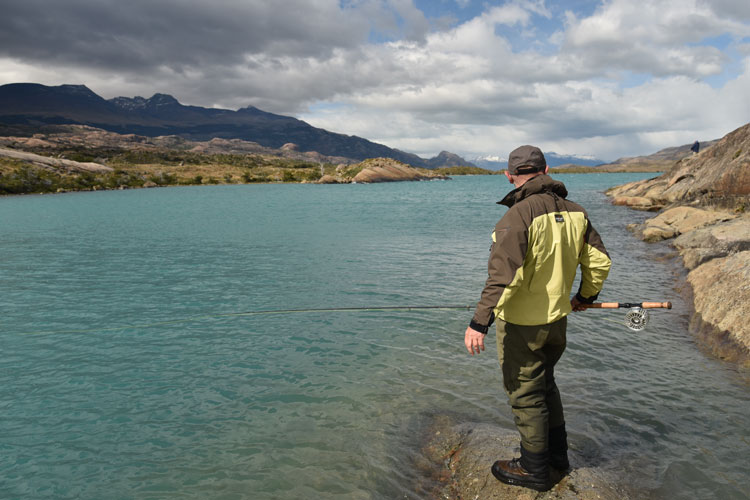 Peter fishing 'Mammoth' pool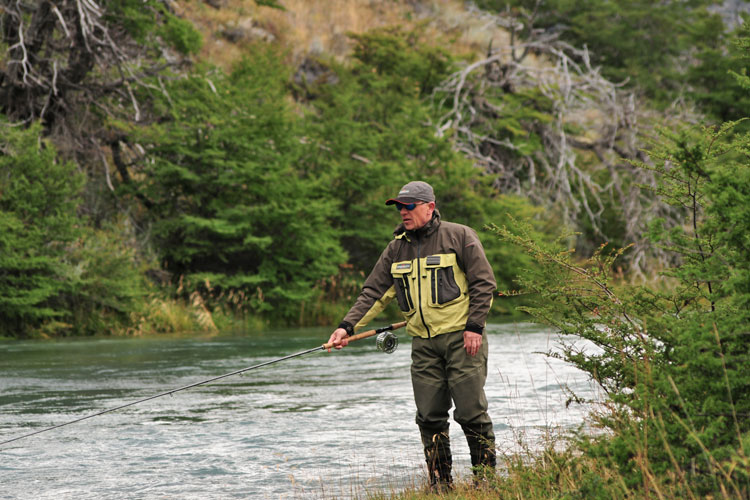 Peter fishing a lovely run that was full of jumping salmon but no bites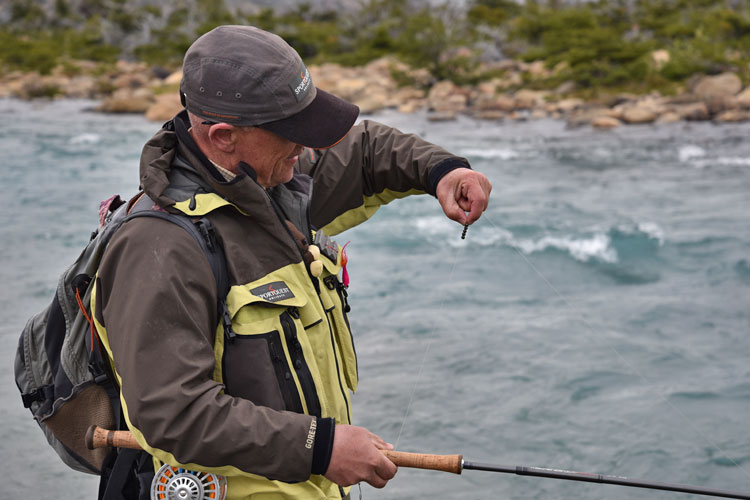 Peter showing 5 split shot added up the line above the fly to try and get down even deeper quicker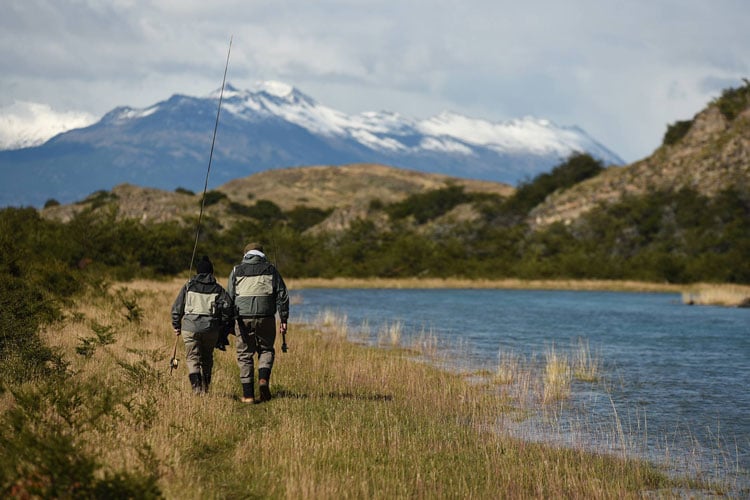 I love this picture, a great shot of anglers walking to another pool
The fishing trucks that take you out fishing each day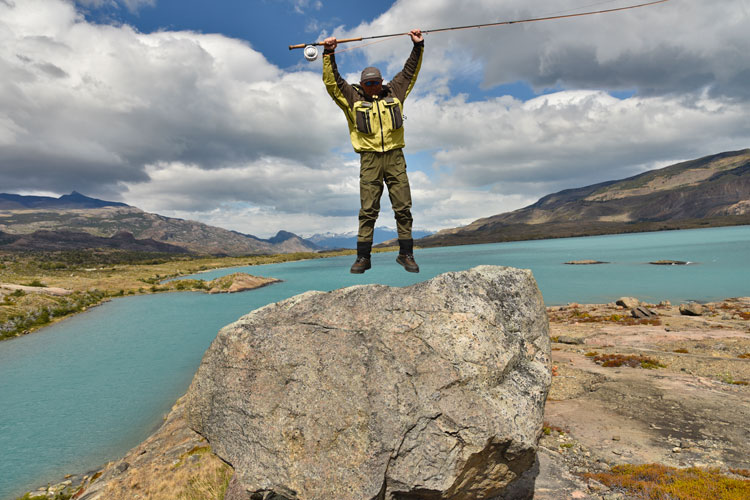 I just had to do this picture, me jumping for joy at such an amazing place and feeling on top of the world.