I can honestly say that I was more than a little excited about our return to Glacier Kings but for a full week. I had managed to steel a few rushed days there the previous year, which left me completely blown away. It is not often that a destination gets right under my skin, but this one certainly had.
This time I had a great group of customers some who had been with me the previous week Sea Trout fishing at Las Buitreras and two customers who flew in just for the King Salmon week.
The first real part of the journey for everyone is the 3.5 hour ferry crossing up the lake to the glacier's, although this ferry is designed for tourists to see the glacier it is the only way that we can get to Estancia Christina. It is also an interesting start to the trip for how many people have been close up to a glacier and also to huge icebergs. Once all the obligatory pictures had been taken it was time to make the final journey to Estancia Christina. On arrival a very happy and familiar face Sidney who was our accommodation host for the week met us. Sidney had previously been the lodge manager at Las Buitreras so we all new we were in good hands.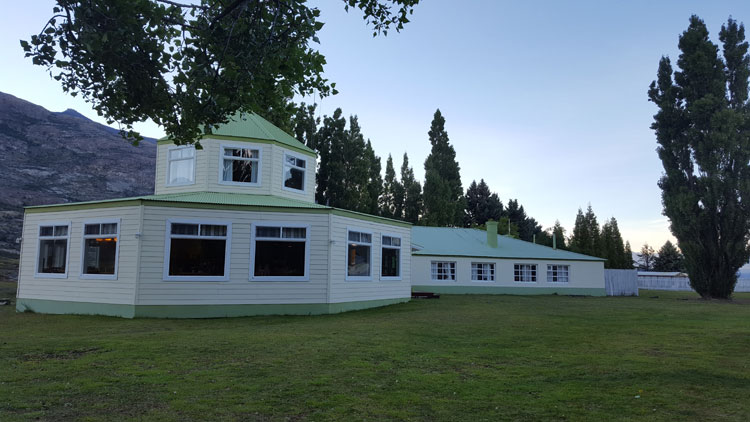 Accommodation & main lodge for the week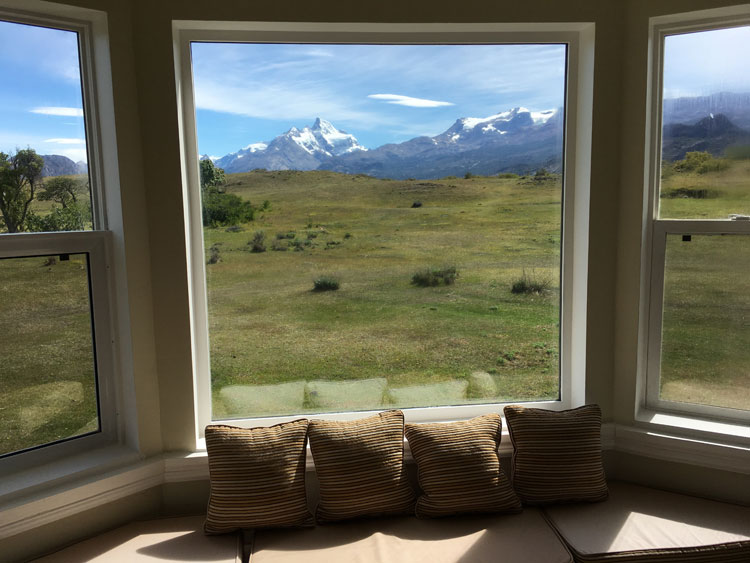 Not a bad view from the rooms each morning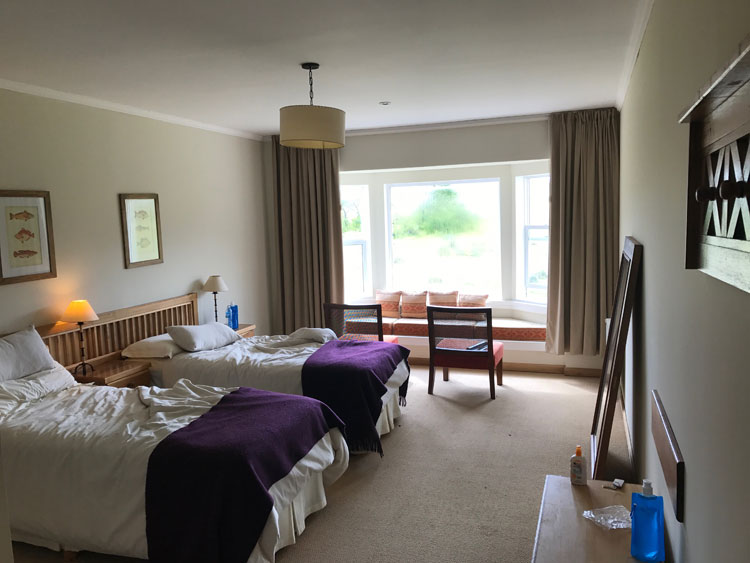 Inside the rooms as you can see there is plenty of room for everyone.
Everyone was shown to our accommodation for the week and I think I can safely say that everyone was very impressed; it was a lot more than everyone had expected. It was then off for a short quick walk so the group could see the river for the first time.
The first short walk to the river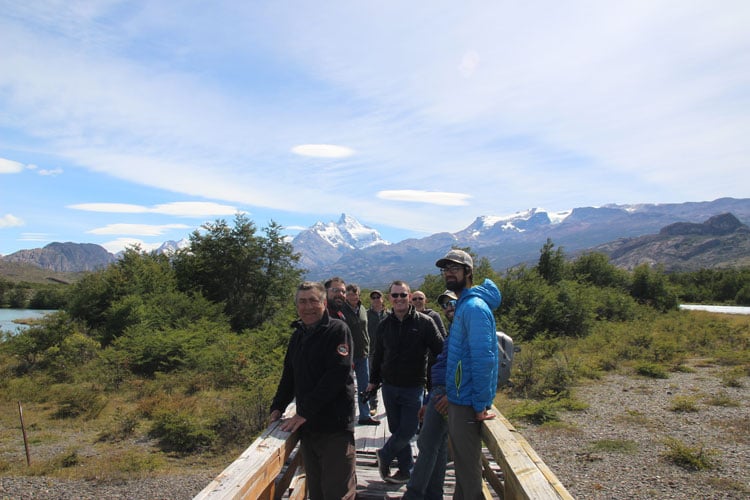 Team picture on the bridge with the Andes in the back ground.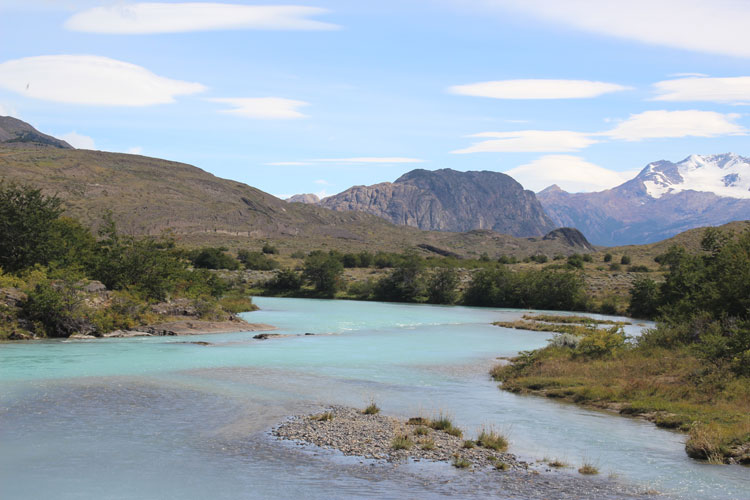 These pools all contain fish and are right next to the accommodation, but as yet nobody has bothered to fish them.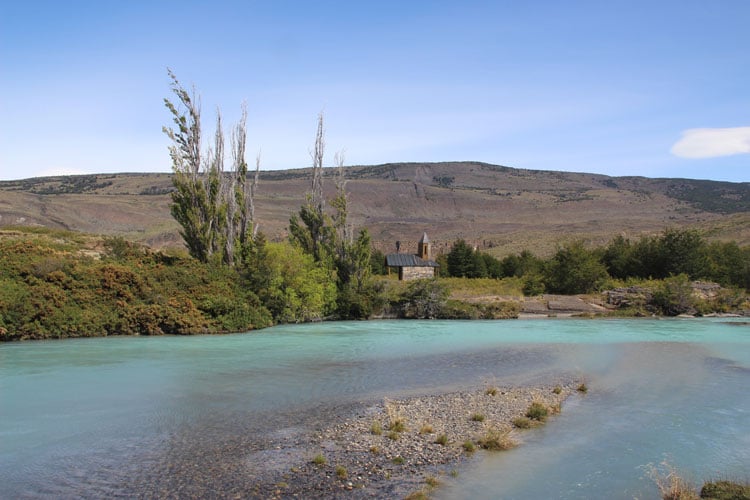 Stunning Glacier water which has a milky colour as this water is below the confluence. Currently we have only concentrated the fishing above the confluence.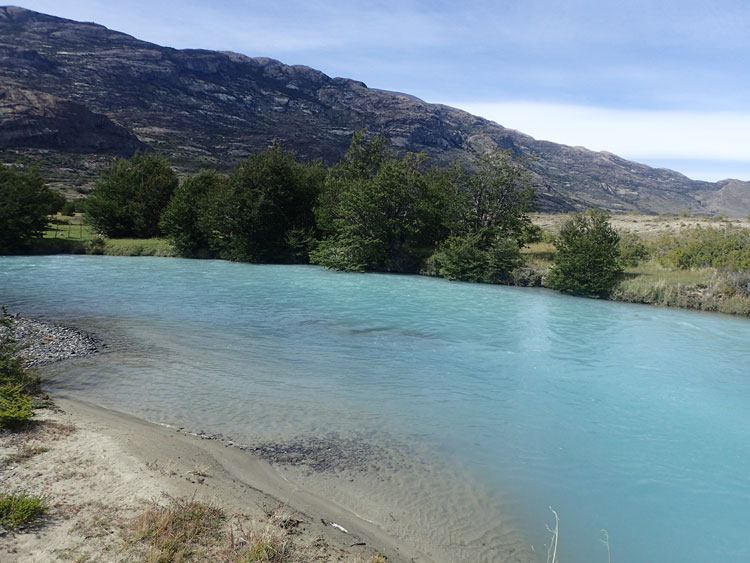 Some cracking pools and runs just waiting for flies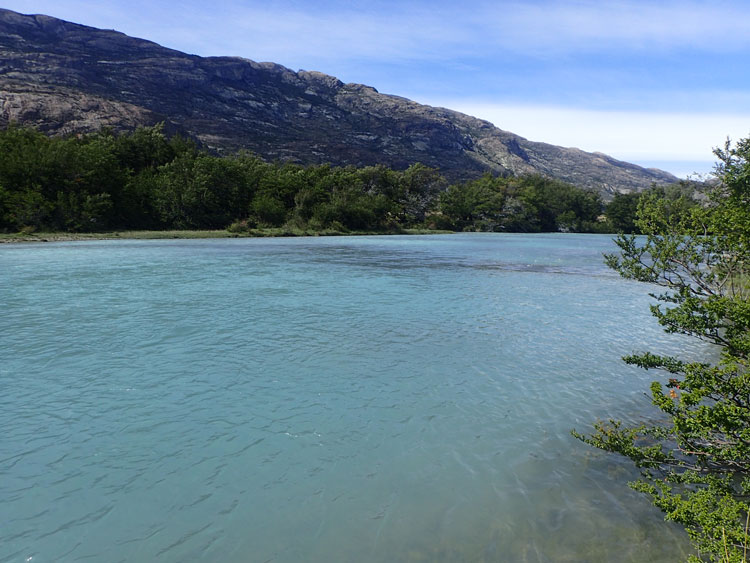 At lunchtime I would walk down to the river and watch Kings roll along these stretches, I will give them a good fishing next season.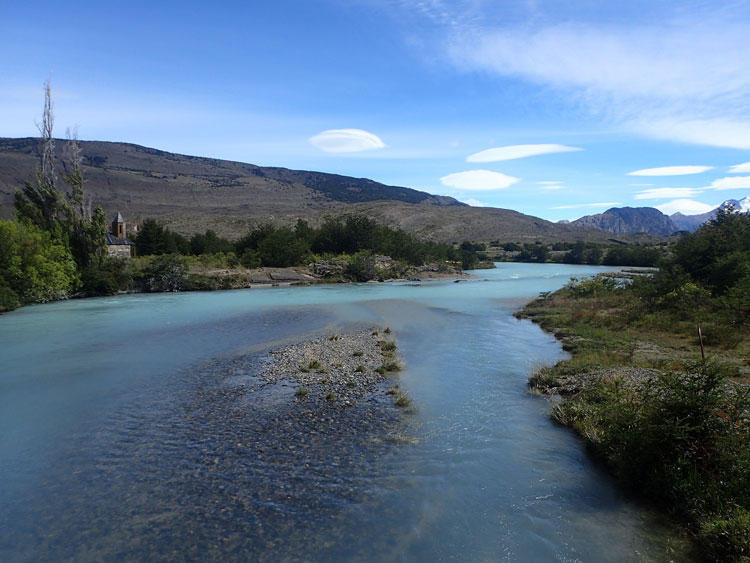 Walking to the old water wheel where the river has glacier colour is just breathtaking. There you stand where not many have stood before you. A stunning river that runs from the Ande Mountains behind and all around you, as you look up you can see vast ranges some with death defying glaciers carving their way down. Finding a more truly stunning place to fish than in this in the world would be a hard task.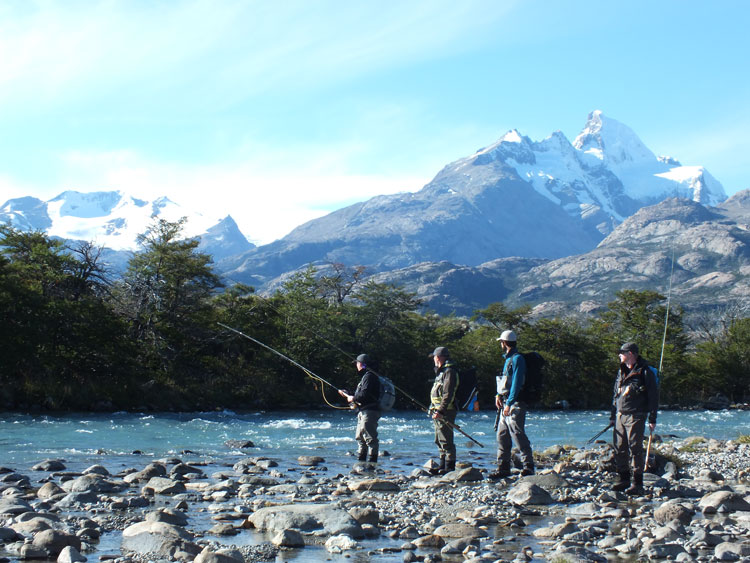 What an amazing view while fishing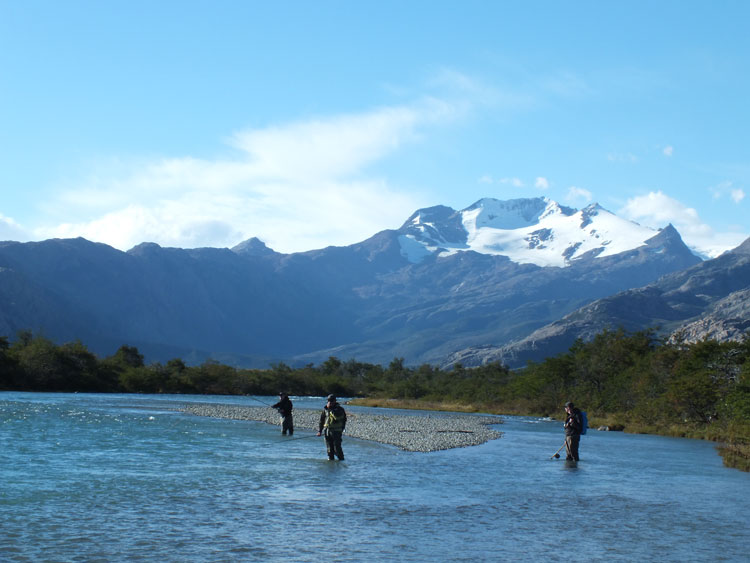 Each day you work your way down the river with stunning scenery as a backdrop.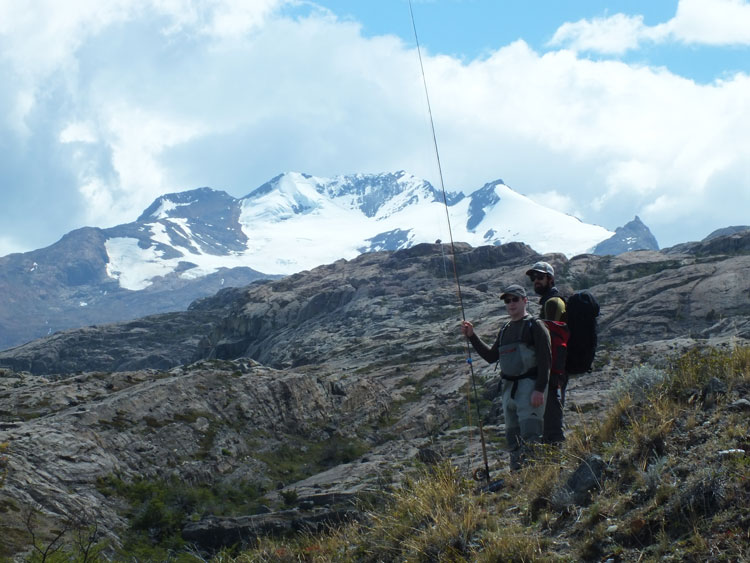 Fishing for Glacier Kings as it is inside the national park means there is a certain amount of walking involved, but it is all well worth it and its also part of the adventure.
Another compelling part of this destination is both the fishing and the river are still relatively un-mapped and there are even places that have not been fished. With ONLY a current 6 week season it's no surprise that most customers want to concentrate their time on the already known pools / areas. There is no set program, the whole operation is flexible for the whole week, should you wish to fish from breakfast until late evening while taking out a packed lunch you can. (That means you will be fishing for at least 10 hours), or you can go out and fish a morning session then return back to the lodge for a full cooked meal, this then allows you to rest before returning for an evening session later in the day.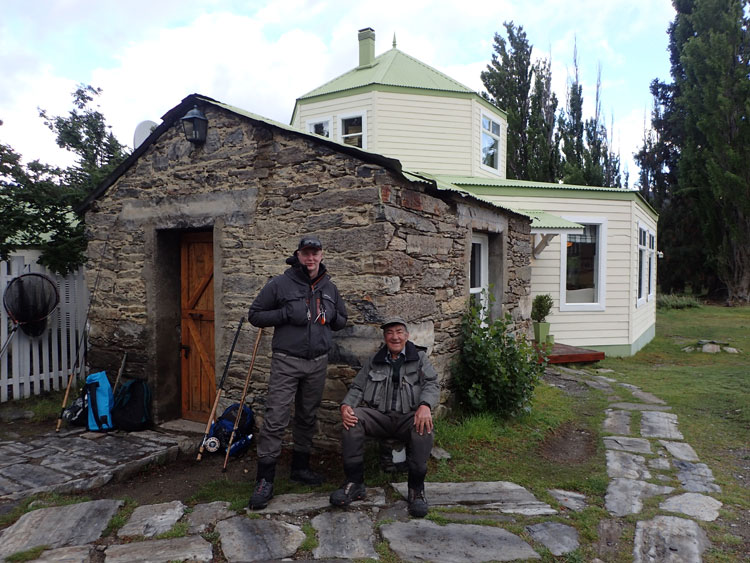 Chris & Lamby outside the boot room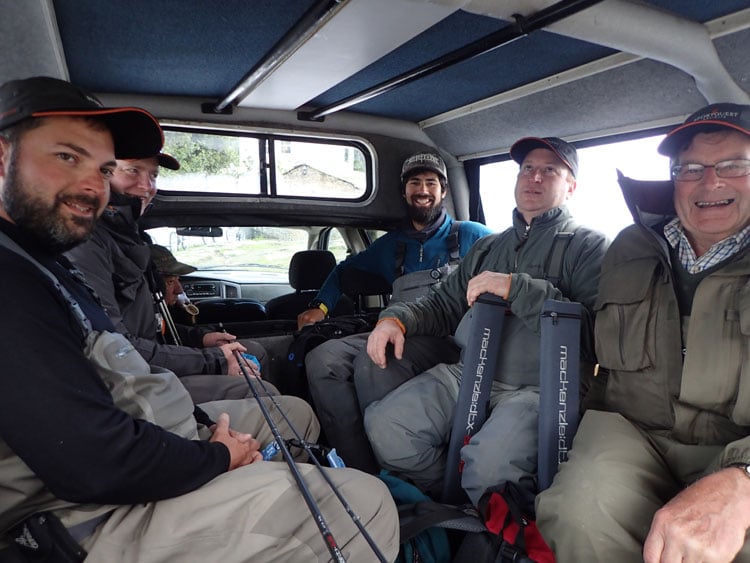 The short truck ride each day halfway up the river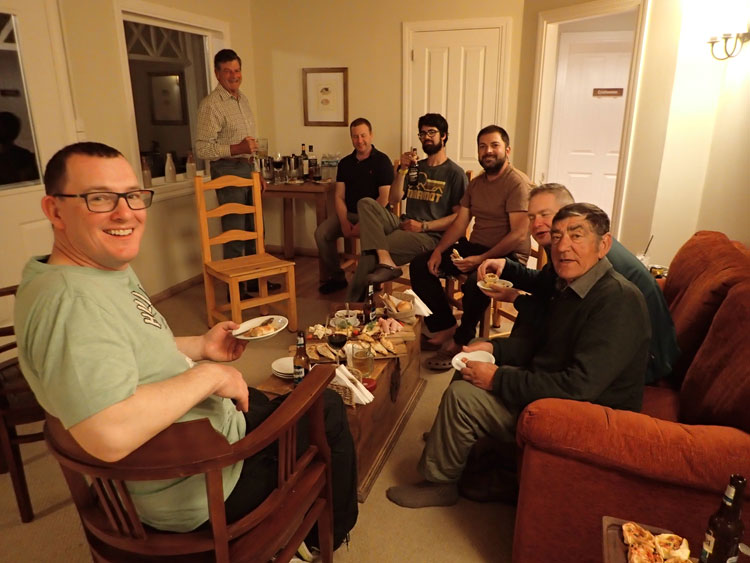 The lodge is so flexible, some days we stayed out and fished into dark so we missed the evening meal times, however not a problem as they provided great hot buffets with drinks when we returned.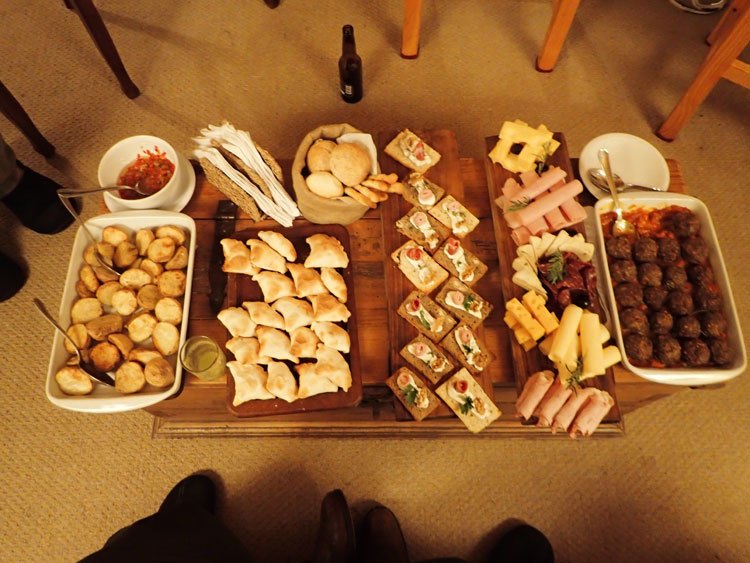 Hot food after a long days fishing with a few drinks…. Perfect….. 
It was this flexible approach that allowed us during the week to try some new things, fish at different times and try new methods, some which produced and others still need a little more work. One thing that is for certain by the end of the week we knew so so much more about these fish and fishing methods than we had previously known. All these lessons learnt will only put us in a better position for the coming years.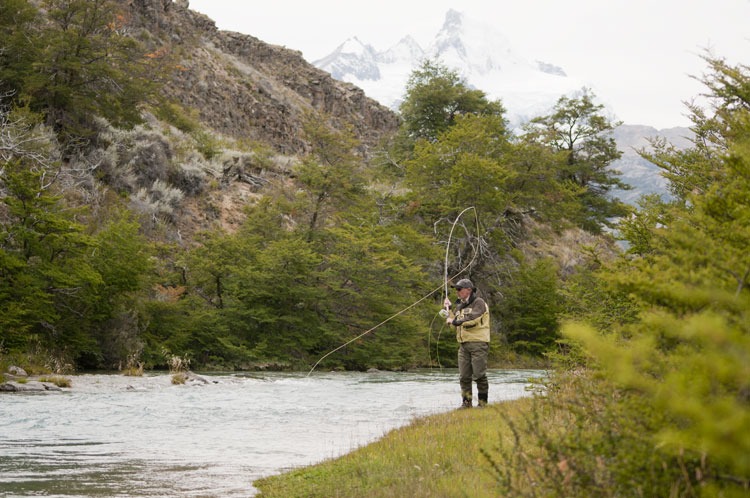 Exploring down the river finding new areas and testing out existing ones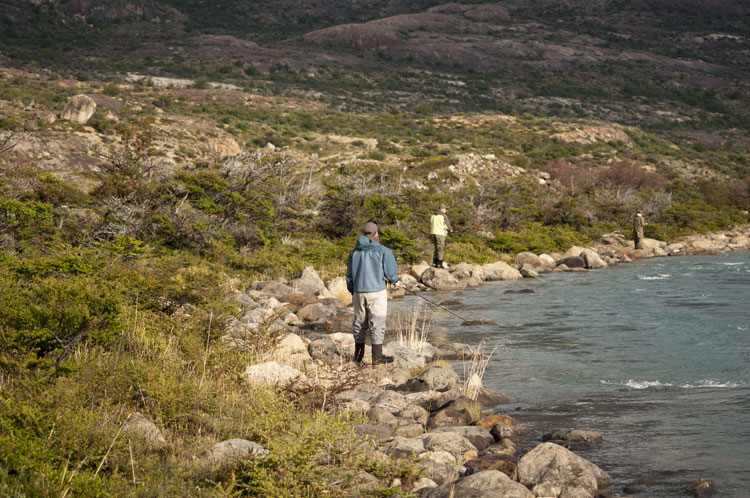 Customers fishing their way down one of the newly named beats called Aquarium for you see so many huge Kings just swimming up and down all day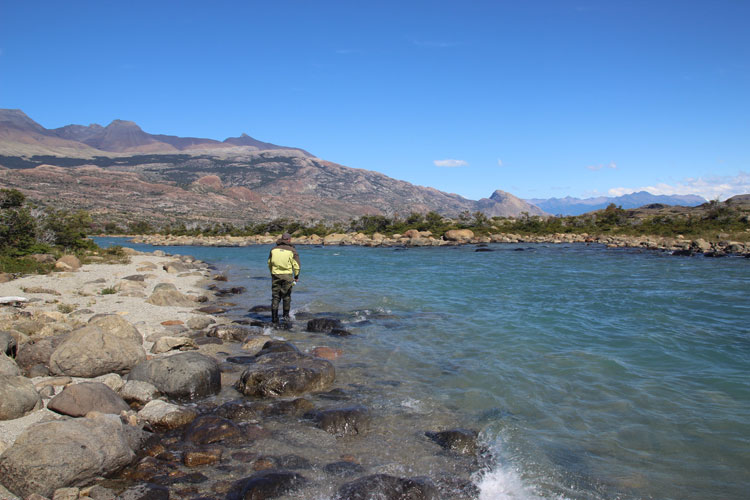 Exploring the beginning of the river as it flows from the lake, turned out to be a great spot as fish swim back and forth from the lake looking for positions.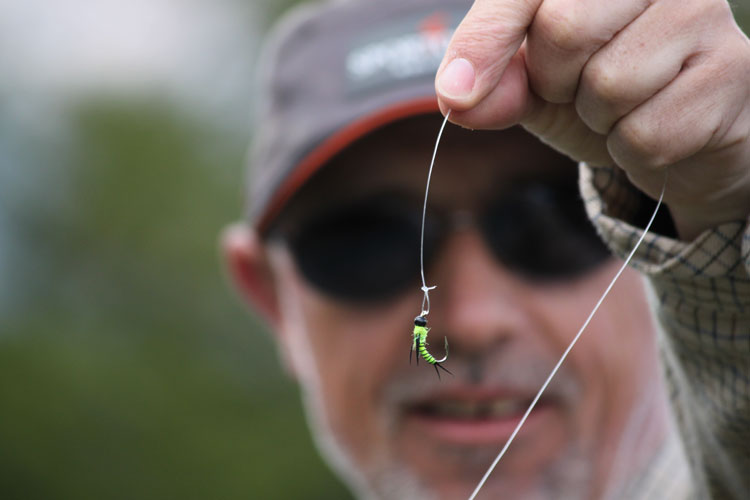 King flies are normally large, but I even tried these small flies that are designed for non aggressive Kings. First run through the pool in bright sunshine, bang a fish of around 40LB grabs the fly.
During the week there were many many missed chances, bites that pulled off your arm but no connection, fish hooked for seconds as they managed to throw the hook on the first jump. We even had 2 hooks straightened by kings, plus line breaks which is all very frustrating when you work hard for the fish only to lose them so quickly, however that is as we say fishing. In total 11 fish where counted and lost as these were fish that were hooked and either jumped off, straightened hooks or broke the line.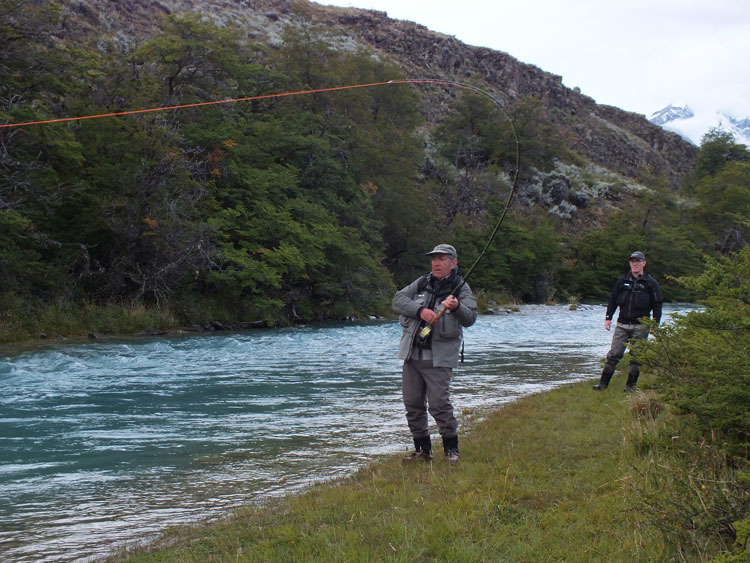 Lamby holding on for his life wishing the fish to give in.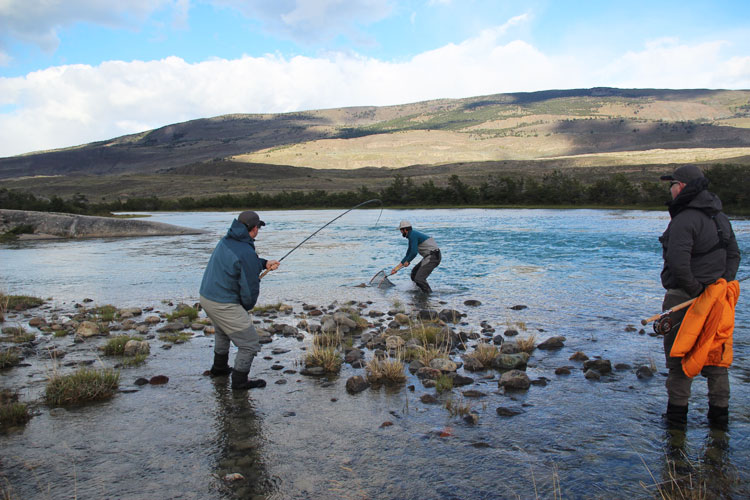 Tim giving his fish some serious stick, which just goes to show you how much you have to apply to land these fish. Look at his rod.
I am pleased to report that even with the missed chances the group managed to land some truly remarkable stunning hard fighting salmon. In total 10 fish were landed not bad when you consider apart from one small fish every other fish was over 30LB. The best fish of the week went to Graham who on the very first full days fishing managed to hook and land a huge Salmon of 68LB, it was not a bad days fishing, first Chris connected and landed a 30lb fish, no sooner had we measured, weighed and photographed the fish we started fishing again. Graham pointed out that a big fish had rolled to my right, so with a cast further down stream everything went solid. This was the first time we realised we had a problem for as the fish came close one of the guides tried to net the fish, in went the head but there was no room for the rest of the body and tail. It became a two-man operation to land these large fish. This time it went an impressive 48lb and as we started doing all the measurements, weights and pictures fish started to roll again. You could see Grahams face he was keen to start casting again, so as we sorted out all the pictures we told Graham to go fill his boots. No sooner had I slipped the fish back to its home and as everyone was giving high fives, we heard Graham shout that he was in. By the time we all walked over to him he was already getting low on backing, this fish was strong which always puts in your mind please do not let it be fouled hooked.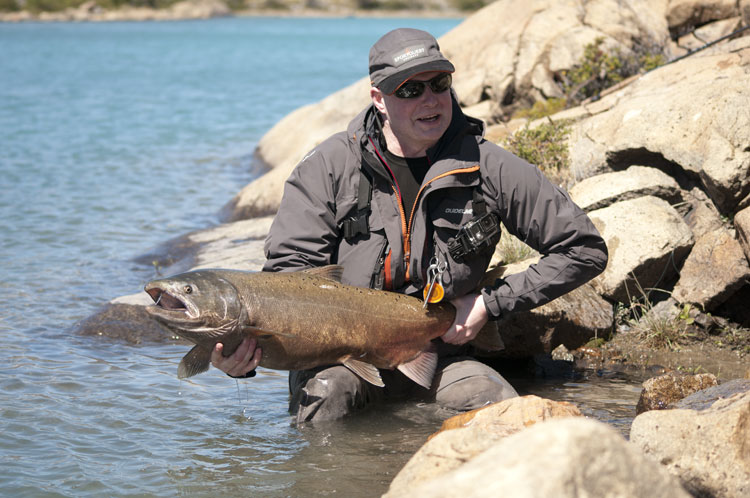 Chris with his first fish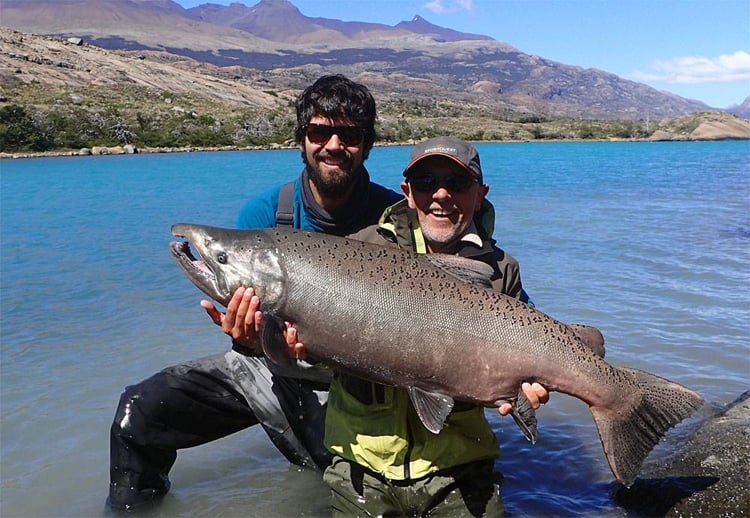 I was lucky to quickly follow it up with a cracking cock fish of 48lb
Slowly Graham brought the fish back closer to us all, just then it decides to make an impressive slow motion roll on the surface which left everyone open mouthed, this fish was huge and if we thought the net was not big enough last time, how the hell are we going to land this one? I am please to report with a team effort the fish went in or should that be man handled in first time as there was no way any of us were going to let this fish get away from us all.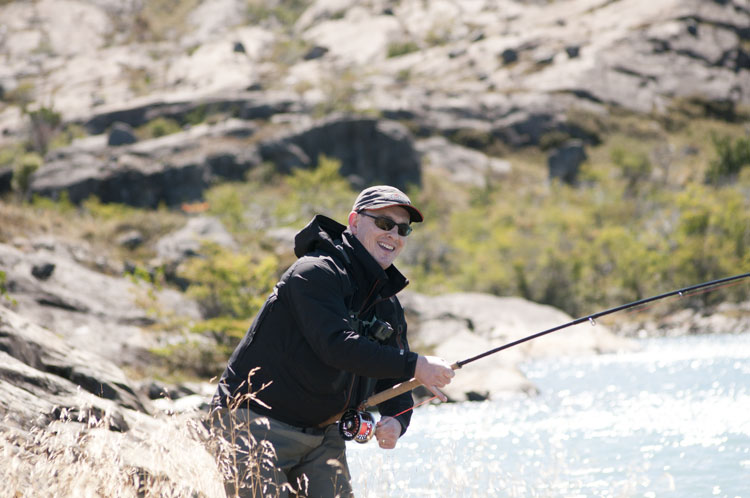 Graham looking very happy as he is well in to his fish.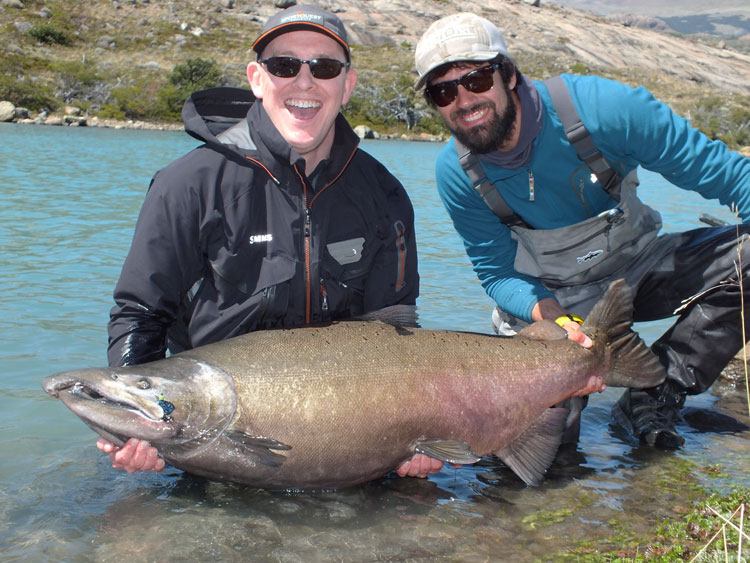 The beast a very impressive 68LB congratulations Graham
Standing there looking at this fish was amazing, Graham was beside himself, he was so excited and extremely high on an adrenaline rush and quite rightly so. The fish measured an amazing 129 cm long and its width was 80 cm and weighed 68lbs. A true fish of a lifetime (However as I write I already know that we have matched this fish once and beaten this fish 3 times so far this season, full details to come)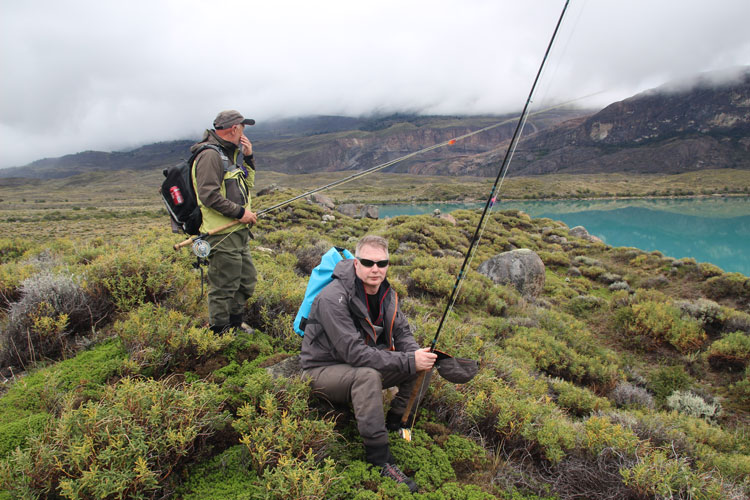 I wonder just how big these fish will go in this river. I am sure it will not be long before we break some records.
This year is the first real full season year so it was also the very first time that catch records will and have been recorded with a full catch record book to be kept at the lodge. It was a great pleasure that the first person to catch a fish on this trip was also going to be the first person EVER to be recorded in the book. That honour went to our very own Lamb Chop or Lamby as he is fondly known. Later in the week he also caught another fish this one going over 30lb and anyone who is lucky enough to ever meet the man will have fits of laughter when he recalls the capture to you, a great angler and also great entertainment.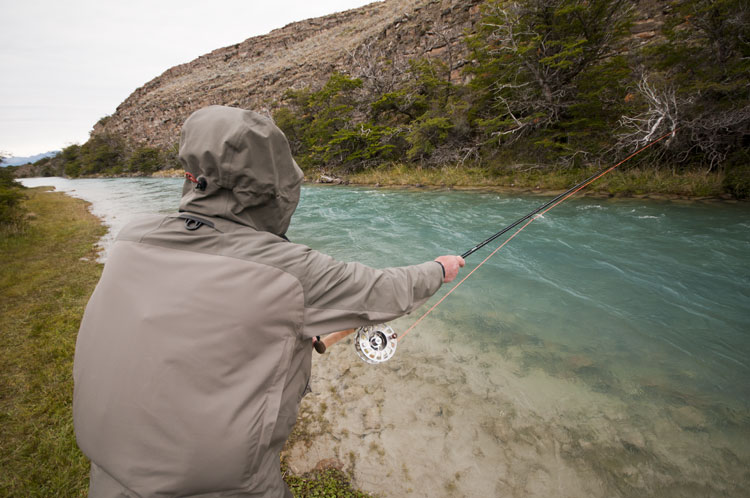 Lamby enjoying the fishing in the channel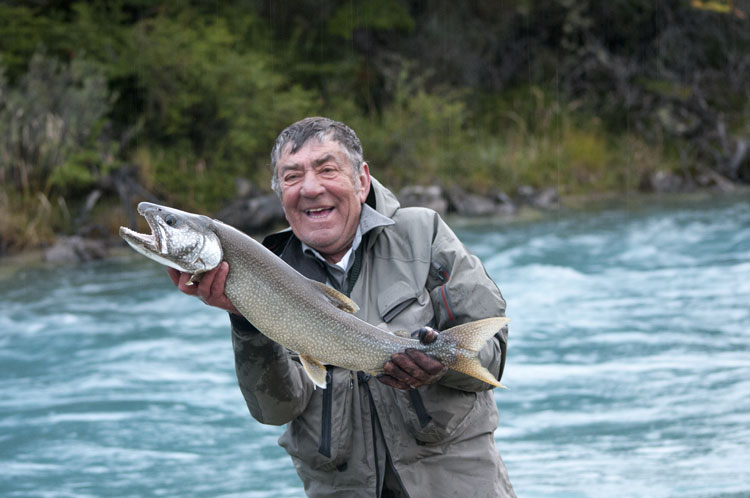 It was not just Kings that kept us busy, there was some impressive Lake Trout and between us we must have had over 250 Rainbows for the week.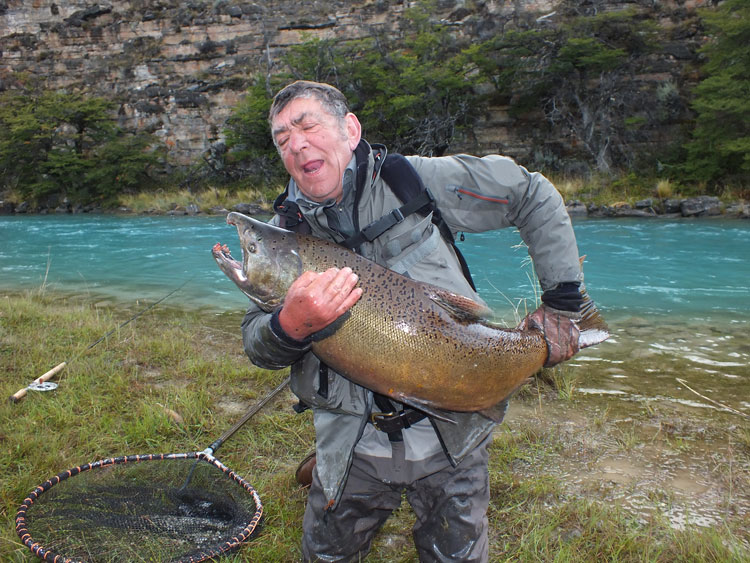 Lamby with his King caught on film in a compromising position with his King
Tim who had been with me the week before started the week off with huge excitement hooking and losing some big fish with either hook straightening or fish shedding the hook. I was not until right the last full days fishing did Tim land his first big King. As normal Tim did it in real style, fishing the Whale Stone with both Graham and Chris, Tim connected in to a big fish, luckily both Graham and Chris were on hand as they were both rigged up with GoPro cameras, so not only did Tim manage to land his fish it was all filmed from two different angles which is going to make some amazing footage (Videos to follow) Tim's fish measured and weighed went 40lb dead weight and again a fish of a lifetime for most people.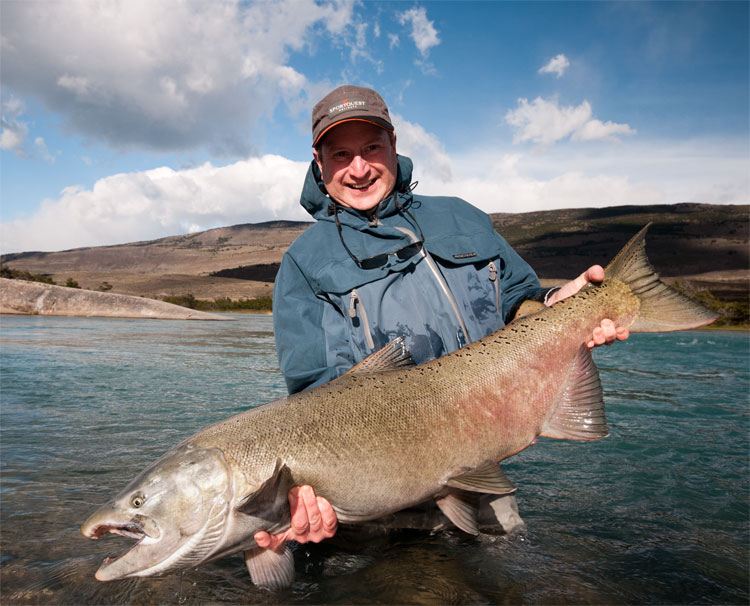 Tim looking very happy on the very last day, well done Tim it was in the bag.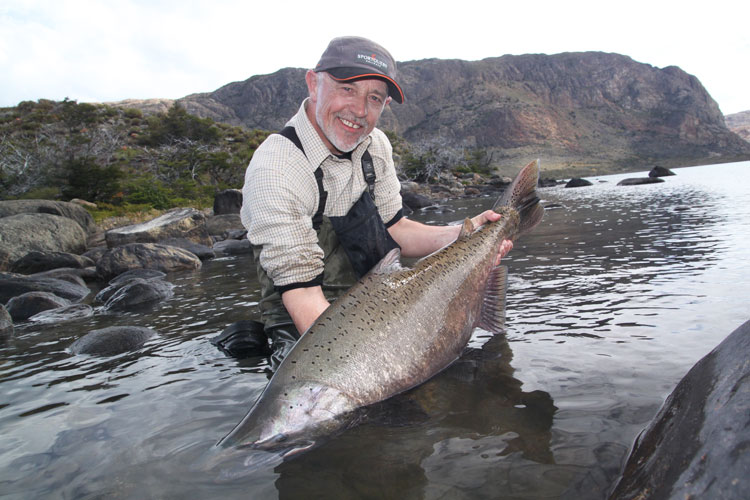 Peter Collingsworth holding a fish that gave an amazing fight, I even fell over while playing this fish which was to everyones amusement, plus it was all caught on film…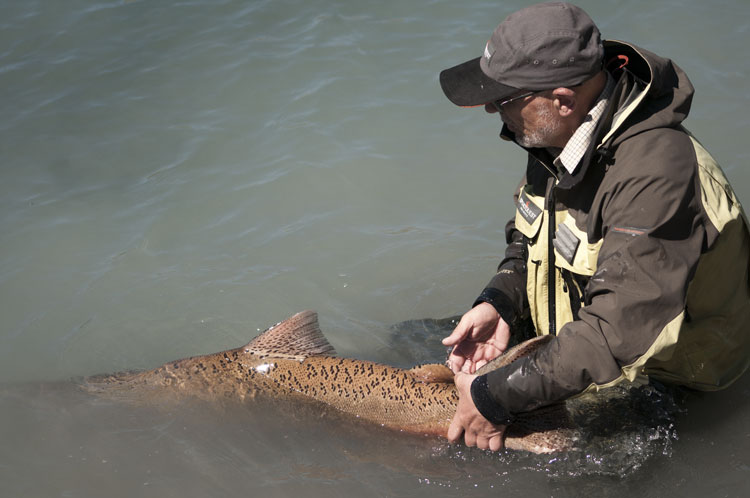 A nice King sliding back to the river, just look at the wrist of this fish in my hand.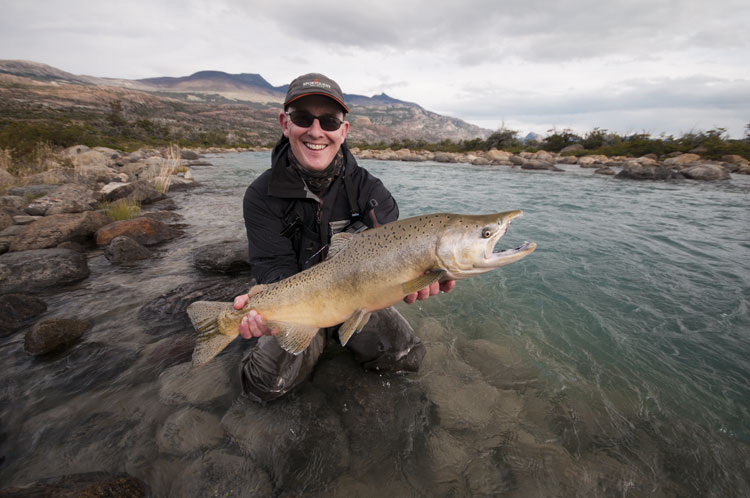 The smallest fish of the trip as everything else was over 30lb, nether less a cracking fight in fast water.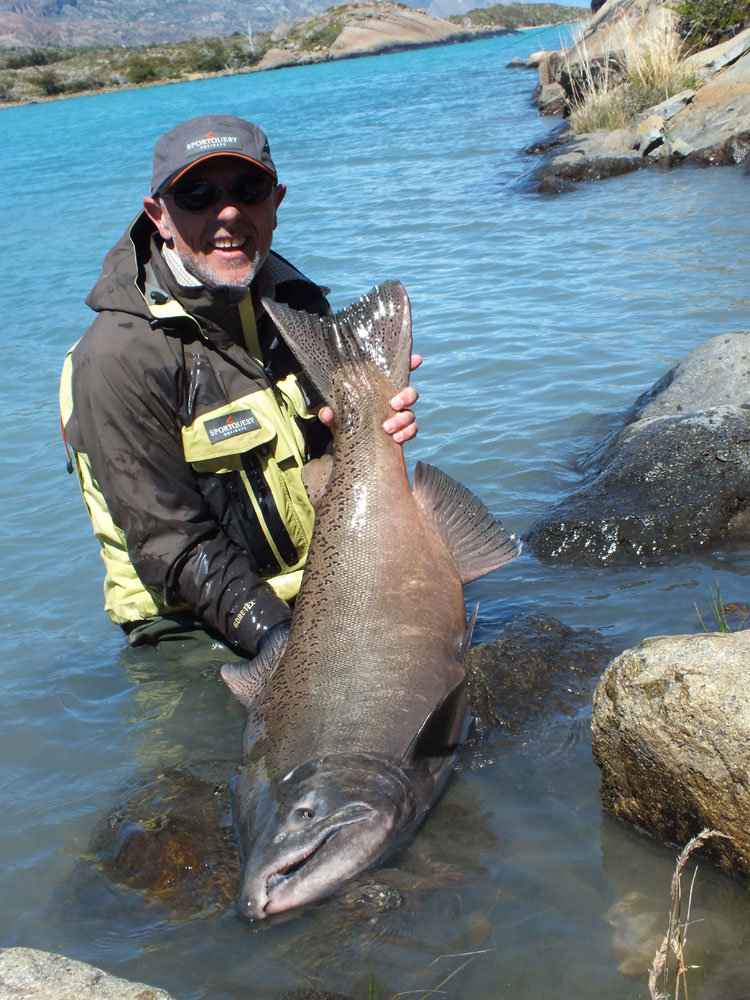 A cracking fish that went 124cm long and 69cm wide.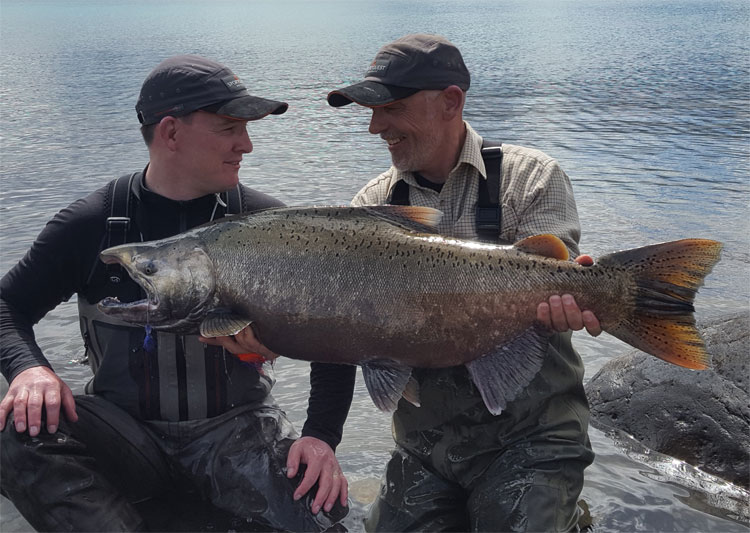 A lovely shot of me and Graham having fun, he had to help me land this fish as we had to beach the fish as the guide was elsewhere with the net.
All in all it was a very good week, the fish were a little later than previously, however it was a great start to the season. We have now started to put a map of the river together and allowing customers to name pools if they catch something amazing from a pool / run. As you can also see there is still so much river to explore, especially the lower section which then turns a glacier milky colour as a small glacier stream joins the main river.

As you can see from the map we have already identified and caught fish from all the mark pools / runs, however some still have no names, so it could be your chance to name a pool to be written down in history. You can also see there are many areas yet still be explored and ruled out. The lighter blue colour is where the Galicia stream joins the main river and makes the lower section more milky colour.
So why has this destination got beneath my skin? Well it is all of the above, having the luxury to travel and fish extensively around the world it takes a lot to both excite and impress me so for those who know me, when I say this place is truly exciting and still relatively unknown you just know that these Glacier Kings is something special. So much so I am already looking forward to next season, when Sportquest has the first 2 weeks of the season and it will come as no surprise that for 2019 Sportquest will be taking the first 3 weeks, giving our customers the BEST fishing weeks.
I hope you enjoy some of the pictures below and also take a look at the river map in progress and see what you could be joining me on next year.
If you are interested feel free to call me personally in the office at anytime on 01603 407596. I will talk you through the whole trip with a totally honest opinion.
If you wish to read more about the tour CLICK HERE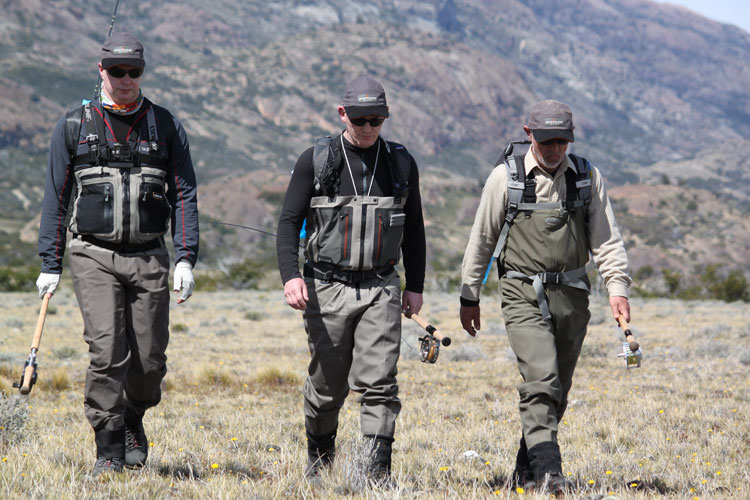 Chris, Graham & Peter walking to the next pool, all looking like an advert for Sportquest Holidays.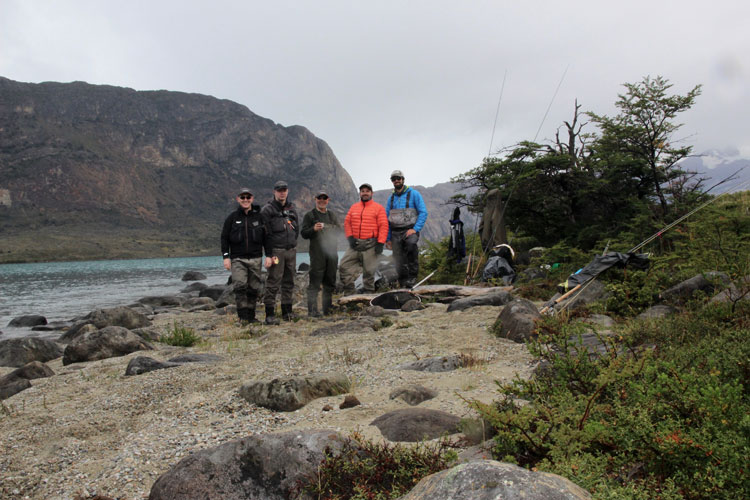 Customers have a gathering at the top of the river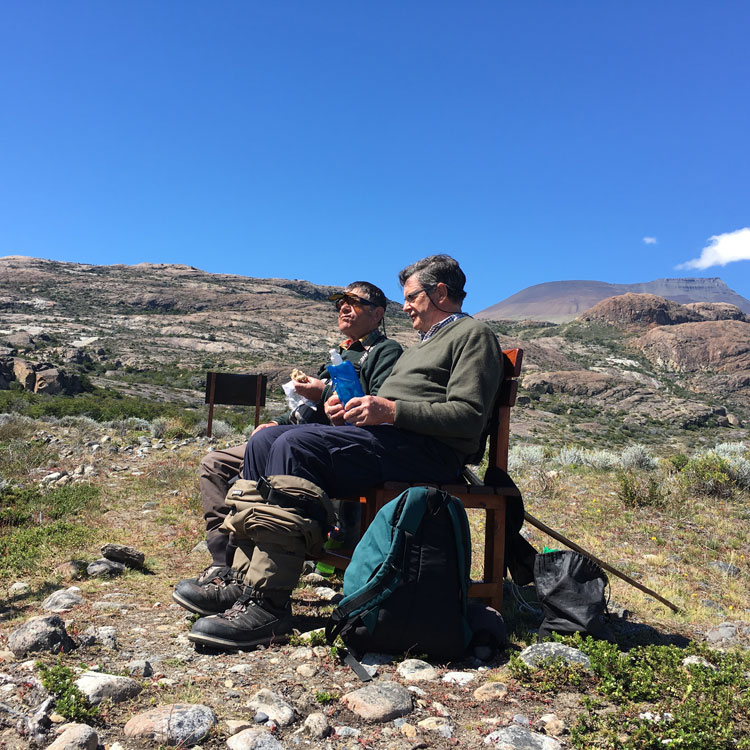 Lamby & Paul enjoying a rest and some lunch at the famous Whale Stone Pool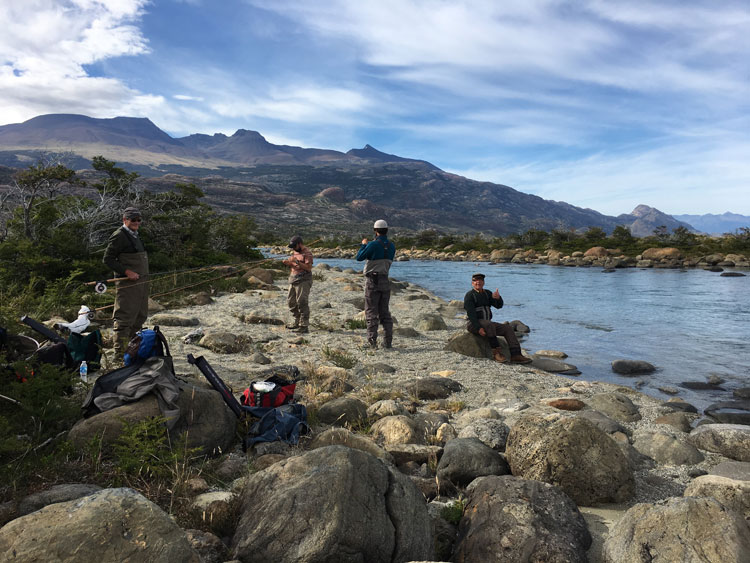 The river is just so nice to fish, every run down you expect one of these monsters that keep swimming past is going to mug your fly.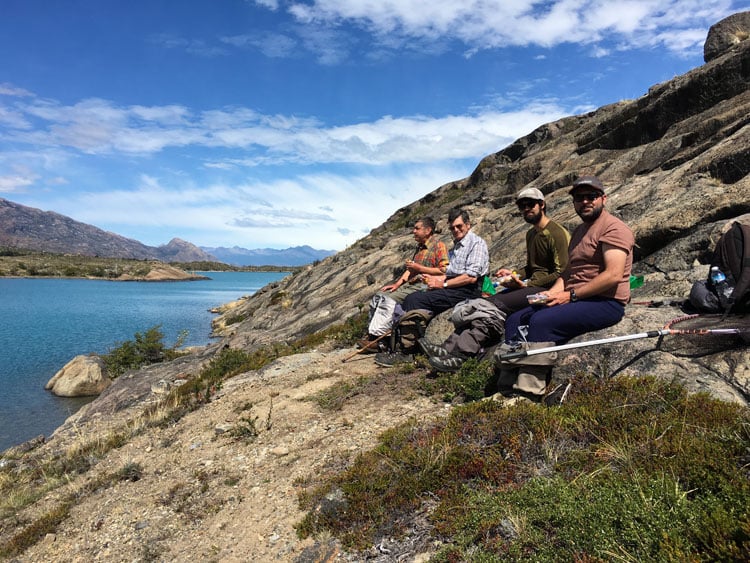 Taking a rest at Mammoth Bay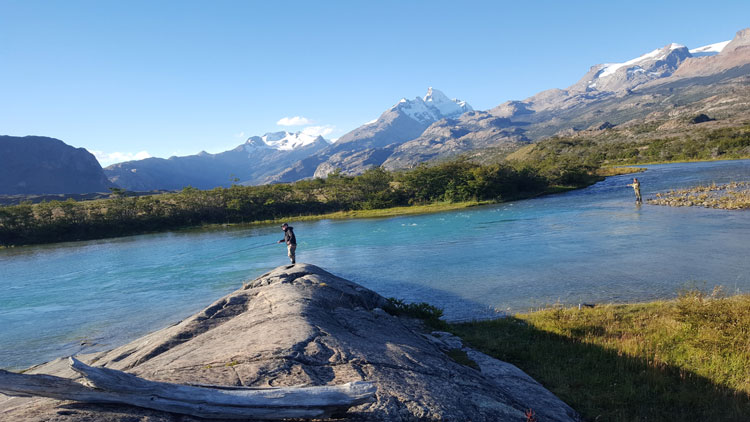 Fishing the Whale Stone, this is one lesson we learnt, in the end we would not stand on the stone but wade in on the righthand side, then the stone would shield us from the fish, which made all the difference.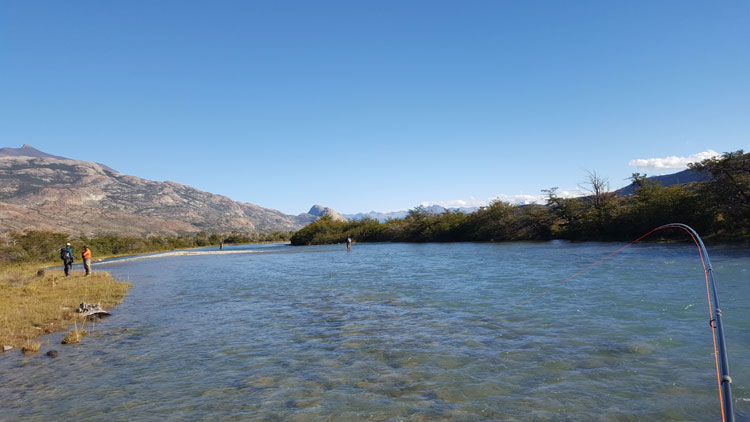 One of the unnamed runs, this is lovely water deep run all along the far cut bank.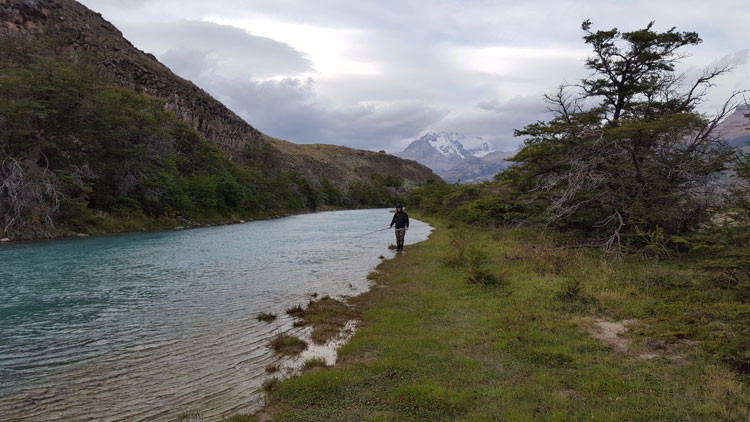 In other areas the river cuts through high rocks making some deep cut channels. Perfect for resting fish.
After a great trip on on our last evening in BA we all went to one of my favourite genuine Argentina steak house, huge steaks with large quantities of Malbec wine, made the prefect ending. So until next year.
Regards Peter Collingsworth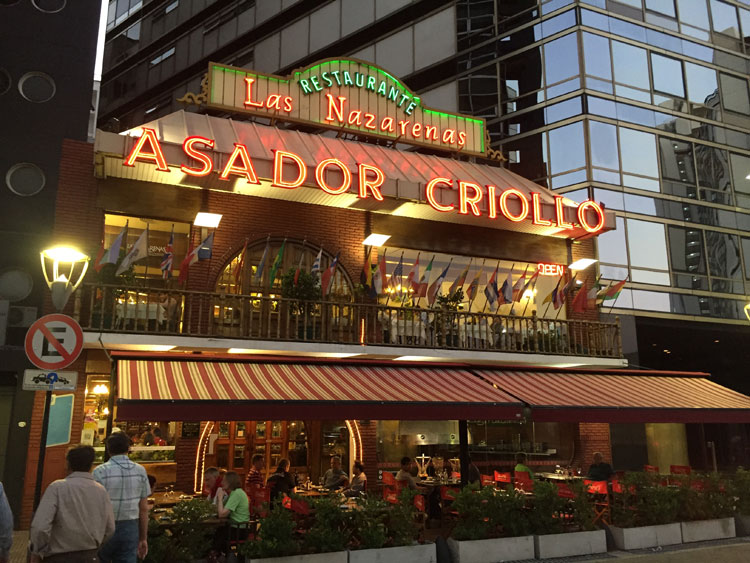 A little gem hidden in down town BA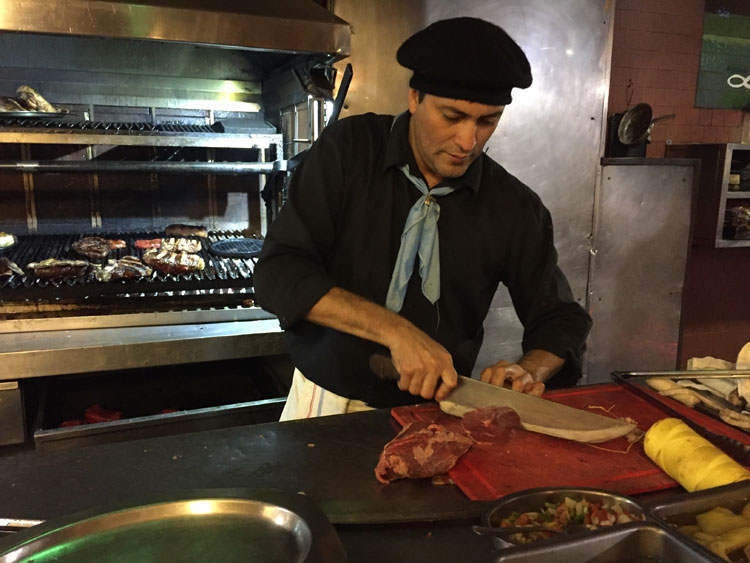 These are real steaks cooked on the grill.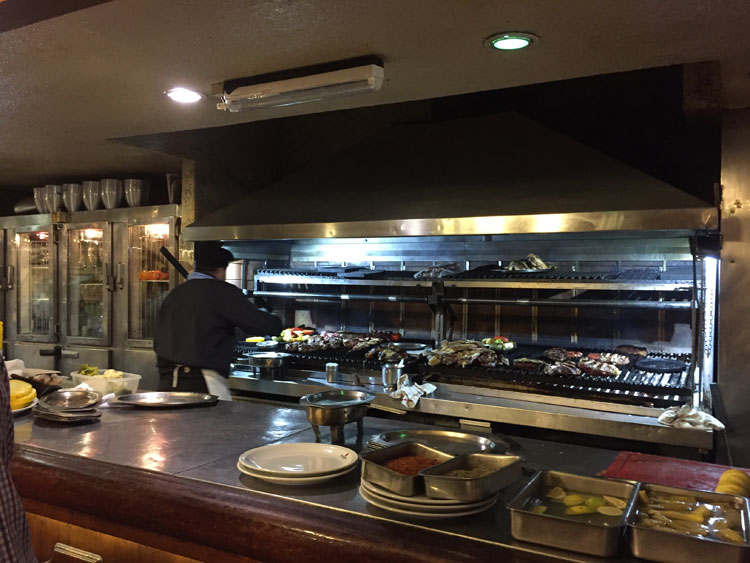 Just look all that food on the grill makes my mouth water just remembering it.