We are sorry for the delay in bringing you our weekly fishing reports but as the internet is so slow from the lodge we had to wait until we could get all the pictures through. We now have weeks 2, 3 and 4 all ready to report and its going to blow away your minds.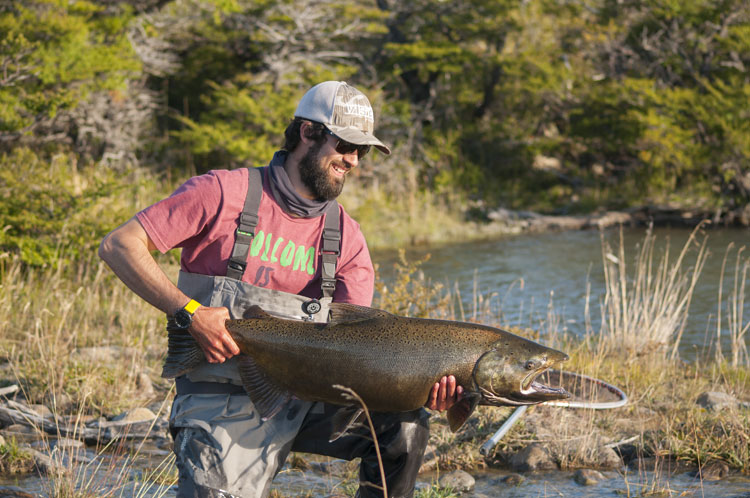 Juan one of our guides returning a customers fish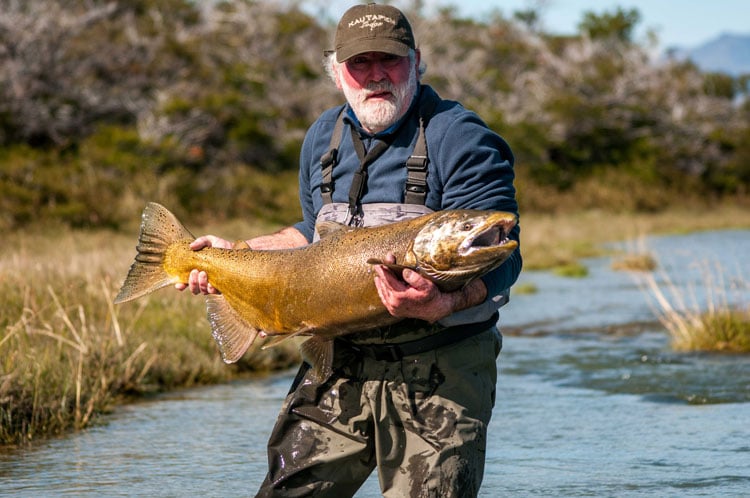 Lovely Autumnal colours of these fish, we catch them from bright chrome through to bright red. However what ever colour all the fish are still in amazing fighting strength.
I am very pleased to report as week 2 came to a end this year that we had a great week with a nice bunch of customers. This week we had 5 anglers concentrating on the fly and one Asatoshi Okiyama from Shimano Pro Team lure fishing with his buddy Shoji, who was there to film the week's events.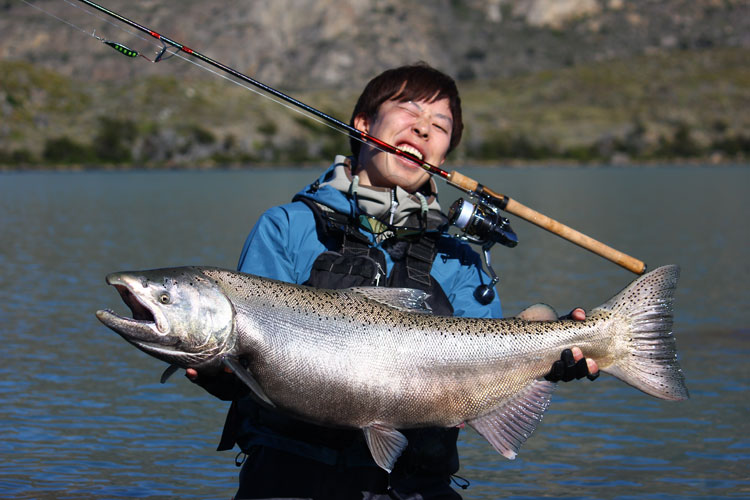 Asatoshi Okiyama with one of his many lure caught Kings, notice just how fresh this King is, stunning.
What was nice was one lucky customer got to name a pool / beat on the map for catching a truly amazing Salmon of 69.5lbs, so very close to the 70lb threshold. Fishing was mainly in the holding pools, however we could see fishing building up on a daily basis in the runs between all the pools.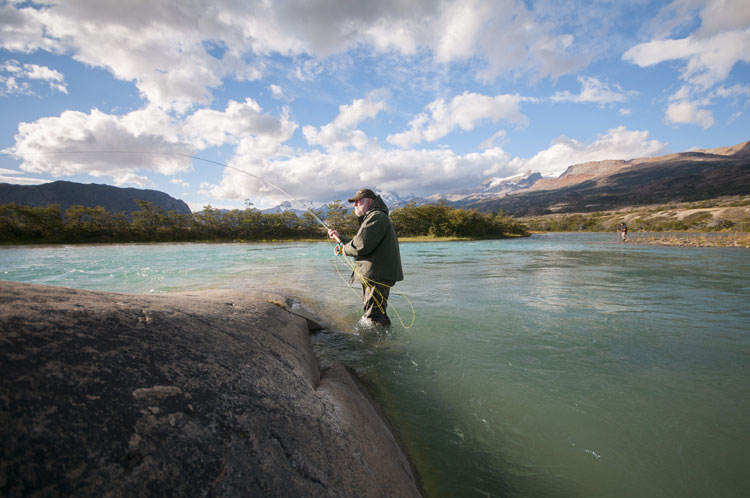 Customer enjoying playing a fish at the famous Whale Stone Pool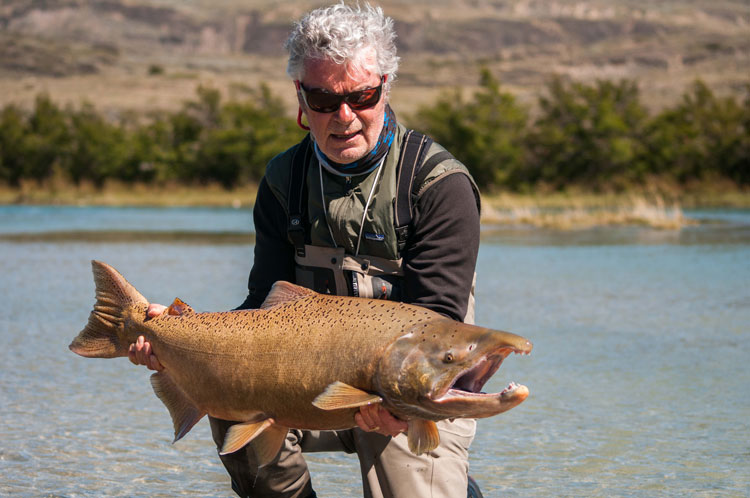 A customer looking very happy as we said everyone managed to land huge Kings this week.
Conditions on week 2 were very similar to week 1 with water rises and falls plus a little bit of colour, which was perfect. The weather was also normal with dramatic weather changes daily, one day its bright sunshine everyone getting sunburn, only to be cold, windy and raining the following day.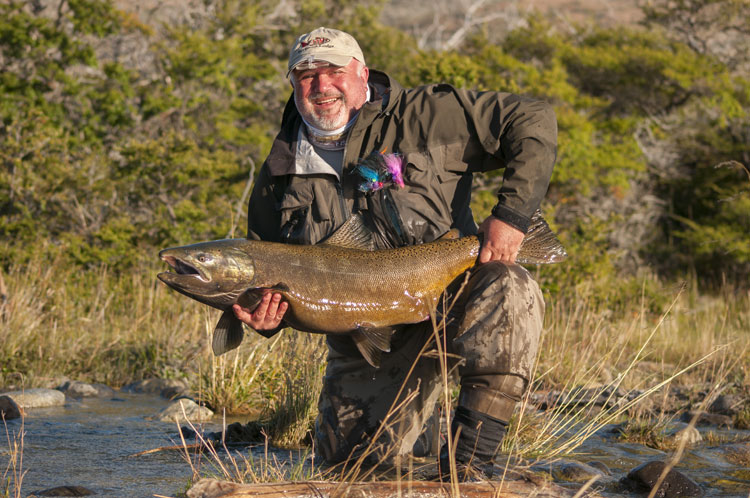 The smiles and laughter all week told the story, yet again the guides and lodge staff took such good care of everyone, making the whole week very exciting for everyone involved.
As normal we split the group into two parties with one concentrating on the upper section while the other concentrated on the lower section. Again this week it worked out on a nearly 50/50 basis of fish hooked to landed, these fish certainly take a lot of hooking and landing, with such powerful fish in a strong current it will always be a heart stopping fight with the angler just praying that the fish will stay on long enough to be landed.
One other point is fitness as one customer found out; one afternoon session he hooked in to what was immediately a very big fish. Our guide was with him to help walk down river with slippery rocks etc to try and keep in good contact with the fish. During the fight the fish just became too much, his arms and back could not take anymore. Luckily with his friends and fishing buddies watching the fight Bernard took the rod to finish the battle. Thank god he did because the fish turned out to be the largest fly caught fish of the week a stunning 69.5LB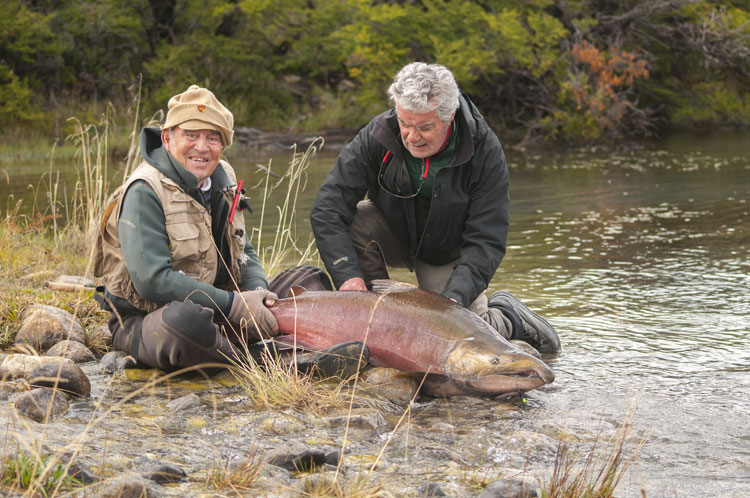 A real team effort to land this huge male fish, this bad boy was not happy at all and gave both anglers the fight of a lifetime, together they held the fish for a picture as none could pick up the fish of 69.5LB
The results for the week turned out to be 21 fish lost (We only count hooked fish and lost not missed bites) with a total of 24 fish landed. What was also great was everyone returned home having caught a King.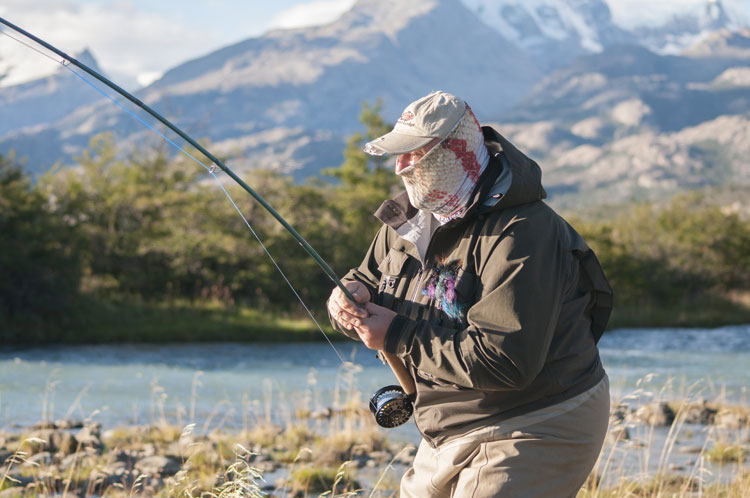 Customer very well bent in to a huge fish, this is a hold on event as I can not express too much how powerful these fish are.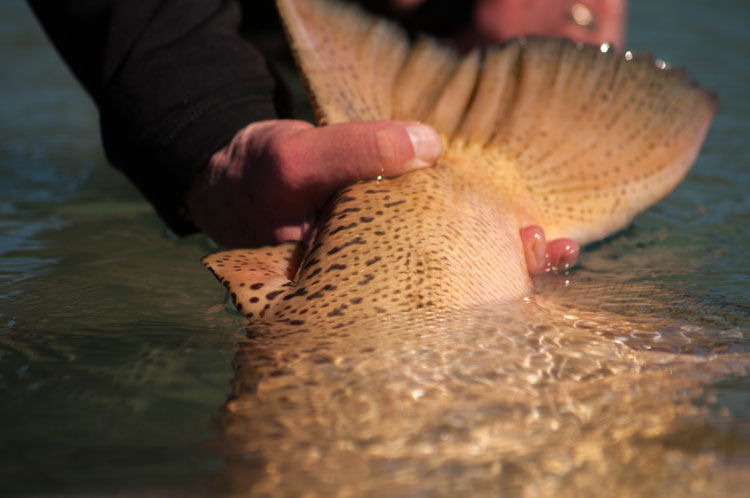 We think these fish with autumn colours are just a stunning as fresh Chrome fish, they fish just as hard and make for some stunning pictures.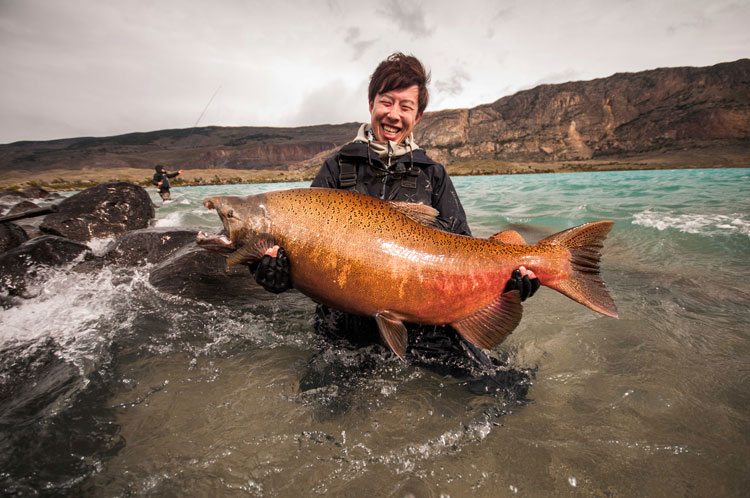 This bad boy was caught at the top of the river as the fish start to enter the top lake, one hell of a fish and one hell of a fight. 24 fish for the week all like this as we had NO small fish at all. These fish travel over 400 km to arrive here so only the large and strongest fish can make the journey, mother natures way of selecting the best.
This place just continues to excite us and we are sure that you will be looking forward to the up and coming reports. Remember if you want the most insane King Salmon fishing in the world, this is the best destination you will ever find.
We are already taking heavy booking for both 2018 and 2019, with ONLY 6 rods each week and ONLY 6 weeks in a season each year you can see why it is getting so heavily booked.

As you can see from the map we have already identified and caught fish from all the mark pools / runs, however some still have no names, so it could be your chance to name a pool to be written down in history. You can also see there are many areas yet still be explored and ruled out. The lighter blue colour is where the Galicia stream joins the main river and makes the lower section more milky colour.
If you want to discuss this destination or wish to reserve your places before they disappear contact me in the office today 0044 (0)1603 407596
If you wish to read more about the tour CLICK HERE
Regards Peter