Goodnews River Lodge Salmon Report and the warm weather we were experiencing last week has cooled off and been replaced with mostly overcast days, and rainy nights. The water temps have dropped as well, and we are averaging 54-56 degrees in all three forks of the system.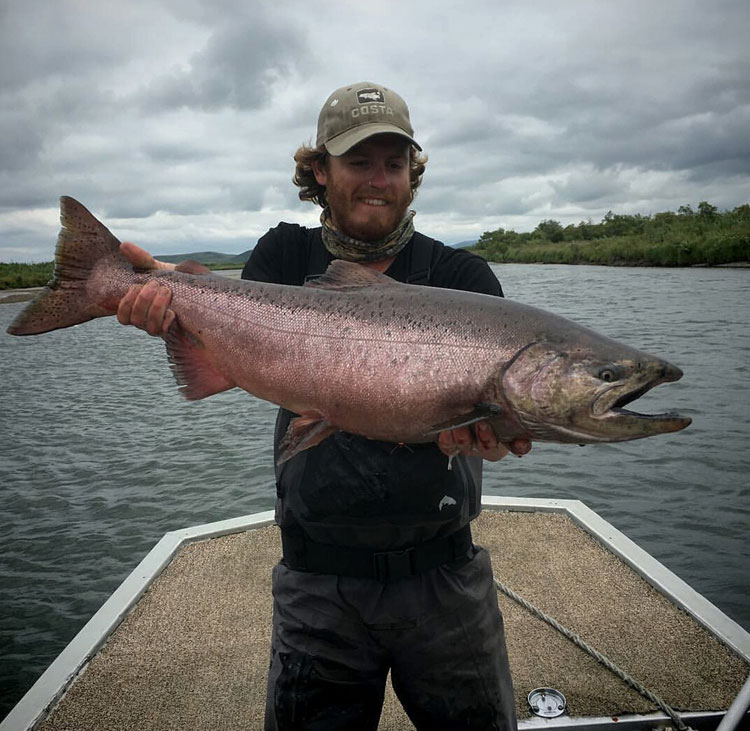 That's all five in 1 day, not throughout the week! A couple Silvers are being hooked in tide, and the Pinks are pouring in, slightly larger than previous years, and covered in sea lice. Chrome Chum are still available but tapering off, and the Spawn has officially started. They're mostly Chum Reds, but a few Kings have also started to dig.
Match the hatch with a bead for the Dollys and Rainbows holding below looking for a high protein snack.  That being said, mousing has been good to great, and the streamer bite has stayed consistent.  If Grayling is on your list, a full day of hiking into Barnum and Velveteen Creek will produce big, healthy fish that will take a number of different fly options.
Silver bite: Increased as the week went on, with a handful hooked on top water.  With some rain in the forecast friday and saturday we should see the numbers steadily start to climb.
In other news it has been a boomer year for Blueberries. Every bluff seems to have them, and a quick hike can lead you to Tundra covered in natures bounty.
If you ever wanted to have an amazing time fishing for all Salmon species , plus the chance of catching a salmon grans slam, then this is one of the best destinations in Alaska.
To see the full details CLICK HERE to book your place for next year.
If you have any questions feel free to call me in the office at anytime
Regards
Peter Collingsworth