The word is starting to spread now on how good the fishing opportunities are in Lakshadweep and with many weeks sold out it isn't going to be long before this place is right at the top of many anglers dream wish list of places to travel.
If after reading this article kindly put together by our guides out at Lakshadweep, you think you could see yourself visiting this unspoilt part of the world then call us on 01603 407596 and we can talk to you about this amazing trip.
FISHING REPORT
Giant Trevally, Triggerfish, Bonefish, Milkfish, Parrots, Bumpies, Napoleon Wrasse, Indo-Pacific Permit and many other highly regarded game fish roam the shallow waters and reefs of the Lakshadweep Archipelago, only a mere 90 min flight off the coast of mainland India.
This relatively new fishery evolved within a year and a half into a hot new turf for fly fishing enthusiasts after popping and jigging anglers have raved about the fishing grounds whilst absolutely neglecting the flats and skinny waters. Apart from some spinning and casting anglers who had carried their fly rods for some less serious try-outs during lunch breaks, we have initiated the first full blown fly fishing scouting of the Lakshadweep Archipelago and after a very short spring season and a full autumn season we can say that the fishing, especially for GT, Triggers, Parrots, Bumpies, and Bones is looking promising.
Results have been fairly consistent and we have really just scratched the surface yet. More and more clusters and patterns are shaping out as we go. The reality of it all is that we are over the moon with excitement to be able to explore this amazing area and now to share it with other passionate fly anglers wanting to try something out of the ordinary and write another chapter in their own books.
Before you go:
If you have ever considered chasing GT with a fly rod, in Lakshadweep or quite frankly anywhere in the world, here are a couple of FAQ's and Observations that will help you perform at your peak out there where and when it counts.
Prepare:
The good old saying, fail to prepare = prepare to fail, is very true indeed. Once on location there is no fly shop so take the time needed before your trip to prepare yourself and your gear. Our scouts and guides really want to put you onto fish and you can increase your chances tremendously by coming prepared.
FAQ's:
Q: What are the most important things I have to work on prior to the trip?
A: Mainly three things
Casting! Even if you are used to carry and cast Tarpon Gear, this is a different game in a different stadium. Wading in the surf and flats looking for Giant Trevally demands quick decisions and even quicker casting. Very often it's a matter of seconds between having a cow GT cruising by disappearing out of reach before you realize what happened or an explosion of water followed by a screaming reel and line flying through the guides of your rod!
To maximize your chances you should practice casting before the trip with GT lines rigged with hookless GT flies. Bare in mind that at times you will be waist deep in the surf and the better your casting is, the more you can capitalize on your shots. Being able to cast 35 Meters on grass is great. But can you put the line 15 Meters out when you are in the surf wading knee or even waste deep? Exactly that's what you need to do here at times. When you have a fish in sight you often have a window of a couple of seconds to get some line in the air and be ready to shoot. At this stage every false cast you make in the direction of the fish dramatically decreases your chances! Quick reactions and a cool mind is the key to success!
Attitude and Expectations: One of the most important things, especially for GT more than anything else is your expectations and your attitude. Fly Fishing for GT is not for everyone – we keep repeating this but holding on to a 12 weight on a skiff in search for Tarpon is way different than casting these rods with bigger flies in the surf wading. If you expect 20 good shots a day on GT, well then this is probably not for you. Seeing multiple fish during a session with 2-4 real shots a day is considered a good day. Don't be fooled by all the pictures flying around on Facebook and other social media sites. It is not easy and not everyone will succeed on every trip. We recommend you read week reports from other GT destinations as well to get a realistic idea of what GT fishing really is. Don't expect these fish to jump you! Most of today's well-known and established GT destinations don't produce GT on the fly for every rod, every day. This is a matter of fact. EVERY GT on a fly rod is a victory and worth celebrating! No matter where you fish. That brings us back to the beginning of this article: prepare yourself, be the best angler you can out there and you shall reap what you sow. It's easy at times but most of the time you have to put some work in. This is a game for the headstrong. Stay positive and work hard but don't overwork it when the chance presents itself – eventually it will happen and you will be the angler posing with your first of hopefully many GT's!
Be flexible! If for some reason the GT fishing doesn't put out the way it usually does, be willing to chase some other species or try some different methods. There are Bonefish, Triggers and other species to play with all day in case the conditions don't align for a successful GT hunt. If you want to keep it strictly Fly Only, switch to dredging or switch and tease to milk the fishery to its full extent. However, there's nothing wrong with a little bit of offshore angling and popping for Yellow Fin Tuna or GT in deeper water. Believe it or not, people are traveling all over the world for this game so why not take the chance when you are on one of the hot spots for it!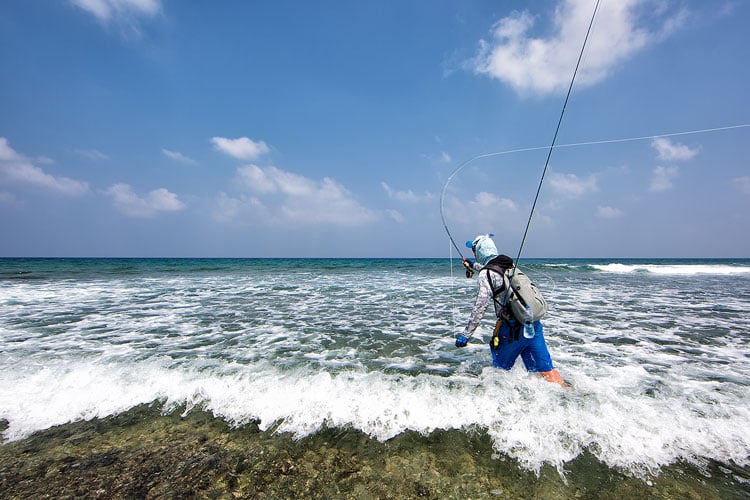 Q: What is the most effective Gear Combination?
A: We are strapped with 9 and 11/12 weights in 9ft. The 9 weight is our all-round answer to most species on the flats other than GT. So far, we haven't seen any small Bonefish or ultra-skittish shallow water pigs that require the downsizing of our gear. A 9 weight will easily carry heavy Crab flies for juvenile Napoleons, has enough beef to full stop proper Trigger fish on their run to the coral heads, and certainly enough backbone to work a good medium size GT on a crab-raid. Our 9 weights get to work a lot more than our GT combos since the small and mid-size game is amazing here. The 11/12 weights are our heavy GT/Napoleon/Tuna/Sailfish guns. Personally I like an 11 weight on the sand flats. Rigged with a 400 grain GT line it's quite a treat and especially with slimmer profile flies like Sempers or smaller Brushies (6/0) a sniper tool. The 12 weights would be a universal stick if I could only pick one heavy rod though. Offshore, Surf, Flats… you are rigged for everything. The pursuit of Giant Trevally (Caranx Ignobilis) by foot is quite demanding and we recommend shorter tapers when wading. Longer tapers are ok for boat fishing and the tease and switch game. Our entire scouting staff ended up with Scott Meridian rods after many trial and errors with other rods – I'd also like to point out that we are not endorsed by Scott… we buy these rods! But, no matter what rod you choose make sure to practice and cast it rigged the way you expect to fish it before you arrive here. And if possible, bring a spare rod just in case.
Don't forget to bring a dredging line as well as rigs for tease and switch (Cam Sigler Popper and Heads plus hooks and Poodle Flies)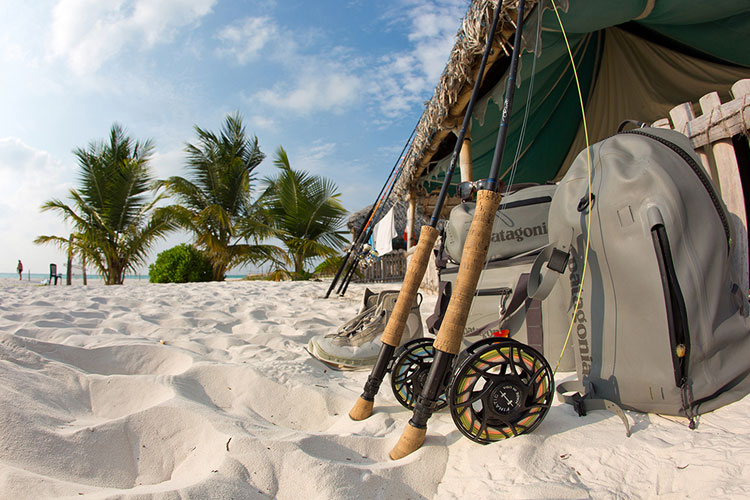 Q: How do you carry a second rod with you whilst wading?
A: It is important to be strapped with two rods: One for big angry fish, the other one for everything else. It doesn't make sense to carry three at the same time. As a matter of fact, it will be contra-productive. The secondary rod needs to be stowed away easily accessible and yet out of the way of the casting hand rod. Bring a waterproof backpack – not a sling bag! Bring shorts or flats-pants with pockets! You take the secondary rod and push it between you and the shoulder strap of the backpack, just beneath your armpit. The butt section of the rod will be secured in your pocket. This is the best way to do it. Forget about all clips, quick release slings or rubber tricks.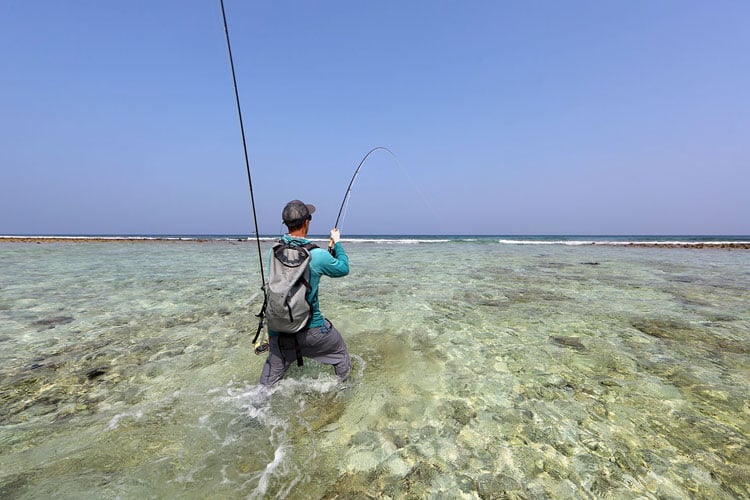 Q: What are the top 5 flies for GT, Trigger, Bones etc?
A: GT Flies: Tan & Black Brush flies, Olive Sempers, NYAP Poppers, Big Deceivers, Fat Boys
This selection of GT flies represents almost an international standard. If you tie yourself, make sure that you use a good hook in appropriate sizes and fat wide gaps. Don't just throw your Tarpon flies into a box and think you'll be fine. Believe it or not but GT's can be very picky when they are in the shallows. If you fish with me, I want to see a box full of eye candies tied on needle-sharp 4/0, 6/0 and 8/0 Gamakatsu SL12s or TMC 600SP. You don't come this far to carry a Ziplock full of rusty sweatshop flies from an online discount bargain sale. If you pay peanuts, you don't catch elephants, you catch monkeys. If you don't want to tie yourself, get some Rupert Harvey (rupertharveyflies.co.uk) or Fulling Mill (fullingmill.co.uk) flies and you are good to go.
Most important though is that you fish a fly you can cast and can cast fast! It is more important to get a fly out there that the fish will actually see then to have a beautiful fly that never makes the distance in time!
Triggers: Flexo Crabs in orange/tan, Flexo Crabs in olive/tan, Alph-flexo white with orange green dots, Grand Slam tan, Merkins in tan and tan/olive
If you bring only one pattern, make it the orange/tan Flexo Crab from Fulling Mill. Bring both sizes but make sure that you stock a doz. of the smaller ones. Our triggerfish really loves them and they have the perfect weight for both surf and flats fish. The Flexo body allows them to chew on it and if they miss it the first time they will strike it even harder on the second attempt.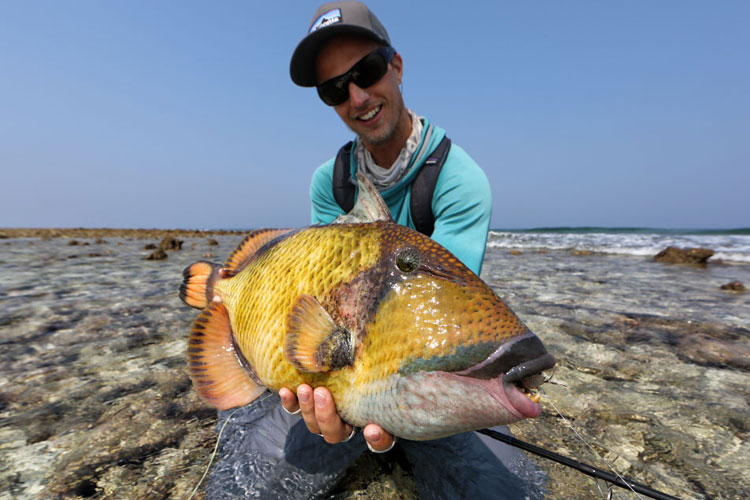 Bonefish: Heavy Cuban Shrimp Tan, Cuban Shrimp, Gotchas, Charlies, Spawning Shrimps
Lakshadweep Bonefish grow to exceptional sizes and require a different approach then their Caribbean cousins. Due to the heavy tidal flows and nature of these fish, they are to be found in relatively deep water (mainly). Of course they will patrol the shallows if the conditions are right, but up to date, we find most of them as singles or doubles patrolling the sandflats, or shoals of bigger fish in tidal channels close to the sandflats. The normal Caribbean pattern will do, but they need to be heavier and tied more sparsely. Schools of fish in the tidal outflow are to be approached with caution. Long leaders, small and heavy flies that are to be drifted into the school. A (really) slow retrieve is the key. These are big fish!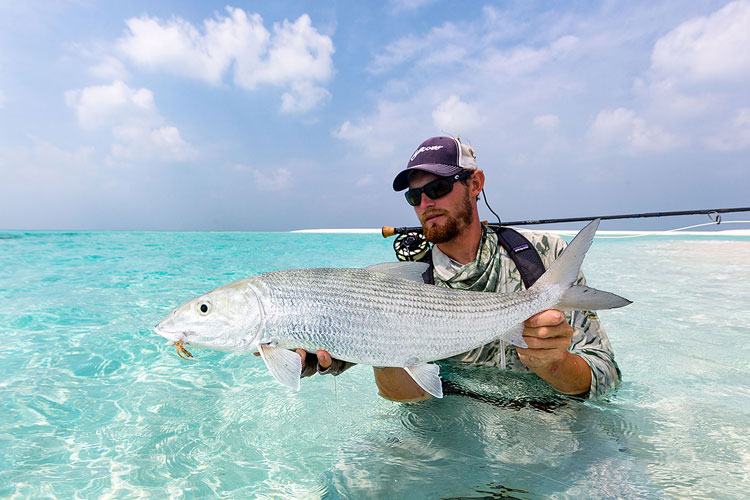 Q: What are the most common species?
A: For the entire area of the Lakshadweep archipelago we have frequent encounters with the following:
GT, Bluefin Trevally, Bonefish, Triggerfish, Napoleon Wrasse, Surgeon Fish, Boha Snapper, Coral Trout, Grouper, Smaller Trevallies, Bumphead Parrotfish, African Pompano, Yellow Fin Tuna, Dogtooth Tuna, Sailfish, Milkfish, Indo-pacific Permit, Albacore etc.
On the flats and wadeable reef sections we have GT, Bluefin, Bonefish, Trigger, Boha Snappers, Napoleon, Bumpies, Yellowlip Emperors, various Trevallies and Snappers being the most common. Milkfish and Permit have been spotted on the flats but not yet caught.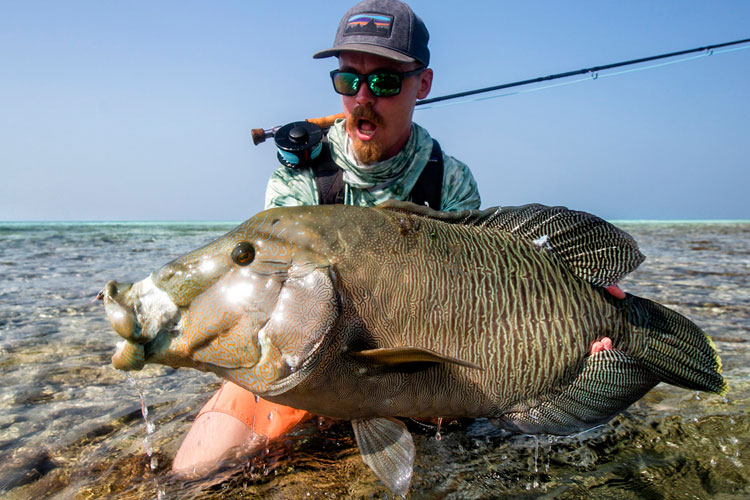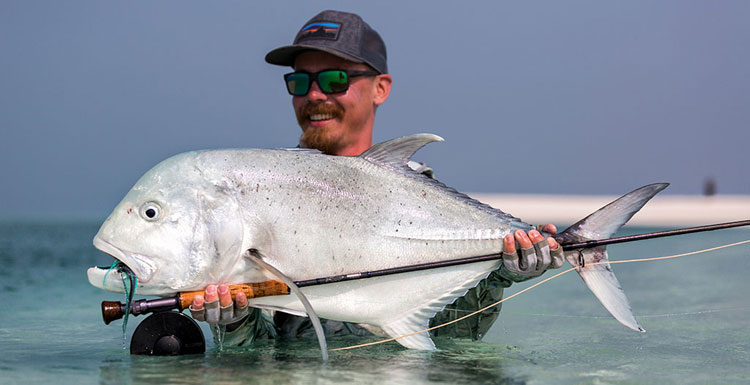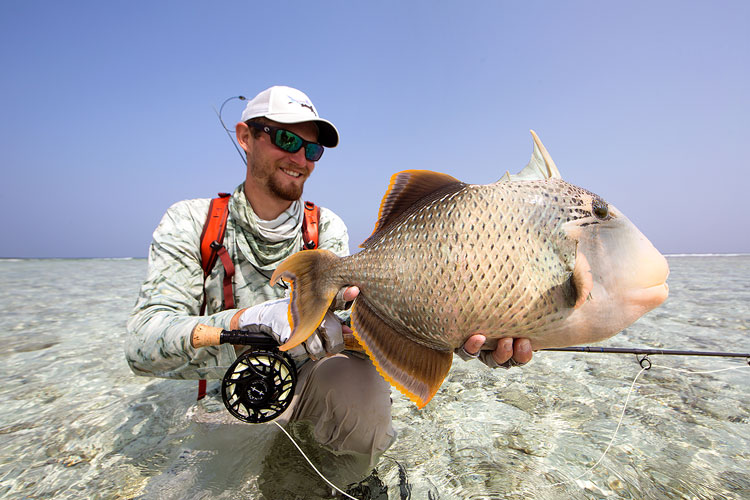 Particular Wading Advice/Tips/Tricks:
– Bring good wading shoes! The surf area is the place to be for a cow GT – If that's your quarry, be prepared for it. The coral-rubble is sharp and the wear and tear on wading equipment is immense. A pair of neoprene shoes will not be enough if you plan to wade more than the sand dunes.
– Have as little gear/slings/straps dangling down from you as possible. These things are a guarantee for disaster. Your line will find a way to catch these things when you need it the least. We have seen numerous fish being lost or shots being blown because of that. Don't have your GoPro on your chest-harness. Believe us – just don't do it. Be as slick as possible.
– A waterproof backpack is a must. Make sure it is one that is actually waterproof, not just resistant to rain during a summer session for salmon. Here we will have sessions where the bottom half of your backpack will be in the water when wading for an extensive period of time. There will also be occasions on the flats or reefs where you need to take your backpack off to get something out or simply drop it in the water for a quick rod change. Our team and scouts are using Patagonia backpacks because they have never failed us but there are other premium brands that work as well. If you want to buy something cheaper or something you have never tried before please check it in your bathtub or sink before your trip to be sure. Spending some extra minutes checking your pack before your trip is way better than picking up a wet camera after a session on location.
– Make sure that your short or long pants don't rub your inner thighs or crotch area sore. Funny piece of advice but you will thank us later when all your other co-anglers start walking like tin-robots.
– Your reel is saltwater sealed! Good, make sure that it actually is. Fishing the flats from a skiff and frog leaping waves in a wave impact zone for GT are two different worlds. We have seen a bunch of reels disintegrating into quarks, drags completely lock up, and handles just corrode away… Make sure that your gear is prepared. Our team are currently fishing Einarsson Plus Series reels and Hatch reels but there are other great reels like the Mako from Charlton and many more that will do the trick for the most part. Again, if possible, bring a spare reel or two. Better safe than sorry!
– Waterproof fly boxes… a hot topic. You want to keep your ammo fresh and free from corrosion and rust – ready for battle. C&F boxes for example are only waterproof on two occasions: in theory and in the catalog! Again, check how waterproof your box really is prior to departure. Fly-wallets are good to have – store it in the backpack or boatbag. An easily accessible fly box for wading/fishing is needed. This means in your pocket and not in your backpack. We usually carry a smaller box with a selection of our Go To flies in a chest pocket or somewhere on us and keep a bigger selection in our backpacks.
– Keep your camera gear in an extra watertight bag inside of your backpack.
– Pack a stack of napkins or a roll of toilet paper in a Zip Lock bag. Dry paper for lenses and cameras…
– Bring some of your favorite Power Bars as a back up for long reef walks.
– Some people really like stripping baskets for the surf fishing. If you do, bring it.
– Glasses – Bring great glasses, not good but great! And bring more than one pair rigged with different lens colors. Conditions and sight will vary and it is vital to always see through the surface. We are currently using Costa sunglasses because they have been great and offer all the lenses we need but choose something that fits you and works for your eyes. Bring a cloth and cleaning spray or tissues to clean them every day. Always carry a cloth or something to clean your glasses when on the flats. Since we often wade surf zones or areas with some commotion your glasses will be hit with splashes of water several times during a session. There is also the sunscreen that seems to constantly make it onto your lenses.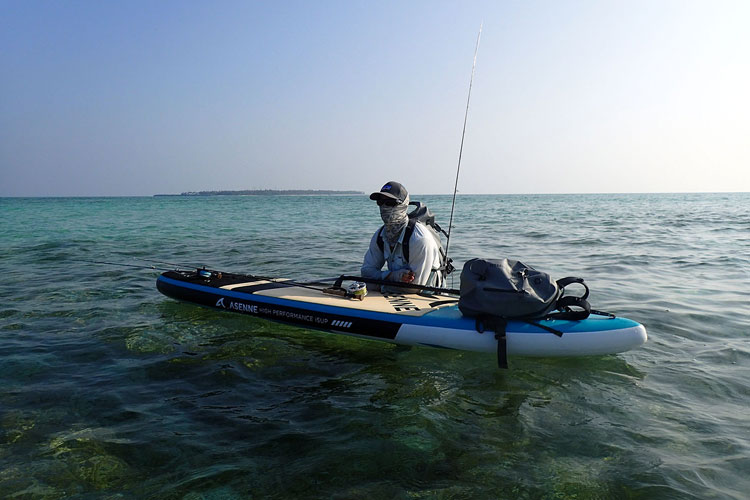 Last Note:
So you read this piece and now you are not sure whether this is really for you! Well good! You should think about it and make sure you are up for it. But with that said this is not a game for Bear Grylls type of people only and you don't need to be a Cross Fit athlete to hunt GT. You just have to take it a little serious and prepare as best you can both gear wise as well as physically and mentally. It is important to know what to expect and with this piece of information we simply want to give every angler an unfiltered description of what to expect and what to prepare for. Walking the flats looking for patrolling GT's, getting shots at Triggers and Bones, getting totally stressed out when you see both Bones and GT approaching and not knowing what rod to choose…it's all part of the fun and every GT hunter will know what we are talking about!
If you want to learn more about GT fishing on the Fly and get some really good insights / recommendations about everything from what tackle to use to GT behaviour on different locations, tides & moon phases, speak to someone who as actually spent many years fly fishing for GT's and probably caught more GT's on the Fly than any other UK angler. Our very own Managing Director Peter Collingsworth will be more than happy to give you his OWN personal tips & experiences rather than reading about it in a book.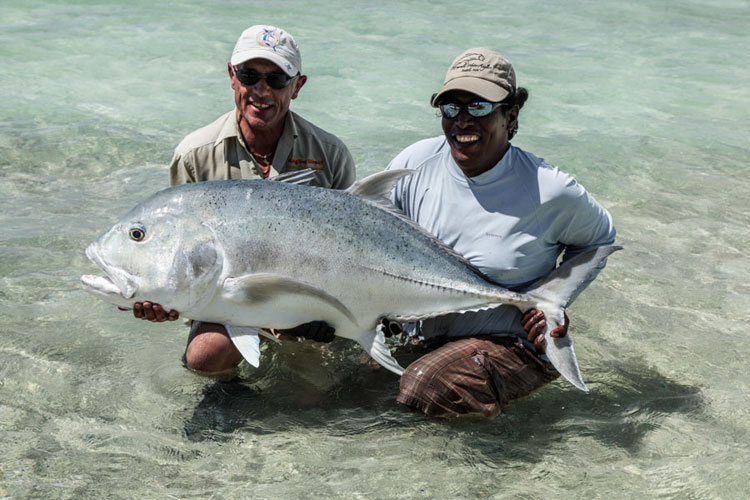 If you can embrace all of this we promise: this is some of the most interesting, challenging, heart breaking, adrenaline pumping but most of all rewarding fly games on the planet!
To view this amazing unspoilt part of the world simply Click Here
See you on the water
Steph & Rick
Thanks Steph & Rick for your amazing in-depth report outlining the do's & don'ts of fly fishing this awesome part of the world. I am sure lots of anglers will get some very useful information and they will come more prepared.
Tight lines
Paul Stevens