Wow, my last Hosted trip went so quickly and as I am sitting here writing this report I have finally got over my jet lag and have come to terms with the change in temperatures. And boy some adjustments were needed as when I returned I forgot to pack a jumper so I turned up in London in a t-shirt in 0 degrees…..
Well what can I say apart from what a place to travel to. I have personally never been to Costa Rica and was one of the places on my list to travel to and it certainly did not let me down.
FISHING REPORT
We headed out on the new direct British Airways flight; 11.5hrs went a lot quicker than every body thought. Whether that was the excitement or the wine on board but it flew by and we soon found ourselves touching down in sunny San Jose.
As all the guys had just left a snowy England we still had warm clothes on and boy we felt the heat when we arrived and after a quick meet and greet by our land operators we soon were stood outside our overnight hotel. A Double Tree by Hilton was where we were staying overnight and would also be where we were due to stay on the return.
This hotel was very nice, better than the guys expected, we tend to put all who travel to Crocodile Bay in this hotel and all have given it top marks and now I can see why. The pool and bar was soon found and a beer order all round. As we all sat sipping our beers we soon started talking fishing and I was trying to find out off the guys what their targets were and also the level of experience they all had. After chatting fishing for few hours and giving everyone a chance to get to know each other, as remember this was a hosted trip and only 2 of the guys had met each other before.
The afternoon soon led in to the evening and with a long day ahead of us tomorrow it was time to make our way to our rooms to try and get a little sleep before the morning internal flight to the resort.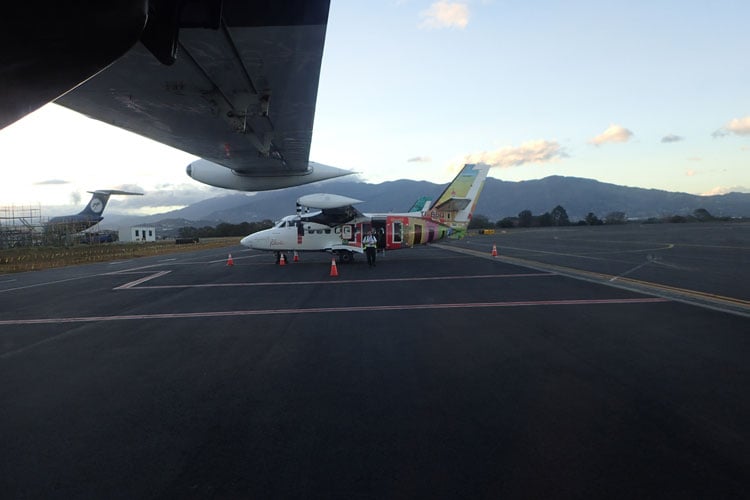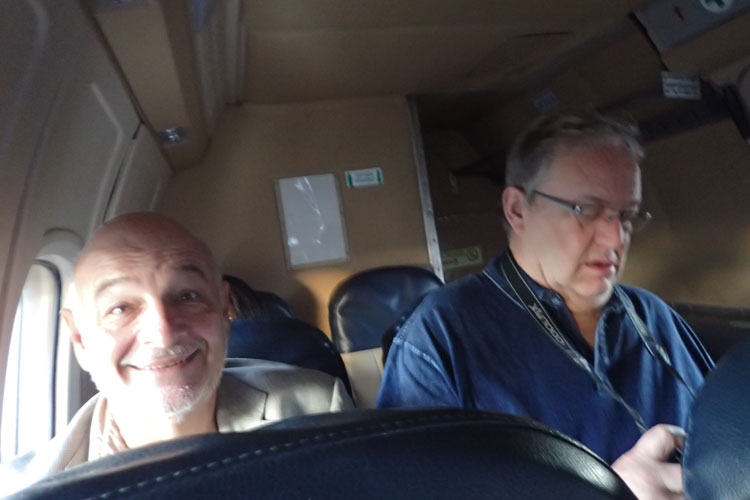 The flight from San Jose down to Puerto Jimenez was departing at 6am so it was an early start for us all. With alarm clock going off at 3am we were standing outside waiting for the airport transfer by 3:45am. This little flight only takes 45minutes and flew over some stunning scenery on the way to the resort.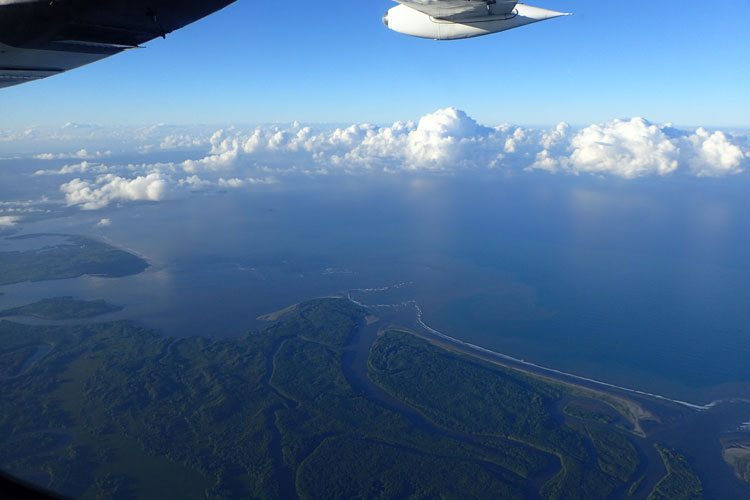 Once we hand landed and collected our bags we soon found our transfer minibus waiting to take us to the resort. Now when people say its only a short transfer you would expect it to be 15 – 20 minutes but the mini bus literally drove round the run way and down a little dusty track and there was Crocodile Bay set amongst the most stunning tropical gardens.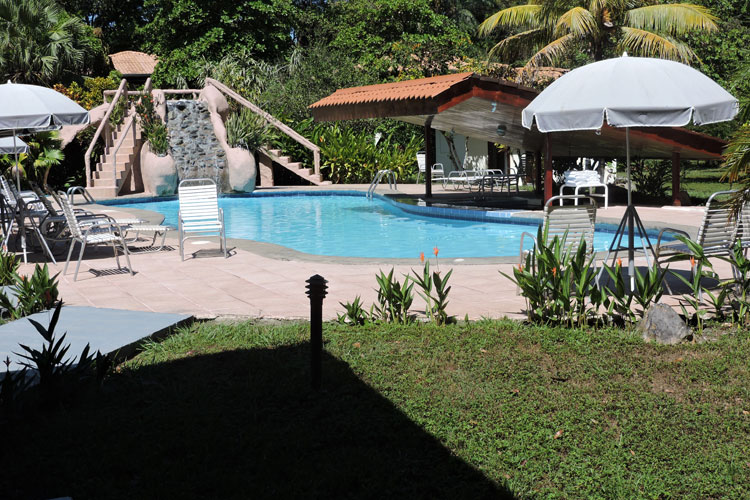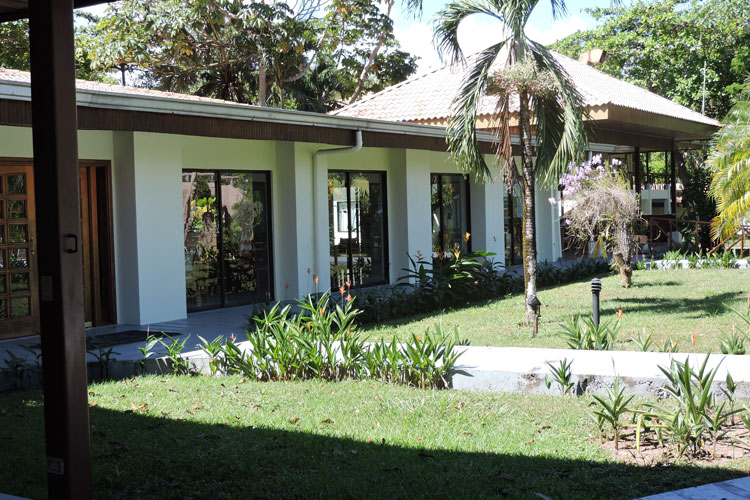 We were met outside by the lodge manager and shown to reception where there were cocktails, non alcoholic, until Geoff got his hands on them and requested a little rum to be added so not to act rude we all agreed and had a mango and rum cocktail for breakfast. After checking in we were taken to our rooms, which I must say were lovely and very large and clean with a huge bathroom at the rear of the room.
As we had a days fishing ahead of us, we were asked to come to the breakfast room as soon as we could to be allocated our boats and for a spot of breakfast. We had a small chance to take a look round before we all sat down for breakfast and a quick chat with Todd Staley the fishing manager.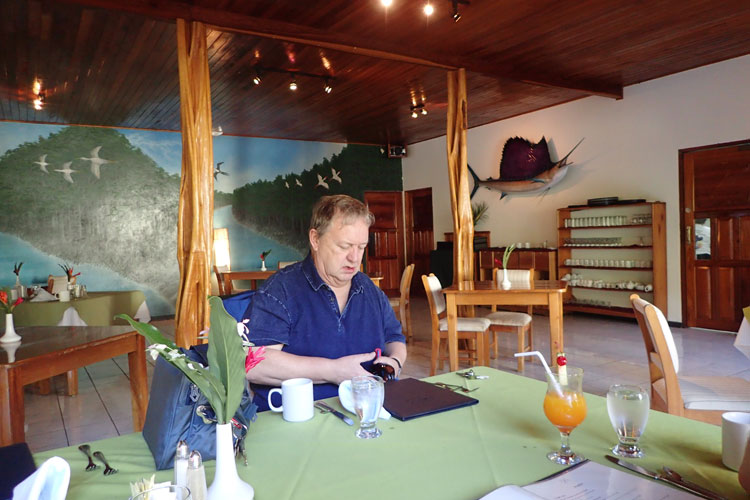 With everybody's fishing targets discussed and whether they wanted to fish off shore or inshore we soon finished our breakfasts and headed down the bridge to the boats, the bit everybody was very much looking forward to.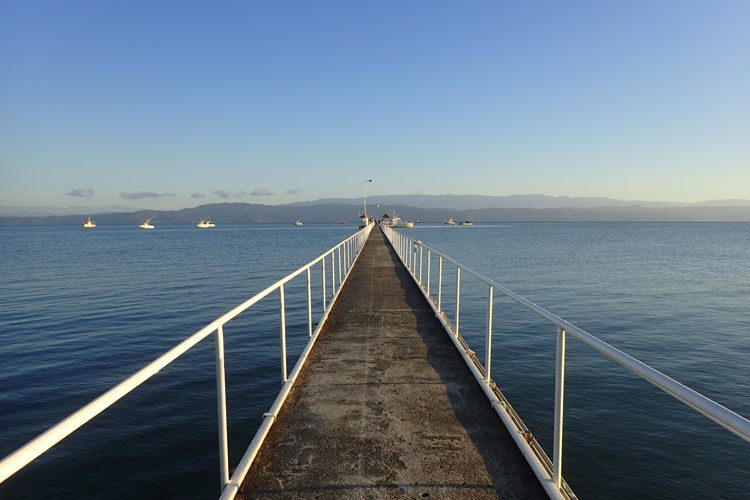 Once we arrived at the dock both groups met their captains and deck hands for the first days fishing, the anticipation was huge and you could see the excitement in the guy's eyes. We soon boarded our Strike boats for the first days fishing. So off we headed and with both groups wanting to try the inshore fishing first we headed along the coast to get some baits for the Roosters and Jacks that this part of Costa Rica is so very famous for.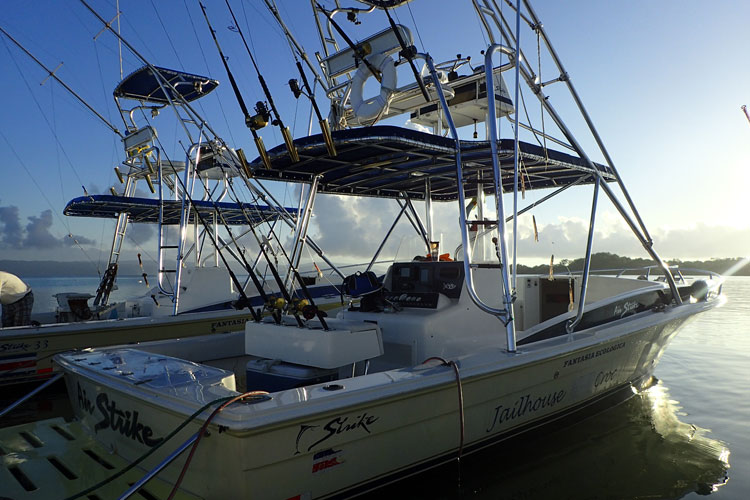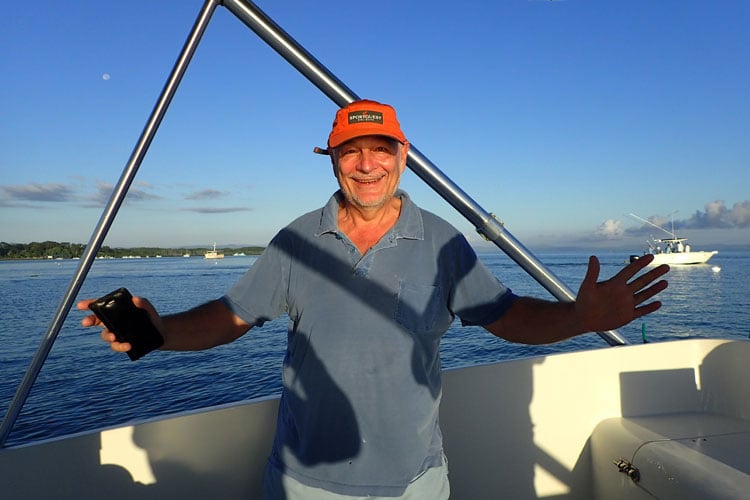 These Strike boats at Crocodile Bay are top quality and come fitted with top of the range fishing equipment both for inshore fishing and offshore fishing so if you are thinking of heading there you will not need to bring any of your own equipment as everything is taken care of.
The rods were put out for the first time and it didn't take long to start to see some action. Both myself and Robert decided to spend the day throwing some poppers around off the front of the boat as they trolled live baits and it wasn't long before we started seeing Jacks and Roosters charging down our poppers. After missing a few good bites my popper got nailed by something for it to only turn round and spit the hooks.
Morning soon turned in to afternoon and with no fish landed the skipper made the call that we had to head back. Unfortunately no fish landed on our boat but that's fishing and now time to see how the others got on as they had decided to do some bottom / reef fishing for snappers and other species.
Soon back at the dock and by the sounds of it the other boat had faired better than we had and managed to bring some fish home in the shape of a couple of lovely Snappers which were offered three ways for our dinner. We all decided to have them deep-fried, which was such a wise decision as these were some of the best fish I have ever tried.
Dinner is served between 6pm and 8:30pm so after a couple of cocktails and a shower we all headed to the restaurant for our fish super. After being shown to our table out came our fish and boy they did a great job. The house Mum, Olympia, came over to our table and quickly showed us the best part of the fish and after a few minutes every body was tucking in to the Snapper and this was just our appetiser. If any of you reading this and have been to Crocodile Bay you will know who I am talking about when I refer to Olympia, she is one of the funniest and friendliest ladies I have met. She sings a lovely welcome song to you and sometimes has a little song during dinner, which is very amusing (a tad crazy but very amusing).
Before we knew it, our alarms were going off for our second days fishing and today the guys had decided amongst themselves to fish offshore hoping the billfish bite was happening. Inside the resort, each day, there is a scoreboard from what has been raised and what has been caught, so you get an idea of what's going on and by the looks of it the billfish numbers were slowly going up.
So off the guys headed for hopefully a billfish packed day. As we headed out I quickly asked the skipper "how far we were heading out" and replied "Around 23 miles" I was shocked at this as normally they only head around 10 – 15 miles out and the further we went out I could see why. The hurricane that hit Costa Rica a month ago had coloured the water and the boats had to go along way out to find blue water, but once we got out there you could clearly see the difference.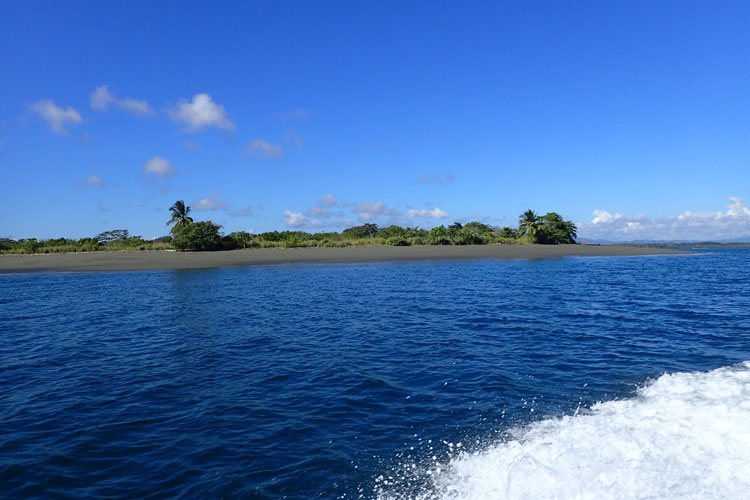 With the ride done out went the spread of lures and we were fishing. Now if any of you have been big game fishing you will know that its not the most exciting fishing until you raise something, so we waited patiently. After an hour or so skipper shouted down, billfish and every body rushed around to get ready to help out. Out went a dead bait to be trolled along side one of the teasers, the fish came for it and then changed its mind…… Dam this fishing is frustrating.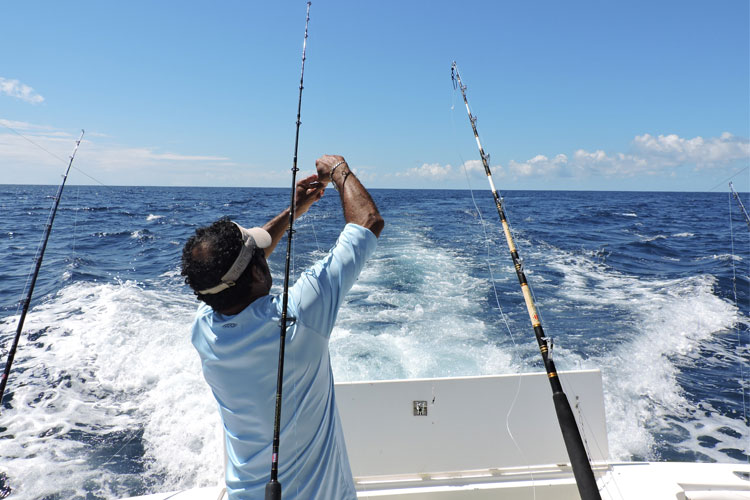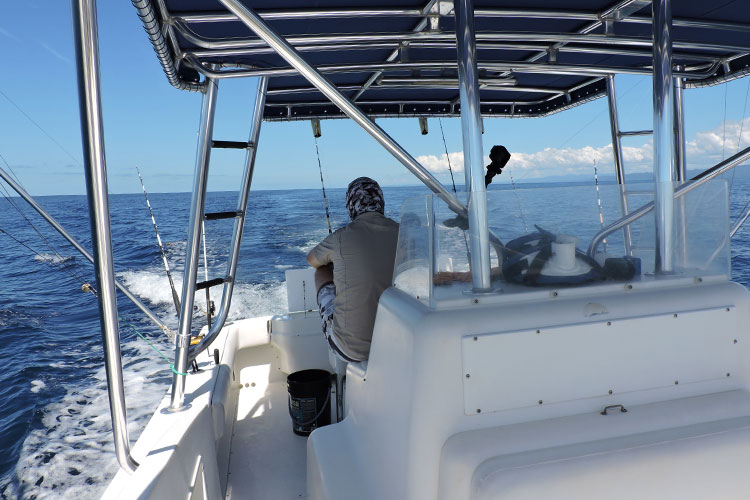 The next few hours flew by, as everyone was busy watching for signs of billfish then skipper makes the shout again and this time everyone was on it straight away. Robert flicked his bait at the billfish and yet again it just followed the bait and turned at the last moment. Boy this game fishing is hard sometimes; the fish are there but just not switched on. All in all that day we raised 7 sailfish and a Marlin for them all to just play with the teasers and then disappear as quickly as they came. Hopefully the other boat done better than us!
Well back at the dock, we met up with our other boat and they had exactly the same day us, they raised fish and they just didn't want to take any bait. The more people we spoke to the more we heard the same story, I guess the fish were just not hungry.
Once we headed to the bar we started chatting with some other guests when a lady had said that they had two Marlin today, a 300LB and a 500LB and raised 5 Sails and they got us all fired up again as two days of not very many fish was starting to get the guys down but they know what fishing is like sometimes and at least they could see fish being caught it was just a matter of time.
With Cocktails ordered we started discussing what to do tomorrow and with a plan hatched for one boat to go inshore and one boat to go offshore it was on and the fish didn't stand a chance.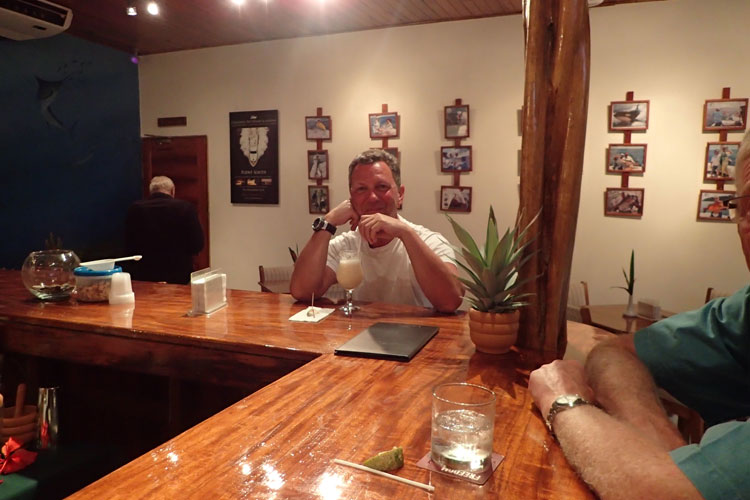 With fishing day 3 soon upon us it was time to head down to the boats for what hopefully was going to be a turn around day. I was on the inshore fishing boat today with Geoff and Malcolm so with a live well full of baits we headed along the coast to hunt for some Roosters.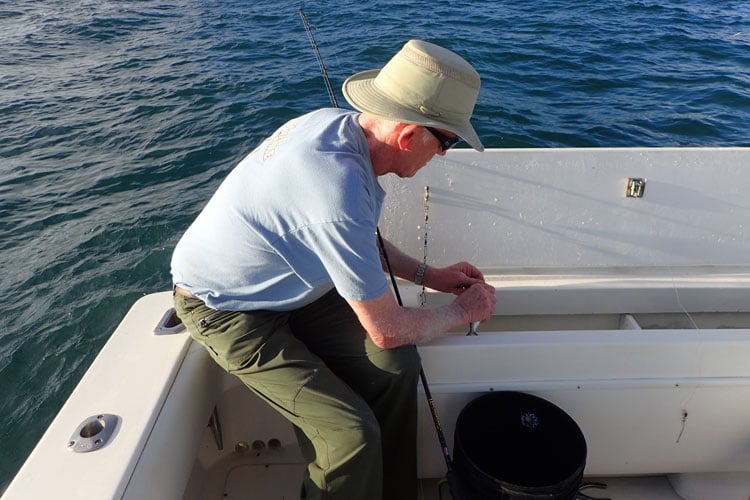 With a likely looking area found out went 4 rods rigged with live baits hoping for some action. It didn't take long and three rods went at the same time. Two Roosters and a Jack soon found themselves on board. Well that's a good start.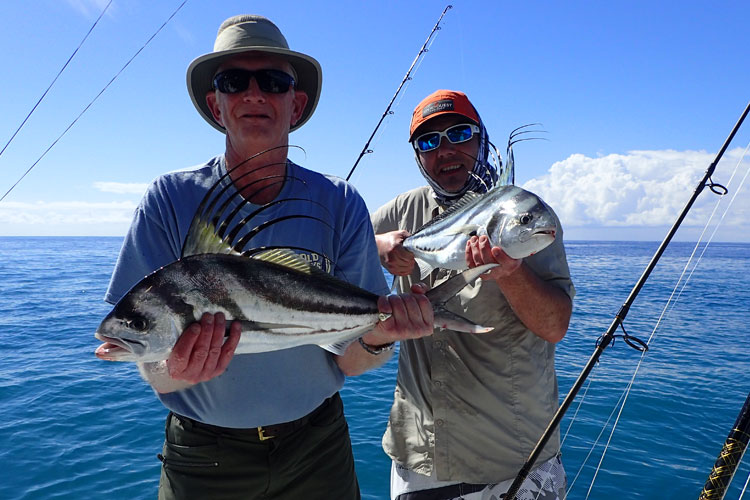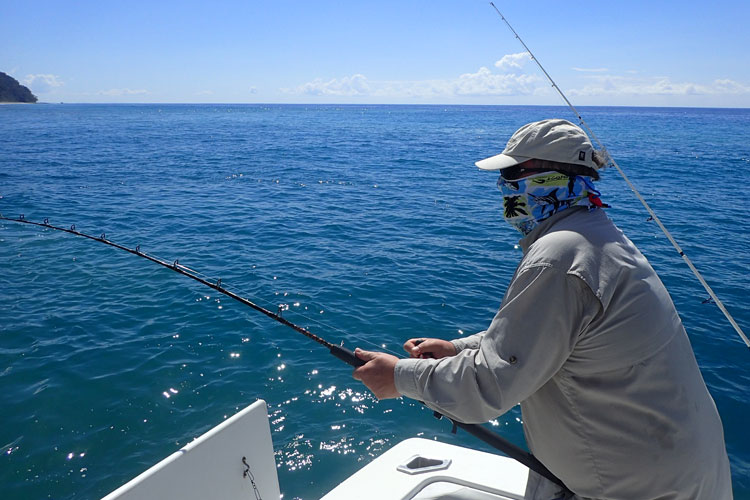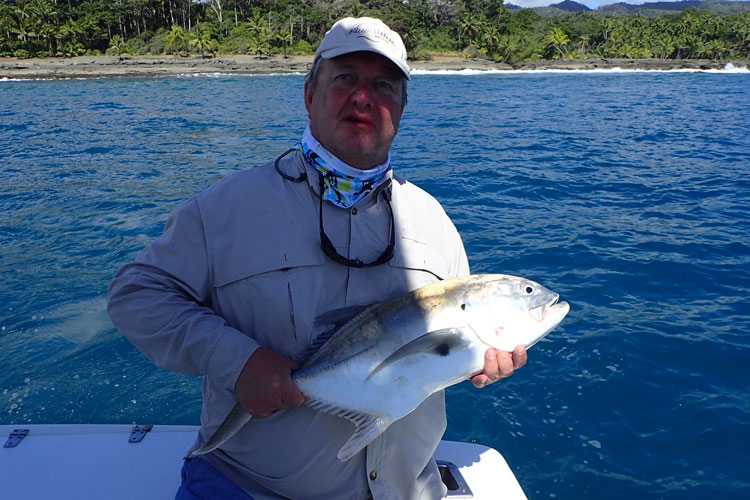 The skipper staying on the same mark and fished for little while longer then Geoff hooked something that stayed very deep and just swam towards him, I looked at Geoff and said that looks like a very heavy fish. I think the fish then realised that an angler had a hook him in and decided that he wanted to be somewhere else and with that Geoff's rod went it to full test curve then all of a sudden sprang back. Oh dear what a shame, we reeled the rig in to find that the heavy-duty circle hook had snapped in half… was a faulty hook or just something very big? We will never know and again that's fishing.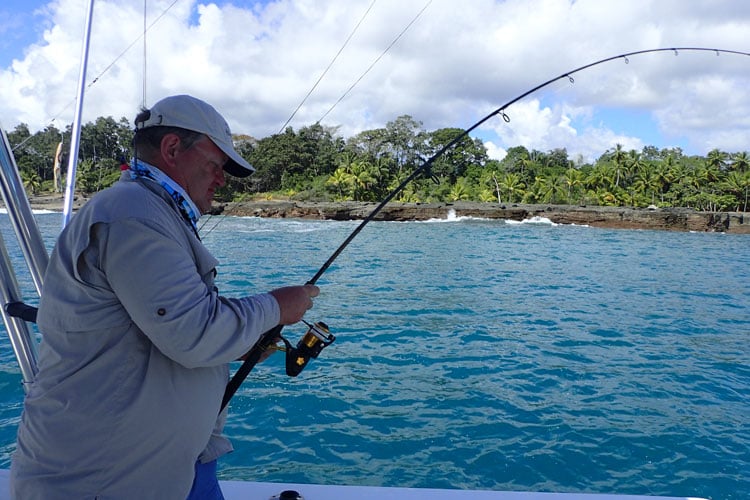 Back to the trolling and out went the rods again, this time it took a little longer for things to happen. We soon found our selves next to an outcrop of rocks sticking out from the shoreline with a very deep whole under the boat. It just had to happen here, and yes it did with Geoffs rod arching over and fish on! This had to be another Jack as it staying fairly deep with some big head shakes and yes up popped a 8 – 10LB Jack.
As we were taking pictures, the boat had stopped trolling and I had noticed that my live bait had come out of the out rigger, which it does sometimes even with out a fish taking it. So I decided to wind it in to check the bait and it all felt a little to slack so kept winding and all of a sudden my rod shot under the front of the boat and went it a full arch and I was bent in to something very good. It didn't take long to work out that it was a Rooster and good one at that.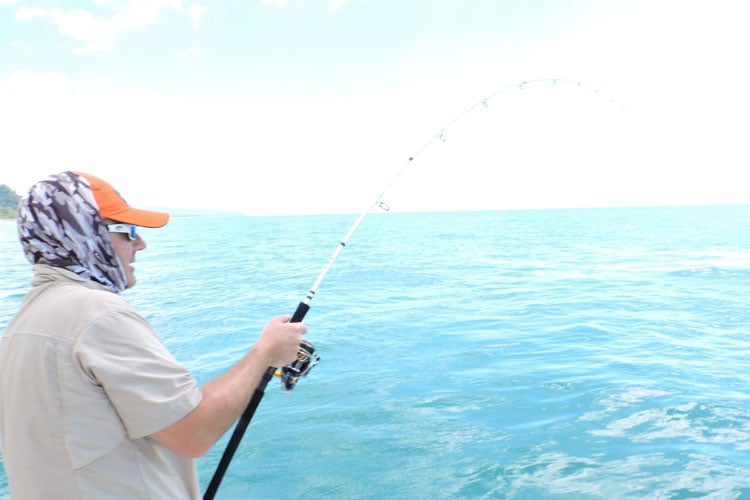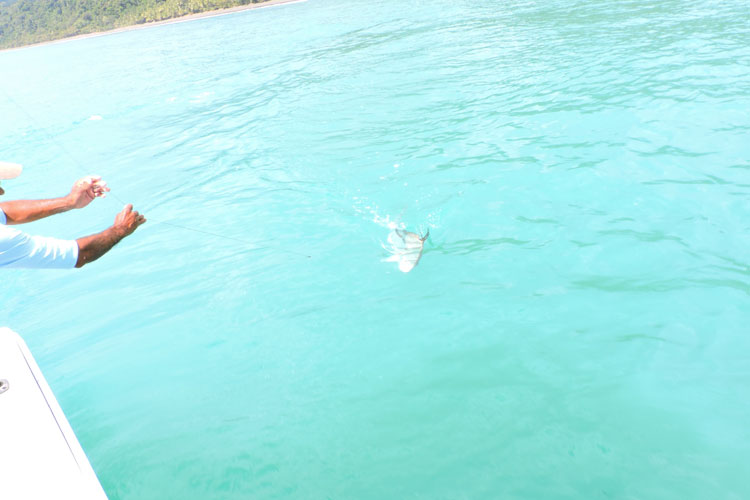 After an excellent fit, which I loved every moment of we had by the side of the boat a stunning looking species, one that I simply love catching. We soon carefully lifted it aboard, took some pictures and returned it to carry with its fishy life.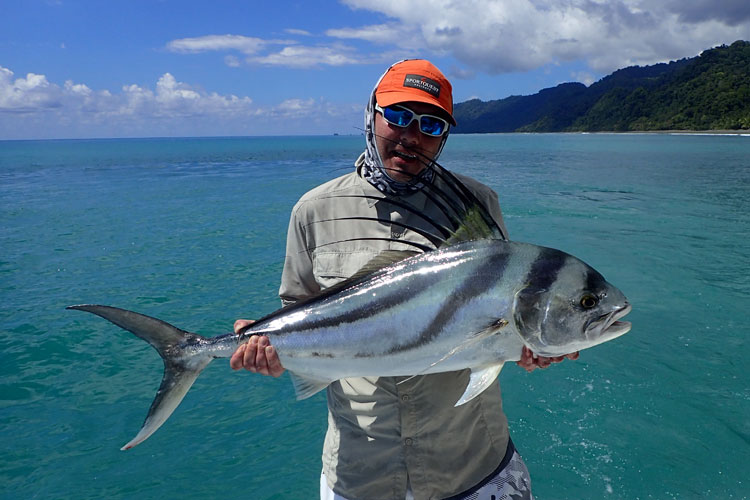 The rest of the day carried on like this with Roosters and jacks coming aboard I think we ended up with about 12 Roosters and 4 Jacks so a fairly good day, I just hoped that the other boat had a better offshore day.
Back at the dock, the other guys were no where to be seen so my group headed to the bar area to see where the others had go to and soon found them in the hot tub with smiles on their faces. After a quick chat it was apparent that they had a good day catching lots of Tuna, raising many billfish but not hooking them but the Tuna made up for it with them saying that they could of lots more but wanted to try for more billfish.
By the sounds of things, and the numbers of billfish rising I think the bite was getting better. One little observation I did make was that the bite when we turned up, was early morning, then yesterday it was around 11am then today most of the bites offshore came at mid day. So with this in mind I suggested that both boats swap around and the guys who went inshore fishing fished offshore and so on. So with this in mind we headed for our dinner and then a few drinks and straight to bed.
Fishing day 4 was soon here and we soon found ourselves heading out to the blue water for hopefully a good days fishing. When we got on the boat that morning I had asked the skipper how far we were heading and he replied around 12 miles today, so I instantly thought that there must be more billfish around and hopefully they were hungry.
On the way out there things were looking good as we saw a couple of Sailfish free jumping plus there was a fair amount of rubbish floating around which to a game angler is good news. When I say rubbish I mean things like dead trees, palm trees that sort of rubbish.
With the thought of the bite being around lunchtime today I said to the guys on the boat that we had to be patient today. After several hours of not really seeing anything we suddenly started to see Dolphins rolling and then a few Sailfish jumping then out of no where one of the rods burst in to life and a very lively Sailfish was jumping around behind the boat.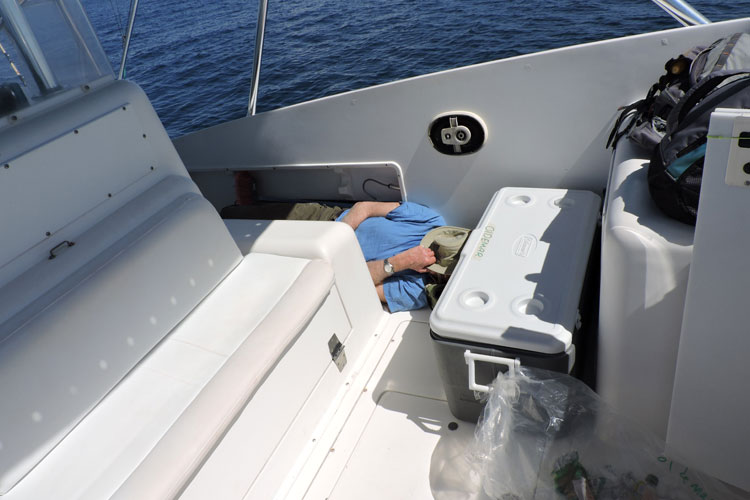 It was Malcolm's turn first and he jumped on the rod as quick as lighting as this was the moment they had been waiting for. Malcolm played the fish very well with the Sailfish giving us a great show we soon had the fish beat and at the side of the boat. The billfish in Costa Rica are treated with a huge amount of respect so once we had taken a few pictures the fish was fully recovered before being released. High fives all round and that's what Malcolm had come all this way for.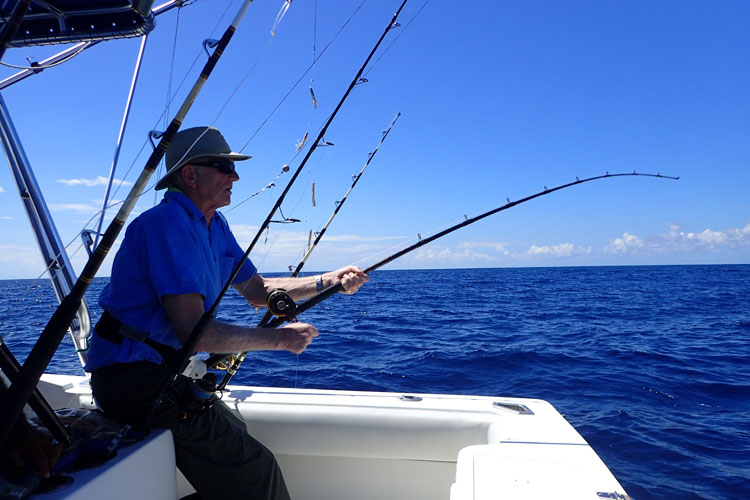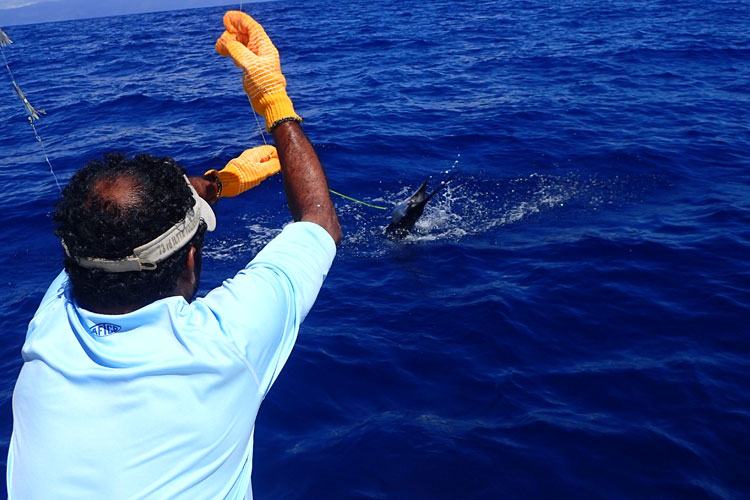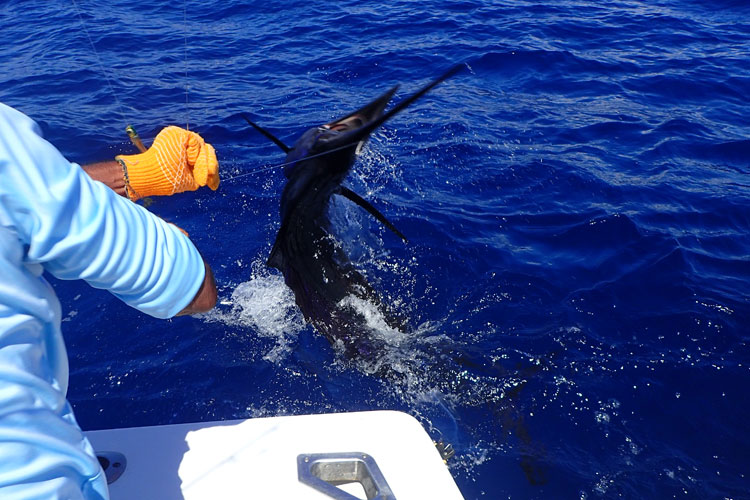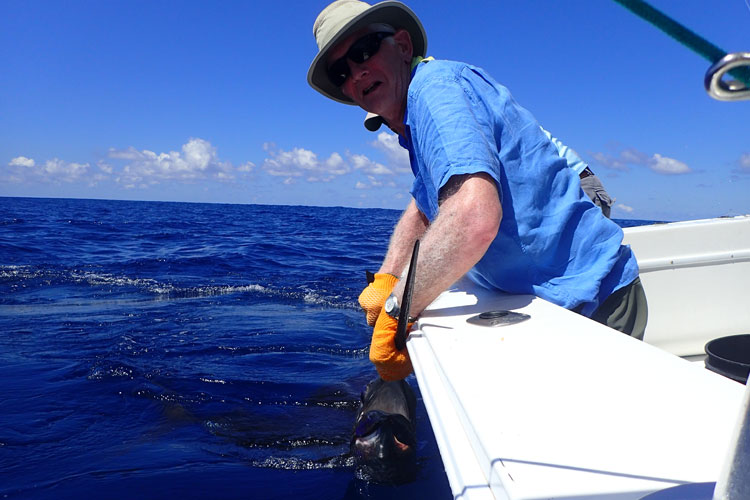 As it was bite time, the rods and bait were soon put back out in to position and literally 5 minutes later Geoff's rod was away and off in the distance a very angry Sail was trying its hardest to jump off the hook but Geoff kept his cool and after an excellent scrap we soon had her by the side of the boat. Geoff was so excited as it was his first Sailfish and what a beauty it was at around 80 – 90Lb Geoff was over the moon.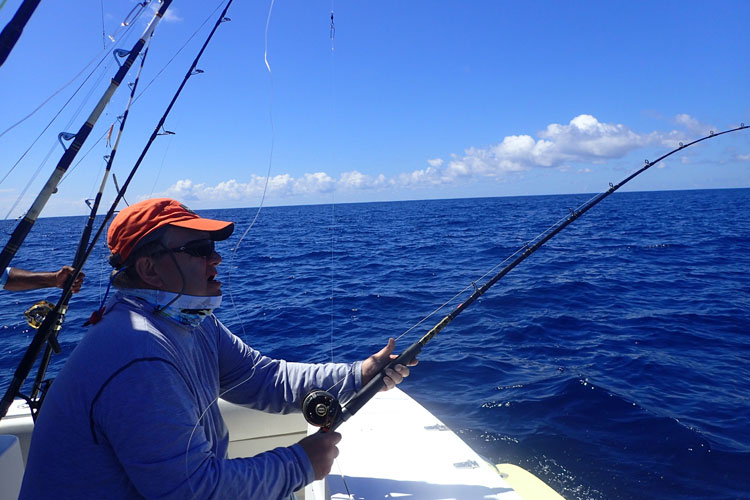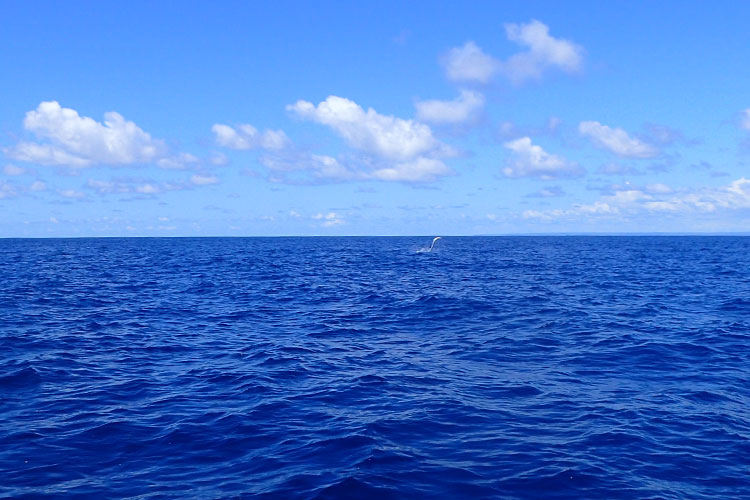 Whilst we had the sailfish by the side of the boat the skipper was shouting to his deck hand to get another rod ready as there were other Sails swimming around the boat. The deck hand jumped to the front of the boat and cast a big live bait straight at the fish. A huge swirl and the sail had taken the bait but some how managed not to get the hook… So with everything calming down we let the other sailfish go and started trolling once again.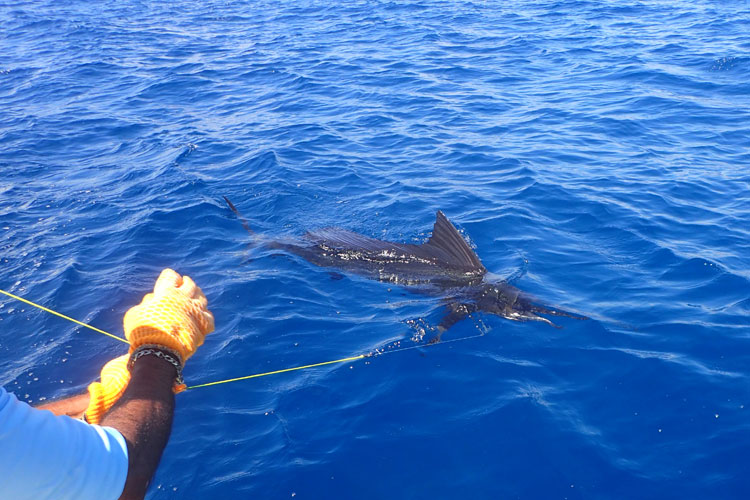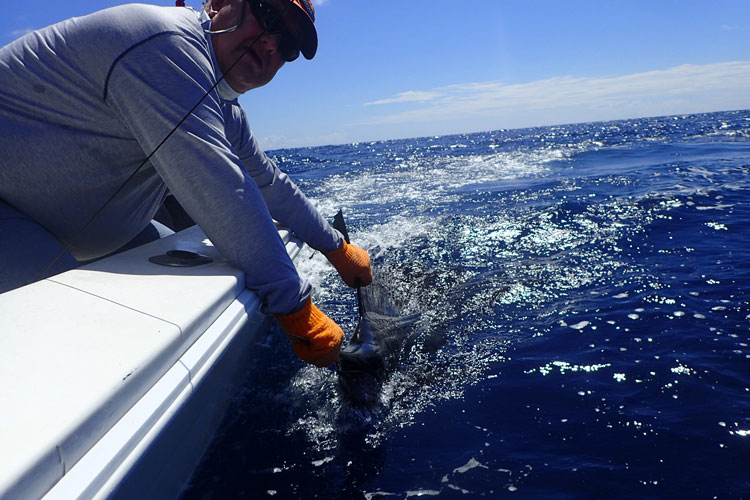 The action slowed a little then until around 1:30pm when we noticed a couple of Sails free jumping again and it was looking good for the last half hour. All of a sudden a big Marlin decided to show up in our spread, he chased the teasers right to the back of the boat and we done everything right, the bait was dropped right on the Marlin but he just simply sunk below the surface to carry on with what ever he was doing.
That was the last bite of the day and the call was made from the skipper to head in. Once back at the dock Todd Staley walked up to us saying that our other boat had an excellent day on the Roosters boating 26 Roosters, 8 Jacks and several other fish, I couldn't wait to see the guys. Have a guess where I found them? Yes in the bar having a well deserved cocktail and with big grins on their faces, I promptly asked them what sort of day they had and their faces lit up, well not to be rude I had to join them for a couple of drinks.
Last days fishing soon came round and we all decided to head offshore to hope for some more billfish. On the way out we all saw Sails free jumping and thought it was going to be a very good day, however things do not always go to plan with game fishing with us being only a little boat in a very big ocean.
After hours of trolling for no reward we found ourselves surrounded by a huge pod of Dolphins, which was an awesome sight as the Dolphins were in a feeding frenzy. We tried so hard to catch the Tuna around the Dolphins but they just kept on the move and we had a blank day. Lets hope the other boat faired better.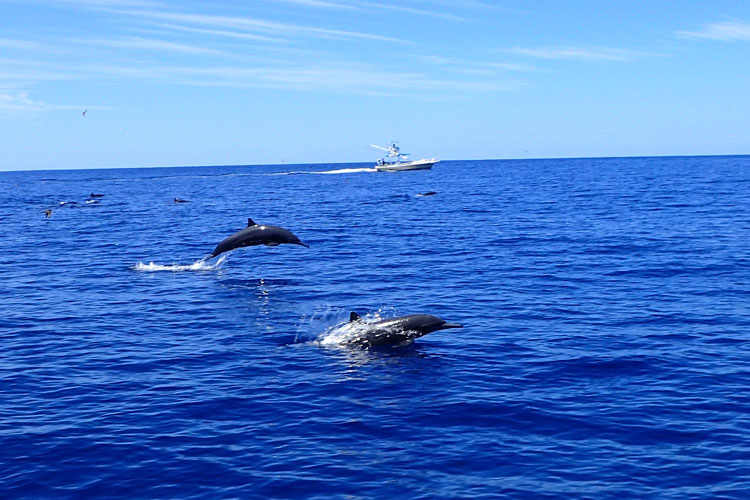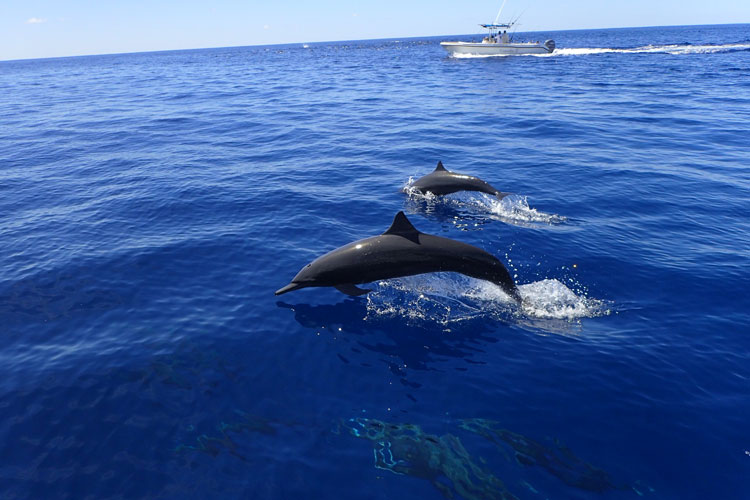 Back at the dock and the other boat was right behind us, we soon were standing chatting and they had done better than us with hooking some pretty big Tuna that were travelling with the pod of Dolphins. With the good byes to the skippers and deck hands we headed up to the bar for the final time….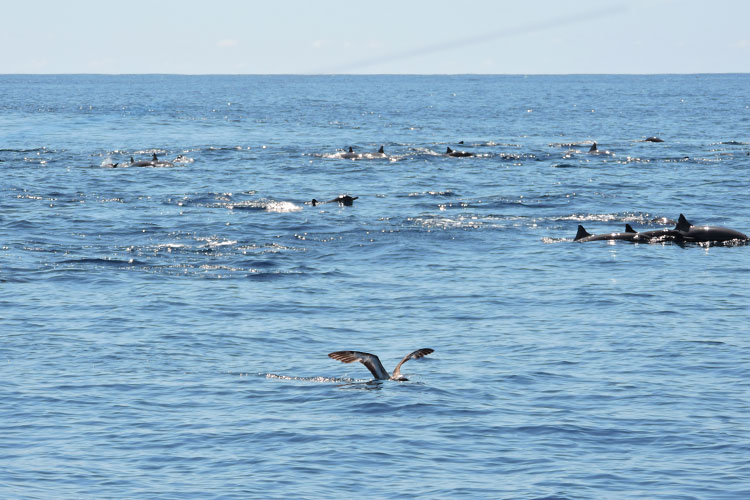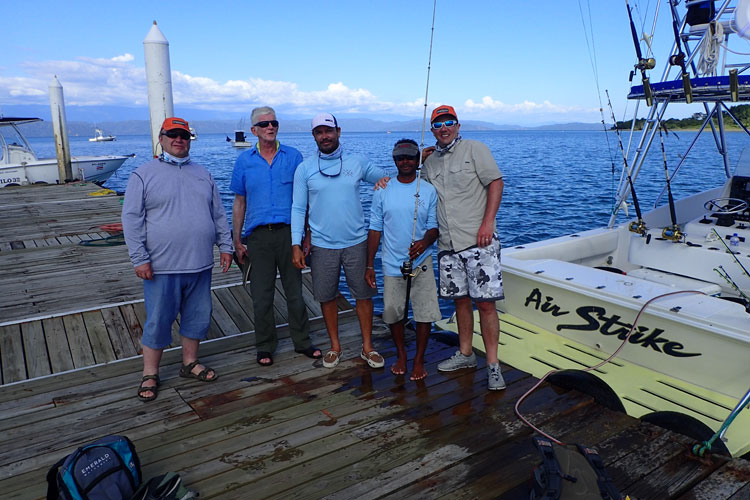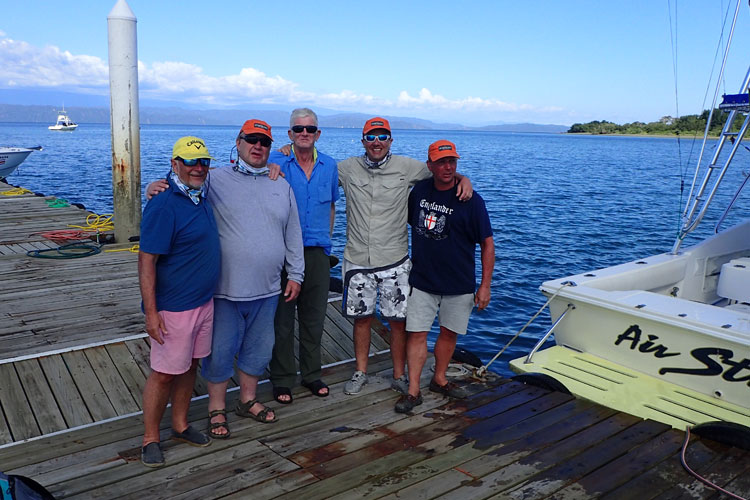 To sum up the fishing: At the beginning of the week, the water close in was a little coloured so we had to head offshore a fair distance. Everyday we went offshore we managed to raise fish, some days they were hungry and other days I think they were messing around. The inshore fishing was very good and everyday saw many Roosters caught. This is the first time for me to this resort and have learnt a lot, which I will take back with me this November.
I would just like to thank all the anglers that came with me, Tom, Robert, Malcolm and Geoff it was an awesome trip with lots of laughs along the way and a big thanks to the staff of Crocodile Bay.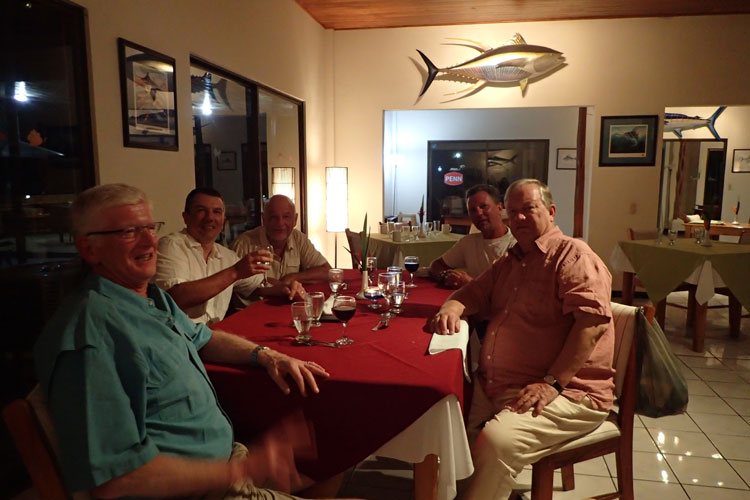 Hope you have enjoyed reading the report from our hosted big game fishing in Costa Rica and if you fancy joining us one year call us on 01603 407596
To view this amazing destination in Costa Rica Click Here
Tight lines
Paul Stevens