Part 1 Hosted Havoysund Kev McKie Day
Sorry for the late report on our very latest Hosted Norway trip to Havoysund in the very north of Norway. This years trip is hosted by Kevin McKie and is his first visit to Havoysund and by the looks of it he is having a great time even though the weather has been against them.
Kevin sent me a couple of reports over the weekend of how things are going.
FISHING REPORT
After a day and a half traveling my 12 anglers and me arrived at Havoysund fishing camp in the very far north of Norway. It was my first trip to this camp and I would say it's by far the best for facilities, it's clean, tidy, the cabins and boats are well maintained.
On top of this great start to the trip the camp guide's said the weather forecast was very bad for the next few days. Strong northwest winds 30 to 35mph and heavy rain, so we where restricted where we could fish. We got told the better fishing was off shore about 10 miles out on the reef's, but we will have to wait till Sunday when the weather forecast is much better.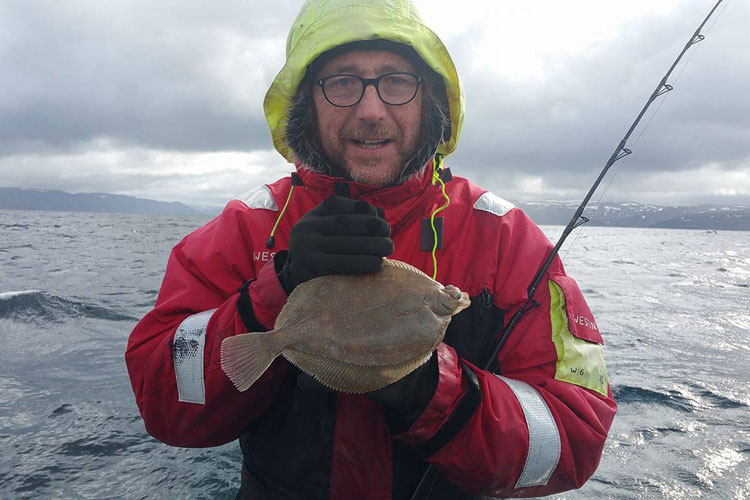 They are not all huge in Norway
On the first day we fished in the sheltered fjords and bays resulting in a few small halibut, cod, haddock, coalfish, torsk and wolffish.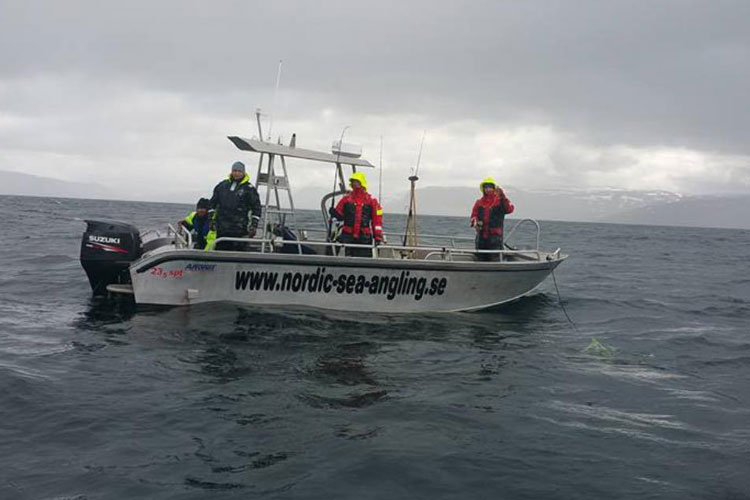 A very moody looking Norway
On the second day the other two boat's wanted to target bigger cod, I asked the lad's on my boat do you want to target the cod or try and catch a big halibut? They all said they would rather fish for halibut even though it's hard going with the weather conditions. We fished for about 6 hours then bang James Flynn hooked a very good fish, I said to him thats the fish you have been waiting for take your time and don't rush it.
James done exactly what I said talking him through the fight, the last thing you need as a guide is one of your anglers losing the fish of a lifetime. About 15 minutes later the halibut was in the boat 151cm, well-done James his first ever halibut and an early birthday present. I was over the moon for him in fact we all where, we kept the fish because the fishing was poor and the lad's wanted to take some halibut home.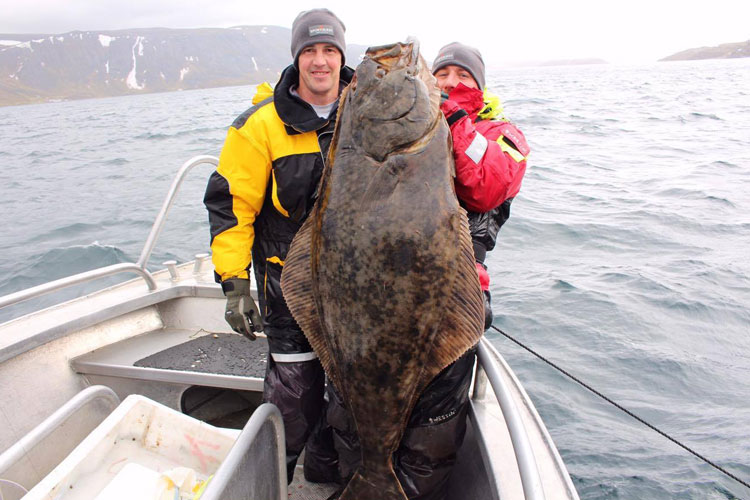 Well done James on a huge Halibut
When we got back to the camp the lad's who went cod fishing caught a few boxes of cod to 12lb still not good for this part of Norway. When we weighed the halibut at the camp it tipped the scale's at 92lb so a great first Halibut.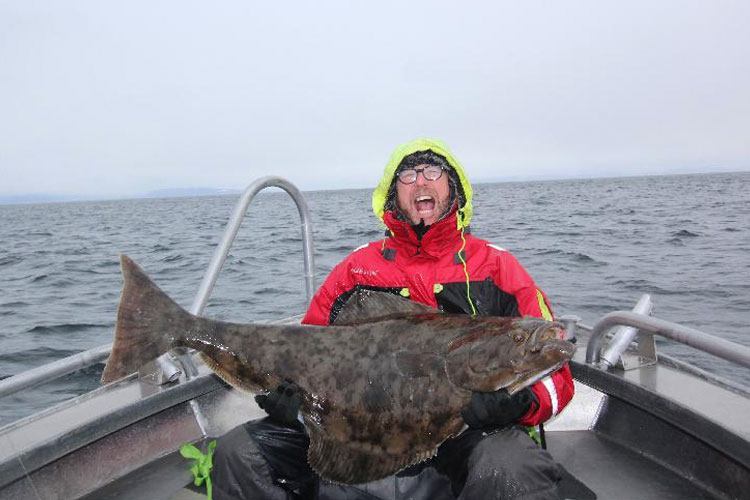 Yet another happy angler with a Halibut
In Norway they use a measure to weight guide, I have found this to be well out every time. I know it's only a guesstimate but check this out, James fish was 151cm long and according to the measure to weight chart it should be 47.9kg or 105lb 6oz it actually weighed 92lb that's 13lb out. When I caught my biggest halibut a few years ago it measured 225cm should of been 157.1kg or 346lb 3oz but it weighed in at 290lb that's 56lb out. So there is a few fishermen's tales out there according to this chart, but it is only a guesstimate and if it help's the conservation of these big halibut I am all for it.
From tomorrow onwards the weather forecast is very good and we will be pretty much living in the boat's to try and catch all the lad's their dream fish. I will do my next report as and when I can because the most important thing is putting fish on the boat and making sure all the anglers have a good time.
Cheers
Kev
Thanks Kev for your first report and we have our fingers crossed for some better weather for you guys. If you would like to view the full tour details of this excellent fully Hosted sea fishing trip to Norway simply Click Here
Until next time, tight lines
Paul Stevens