Like they say, its better late than never! It has been so crazy busy in the office since I have returned from hosting my annual trip to Havoysund that I haven't had chance to write my report of the trip plus I have had a week off work with the family, but I have now had a little time to put some words and pictures together.
This years hosted trip was planned to coincide with the annual Halibut festival at Havoysund as last year we entered on a whim and done ok so this year we thought we would see if we could fill the camp with English boats giving us a much better chance.
So with 32 people travelling to Havoysund at the same time taking up 8 boats and 8 cabins, somebody surely must have been in with a shout at winning something!
With every body meeting up at the Best Western hotel in Oslo we sat down for a chat and a bite to eat and you guessed it, the talk soon turned to fishing and where people had been in previous years. One thing led to another and a few beers later we all started to think about getting some shuteye before our final flight the following day.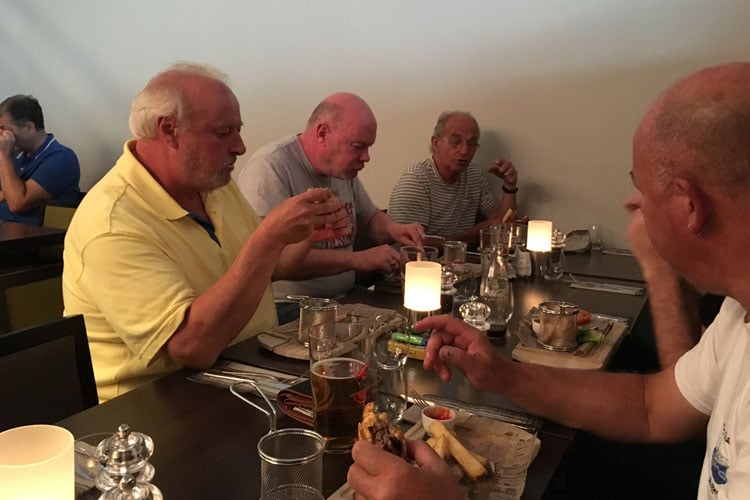 Enjoying a £30 burger, but I must say it is very tasty
After a good healthy breakfast and a short shuttle bus ride back to the airport we were soon boarding our final flight to arrive at Alta. This flight, for people who haven't landed at Alta can be a little worrying, as the pilot has to land the plan on a runway surrounded by mountains. So as the plane started its descent round and round in circles as we got closer to the ground and then all of a sudden the pilot has to put the plane down and boy did he land it hard.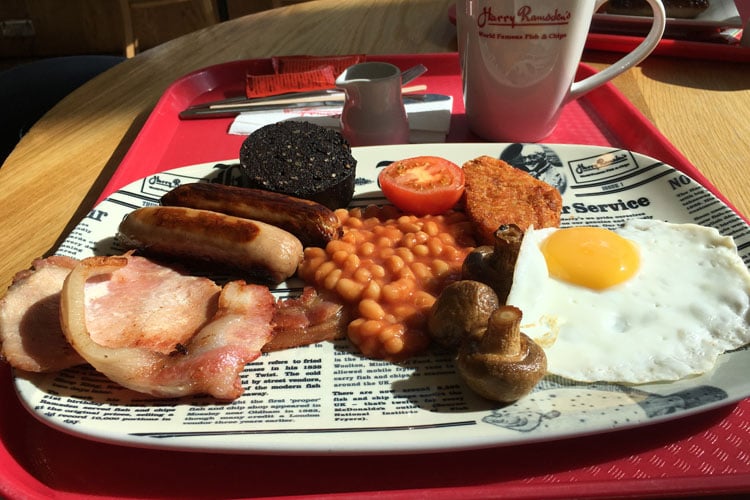 A good healthy breakfast before the long journey
Bags all collected with no dramas, and everything loaded on the coach (I really do not know how the coach managed to move with all that fishing gear loaded in) we were off for our final leg of the journey.
Finally, we got our first glimpse of the camp and the buzz on the coach was electric. So with the cabins and boats allocated it was time for a quick briefing on boat handling and a quick chat about size limits of the Halibut, which for people who haven't been there is no smaller than 80cm and no larger than 130cm, it was time to unpack, set up our fishing tackle and have a few beers as tomorrow the weather looked very good for a full days fishing.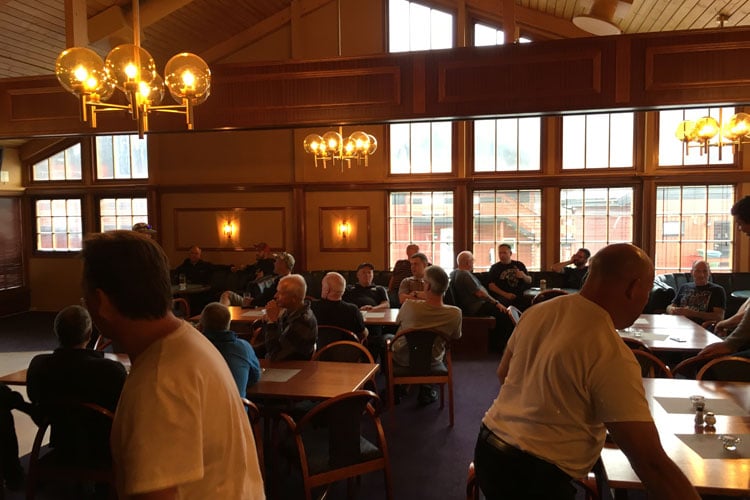 When you arrive at Havoysund you get a briefing on safety at sea
While all the guys were chatting and getting to know each other, I decided to catch one of the guides and hatch a plan for tomorrows fishing and he suggested an area that hasn't been fished this year and is a fair way away but normally does throw up a good few Halibut around this time of year. I agreed with him and set about going round all the cabins to see who wanted to come and to my surprise everybody agreed to come along. After a few more beers, more than I like to admit to, we all staggered off to bed ready for an early start as the mark we were heading to was at least a couple of hours steam away.
Up bright and early and the first thing I always do is listen to what the wind is doing….. and this morning it sounded perfect not a breathe of wind. Breakfast eaten we headed down to the boats to ready ourselves for the journey ahead. Once everybody had pulled out the harbour we opened the boats up and went on our way (we looked like a small army of boats going to war!)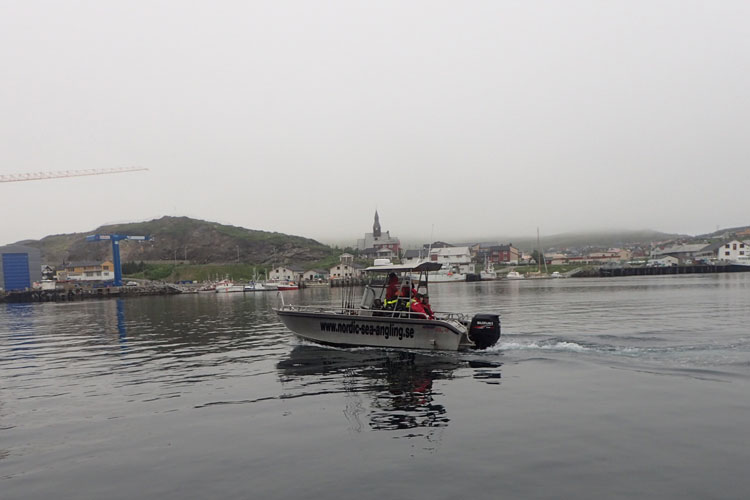 We were like a small army going out to war
Even though the wind was non existent that day the fog was the worst I have ever seen it, so much so that you couldn't see the boat that was 50yrds in front or the boat behind at the same distance, it was very eerie as you could not see land and didn't really have a clue how close you were to land, but we soldiered on as we had our chart plotters.
After what seemed like a life time we finally arrived somewhere…. It was that foggy we could have been anywhere! So all set about finding a good-looking area to start our very first drift of the week. On my boat I was accompanied by, Colin, Kevan and Kieron. Both Kevan and Colin had been with me before but it was Kieron's first time and his one and only goal was to catch a Halibut. I must add a little story behind Kieron, the day before he left he had proposed to his soon to be wife, it was also his birthday whilst we were there and also to top it all off his partner and him were due to give birth to their first child on the Sunday!! Which you can imagine that every time his phone rang he was in a blind panic. Well back to the fishing, with in 5 minutes of fishing over the radio came "Halibut on" wow what a start and just after thinking this Kieron shouted "Fish on" so after a little instruction Kieron had landed his first ever Halibut and he was over the moon.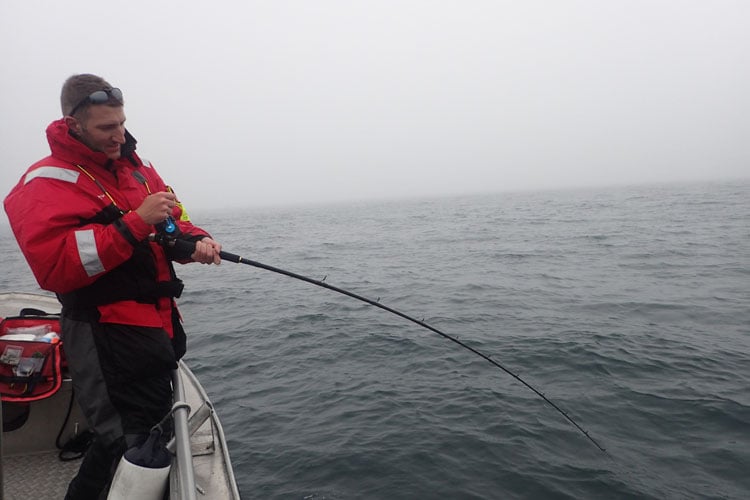 Kieron opens his account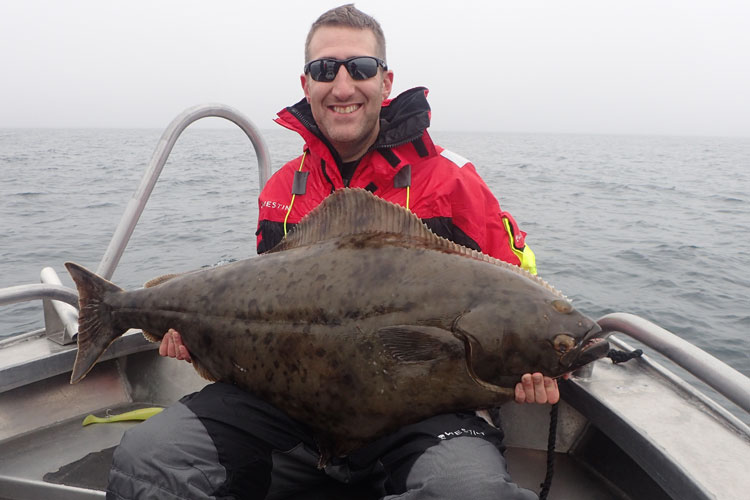 I was so pleased Kieron achieved his target so quickly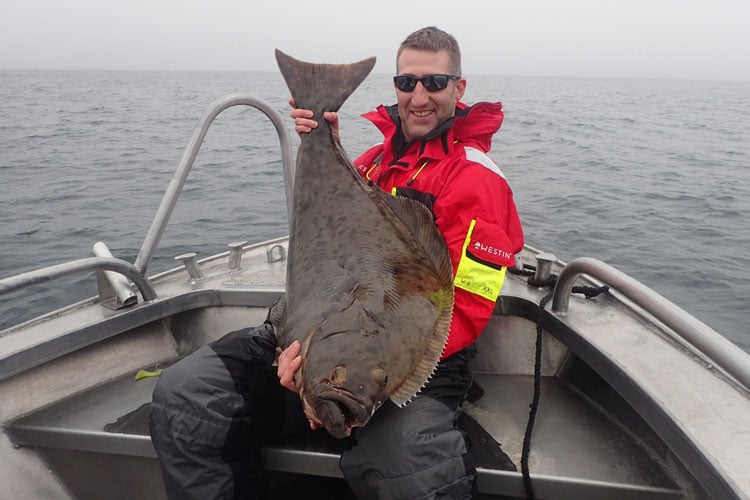 To say he was pleased was an understatement
The day pretty much carried on this way and in total between 8 boats fishing in the same area managed to land between 15 – 18 Halibut ranging from 75cm – 156cm. Wow what a first day and after a good 10 hours of fishing we all decided to head back home for a well deserved beer or two.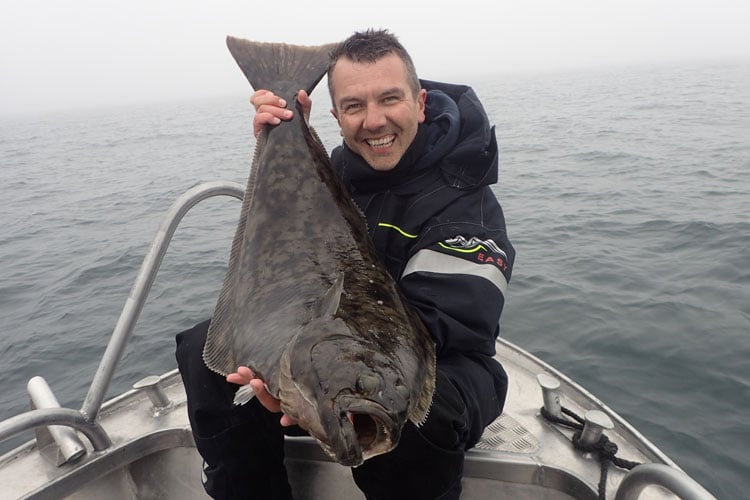 Even I got in on the action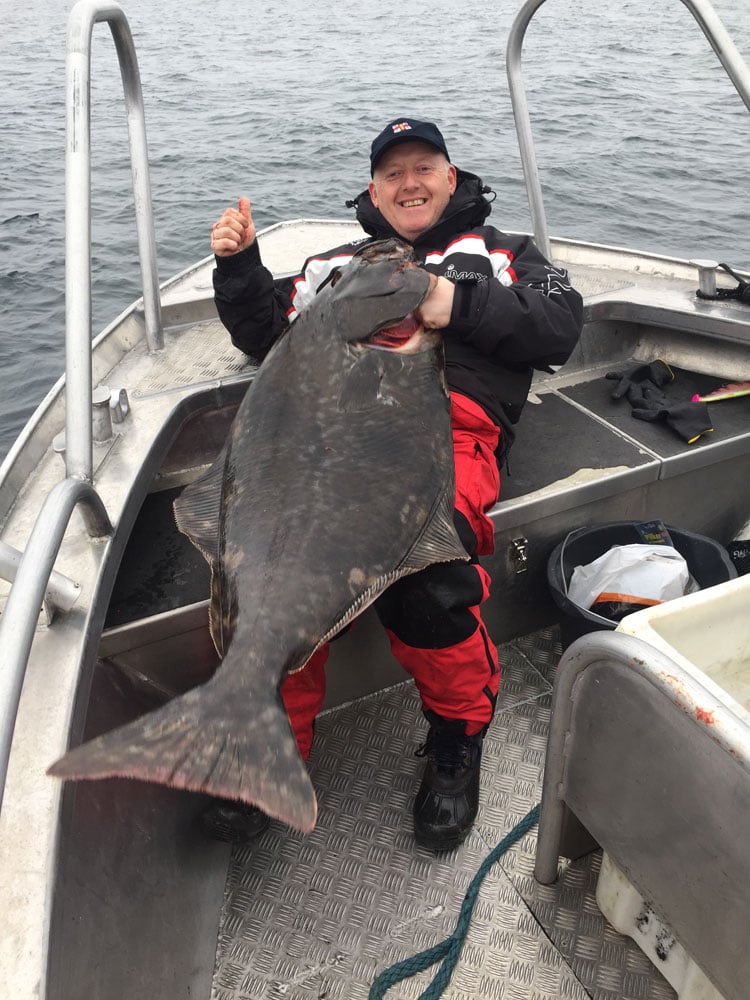 Tom with his of the trip
Friday was the first day of the Halibut festival so once we had returned to the dock and cleaned the boats down we all sat around discussing a plan or two for the first day of the event, with a couple of boats wanting to return to the same mark we had fished today and other boats choosing to fish other areas a little closer to home. Well lets see what tomorrow brings.
The competition starts under the main bridge at 06:30am where the major or Havoysund blows a hooter signifying the start of the two day event. With something like 35 odd boats sitting there waiting you can imagine it was like the start of whacky races. The horn blow and off we all went in all manner of directions.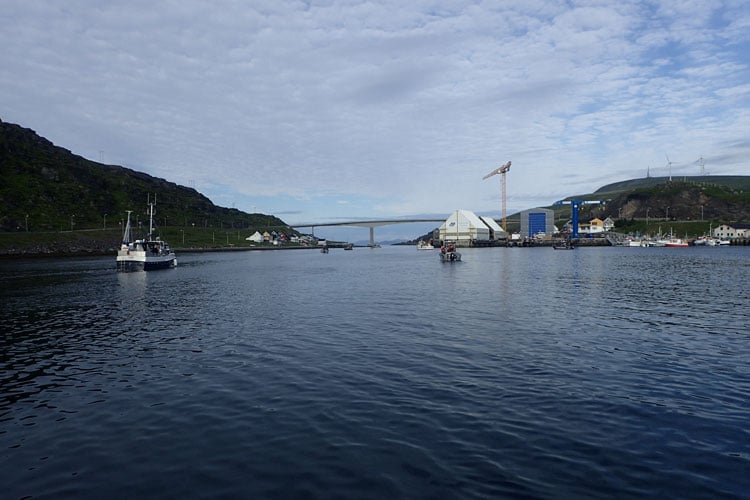 The starting point of the competition
And we are off!!
I wont go in to too much detail of the day as we struggled to locate any Halibut, apart from myself catching a fish with in the first hour of the competition. We had to be back at the competition tent by no later than 7pm to hand our scoreboard in other wise any fish landed would be disqualified and with my fish measuring 103cm it was worth submitting it.
So once back at the harbour we waited for all our other boats to come back and a couple of them had managed to find a couple of half decent fish so for them it was a good start to the two-day event.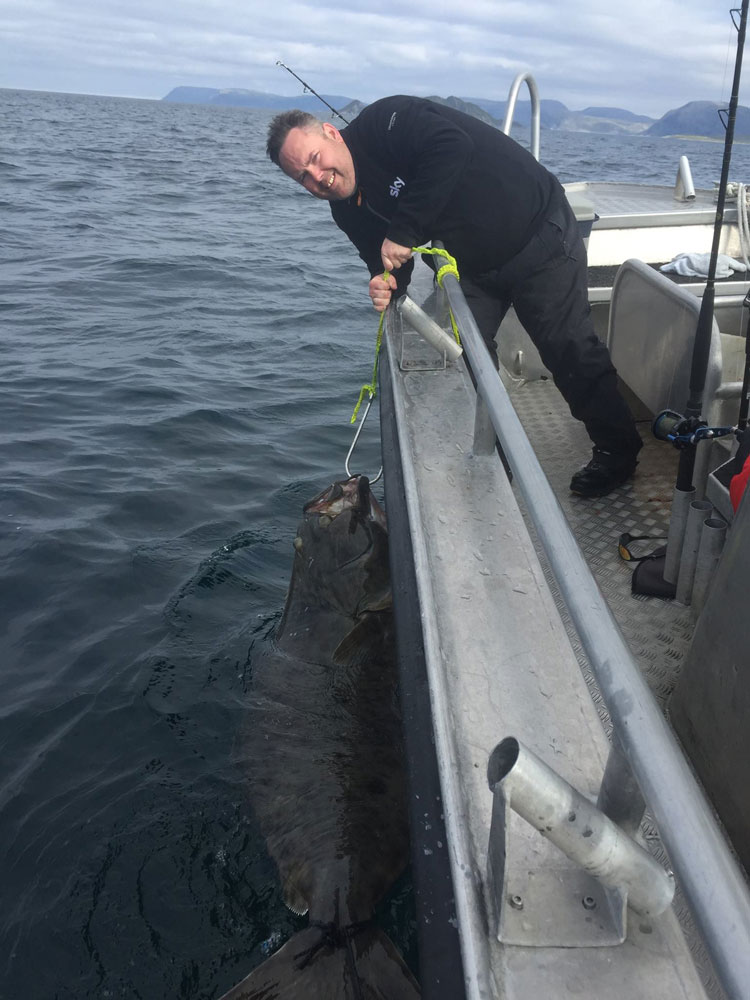 Daniel with a corker of a Halibut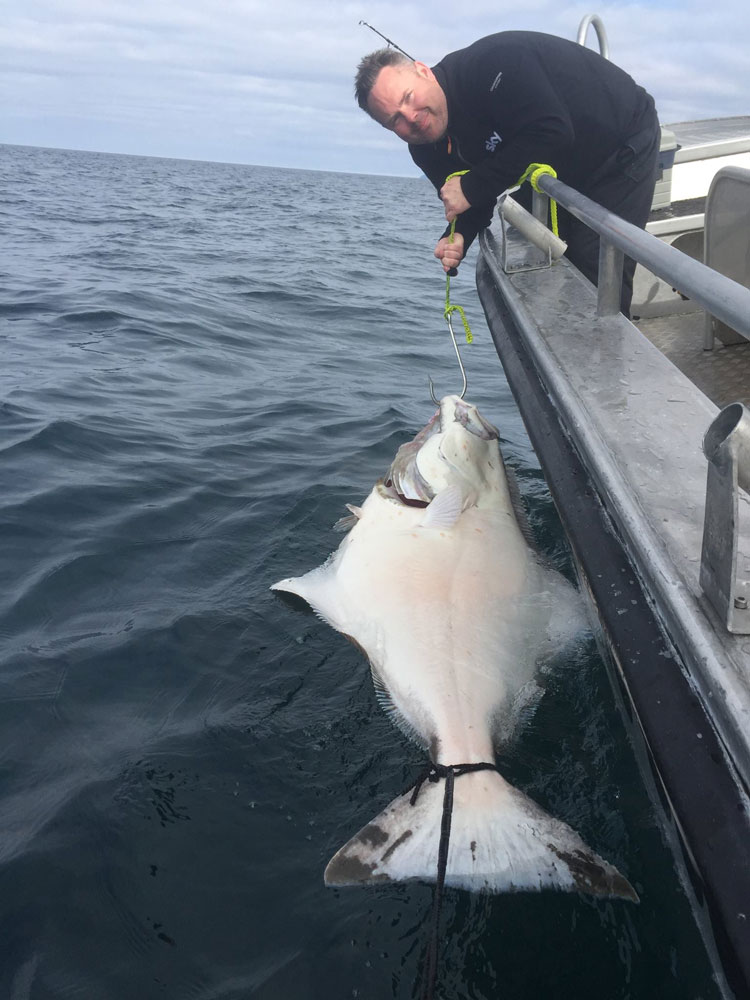 His arms were done after this fight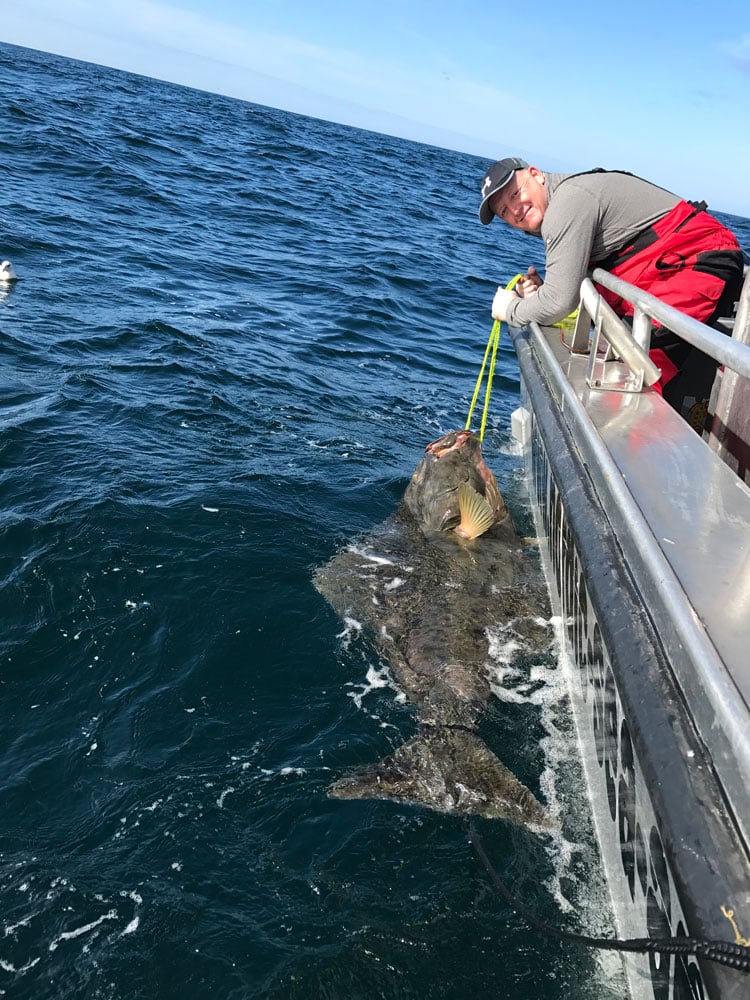 Tom with his first Halibut of the festival 
We all sat down to discuss where we would head on day two of the event and soon hatched a new plan which would see us fishing a mark that I had done well from last year.
Day two of the event saw us sitting under the bridge waiting for the start and we were off and this time we headed to a different mark with 3 other boats in tow. The pressure was really on today as if we wanted to stand a chance of getting any places on board then we would have to work hard together. Well what can I say apart from this year really wasn't our year and we really struggled to get anything to bite. We had a couple of contacts but nothing would stick. With none of the other 3 boats fairing any better it was time for a change of area and maybe split up a little.
To cut the story short, our day ended with no Halibut on the boat, but that's fishing. Soon back at the harbour to see how everybody else got on and we were greeted with unhappy faces from most people as everybody had struggled apart from one team of ours that had caught some good fish. All score boards handed and it was time to get ready for the party and prize giving.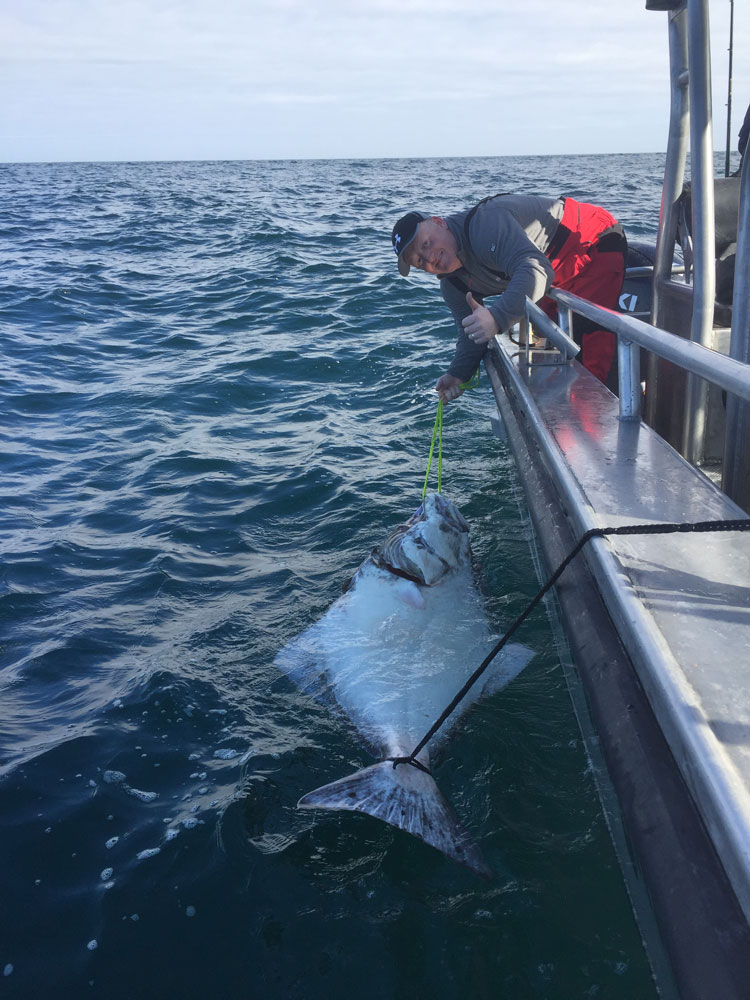 Tom with his second of the festival, now he could stand a chance
This part of the festival to a lot of the competitors was what it was all about, a good party and social. The guys who organise this event done a really good job this year and the band was fantastic we all had far too much to drink and the highlight of the night was watching Kevan dance with a Halibut shaped soft teddy….. you had to be there! Plus one of our team boats managed to get 5th overall and won some prizes so well done to Tom and crew.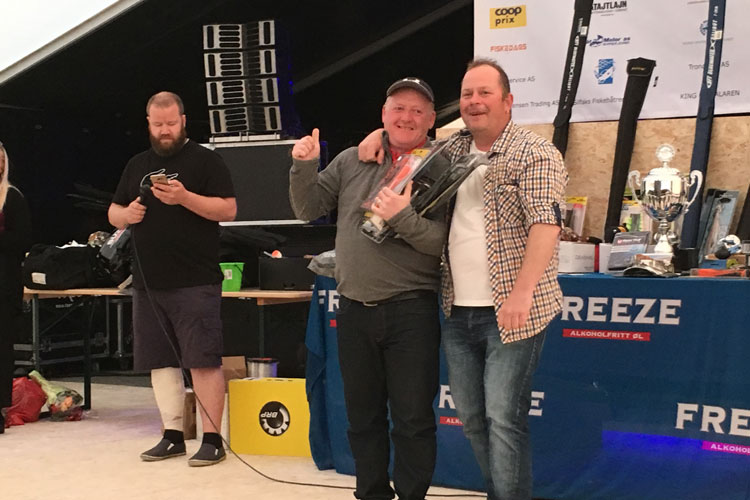 Tom got 5th overall so a massive congratulations Tom you did us proud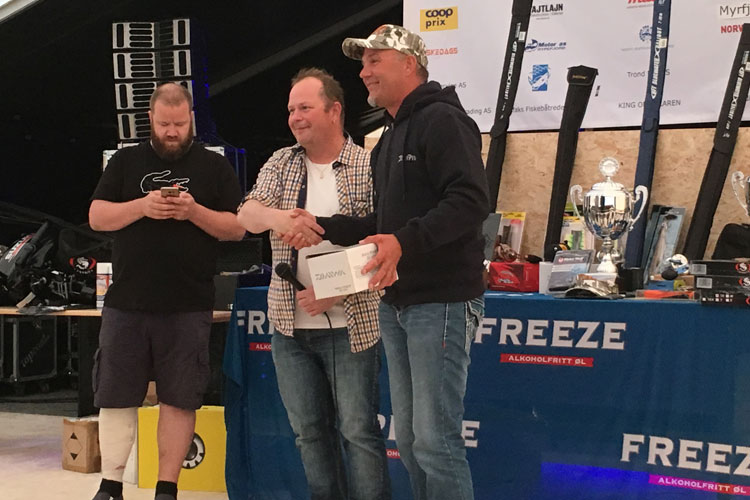 CWC team got 3rd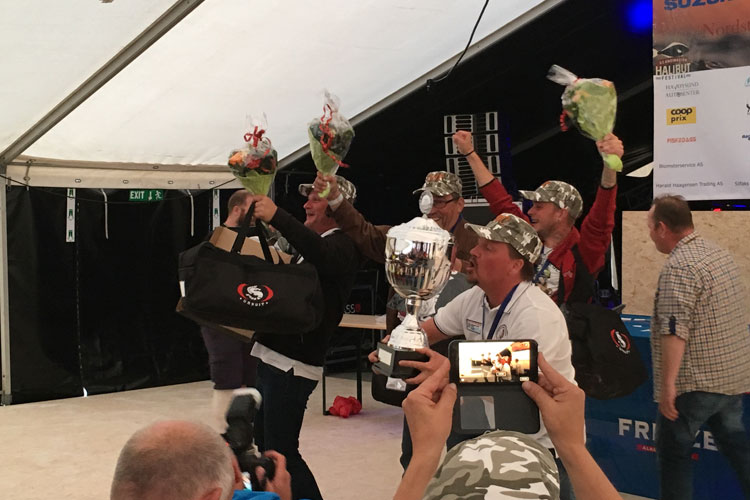 With Team Coop taking the victory and tons of prizes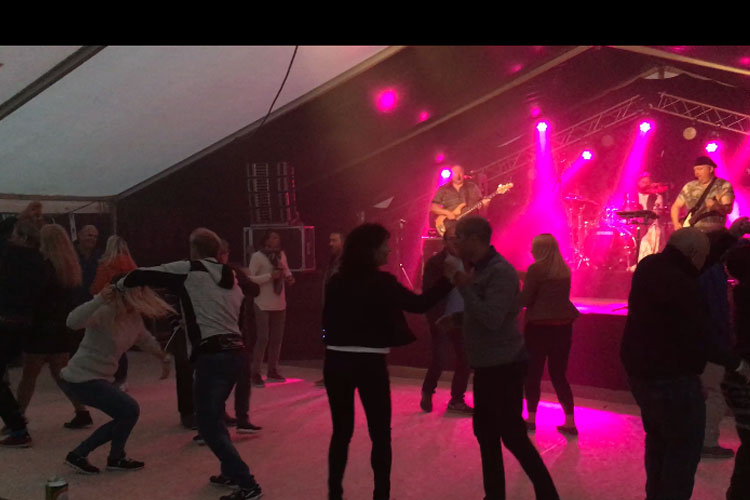 I must say that they throw a great after party the band was awesome
Now back to the normal fishing. It was now Sunday and we all decided to have a little later start as there were a few sore heads and empty wallets as the beers are expensive! Some of the boats decided they had had enough of the Halibut fishing and decided to target some Cod, which to my crew was out of the question. They wanted to stick at the Halibut fishing as that is what they came for so I checked with the local guides to see where they recommended and we soon found ourselves fishing an area close to the camp.
First put down in 90mtrs of water and new crew member Ian was attached to something that nearly pulled him in the water. After a really good struggle we managed to get him upright again and put his fighting belt on as this looked like it was going to be a battle especially in this depth of water. Ian done everything right and was winning the battle until all of a sudden everything fell slack and the look on his face was cruel. We couldn't believe it, how did it fall off so easily. Once he wound his tackle back up when then discovered that he had managed to hook the Halibut on a speed jig with a single assist hook at the top and from experience, speed jigs with single hooks are not the best way to fish for Halibut as the Halibut has a lot of leverage to throw the hook. Oh well plenty more fish in the sea.
After a couple more hours fishing this area we decided to have a go for some Cod just to get a bend in the rods and soon found an area near by that kept everybody busy for the rest of the day. The affects of the previous nights drinking was catching up with the guys so we all decided to head back a little early for some good food and an early night. However a couple of the guys on my boat had other ideas and asked if they could take the boat out in to the stream in front of the cabins for some Plaice and Dab fishing which wasn't a problem.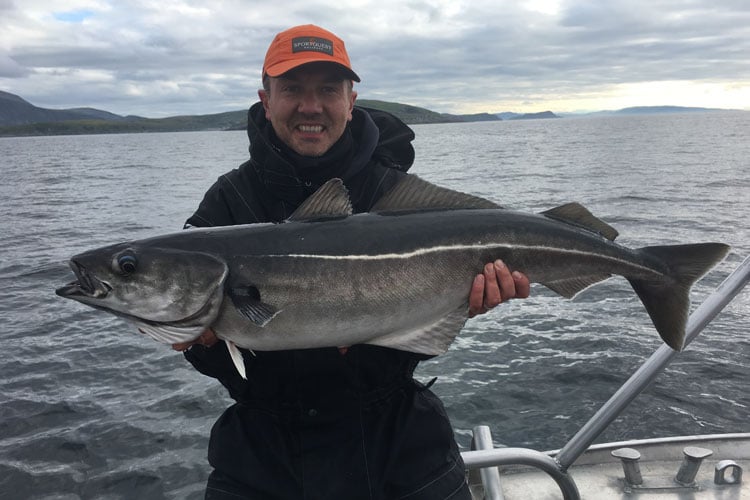 My best Coalfish from Havoysund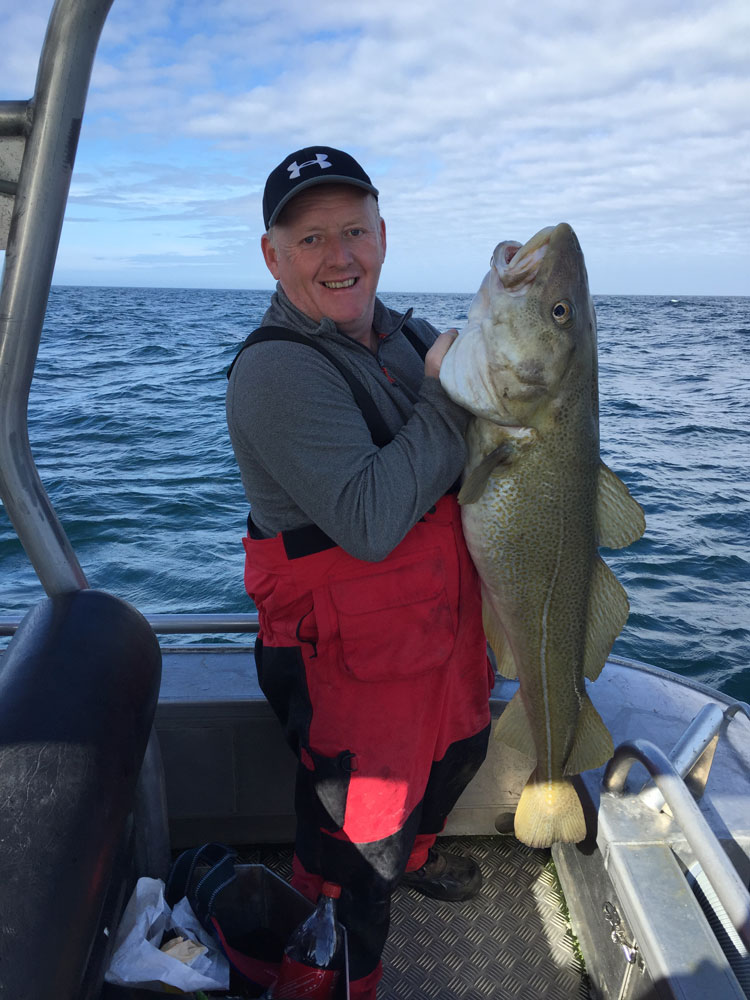 Tom with a fine summer Cod
By the sound of all the laughter coming from them when they returned it sounded like they had a good evening.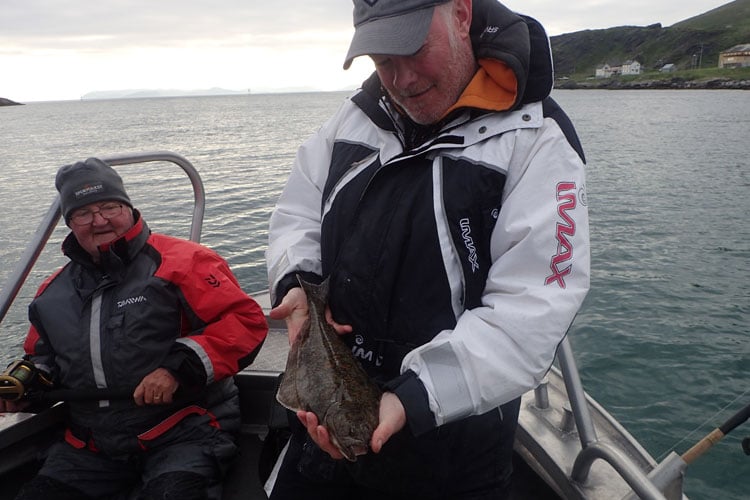 Kevan managed two small Halibut that evening and lots of Plaice and Dabs
Now it was the last days fishing and the main aim was to catch a large Halibut and Kevan on my boat was desperate to catch one as this would be his third trip for a large Halibut and he had not managed one over 100cm. New plan was hatched and off we set to an area that the winners of the Halibut festival had fished in the competition. Well it didn't take long to get the first take and believe it or not we lost the first fish, it just wasn't our trip.
The guide boat fishing near us gave a call out over the radio that they had a good fish on so we all reeled in to go and watch. It was a great fight and with the fish secured we took some pictures of the Halibut and with it measured at 155cm was a great fish and well done on the release.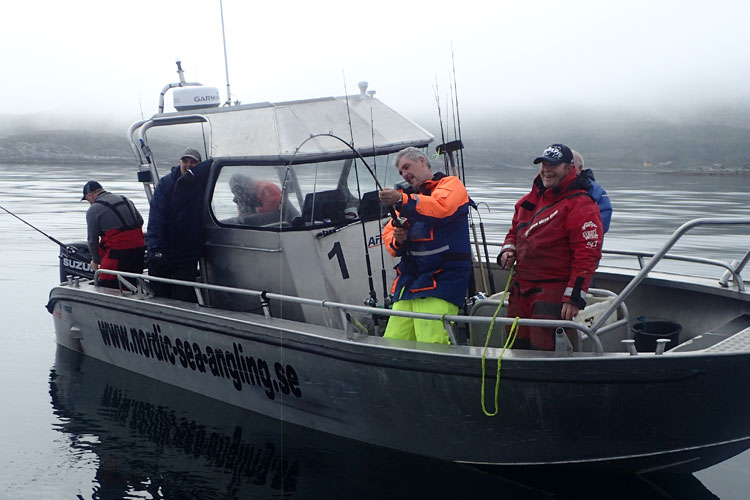 Head guide Ulf found his moans & groans fairly amusing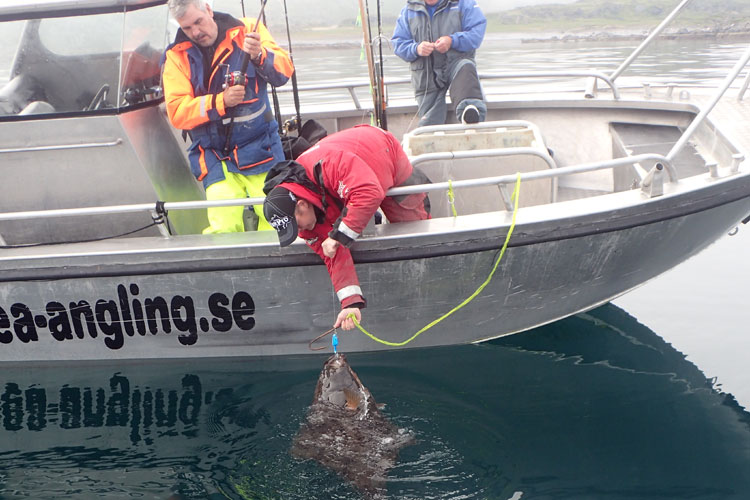 Ulf expertly landing his prize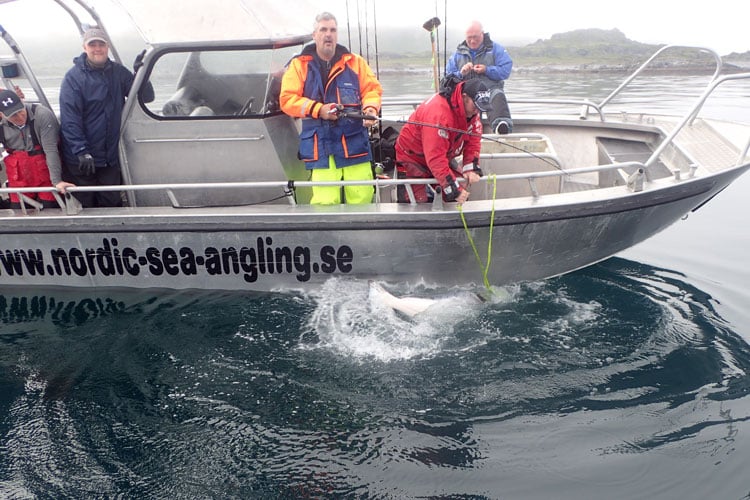 It went slightly mad at the side of the boat
We set the boat up for another drift and after only 10 minutes Kevan at the front of the boat was hooked in to something special. All other rods were quickly reeled so we could chase the fish as we were in shallow water. We managed to get everything set up so Kevan could play his fish and this fish looked like the Halibut that he had come for. Kevan played the fish exactly right with the right amount of tension on his drag. He played it for around 10 minutes with the fish never breaking the surface and making rushes to the bottom 2 or 3 times before, you guessed it, the line just fell slack……. The look on Kevans face was not great and everybody just fell silent as they could all see the anger in his face. I said to Kevan reel up your lure to see what happened and to our shock it had managed to snap the link from the shad to the hook something I have never seen before. Well you can not win them all and with time not on our side we had to make a decision on what to do. Do we move to a different area for the last hour or stay put?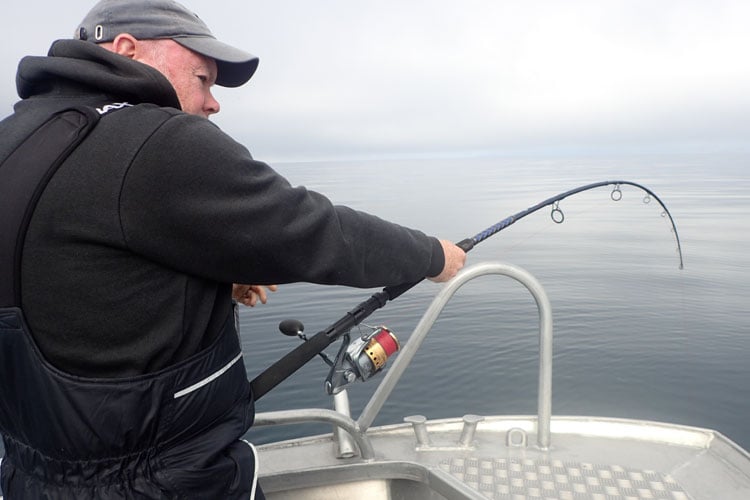 Come on Kevan, this is what you came for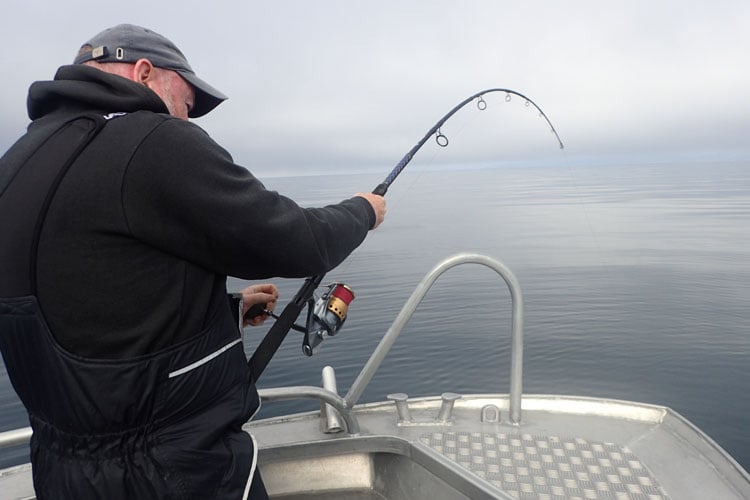 This was taken seconds before Kevans world fell apart……
Well that decision was taken out of our hands as we had a message come over the radio that the guide boat was broken down and needed assistance. With two boats in the near vicinity we quickly motored over to help out. The boat had lost all power so the decision was to tow the boat back to shore. We were around 1 hour from shore at 30 knots but towing a boat we could only go 5 – 7 knots so you can imagine it took some time.
As there were two boats to his rescue we all discussed what people wanted to do and some of them were happy to stay in the guide boat and go back to harbour and a couple jumped on my boat and we fished a little mark on the way in hope of a last minute bite, but unfortunately that wasn't the case so we called it a day. Even with this stop for an hour fishing we still managed to beat the towed boat back.
So to try and sum the week up, it was a difficult weeks fishing. Some of the marks that fished really well last year just didn't seem to hold fish this year but speaking to everybody they all still very much had a good time and loved Havoysund. Sometimes its not all about the fishing and the size of fish you catch, its about being there and taking in where you are. Like everybody says "Its called fishing not catching"
I would just like to thank everybody who attended this years hosted trip (to many people to mention) and hopefully I will get a chance to take you to Norway again.
If you fancy joining one of our Fully Hosted trips to Norway then its very easy. Just the office on 01603 407596 and we will take care of everything for you. These trips are perfect for single or small groups of anglers who are either new to Norway or experienced anglers but do not want to pick up the supplements if your group is smaller than 4 people.
To view the full trip details CLICK HERE
Hopefully you have found the report entertaining
Tight lines
Paul