Hosted Soroya First Days Fishing 74LB Cod for our group of lucky anglers fishing this fish packed sea. Soroya is doing it again, Cod, Cod and even more Cod and this is just fishing Day 1….. what will the rest of the week hold. Top three fish so far for our group is 74LB, 68LB, 58LB and 54LB and as you can imagine it has only just started. The sea was a little rough today but the guys managed to target the Cod and by the look of it to great success. Guide Kevin McKie has sent yet another great little report to keep all you guys up to date with whats going on.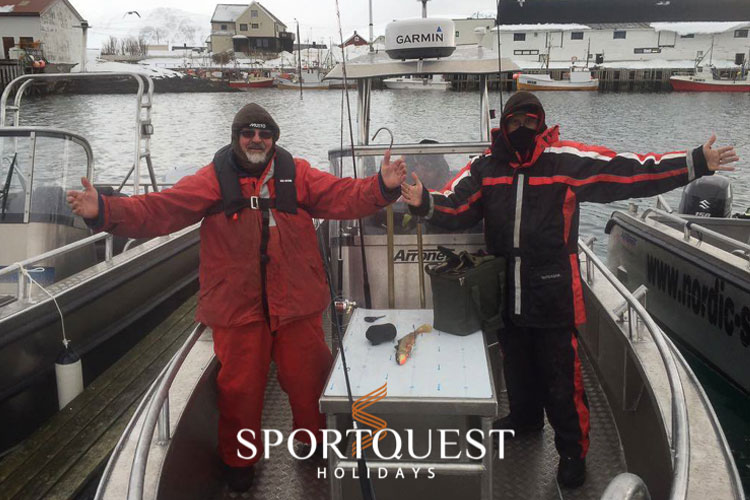 Remember we have got dates secured for 2017 but already have limited spaces so if you fancy joining Kev McKie next year then simply call us on 01603 407596 as soon as possible as when pictures and reports like this go out people will be wanting to join. Kev has yet again given us a great little report below hope you enjoy it and before I forget, Happy Birthday Bob Roberts (Pictured in his pants and Sportquest Beanie hat)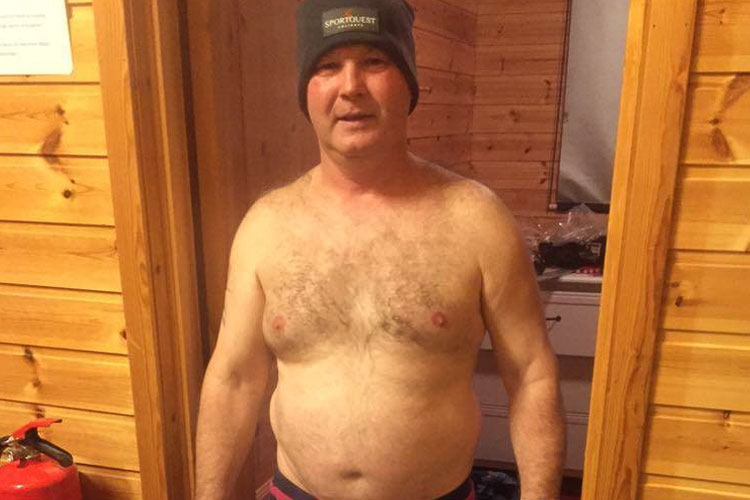 When we got up at 7am the weather was far too bad to go out so the guides said we will check it at midday as the weather here changes every 4 hours and at 11am we got the all clear. All the lads where ready and waiting on the boats at 11.30am and low and behold the weather gods where on our side the wind had dropped just enough to get out. The swell was still 2 to 3 meters but dropping off all the time.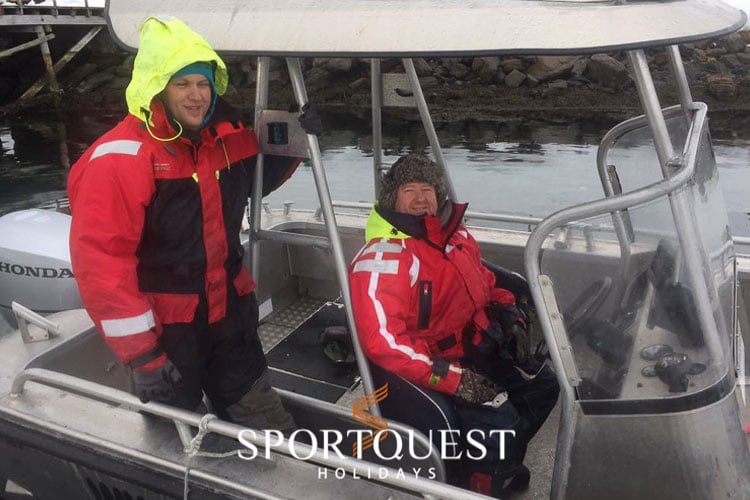 The conditions where hard going at times but we had to bear with it as we had travelled for 2 days to get here. The first few spots where slow going with the odd fish over 20lb, all the boats where talking on the radio and searching for the monster Cod that Soroya is famous for. At one point I was thinking this was not the Soroya I knew so well. Then I spotted a local commercial boat about 4 miles away and I said to the lads, he must be on the fish so let go and have a look. As soon as we got there he was hurling in cod around 30lb on a auto jig line with lots of hooks on. As soon as I set the drift up the shoal of cod showed on the sonar and it was massive over 200 meters long and 30 meters high. The lads where in to cod around 30lb straight away so I radioed the other boats and only one boat come over.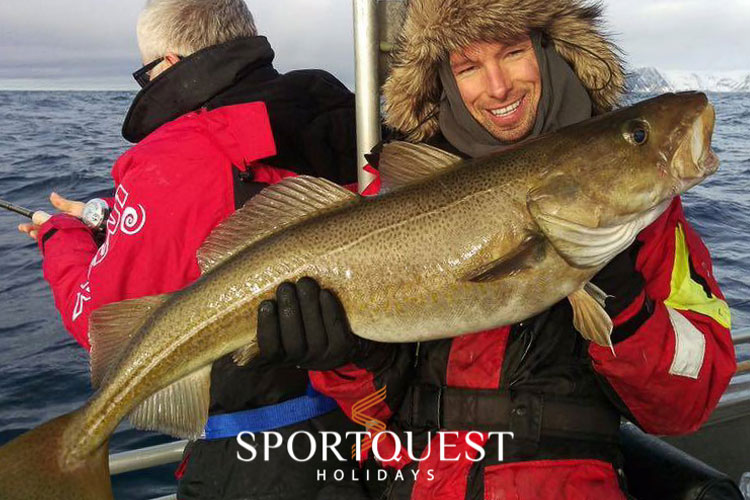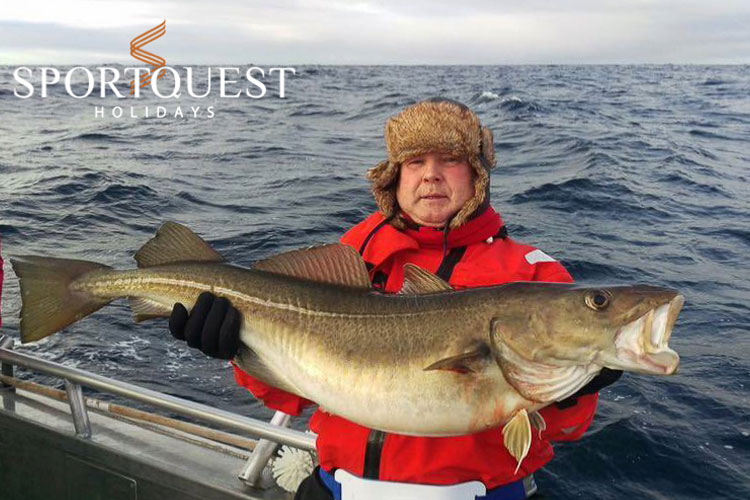 Then Marc Vericant hit a fish and I knew it was 50lb+ the way it was taking line then Bob Roberts hooked a fish of the same size, as Marc's fish come up it was a monster tipping the scales at 68lb!!! Best his personal best by 58lb!!! Then bobs fish come up and it was a pig tipping the scales at 54lb!! Beating his personal best by 44lb!!! As you can imagine in a 2 to 3 meter swell and a 22ft boat all hell had broke lose and we couldn't get the right photos of the fish as the lads couldn't lift the fish up for a photo. Then I had a go, I seen the top of the shoal at about 30 meters down so I dropped my lure in free spool for 25 seconds that's about 25 meters, I slowly tweaked the 460g savage cut bait herring a few times on my 30lb class rod and reel and bang I hit a monster cod it just kept stripping line off at one point I thought I am never getting this in as it was only my light rod and reel about 20 minutes later it hit the surface it was the type of cod dreams are made of it took two of us to get it in the boat in the heavy swell and it topped the scales at 74lb!!! Beat my personal best by 11lb, I never fished again after that I just helped the other lads as and when they needed it.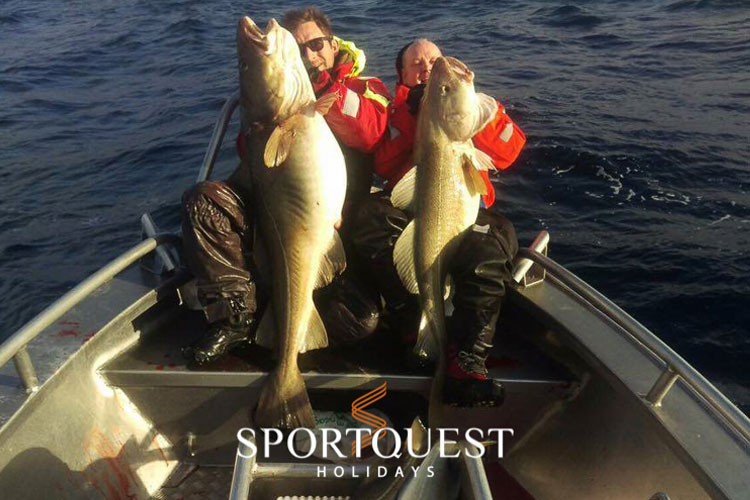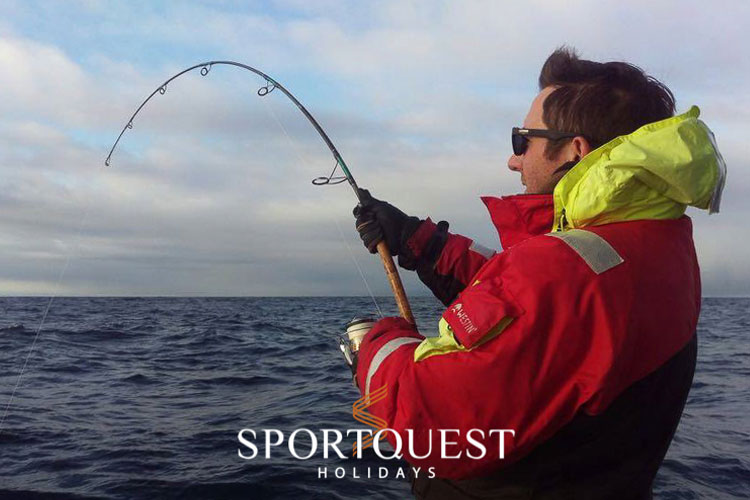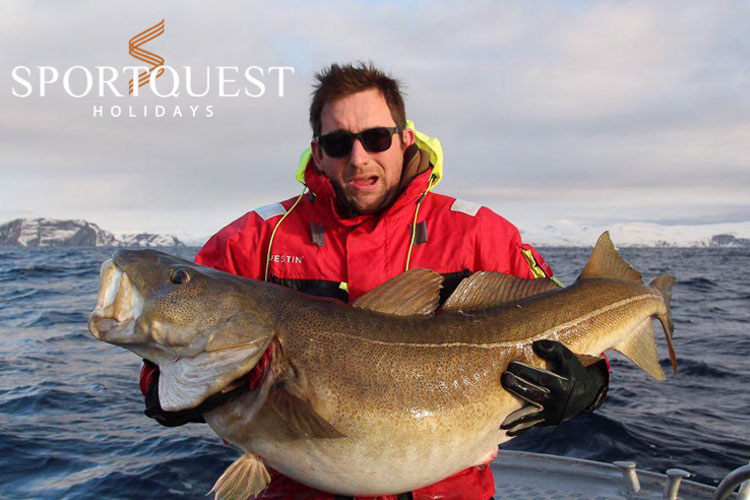 The other boats caught plenty of cod to 43lb and everyone enjoyed the day, we only fished for about 4 hours and everyone was ready for home. It's hard going reeling in big fish one after another with no rest, you have to fish hard in Soroya because the weather can change at any moment and you don't know when you will next get out. Roll on tomorrow the weather looks very good lets just hope it stays like that!!!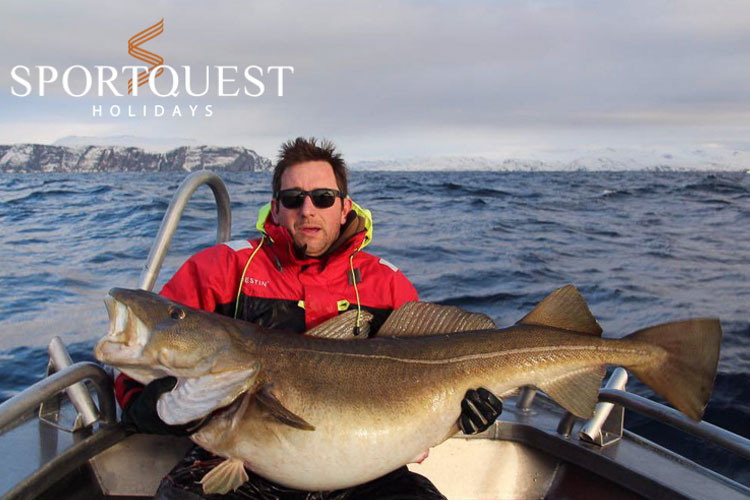 Thanks Kev for your report, keep them coming. Like we said above, if you wish to smash your PB for Cod then look no further. Hopefully we will;l be speaking to you soon, until then tight lines
To view this top class destination in Norway simply Click Here
Paul Stevens