Norway Fishing Report, well as i sit here it is the end of week 1 on the Land Of The Big Fish otherwise known as 'Soroya' Northern Norway. This place has once again lived up to expectations for producing huge Cod….. With every one breaking their personal bests
It was a very smooth journey here taking 2 days to travel to Soroya and once we arrived we were greeted by hardly any snow, which if you know much about Soroya then this is very rare for this time of year with it being in the Arctic circle one expects snow in March and you just have to look back through my Norway Fishing Report from previous year to realise.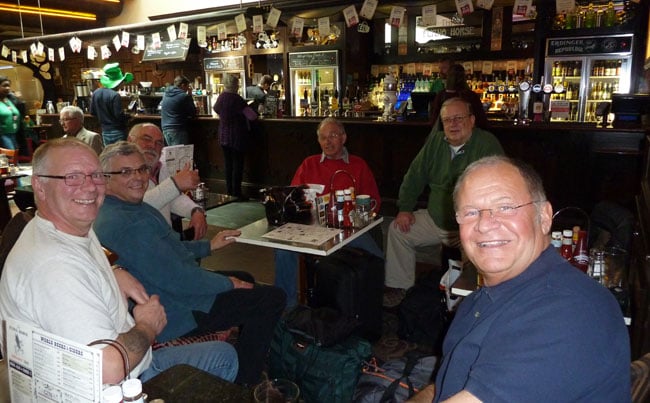 Little drink at Gatwick
| | |
| --- | --- |
| Oslo Hotel, i can see a little pattern appearing | Ready for 2nd flight |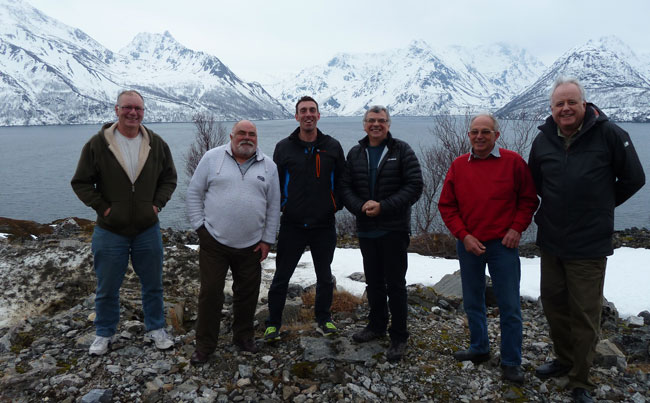 5 minute rest stop on the way to camp
Once everything was unpacked it was time to give the first weeks anglers a briefing on what to expect and how to set up the very simple rigs for these huge Cod. Things need to be kept simple as these Cod fight hard and dirty breaking any weaknesses in your set up. So with all knots tied and Big Bobs attached every one was set for the next days fishing. I was also given some great little teaser shads to try from a company called 'Seabooms" that proved to be very effective and will be in my tackle box on every trip to Norway now. The rubber the shads were made out of proved to be very robust and also the hooks that the shads come complete with were razor sharp and never let me down. Take a look below at the selection i took with me and if you like the look of them then simply go to www.seabooms.com i can highly recommend them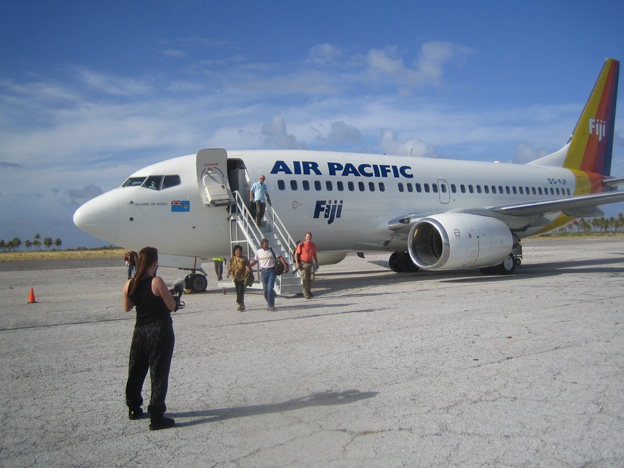 After speaking to the guides on site about the weather it was looking like it was going to be a tough introduction to the Barents Sea and i was sure that if any one suffered from a case of seasickness then this place would bring it out as the sea was rough. You will not get the full picture from this Norway Fishing Report on how rough it was but let me tell it was not looking good.
| | |
| --- | --- |
| Tackle time! | Sorry Colin, i had to post it |
 A time of 9am was set just to give the guys a lay in after their journey, and with that every one said their goodnights so to get a good night kip before the fishing kicks off.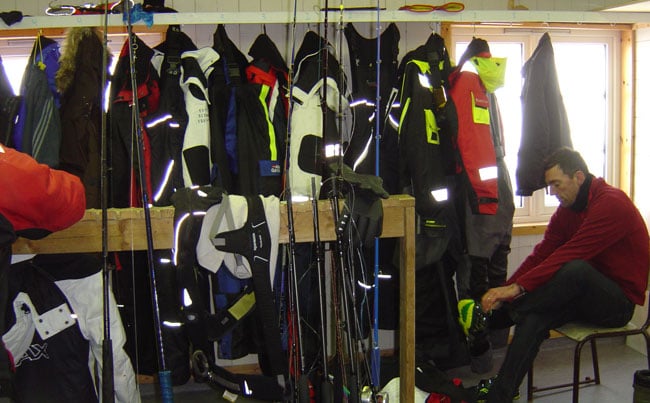 Dry room/tackle hire
9am soon came round and with every one suited up it was time to take these guys out and show them why Soroya has its so called name of 'The land of the big fish' With all the guys aboard two boats we set out to a mark in the open ocean called "Guldhalan" which is a short 20 minute steam out.
| | |
| --- | --- |
| Guys in the Guide boat | My crew for the week |
As we left the harbour i could see the excitment on the guys faces as they really did not know what to expect, i try to explain everything but there is no better way than to actually experience it for your self. So after a very bumpy 20 minute ride i had found a huge shoal of Cod which were very hungry feeding very high in the water. So once the boat was set up for our very first drift down went 3 big bobs and after about 2 minutes 3 rods bent double and the guys were in to their first Cod. After a great battle from all 3 fish we soon had 3 very big Cod laying next to the boat, the guys were over the moon and these i said were smaller ones and were only about 20 – 30lb's. After some great pictures taken we soon had the Cod swimming back to their watery homes. It carried on like this for over an hour and i could see the guys starting to feel it in their arms and legs as not only were they battling with the Cod they were struggling to stand up in the rough seas. Then one of the guys started to turn a slight shade of green and the next thing i knew he was hanging over the boat….. oppps i though thats one down. before long another one was being ill and only after about 2 hours of being out there they made a joint decision to come in. Unfortunately these things happen and if you have ever felt seasick then you will understand that it is a horrible feeling that only goes once back on solid land. At least they got to catch a few fish, nothing massive yet as we had them to just over 40lb's so plenty to go at on the next trip out. The Guide boat with the other anglers stayed out there and caught lots of fish topped by a 62lb Cod so they were made up and gave me plenty to writ about in my Norway Fishing Report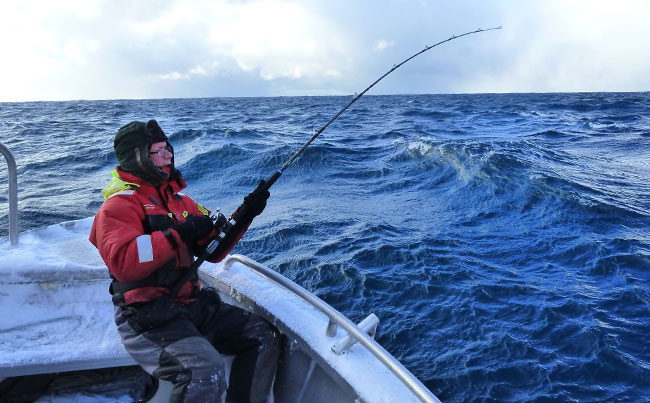 Pictures never tell the true story of how rough it was
The next day was blown out so the guys just pottered around, some fished from the harbour wall and caught Plaice and Dabs and a few small coalfish so the day soon passed and they were not to disappointed.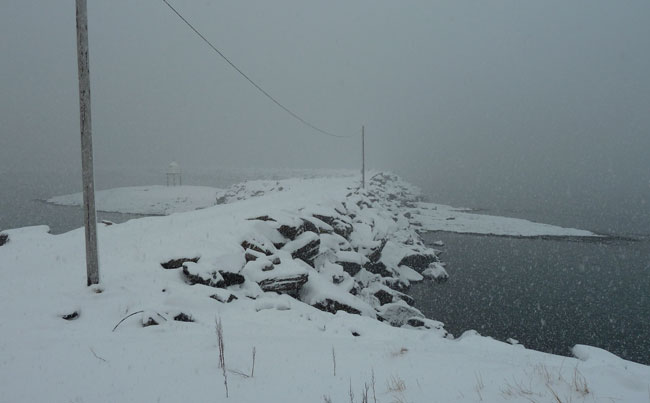 Rough Day
So it was Saturday fishing day 3 and the wind still hadnt dropped so we got the boats and fished very close in for Halibut and Wolfish. The guide boat managed 2 very small Halibut, 1 undersized and 1 around 85cm so they were happy, in our boat we only managed a Wolfish which for the guy who caught it, he had never caught one before and was over the moon. We then had a call from the guide saying that the wind was due to drop down enough to go out for the Cod which cheered every one. With this news we soon had a plan hatched and we would venture out to the ocean to see what it was like. We soon found that it was still very rough but good enough to motor to the fjord round the corner which had a hell of alot of Cod stacked up. So with this new plan we headed there and soon found ourselves in fairly calm waters and the fish finder was soon showing huge shoals of Cod feeding mid water. So with a big fish shoal located down went the lures to see what was hungry. Within 2 minutes we were attached to some very hard fighting Cod and soon had our first 20kilo Cod on board, in fact it went 23.5kg which is just over 50lb and smashed the anglers personal best by 40lb….. then they just seem to keep coming, big fish after big fish.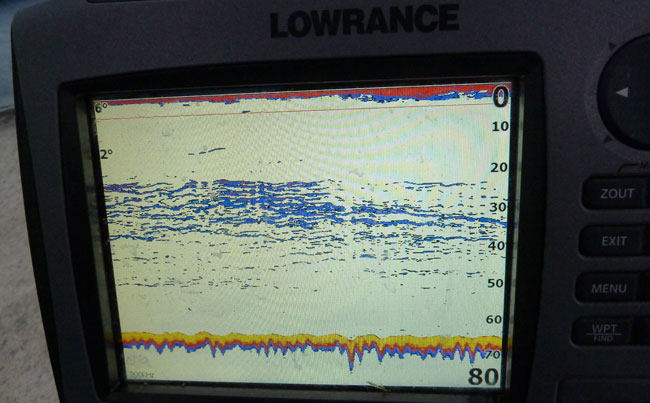 So many fish
| | |
| --- | --- |
| Well bent in | His first Norway Cod went just over 20lb's |
| | |
| --- | --- |
| Another PB smashed | They are getting bigger |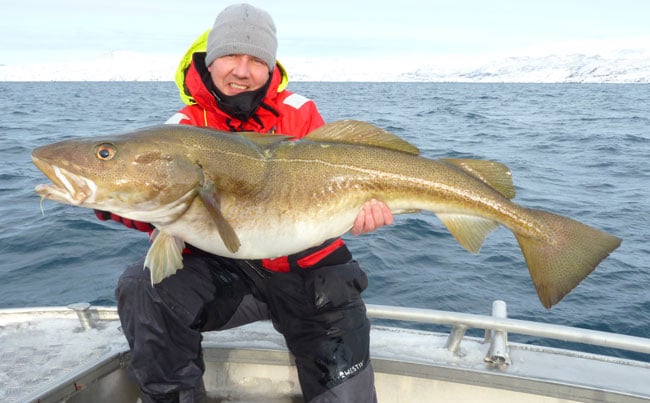 I had to have a go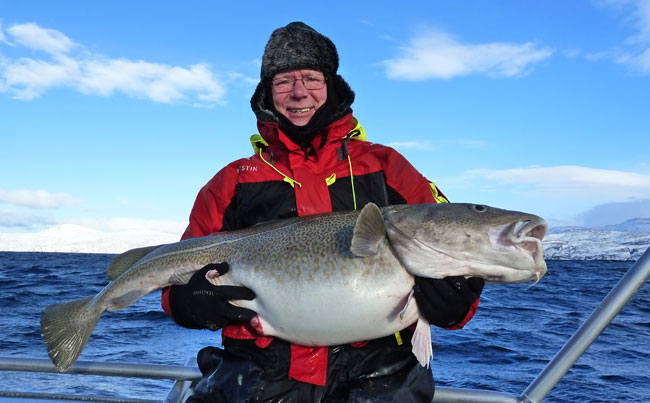 Lovely condition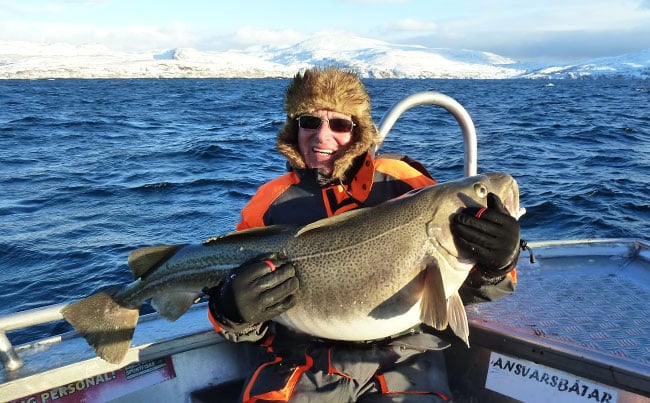 Well done Colin
The fjord is really just a big bay that cuts its way in to the Island and one can normally find a little shelter from certain winds. The commercial fishermen also use this bay when the winds are bad to catch their quotas so fishing in and around these long lines is a bit tricky sometimes but with a good eye on the fish finder you can normally see the lines and simply get the anglers to reel up t a certain depth as not to hook up on them.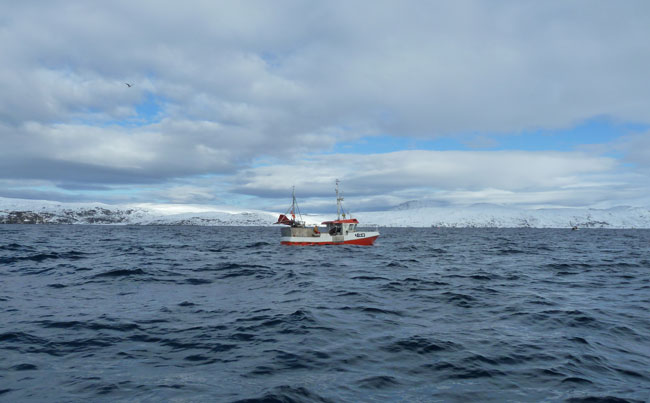 Commercial boats laying long lines
The fjord normally does very big fish and this day certainly did not let me down. The waters surface was just getting better and better which was making the fishing even more enjoyable, the drifts were pretty perfect and so was the fishing all in all the day was a pleasure and the guys got some great fishing including Cod to 59lb's. The guide boat struggled today to locate the proper big fish and managed several Cod just over 20kilo. i know this sounds unbelievable when we class 20 kilo Cod as smaller ones but this is what Soroya does to you. i try not to loose sight of actually how big a 20 kilo Cod is but when you fish this place you will understand that it is a normal size and the big ones are 30+ kilo and that these Cod are what dreams are made of.
Sunday Norway Fishing Report day 4 and it was looking a bit on the windy side so we hatched a plan that the guide boat would go out to the open ocean and i would fish the Fjord again and to keep in contact with each other informing of what we were catching. So off we headed and before long we were fishing roughly the same area as the previous day and things were looking good with huge shoals appearing on the fish finder. So the boat was set for its first drift of the day and you guest it, fish on. The average size of fish today seemed very big in the fjord so i called the guide boat on the radio to see how it was going in the open ocean. i quickly informed him of the great fishing we were getting and he promtly said i will be there shortly. He then contacted the other boats that were fishing the ocean and told them of the good fishing, so with every one contacted they all headed to the fjord to join us. Then soon after this i kept hearing calls over the radio of big weights of Cod coming out which made for a good ending to the day.
| | |
| --- | --- |
| The fish were much bigger today | They just kept coming |
| | |
| --- | --- |
| Hard fighting Male | The weather just kept changing all day |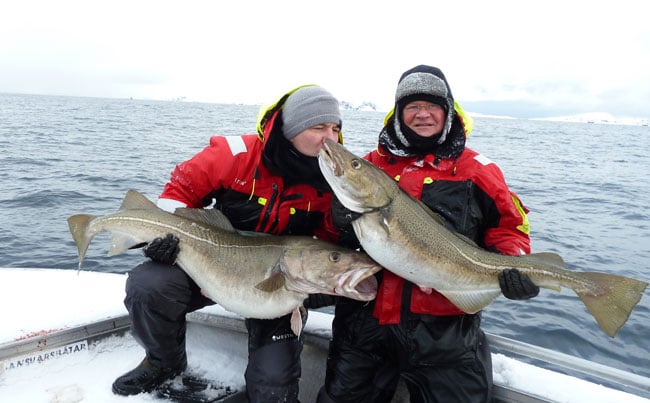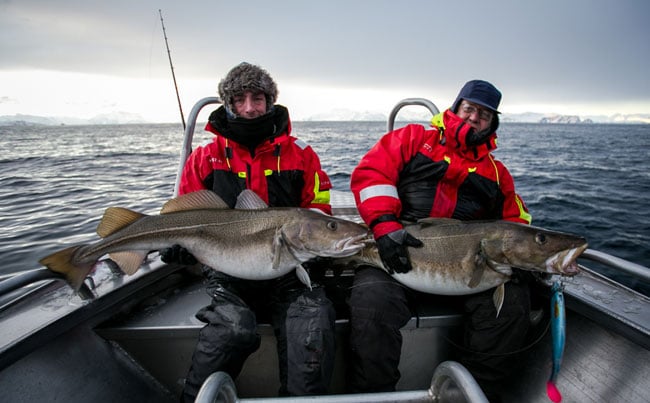 The guide boat quickly moved to the fjord
| | |
| --- | --- |
| Clonking great Male | Cracking fish |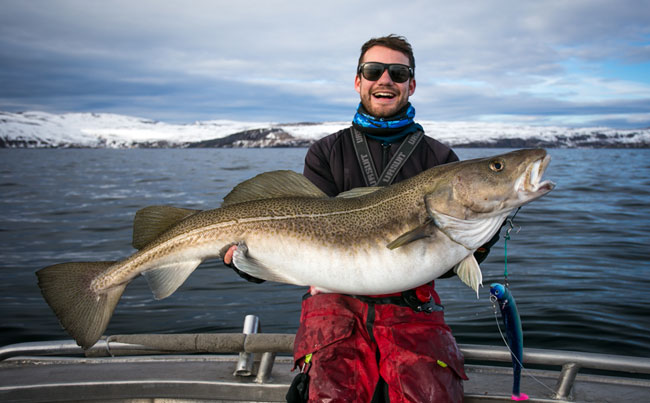 Johan, our Guide and skipper (Thanks for some great pictures)
The three guys i had in my boat were a great bunch of guys and fished hard, we had so many laughs in the boat that the time just flew by and before we knew it, it was getting dark so i made a call to come home. By this time the sea had become very flat which made for a lovely speedy return to the camp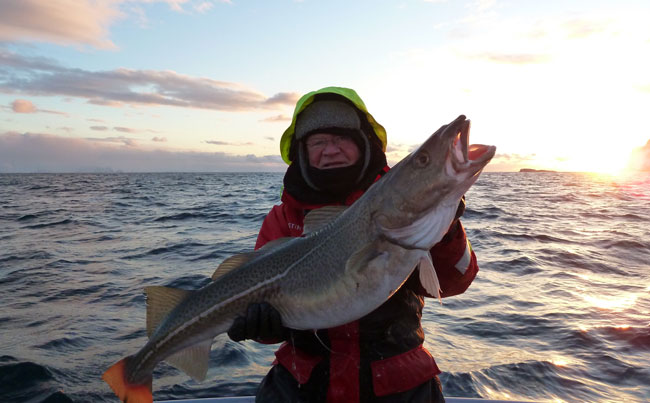 Great sunset shot
Monday Norway Fishing Report day 5 was soon apon us and the morning was windy with it due to drop down for around 1pm so every got their gear cleaned and retied leaders in readiness for the lunch time start. the time soon went passed and before we knew it we had the ok to go back out, so we decided to go straight out to sea today. Every one else had the same idea so out went 5 boats full of Cod hungry anglers in search of that dream of catching one over 30kilo.
With the shoals found every one split up a little to hopefully find the bigger ones and it did not take long before you heard in Danish "30kilo" in fact that day they had 6 or 7 over 30kilo which if i am not mistaking is a record for the camp to catch that many 30kilo cod in just one day. The sea is full off huge Cod today but our boat and the guide boat could not locate those sized fish, we had so many 20+ kilo cod that we lost count and one of the anglers on my boat had a 29.5kilo Cod so every one was very happy and with aching arms and sore backs we made the decision to head ashore for a very welcome beer.
| | |
| --- | --- |
| I love these Cod | No lures are to big |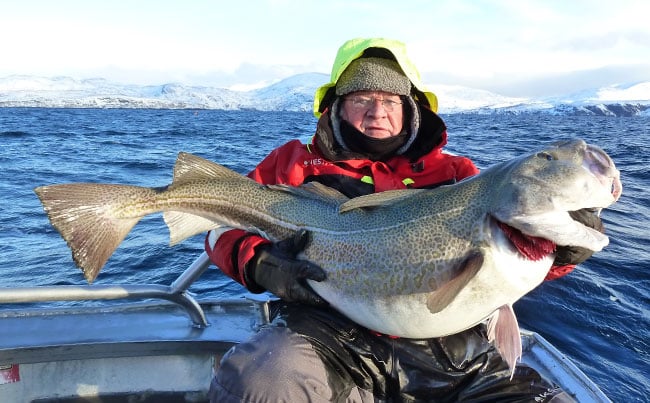 So close to the magic 30kilo mark at 29.5kilo. Massive congrats to Tony
Tuesday Norway Fishing Report day 6 and we all couldnt believe where the time had gone it was already the last days fishing and the guys were feeling it. The decision was made to head straight out again to the ocean to see if we could tempt one of these huge Cod to grab a lure. Today was looking excellent with flat seas and at the moment clear skies. This did not last long as after only a couple of hours of fishing the skies went black and it snowed and i mean it snowed, at some points i couldnt see the angler at the front of our boat only 10ft. However the seas just seemed to get calmer which made up for the onslaught of the white stuff hitting us directly in the face.
| | |
| --- | --- |
| Tough conditions today | In-between showers was lovely |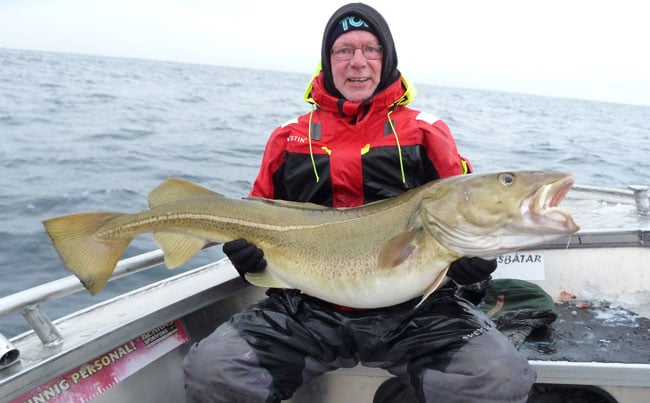 | | |
| --- | --- |
| Huge mouth | Cracking shot Tony |
The guide boat also had a fantastic day, boating some huge fish. Johan and Sebastian, which are the guides at this camp, are some of the best guides i have worked with and do their very best each and every day to make peoples dreams come true and can not thank them enough for making the first week go so well and also a massive thanks for your pictures guys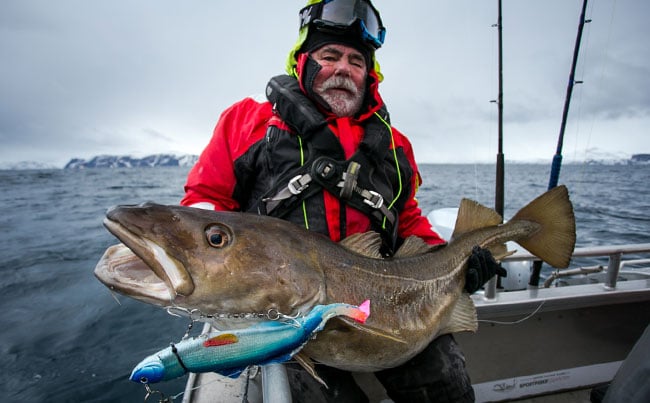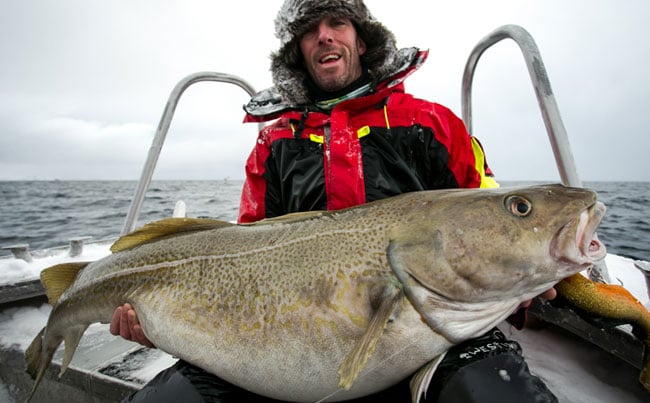 30+ kilo Cod
| | |
| --- | --- |
| One of the best days | Awesome fish David |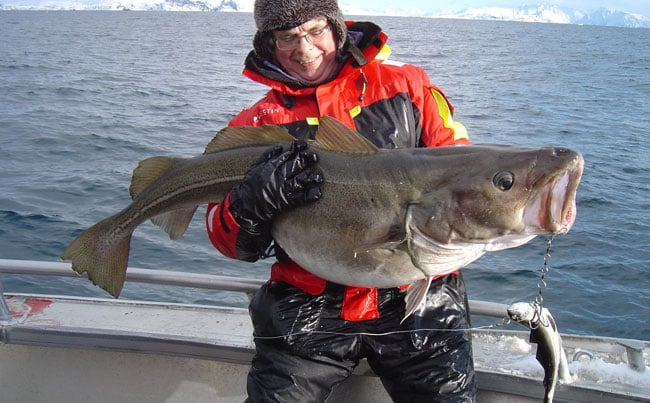 Heavy fish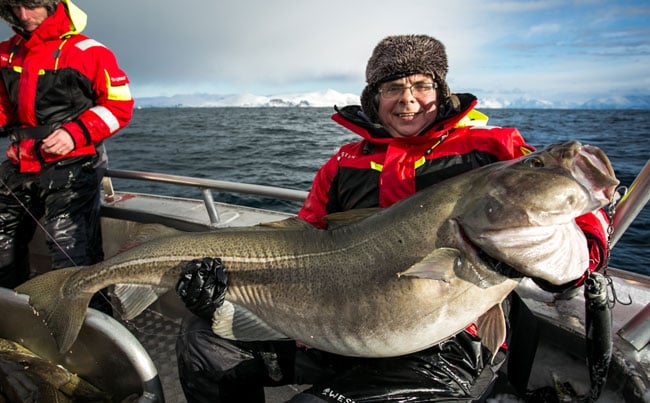 Another PB set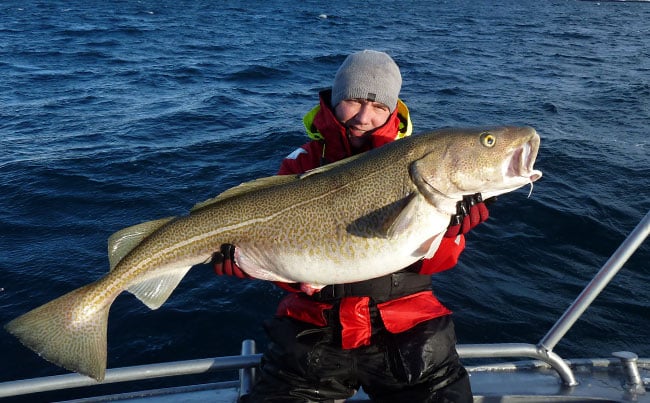 My last fish of week 1
It was a perfect end to a great week as we managed to catch even more 20kilo Cod today than the previous days and every one was in high spirits, lots of banter flying around and jokes told and something was said that makes me love my job so much and it was when a guy in his 50's said to me that this was the best fishing day of his life….. it felt great that i had given this guy who fishes alot the best day of his fishing life..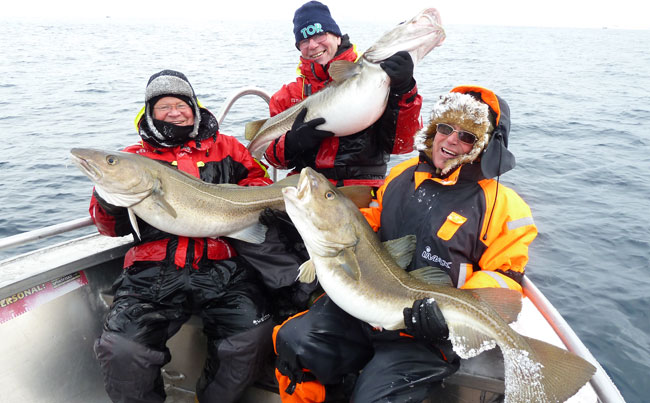 Some very happy anglers
So with the boats back at the dock for the last time it was time to clean them down and refuel ready for the next set of anglers which were already heading my way.
Hopefully you have enjoyed reading this and please can you keep your fingers crossed that we get that dream 30kilo Cod next week. If you fancy joining me next year simply call me on 01603 407596
To view this Hosted Cod fishing trip Click Here
Until next time, tight lines
Paul Stevens