Norway Fishing Report Week 2: Wednesday 2nd April 2014
If you regularly follow our my Norway Fishing Report then this is a daily report of the second week of my Hosted trip to Soroya Northern Norway fishing for the huge Barents Sea Skrei Cod which migrate to this Island each year.
It is Wednesday morning of this Norway Fishing Report, the day the first sets of anglers depart for their journey home and the day the second group turn up. This day is what I class as my day off all I have to do is make sure the boats and the cabins are clean and ready for the next set of Cod anglers. This doesn't involve much and should normally have it all done by about 10am and then the rest is my time. After a lovely hot long shower (which normally with 4 others in the cabin, isn't so long or hot) it was lunch time and time for a quick visit to the supermarket for some supplies. Normally around lunch time the supermarket has hot freshly baked bread and some very sweet cakes, these both ended finding their way into my trolley and with this evenings meal fresh in my mind i finished my shopping and made my way back to the cabin for a bacon sandwich with my fresh hot bread.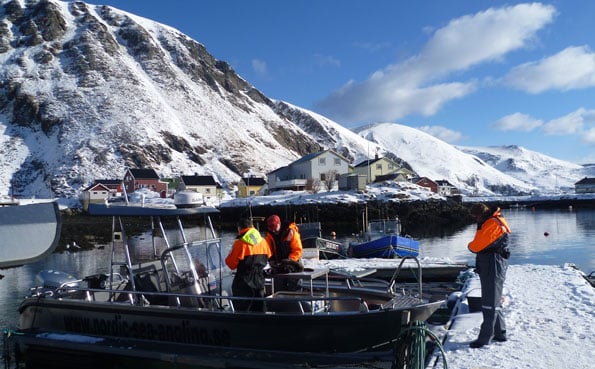 Getting the boats ready for the new guests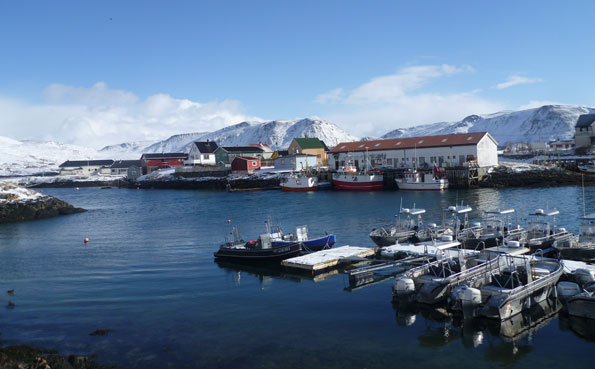 Everything ready to go for the following days fishing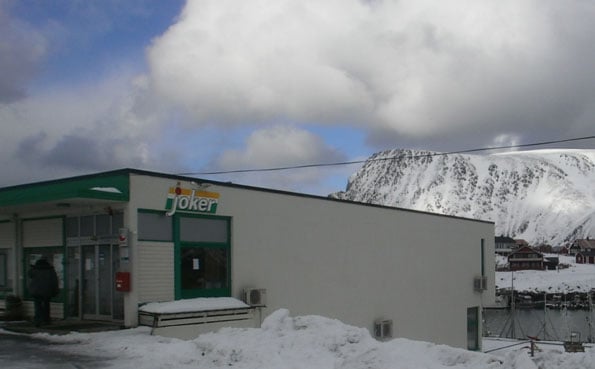 The local Supermarket, only 5 minutes from the camp
I always treat myself to a good meal this day and make sure I rest in the afternoon ready for the next full on week of helping the new group catch these huge fish. I had been looking forward to this meal all week, it was to be Steak, onion rings, mushrooms, chips and peas mmmmmm my mouth is watering even now. You maybe thinking that is just an ordinary meal but when you are sharing a cabin with 4 other guys meals like this don't exist for me as I always let the others go first and then by the time i have finished writing my Norway Fishing Report and they have finished I just can not be bothered and normally have something quick.
With the meal well and truly polished off washed down with a well-deserved beer, it was time to think about going to the Hotel ready for the coach full of anglers. At around 7pm I caught my first glimpse of the coach making its way round the winding roads of the Island and its final destination, the camp.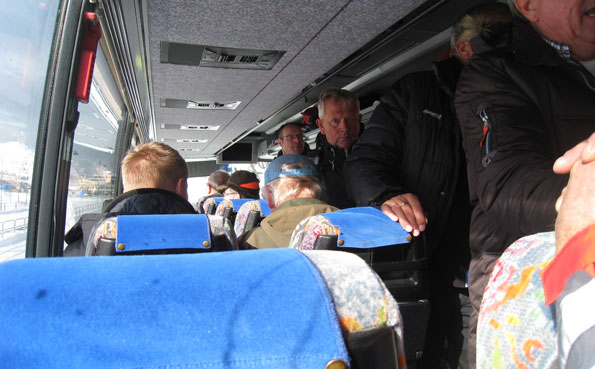 All the new keen Anglers descend upon the Island
This week was a little different to all my previous trips to this camp as I have 8 new guys that I have never met before, spoke to them a lot on the phone some a lot more than others…. Where as normally I have at least one person that I have guided before.
The coach finally pulled up outside the Hotel where the head guide and myself were waiting to greet them. With all my 8 guys rounded up it was time to lead them to their new homes for the next 7 nights along with what appeared to be at least 3 tackle shops worth of bits and pieces. I do laugh some times at what people bring with them and don't get me wrong the first time I came to Norway I bought way too much stuff with me and after many years of coming I have cut my things back to the bare minimum and actually only bring what I need and not what I might need. Full list of recommended tackle can be found in other Norway Fishing Report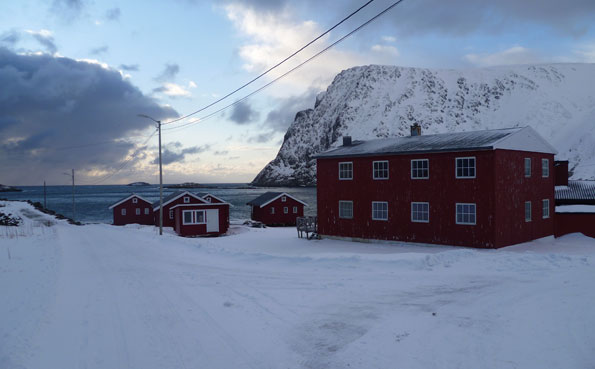 The first view of the camp at Soroya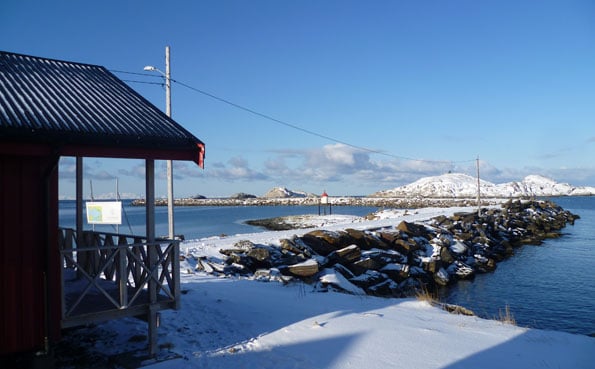 Great views from the Cabin's
Once the guys had unpacked it was time to get them all together in one cabin for a quick briefing on safety at sea and caring for these huge Cod (we strongly promote Catch and Release). After we had finished the chat it was time to just talk fishing and boy, these guys had lots of questions baring in mind I try my hardest to inform them of everything before they leave the UK but I guess they had a few more questions than I realised. Only things like what knots to use, how much of a leader to put on and of course which Big Bob's worked well last week.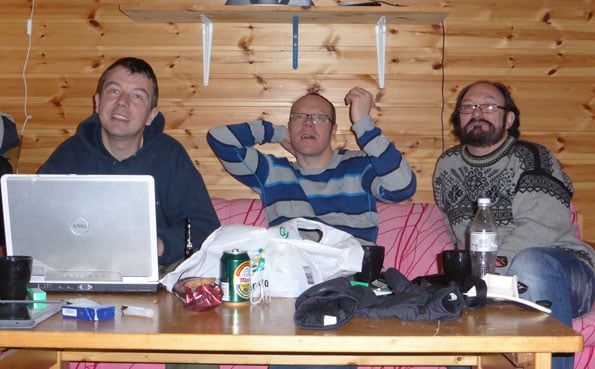 Sportquest Head Norway Guide on the left giving his advice on tackle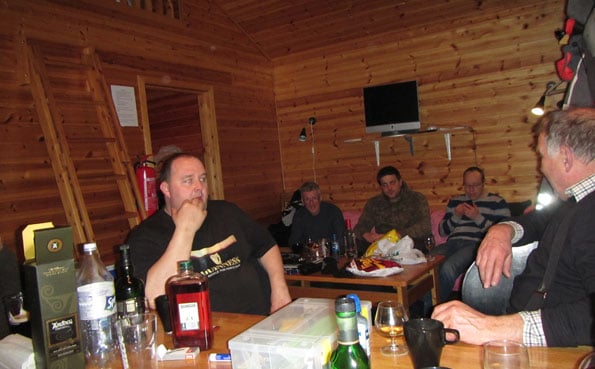 All the keen anglers having a few drinks and talking fishing tales
After all the guys were happy, I informed them that tomorrow was going to be a very long and special day here on Soroya as the winds from last week had completely gone and they were going to be in for a treat. So with this said it was time to set the alarms for an early start as tomorrow was going to be such a good day and I just knew something very big was going to be caught… and with the last words written for my Norway Fishing Report it was time to hit the sack
Weather was looking so good for their first days fishing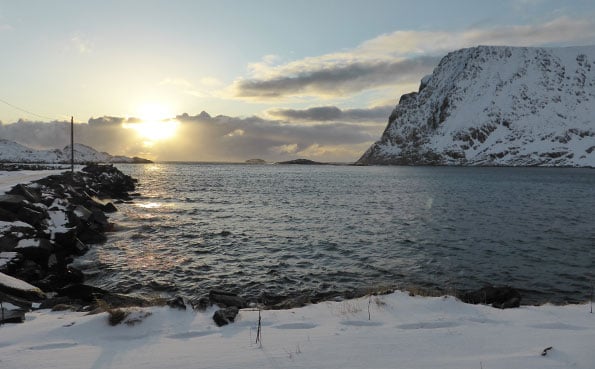 You just can not beat this view, i never tire of it
Be sure to check back in tomorrow, as you will get to see what the guys managed to catch and the laughs along the way
To view the full details of this exciting Hosted Giant Cod Fishing holiday Click Here
Paul Stevens
Head Norway Guide