Hosted Soroya Wk2 First Day Fishing Well, what can I say apart from the weather has been s****t…. It is now Sunday and we have finally managed to get out, all be it only for 2 hours. But what crazy fishing those 2 hours were.
The weather over the last couple of days has been stuff of night mares, with winds around 70mph and heavy snow, so we have been resigned to watching the telly, eating and making sure all out tackle is ready (There are only a certain amount of times you can re-rig your rods)
Yesterday afternoon (Saturday) we got the all clear for a days fishing on Sunday and once the alarm went off at 6am we all woke to no wind, yes! So with all the gear packed, sandwiches made we headed out in to the open ocean for what was going to be the guys first real experience of this magical place called Soroya.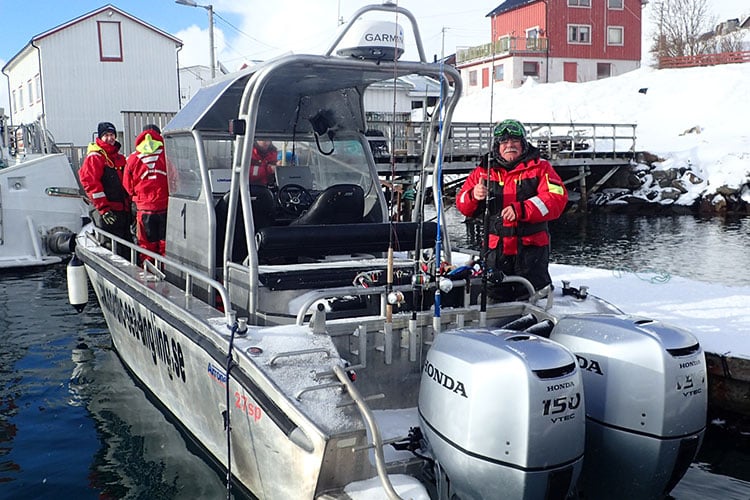 It was tough going at first but once we got past the islands the sea seemed a little calmer. After a short steam out we soon found huge shoals of big fat greedy Cod and they were hungry. Down went our lures to see what size these fish were and first fish went to me and after a small scrap up popped a huge Cod of around 24kilo…. What a start. Then Stuart was in to a fish and by the looks of it this one looked a bit special. Stuart travels to many destinations around the world targeting lots of different species but this was his first dedicated Cod trip and by the look on his face he was loving it. After a short fight Stuart was looking down at an amazing Cod of 26 kilo…. What a first fish, huge congratulations Stuart a fish of a lifetime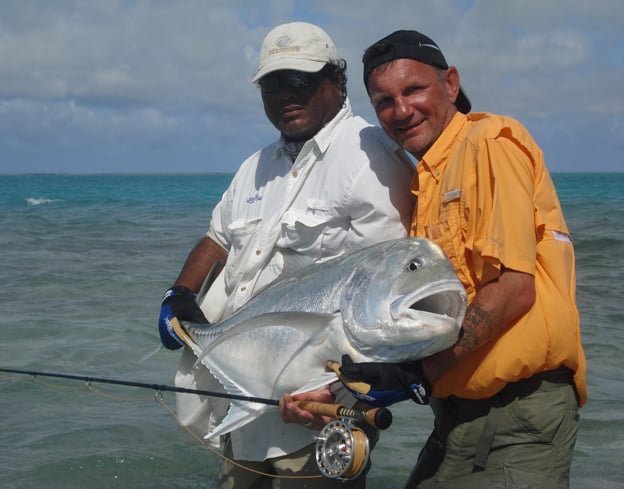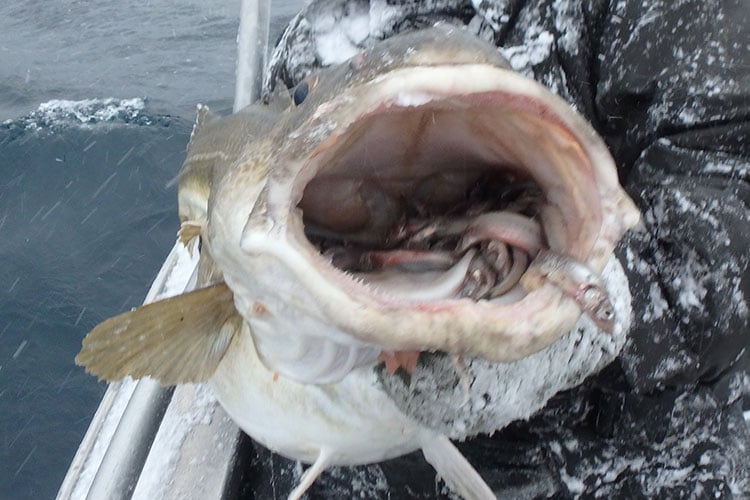 The pictures were taken and fish released Stuart was made up and so was I, then all of a sudden Ray was in and again this fish looked huge. A quick weigh on the scales and it went round to 24 kilo's My god Soroya is on fire.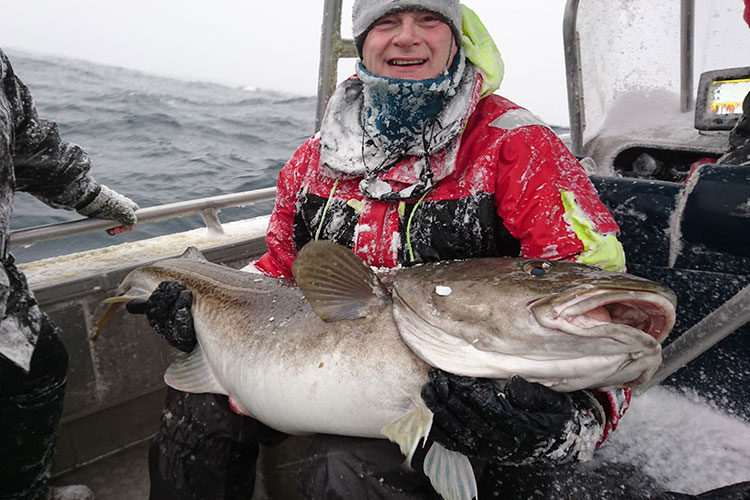 We managed a few more cracking fish before a call over the radio announcing that we had to head back in as yet another storm was heading our way. Dam this place, its gives a little but then just spits in your face as quick as it came. Oh well we all had managed to catch some great fish in just a couple of hours so we shouldn't complain.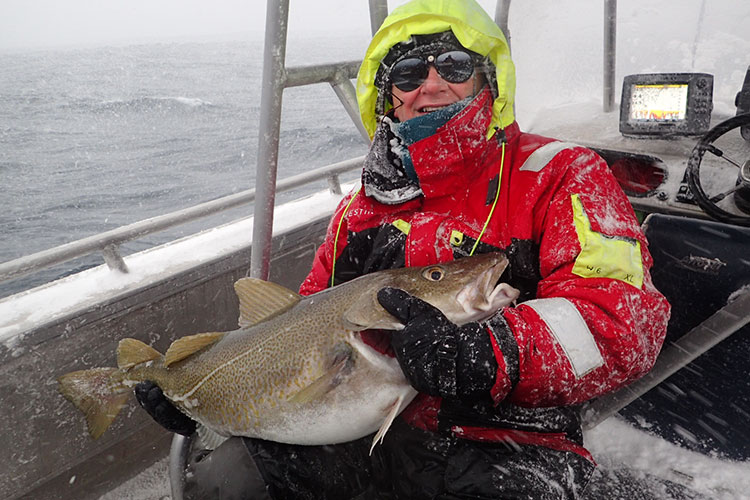 Once we battled through high waves we soon found ourselves back in the harbour with frozen faces and fingers. When all the all boats had arrived I had a quick chat with head Guide Sebastian and he informed me that tomorrow was looking really good, so here is hoping!!
You maybe reading this thinking why would I want to go to a place like that and experience blown off days, let me tell you that the Cod fishing is by far the best in the world and one day out can be better than 6 days fishing any where in Norway and if you love your Cod fishing and want a proper experience then this is the place for you. You WILL beat your PB Cod it is what we class as the "Theatre Of Dreams"
I have yet to speak with the guys in the other boat but believe they have also had awesome fishing so I will include those pictures in tomorrow report.
Well, hopefully I can now start to report a little as the weather has improved, hope you enjoyed this little report and seeing as I am here for another week with another group of guys I am shore it will not be my last. So until my next report, tight lines
Paul Stevens