Fishing Report Norway with the first set of anglers well on their way home and my second group nearly here I have a couple of hours to rest and have a few relaxing beers before it all starts again. It is just after lunch time and the snow is still falling in fact it has been snowing hard for the last 3 or 4 hours and is laying hard, this will be a greeting for the new guys. A couple of them have been out here with me last year and featured in last years Fishing Report Norway so they know what to expect but there is a group of 5 friends who have no idea on what to expect and this will be a good break in for them.
| | |
| --- | --- |
| It didn't stop for nearly 4hrs!! | Small break in heavy snow |
I received a call from a very worried angler a little while ago saying that they had problems with the airplane and had to turn back to Oslo to jump aboard a new plane as they had engine problems…… well that's where it started to go a bit wrong for this new group, as when things like this happen it has a snowball effect on everything, transfers and ferry crossing would also be effected. So I calmly said to him, don't panic I will do everything I can from this end you just make sure the group are on-board the new plane when it takes off. So with the news of the new plane ready to take off I called the bus driver and told him what was going on and informed him to wait for our guys. The other thing I was worried about was were they going to make the ferry on to the Island! Well it turns out that they just made the last ferry of the day as if they had missed it then they would have had to turn around drive 2 hours back to Alta to stay the night then do the transfer again in the morning, but luckily they made it, a little later than planned. We normally turn up at the camp at around 6:30pm and they turned up at 23:45 very tired and hungry
So with this in mind I kept the introductions short and saved the tackle talk until the morning, which the guys really appreciated. Even with this late arrival the guys stayed up until 4am getting their bits and pieces sorted, I know what it is like when you have just turned up, its very hard to sleep full of excitement and buzzing about what the next day will hold. I had said to them all to have a bit of a lay in and get some rest and we would head out at around 11am the next day to go catch them some Cod that they have seen in previous Fishing Report Norway
Well I set my alarm for 9am and when it went off I could already here the rest of the group fiddling with their tackle, guess they were to excited to sleep.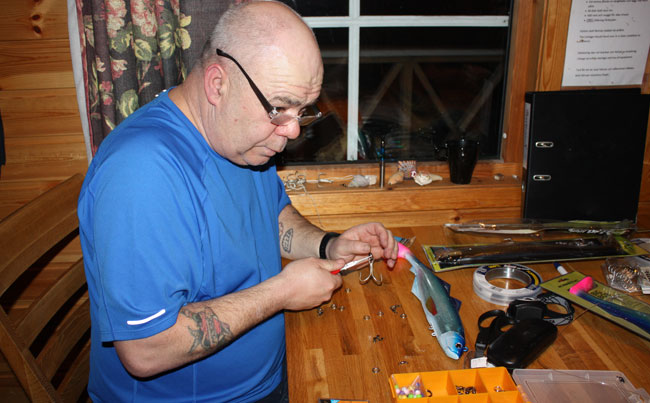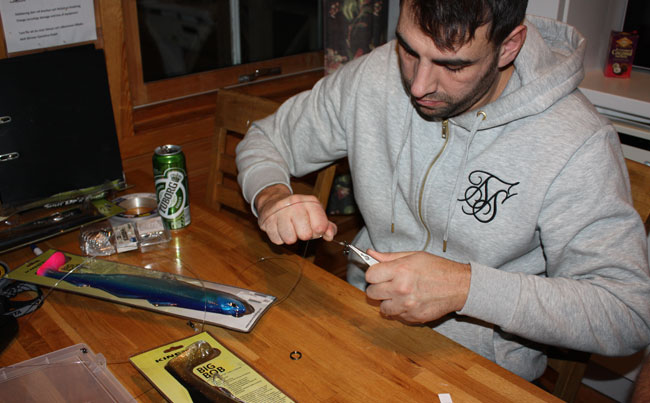 Fishing Day 1 (Thursday) of my Fishing Report Norway So after some bacon sandwiches and cups of coffee we were already to sit and talk tackle and how to target these huge Cod (I wont bore you guys with this again as I have already gone over it in week1) so with all the technical talk done it was time to show the new guys their boats and flotation suits they would be using for the week and if any one was hiring rods and reels to sort them out.
With everyone full of excitement it was time to head to the boats and get on the water for what was going to be a great day on the Barents Sea. After all the guys had sorted their rods out and were seated I quickly explained where we were going to be heading and it was time to show them what the Island of Soroya was made of.
| | |
| --- | --- |
| New group in guide boat | My new crew for the week |
A quick 20minute steam found us smack in the middle of a huge shoal of very hungry Cod, I had chosen to take them out to the open ocean on their first day as the weather was good and you have to take every opportunity you can at this place when the weather is good and it was looking like a good option as the sounder was full of Cod. So with a call of 45 mtrs down went 3 Big Bob lures all with shinny swivels, split rings and Owner trebles.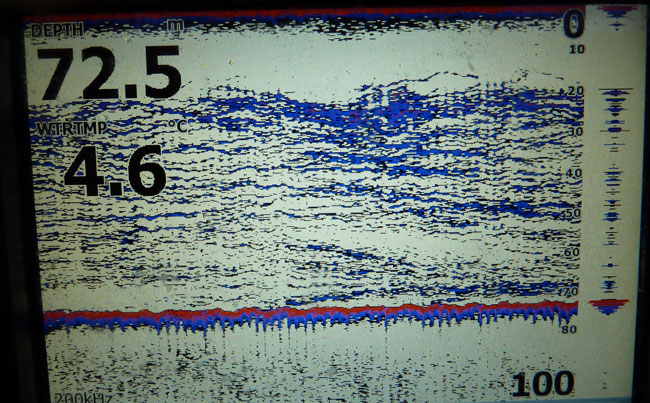 The guys on my boat Matthew, Ian and Clinton were all guys I had guided before at various camps including this one so it was like fishing with friends really and as you can imagine there was a fair bit of banter on the boat that week. The guide boat had 5 friends that have all fished together for a few years but never in Norway, so all in all the group of 8 guys were a great bunch of experienced anglers.
Matthew and Ian did not need any assistance as they have been here before so I concentrated on making sure Clinton was all good and knew exactly what he was doing as I have mentioned before in other Fishing Report Norway that this fishing is very different to what is the norm else where in Norway. So after a little lesson he was good to go and before I knew it he was bent double struggling with his first proper Norwegian Cod and it didn't look a bad one at that. He soon had the Cod at the side of the boat so I rushed over to help and in front of me was a great looking fish at around 22kilo, what a great start Clinton. He was gob smacked at the size of this fish and I said to him that he would catch bigger and he looked shocked. With photo's taken and fish released Clinton came over and shock my hand and said thank you so much that was the biggest fish I have ever caught. I love my job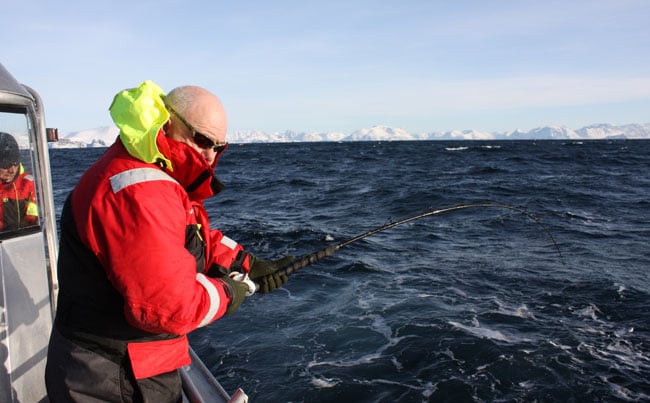 It certainly didn't take long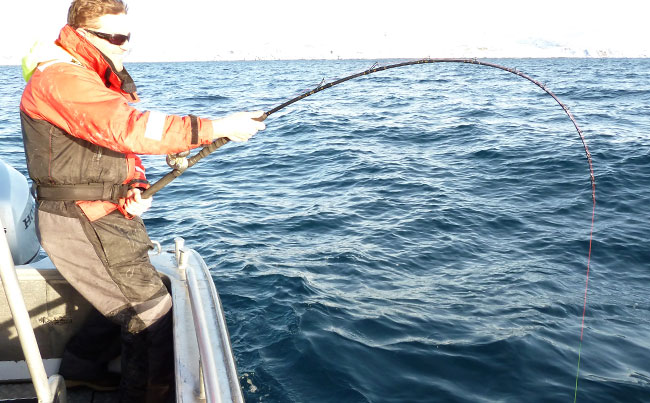 Take the strain Ian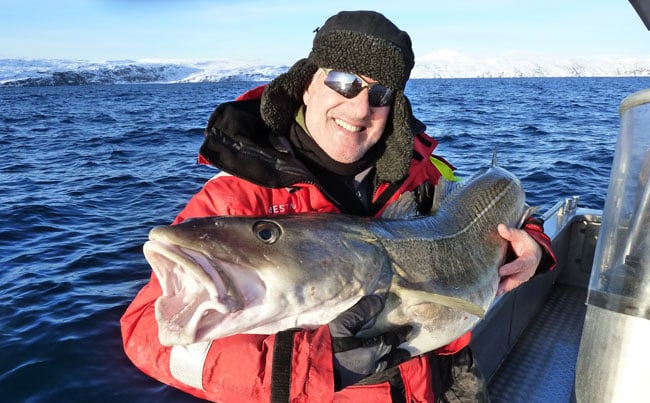 Clintons first proper Norway Cod
| | |
| --- | --- |
| Nice start Ian | Pleased to see you Cod….. |
With a quick call to the guide boat to see how the rest of the guys were getting on, I spoke to the guide and he had informed me of a rather large Cod been caught and that's all he said. I was very curious as why he did not say how big so I called on my phone one of the other guides and he said that they were in the middle of weighing the fish as it had bottomed out the scales they had on board which went to 35kilo……. The guides really wanted to weigh this fish properly which would of meant killing the fish as it would have had to have been out of the water for far to long waiting for another set of scales to be bought out to them so the angler who caught it decided that instead of killing the fish he would simply let it go to carry on with her life, a MASSIVE respect goes out to Dale for this decision and he settled for 36kilo which is pretty much 80lb's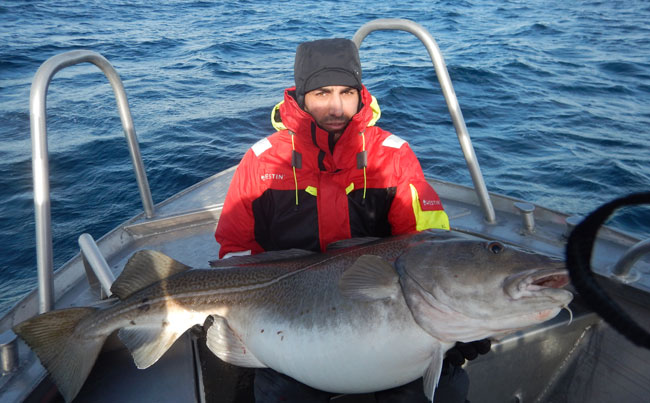 Congratulations Dale, superb fish all 80lb's of it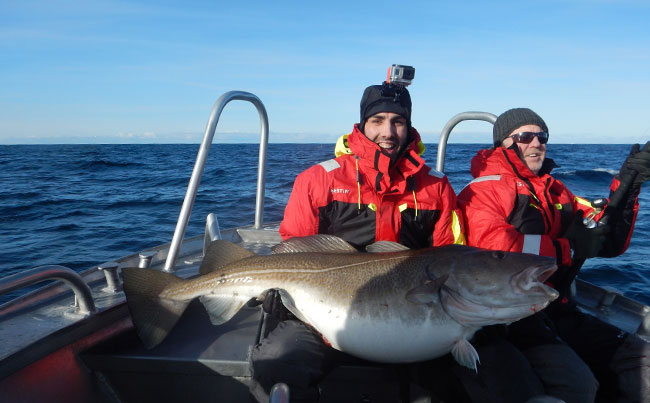 One happy angler!!
With the news of this fish coming over the radio it sparked the rest of guys to fish hard as they all knew that there were some really big fish about. I worked my guys really hard that day as I could see some huge fish on the finder and for some reason they just were not biting and the smaller ones were, well when I say smaller ones I mean the ones between 20 and 30 kilo but we could not hit one of those big girls and after catching untold amounts of Cod we all decided that it was time to head in for a rest as the guys arms were aching and we were losing the light plus I had to write some of my Fishing Report Norway
| | |
| --- | --- |
| Cracking Fish | Another one bites the dust |
| | |
| --- | --- |
| Just couldn't hit the 30kilo | Such hard fighting |
So first days fishing and one of the group had had a Cod to 80lb's and the rest of the guys apart from Matthew and Ian had smashed their Personal best's and the reason why Matthew and Ian had not beaten their bests was purely because last year Ian had caught a 35 kilo Cod and Matthew had caught a 34.5kilo Cod so their targets were high, I think there maybe a few rums drunk tonight.
Fishing day 2 of the Fishing Report Norway (Friday) was soon upon us and it was not looking to good as the wind had changed direction, which had made the sea rough up very quickly. With the news coming from the head guide that we could not go out to the sea today, the guys looked a little deflated so I suggested maybe a day fishing the harbour for Plaice and dabs. To be honest some of them looked pleased as the journey getting to Island and then yesterdays fishing had really taken it out of them and they were pleased to simply chill out for the day and get things ready for the following day. Rest of the day was spent watching the white water whip passed the cabins praying for the wind to drop the following day.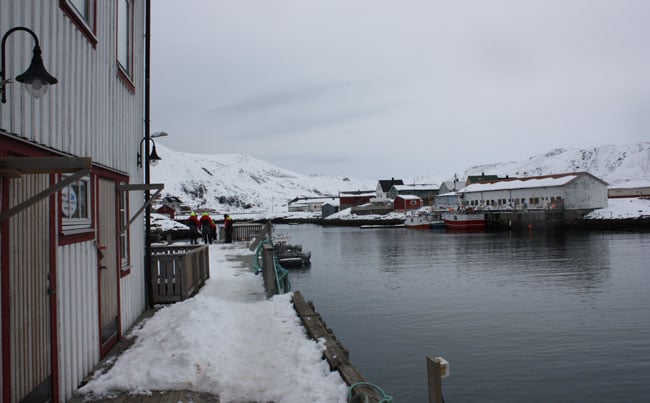 Fishing around the harbour today
Fishing day 3 of the Fishing Report Norway (Saturday) waking up today with hope in mind of a flat calm sea was soon shattered by a phone call from the head guide informing us of more s****t weather. This is the part of the job I hate telling guys that we can not go out and seeing the look on their faces after travelling this far only to have to sit in the cabin for another day, but like I make all the guys aware even before they book that there maybe a chance of losing days fishing and I simply tell them that when we do get out we have to make the most of it and to fish hard as they will soon forget the lost days. So with the bad news handed over we hatched a plan to still take the boats out but fish close in for Halibut, Wolffish and small Cod so it wasn't all bad news at least.
Every one soon had their suits on, lures were changed with Halibut in mind and off we went. We fished around the little dot Islands just outside the Harbour where we had caught them previously. So with the first drift set we were at least fishing and before long Clinton had a bite….. and after a good little scrap we were looking at his first ever Halibut, only a small one around 80cm but still a Halibut. Quickly released we carried on with the drift to see what else was at home. We soon found ourselves over a good-sized shoal of small cod, which gave us some good sport for an hour or so. We soon found ourselves wanting more Halibut so with this in mind I relocated the boat in a different area and started another drift but this time no joy and with the wind picking up even fishing close in was becoming tricky. The guys decided enough was enough and home time was called. On the way in I called the guide to see how they had got on and they had caught a couple of small Halibut from a different area to where we were fishing, but he did mention that the weather was due to drop right off over night and tomorrow was going to be perfect with little to no wind. I soon told my crew and it was almost like a little party on the way as it lifted everyone's spirits greatly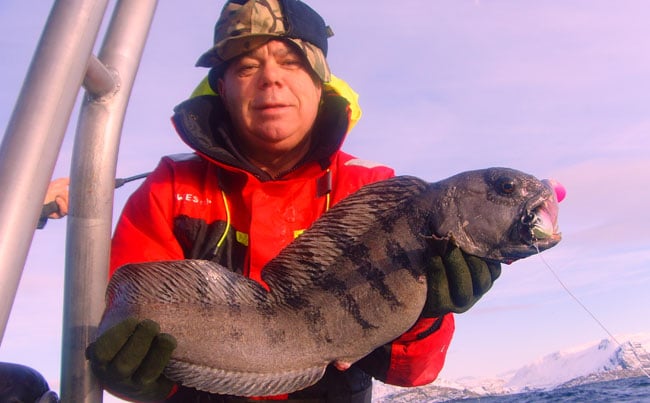 Fun the Wolffish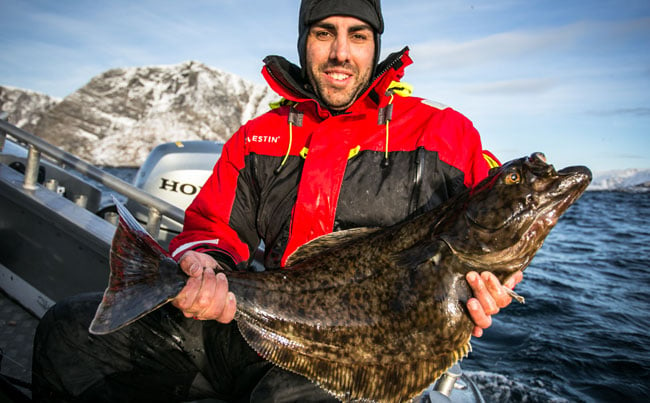 Dale does it again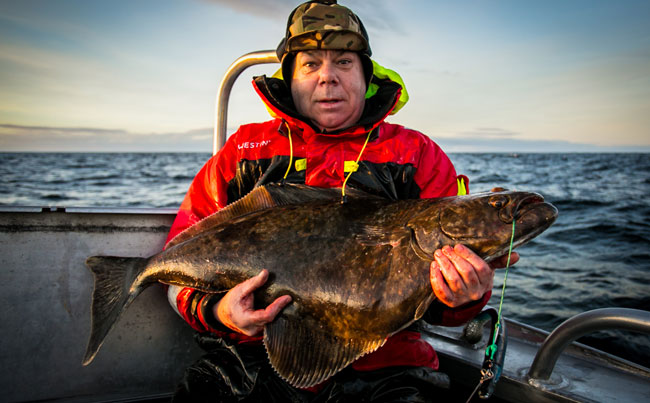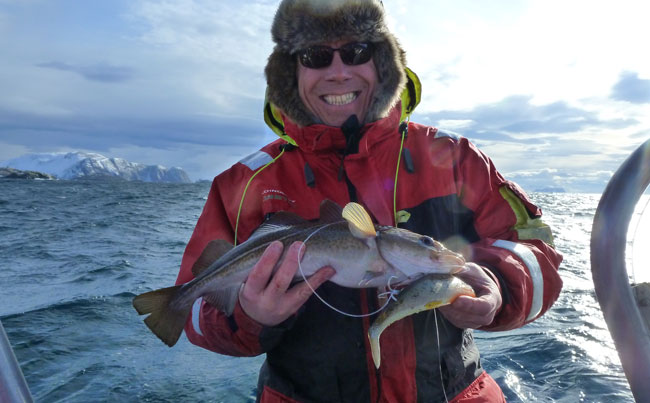 i had to put it in Matthew, Sorry!!
Once every one had got back to the cabins and the news of the good weather the following day had spread it was time to sort out what the plan was for the following day. I mentioned an early start which every one agreed with, but I don't think they thought I meant that early as I was talking about getting on the water just as it was getting light which meant being down on the boats ready to go for 4:30am. So with this in mind every one had their dinner and an early night ready for a full on day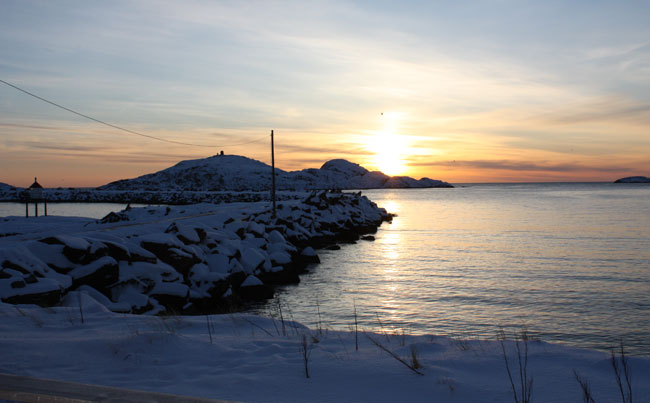 Fishing day 4 (Sunday) soon came round and every one was ready on time and we hit the ocean just after 4:30 to witness a stunning sunrise over these fish filled waters. We soon found ourselves motoring over huge shoals of fish looking for the bigger ones then I found what I was looking for, the shoal had started to split which to me meant only one thing, they were feeding hard and the big girls would be the most hungry getting to the shads first. So once the boat had come to a stand still over went 3 slightly battered big bob lures ready to hook in to a big Cod. It wasn't long before all three guys were bent in to what looked like good hard fighting Cod. Up popped the first and it was well over 20 kilo then the second hit the surface again over 20 kilo so I thought it would be rude not to whet a line myself. So over my lure went and at around 20mtrs down it got hit by what felt like an express train so I gently lifted in to the fish and found that there was a very heavy weight on the end. After a great fight up popped my prize in form of a 33kilo Cod….. what a start to the day, 3 x 20+ kilo cod and my 33kilo Cod, surely it wouldn't get any better. How wrong was I as later in the day after losing count of 20 kilo Cod landed Matthew hooked in to something that looked like it was going to pull him in and after a good 20 minute fight up popped another huge fish. All the fish we catch over in Soroya are all lifted in to the boat and not gaffed as I strongly promote catch and release of these Cod and once I saw Matthew's fish I thought I may not be able to lift this one in on my own. So with the fish at the side of the boat I carefully slipped my hand under its gills and attempted to lift her in the boat, well I got half of her up and then had to get someone to lift the other half. She was massive and after all the cheering and hugs we weighed her at 34.5 kilo what a fish and what a privilege to see such a fish and with photo's done it was even more of a privilege to see her swim free. Wow Matthew you now have 2x 30kilo Cod under your belt and it didn't finish there Ian then shouted 'I have got a good one' so looked round to see metres of braid peeling from his reel in the same manor as Matthews fish had. After a great fight up popped a huge male Cod, now male Cod do not have the same fat belly as the females but they make up for it in length and this fish was long really long. After struggling again to get this fish on-board we held him up for a weight, he went 31kilo I simply couldn't not believe it that we had caught 3 x 30kilo Cod in my boat on the same day this place still amazes me.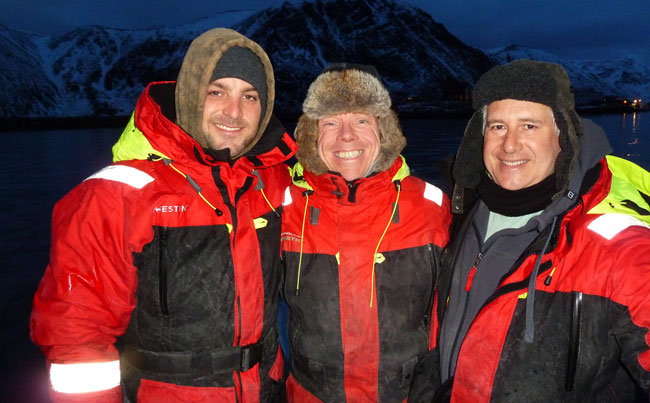 not bad for 4am
| | |
| --- | --- |
| First 20+kilo Cod of the day | 31.5kilo for Clinton |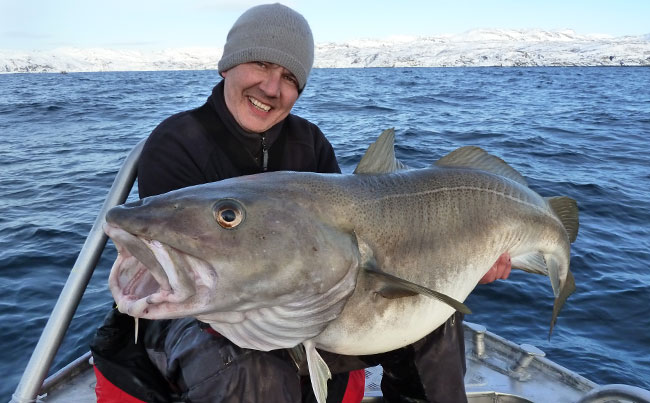 33kilo for Me….. i was slightly pleased
| | |
| --- | --- |
| Male Cod fight dirty | I just love it… |
| | |
| --- | --- |
| One happy angler | Dale at it again |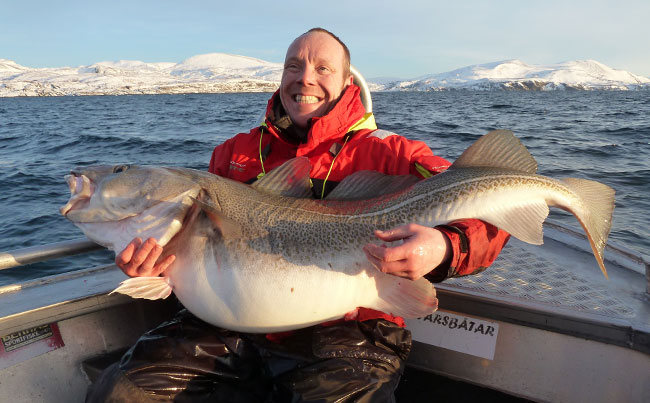 Matthew with his 34.5 kilo Cod…..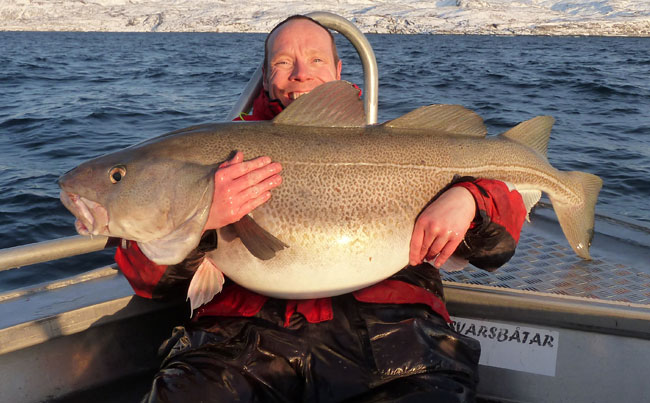 Awesome shot Matthew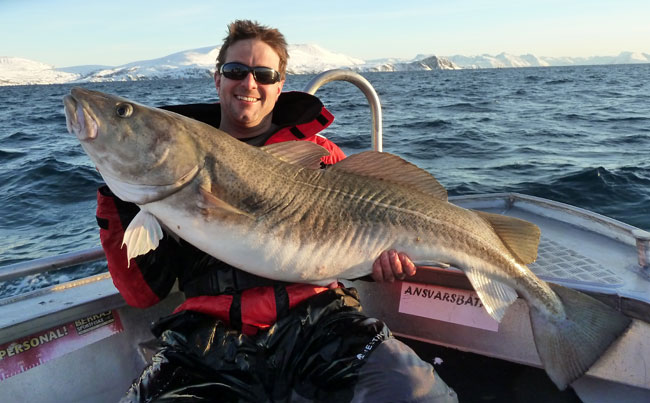 It was Ian's turn for a 30Kilo Cod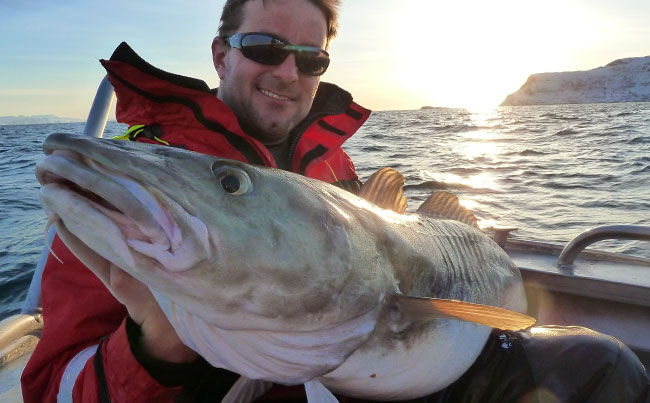 Such a long fish
With all the excitement of these huge fish we all sat back and took a moment to let it all soak in, the guys just kept looking at each other and shaking their heads at the unbelievable fishing we were encountering. Time was slowly slipping past us and it was soon time to head back to camp to have that celebratory Rum and coke….. boy I was looking forward to that one
Once back at the camp we soon shot round to the other cabin to spread the good news of what we had caught only to find them still out fishing. I soon got on the phone to some very excited anglers, they also were having a great day no 30's but still lots of upper 20kilo fish were boated and they thought they might stay until it was nearly dark.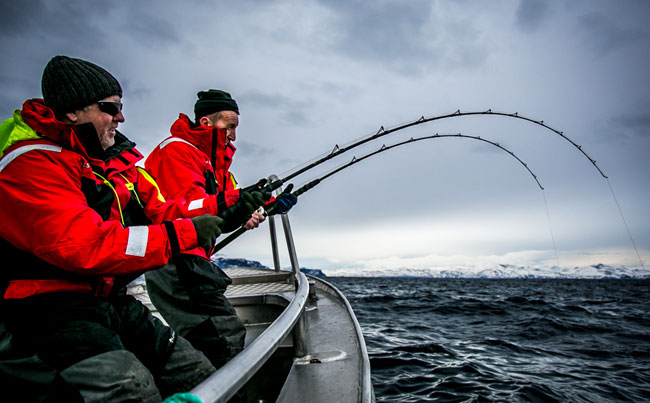 | | |
| --- | --- |
| Lovely fish | Double hook ups |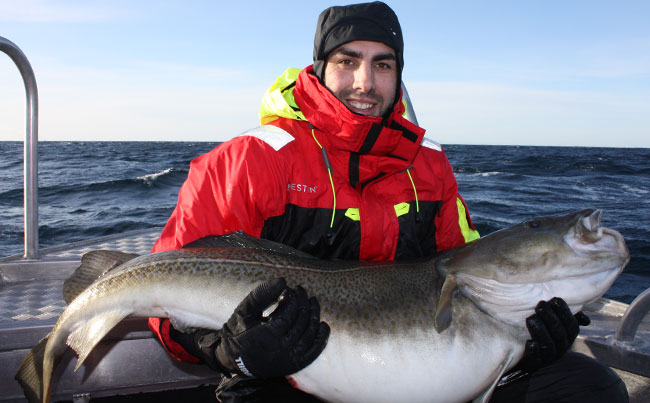 So close to that magic 30kilo's
Fishing Day 5 (Monday) didn't start off well as we had a call from the head guide informing us of more bad winds which would stop us from reaching the Cod marks, but as I told the guys I could see that they were not to bothered as I had worked them really hard yesterday and their arms and backs were killing them. So with this in mind people just spent the day chilling out, some fished around the harbour and others spent the whole day in the bar…..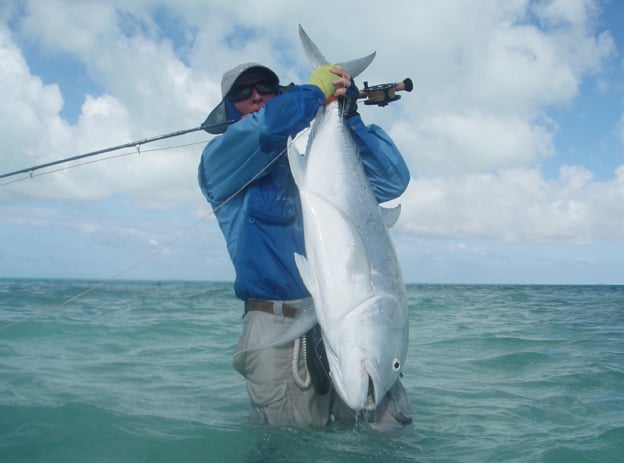 The bar bill was huge….. but all good fun
Fishing Day 6 (Tuesday) So the last fishing day was here and with the news from last night that the wind should die off through the night we were up bright and early to be greeted by not a drop of wind. So with full belly's it was time to head straight to the boats and whizz out to the Cod marks as quickly as possible. Every one hoping today to repeat the same fortune as the previous fishing day and once we had located the Cod it was time to see what was feeding. Seeing as it was the last day of my trip I asked the guys if I could fish all day today and they more than agreed, so with this I sent my lure down to see what was at home. First bite and I thought to myself "this is a good one" and I wasn't wrong. First fish for me today was 29.5kilo Cod she was huge and once weighed and photographed she was sent back to her watery home to carry on with spawning. After this fish we did actually struggle to find the big ones, we couldn't get away from catching 10kilo Cod it was like all the big girls had gone off the feed and no matter how hard I hunted them they just didn't want to know.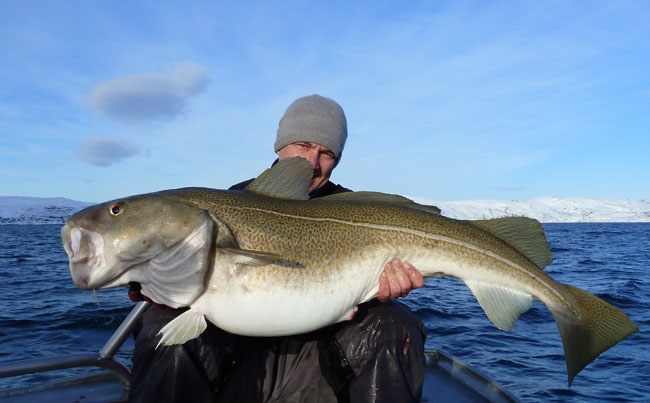 First drop down, thought today was going to be really good….
| | |
| --- | --- |
| Still good fishing | Matthew's on a roll |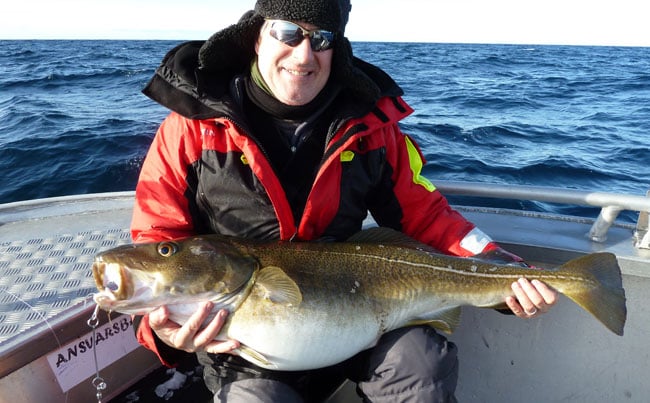 | | |
| --- | --- |
| Huge mouth | Great last day |
| | |
| --- | --- |
| Poser!! | Great condition  |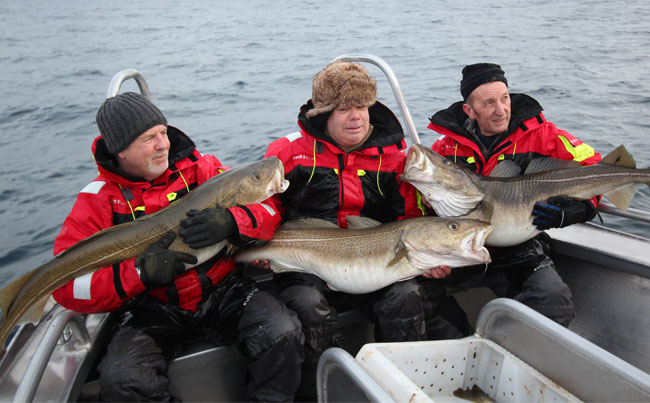 Group shot from Guide boat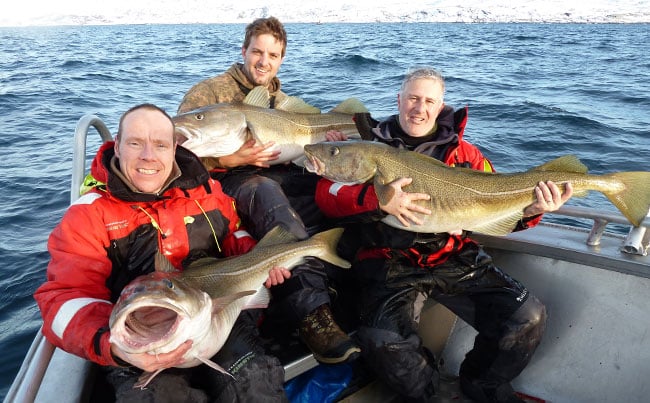 Group shot from My boat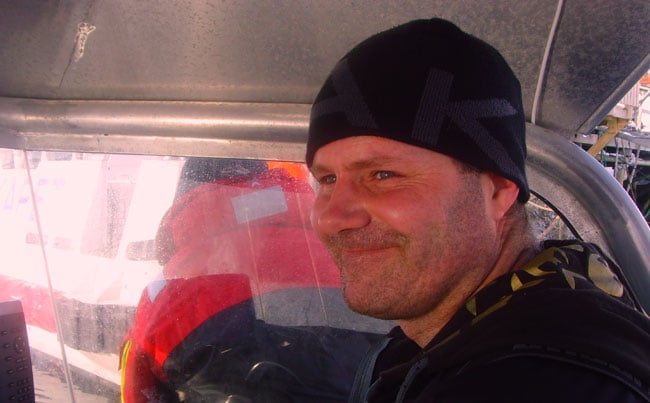 Sebastian, our Guide for the week. Thanks for everything
During the day we had several fish just over 20 kilo but those 30's just were not there today. We carried on searching the area but to no avail and it wasn't long before it was time to take the boats back for their final clean and fuel up ready for the next set of anglers.
Once we had finished the cleaning the boats, the guys in my boat turned to me and shock my hand thanking me for such an excellent trip. This is what drives me to do what I do and as a guide I get my kicks from seeing people achieve their targets and the sheer excitement guys get when they are playing or holding a fish of their dreams. I love it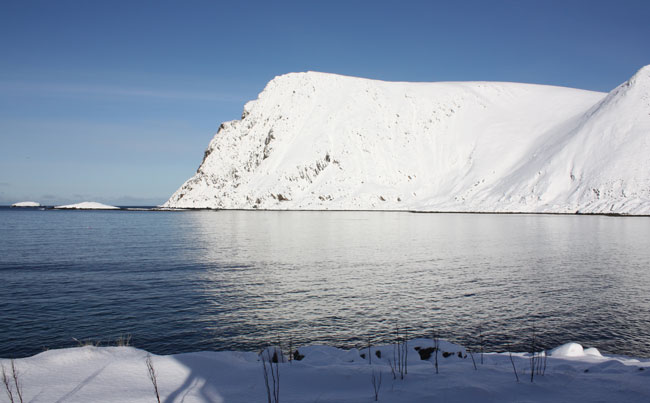 Soroya, i love you 
Well that has bought me to the end of my Hosted trip to the 'Island of the big fish' other wise known as Soroya and hopefully you have enjoyed both parts of my blogs and if you fancy joining me one year then do get in touch as I would love to be there for you when you catch that dream fish. You can call me directly on 01603 407596
To view this fully hosted trip to Soroya Click Here
So until next time, tight lines
Paul Stevens