Hosted Sea Trout Fishing 2017
It was that time again to meet customers joining us in Argentina over the next few weeks at terminal 5. This year we had some great trips planned. Some customers were joining me to fish for Sea Trout, some were with me for 3 weeks fishing for Sea Trout and huge Glacier King Salmon, others were travelling out with us to explore and experience the wonders of chasing huge Golden Dorado. We even had customers already out in Argentina who we would pick up in BA, plus some even had their partners joining the end of the trip before going on to do extended itineraries. So all in all you could say it was a busy time ahead.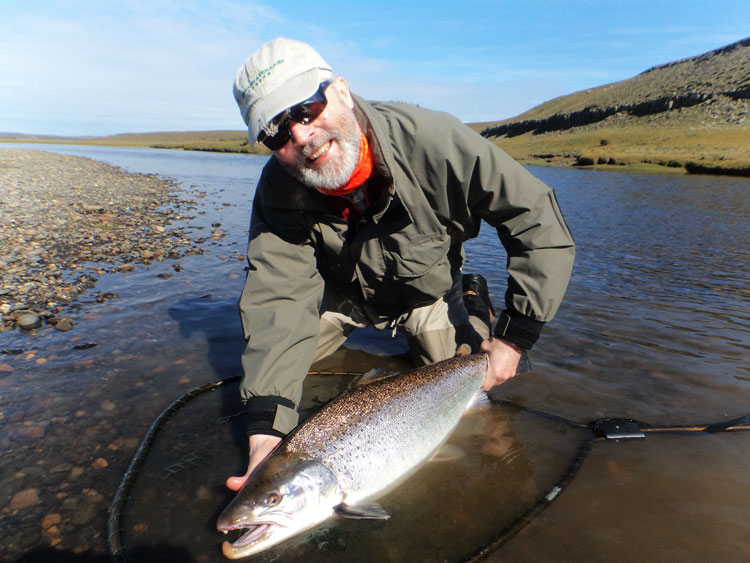 Phil with a cracking fish to start the week
On arrival in BA it is always nice to be met & greeted by Gaby our ground handler in BA, she is so efficient and quickly gathered all the customers bags into our minibus. As we all had time to spare with the private VIP transfers, Gaby escorted us all to a downtown area called Recoleta to sit outside and relax with a few drinks in the sun while she took care of all our bags. After a few huge beers it was time to transfer to the internal airport for the last leg of the journey down to Rio Gallegos.
John with his cheeky grin looking very happy with his fish
The first group who were Sea Trout fishing were a mixture of first timers, some returning for their second time and one for his third as he had a score to settle with these fish from the previous year. On arrival everyone was quickly settled in to their rooms and setting up tackle all ready for the first days fishing. Once everyone was ready it was time for the evening dinner when we decided to draw lots to see what zone each pair of anglers would be starting in the following morning and then would also set the rotation of the 5 zones for the rest of the week.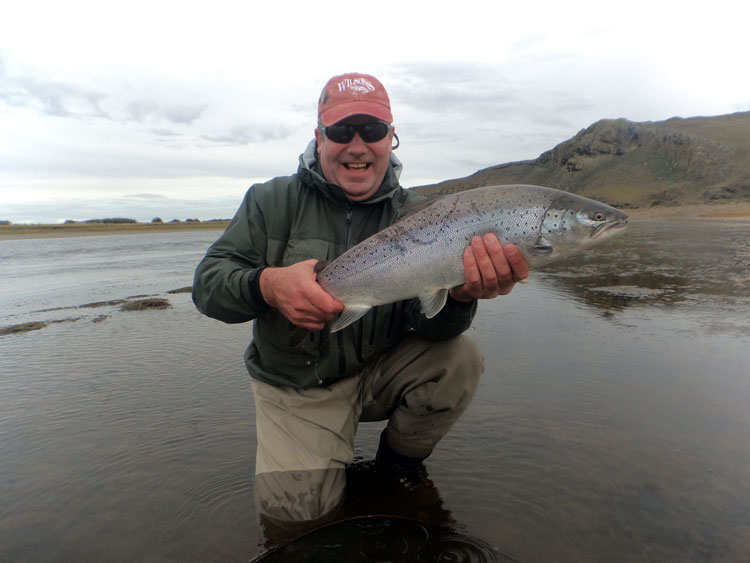 Chris gets in to the action with his first fish of the week and boy was he a happy man 
For anyone who has never joined us on our hosted weeks to Las Buitreras, they operate a great rotation system, the river is broken up in to 5 zones and each zone covers a large area of the river with lots of pools and runs in between. The day is split in to 2 sessions, a morning and evening session with the main meal of the day taken at lunchtime. Fishing is mainly done in pairs and each pair stays together for the week, each pair then fishes in a zone in the morning and then moves up one zone for the afternoon session and again keeps moving up one zone after each session. Our guides stay in their zone all week, this way every angler gets to fish each zone as both a morning session and evening session, plus gets to fish with all the guides. This is by far the best fishing system for the river as it is fair to all parties and guides.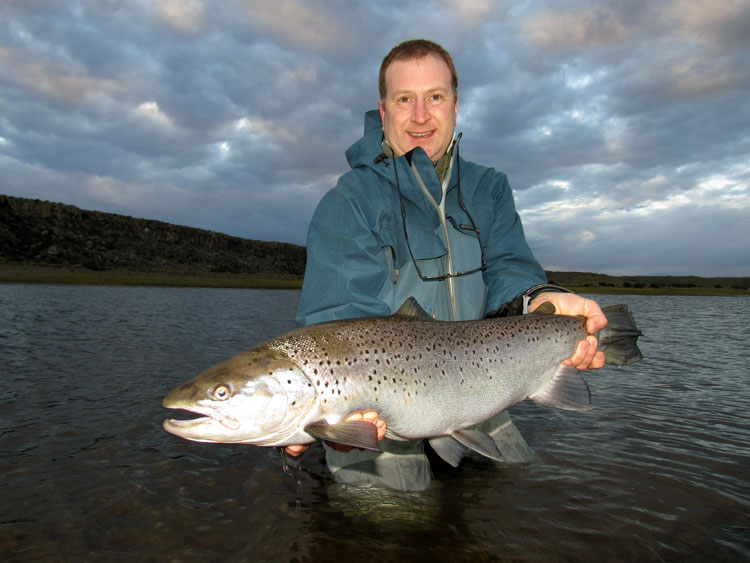 Tim gets in to the action to prove that experience from the previous year always pays dividends. 
The first morning arrives and as normal passes far to quickly with everyone returning to the lodge for lunch. As a host it is always both exciting and a nervous time after the customers return from the first session. How many customers have caught? What do they think of the river and fishing? As normal when hosting at Las Buitreras when I arrived back to the lodge some customers were already back, walking around with large glasses of Melbac red wine in hand chatting and recounting the mornings fishing.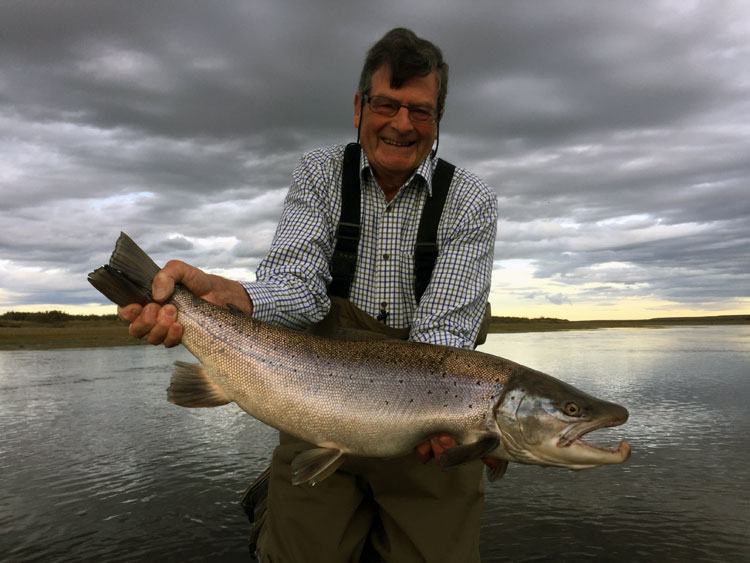 Tims dad Paul looking extremely happy, what a nice evening shot this is what Sea Trout fishing is all about.
For some lucky anglers they had caught from the off as it is always nice to get that first fish or two under your belt. Some as normal had a better start than others, John who was on his first visit landed a nice 11lb fish on his first morning, Tim returning for his second visit also bagged a cracking 12lb the first morning. However the first session prize had to go out to Philip who not only bagged his first fish of the week and his very first fish from Las Buitreras, a stunning chrome sea trout of 18.5lb.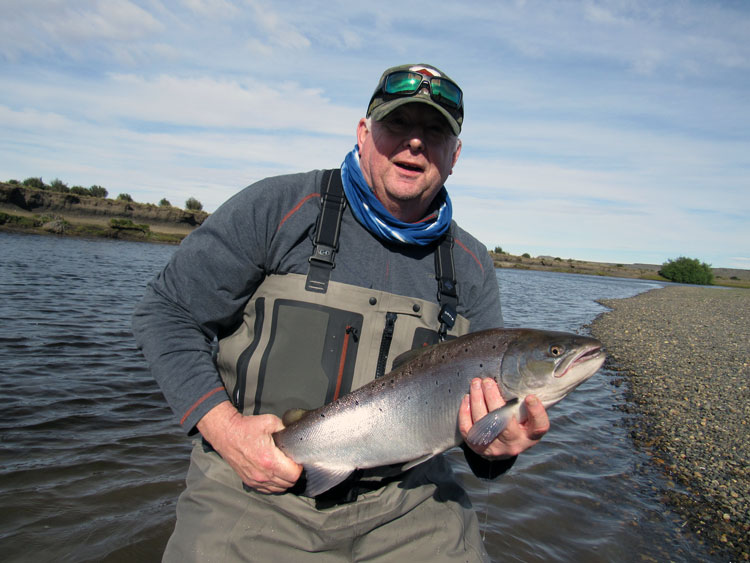 David on a return trip and mission accomplished.
Again with everyone returning after the first evening session it was a very similar atmosphere as more customers had now caught their very first Sea Trout. It was nice that after the first days fishing for all first time customers they were off to a great start. Chris caught his first a nice Sea Trout of 7lb and Michael (Lamb Chop as he likes to be called) a stunning fish of around 11lb.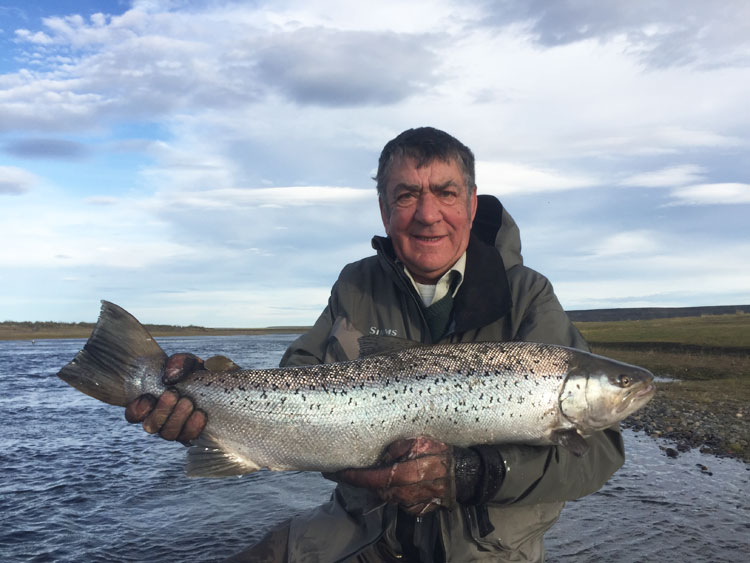 The famous Lamby with a cracking fish
As the week progressed customers gained confidence and experience and the fishing started to improve as time passed by. As normal there was also a amazing amount of Brown Trout some of a real good size. The best Brown of the week though went to Paul who thought he was connected to a nice size coloured Sea Trout that only turned out to be a Brownie that went around a massive 10lb.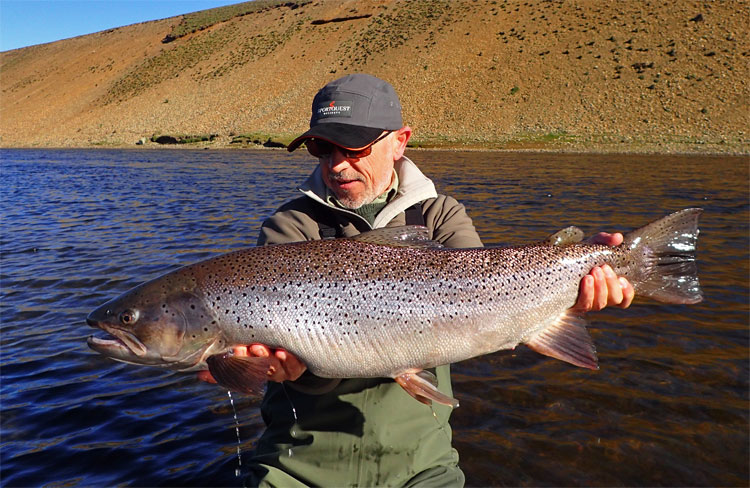 I even managed to get in to some nice fish
This year the river was in a better condition, mid week the water level dropped quite a bit and also cleared which meant as normal for these conditions that long leaders, small flies and long casts were the order of the day.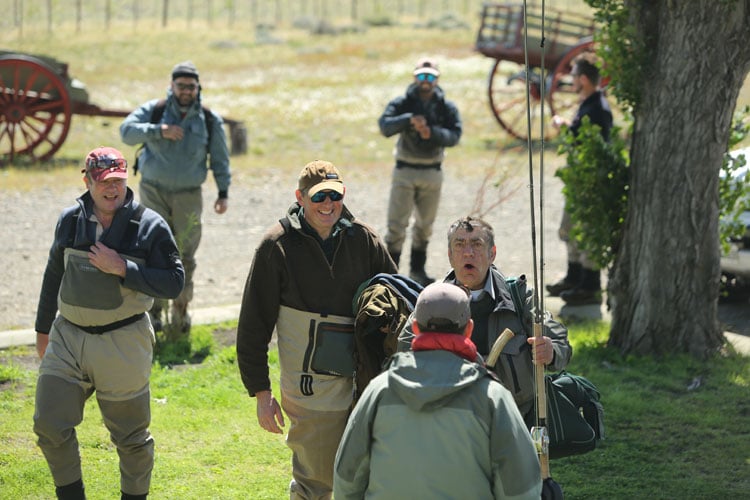 If you look closely you will see that everyone is smiling & laughing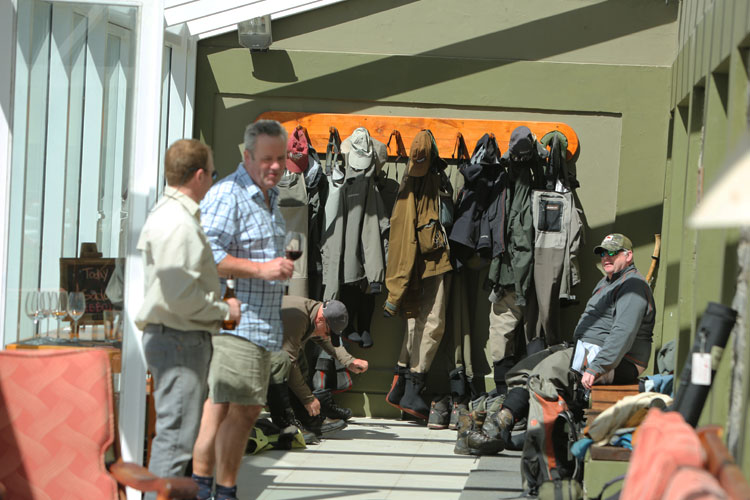 The new changing area, which gets very hot in the sun.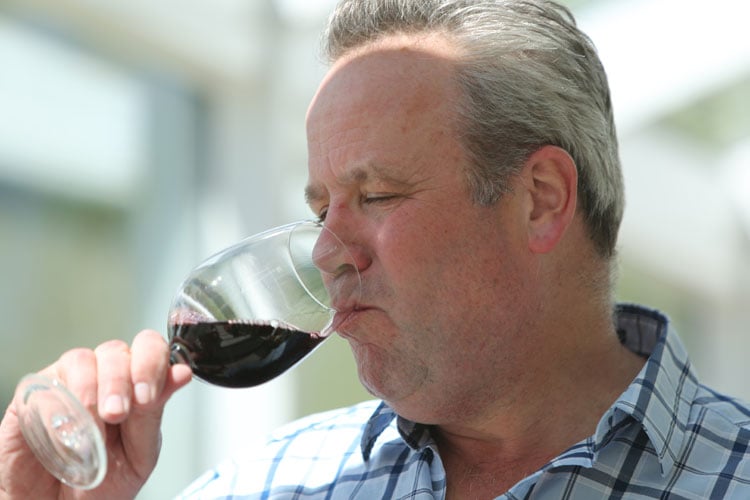 Nothing like returning at lunchtime to a nice glass of Malbec.
All in all it was another very enjoyable week which such a nice group of customers, I am sure everyone will agree the week was just full of laughter, red wine and plenty of fish to keep everyone happy.
The results for the week where:
Total Sea Trout over 4lb x 68
Sea Trout over 15lb x 5
Sea Trout over 16lb x 2
Sea Trout over 18lb x 4
Top rod for the week was John on his very first trip and I am sure it will not be his last.
I could tell huge stories about the week, but I always think it is best to let the pictures do the talking. So all that leaves me to do is say a huge thank you to all the customers from the first week. It was a real pleasure being with you and sharing your time in such a beautiful location.
I would also like to say a huge thank you for making my job so easy. I hope to see some of you all again soon.
If you would like to join me in 2018 on any of our hosted weeks Sea Trout fishing feel free to contact me in the office at anytime. Please hurry, as places are already very limited.
To see the full trip details CLICK HERE
Kind Regards Peter
ENJOY THE PICTURES