Huge Halibut Caught Å North Norway Report: We have just received a report from our head guides in Norway about a large group of our anglers who have been fishing the ever so popular destination simply called Å. This camp can be found at the very bottom of the Lofoten Islands and is proving to be one of the best fishing camps we have in Norway. The fishing of recent has been first class. Take a read of the below report from our guides onsite:
FISHING REPORT
Yesterday I guided two boats, there were two British groups that wanted to get some tips and tricks for flounder fishing, so we decided to four hours of each boat will be Super, as everyone gets a small piece of the pie. Once at the fishing site, I made a demonstration to both boats about how to do both when fishing with a jig or the death of himself and what you would think of for drives etc.
The stream was almost a mirror and still when we began to understand the operation, it felt hot, really hot. Everything felt perfect boat behaved himself and the guests did exactly as I tell them, anytime now, I thought. After a few minutes I hear the crackle of the radio it was Charlie in the other boat for help when he thought they had a big fish on the hook, and they did not really know if they could fix it themselves, of course, I say to all of boat to crank it up and we go there immediately to help.
I jump into the boat and inspect the chaotic atmosphere in the boat for a few seconds before I see Charlie sitting exhausted in the stern with pretty hefty Halibut. I am preparing the Halibut hook and look down into the depths, and pretty soon, I see a little colour down there, it's pretty big, I say to Charlie and he looks horrified at me and says Don't loose it please =), and lucky for me the Halibut hook worked like clockwork and the fish measured throughout the 151 cm. Congratulations, Charlie. Ill start on this day, how will you be able to surpass this, I thought.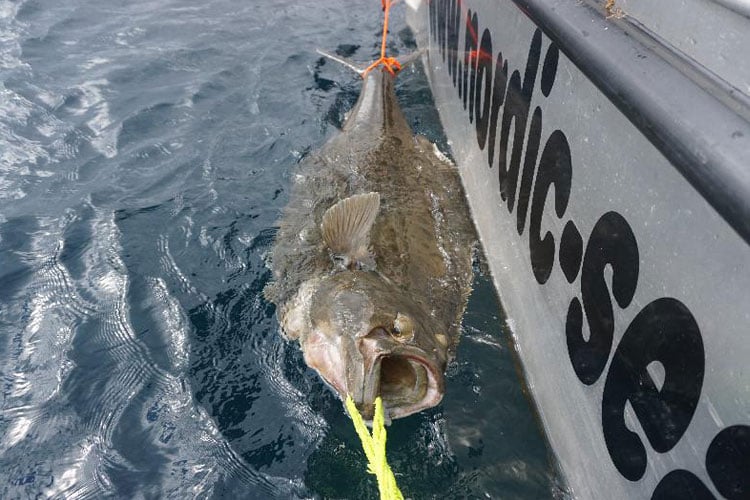 Ready for catch and release
The power had begun to take some good momentum now after the first operation so I decided to swap to a quieter area. Pretty soon in other operating shouted John, and when I looked up, so he was a little bit shocked with his rod and a nice Halibut, after a few minutes the struggle was measured at 97 cm. While the second boat calls out on the radio that they just got another flounder of 85 cm, congratulations John and others =)
The area felt hot and with two flounders on the first drive, I thought we would put on the same site. That's when it happens, Stewart let down his anti-twist rig from Westin fishing, he comes down to the bottom and can not keep cranking more than 1 meter before it slams on properly, after a long first scramble and some fighting after the fish, I realize that this fish is probably larger than the other, and when I see the bottom of the depth I do not think it's true, some rushes later, we manage to land this magical fish that measured for the entire 172 cm, sick kudos Stewart =)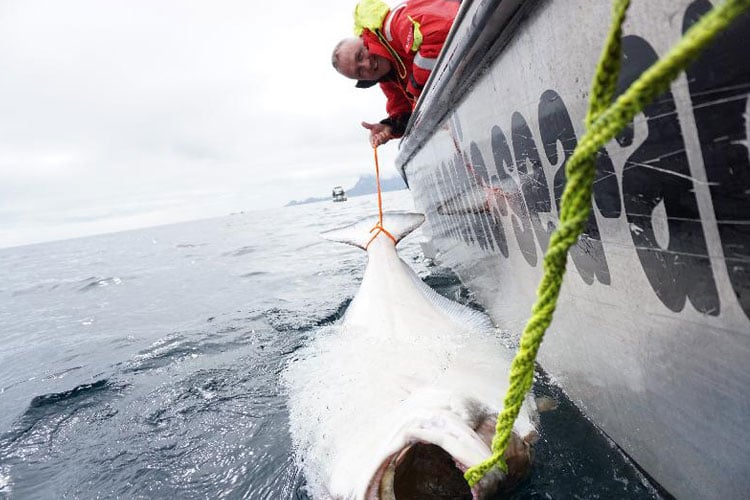 172cm beats of a Halibut and a fish of a lifetime
In addition to these fish were landed additional 4 pcs flounders on our boats and Johan succeeded even he, his gang managed to fool all five pieces flounders =). Troubled good day simply.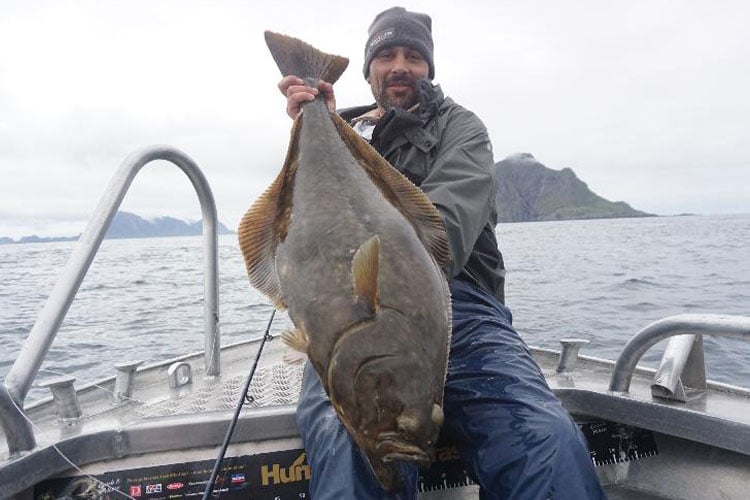 Lovely hard fighting fish
So with that, I just want to tell that fishing is still very stable here in Å =)
See you later.
Martin & Bamberg Johan Mikkelsen
Thanks Martin and Johan for taking great care of our guests and I am sure they will return to fish with you next year. If you would like to chat with me about this destination in Norway simply call me on 01603 407596 or Click Here to view the full details.
We are currently taking bookings for 2017 & 2018 so if you would like certain dates then please act fast as we are selling out quickly.
If you would like to see other sea fishing destinations in Norway Click Here
Tight lines
Paul Stevens