Yet another very successful single angler week put together. Take a look at the below report given to us by head Sri Lanka Guide with loads of stunning images. If you seriously keen on GT fishing but have no one to travel with, your prayers have just been answered. Below this report are some weeks we have available to join like minded anglers to one of the best GT fisheries the world has to offer:
FISHING REPORT
This was the most diverse Single Angler group that we've had. 5 fishermen from all around the world: Oli is Belgian and arrives from France as does Philippe, David comes from Australia, James is from Singapore but arrives from England and Adam who is English arrives from Singapore.
For Oli and Adam it is their first GT fishing trip. David has fished for GT in Australia and has come to Kirinda to catch a big one. James and Philippe have already made several fishing trips and they're here to enjoy GT fishing in Sri Lanka.
First day: Great weather & I take the opportunity to fish our jigging spot. On the first spot the sonar show us lots of bait and nice marks. They have a couple of bites but they miss the fish. Finally Oli has a serious bite and lands a nice GT. I decide to try our deeper jigging spots and there, on the first drift, right on the drop off, Adam catches a Doggie. Next drift, Oli catches an Amberjack and Philippe loses a big fish.
We try again but the fish aren't looking so active. We have lunch and reach some popping spots. I advise James and Adam to prepare their light jigging rods and on the second drift, while the other guys are popping, Adam has a serious bite on his light tackle jigging set and after a couple of minute s lands a nice Rainbow Runner, a great catch on PE 1 rod. They catch some other species on light jigging but there aren't any bites on popper at the deep-water spot.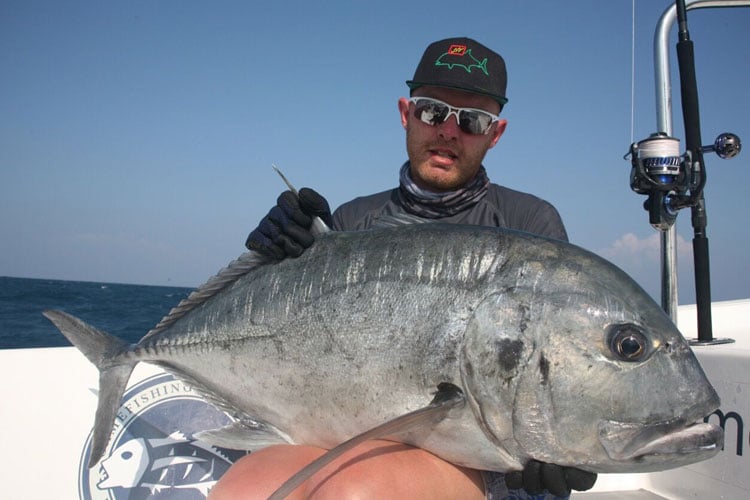 What a way to start your week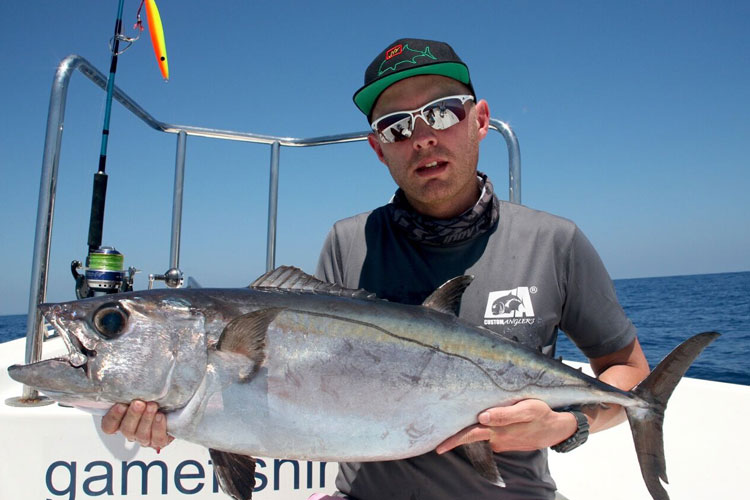 Great sport on light tackle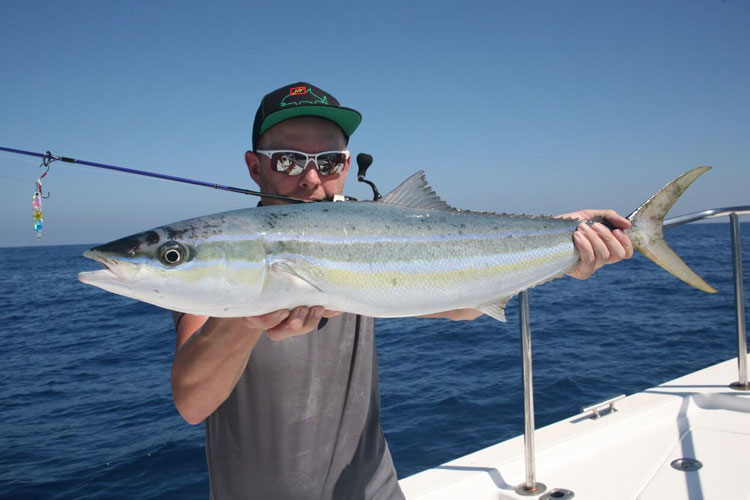 These Rainbow runners fight hard
Second day: We try jigging again. The sonar shows us lots of fish but there are no bites. I change the plan to go popping. A few bait are spotted on the surface and we catch some GTs.
On the remaining days we concentrate our efforts only on popping. The weather is windy and the sea choppy, but as usual it was the time to meet with the big GT of the reef. The fish are active early in the morning and late in the afternoon.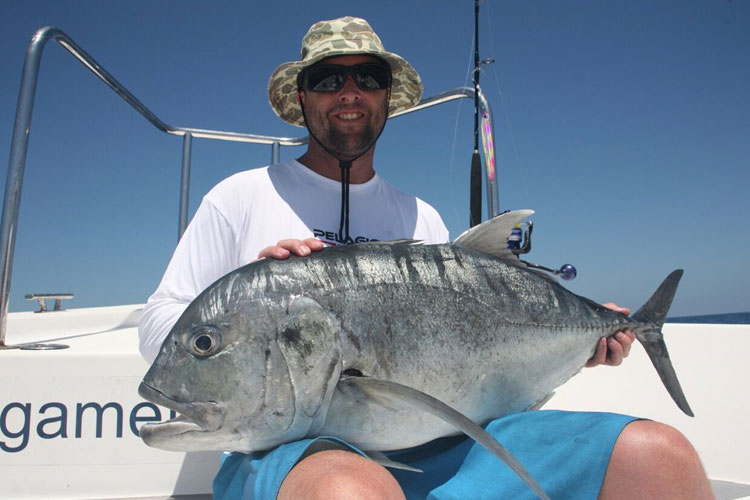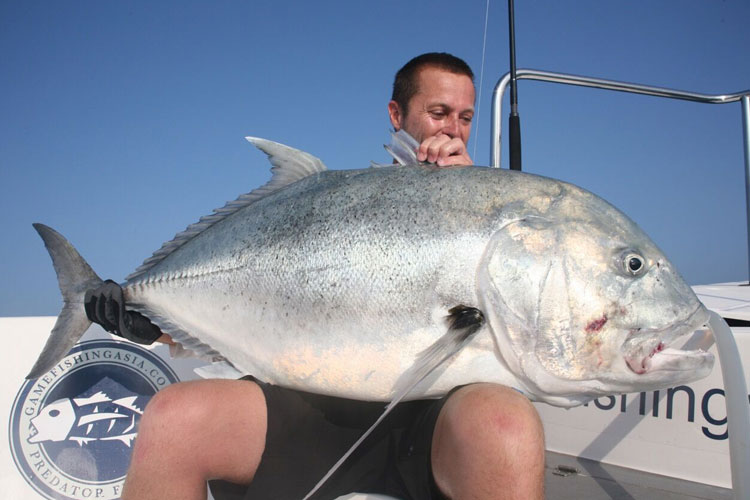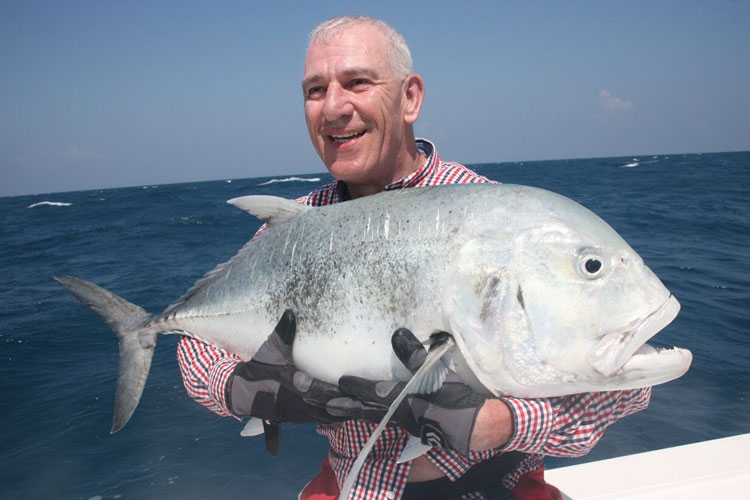 The last day is amazing! On the first drift of the day Oli has big GT bite but the hooks are not set properly and the fish escapes. A few drifts later on another spot Philippe has a serious bite very close to the boat on his Sébile popper. He strikes well – the fish goes straight under the boat – I try to help Philippe by moving the boat backward but the fish runs so fast to the reef and breaks the line. Around lunchtime and the afternoon there isn't much activity.
Then at 4 pm the fish wake up. David, who was waiting to experience the bite of a Kirinda Monster, has a proper one – again close to the boat. I see the fish is big and it takes a lot of line despite a well-set drag and the bend of the rod. After long minutes of hard fighting, it's a huge GT that we put in our net. A massive 137 cm length & 115 cm girth – a fish I estimate to be very close to the 50 kg mark. We take some pictures of the GT but it's not easy with the boat rolling and we release the fish quickly in good condition. Just after this very nice catch, on the next drift, Adam misses a very nice Red Bass and finally Oli, with his cheap Chinese popper, catches another nice GT around 40 kg. What a day!!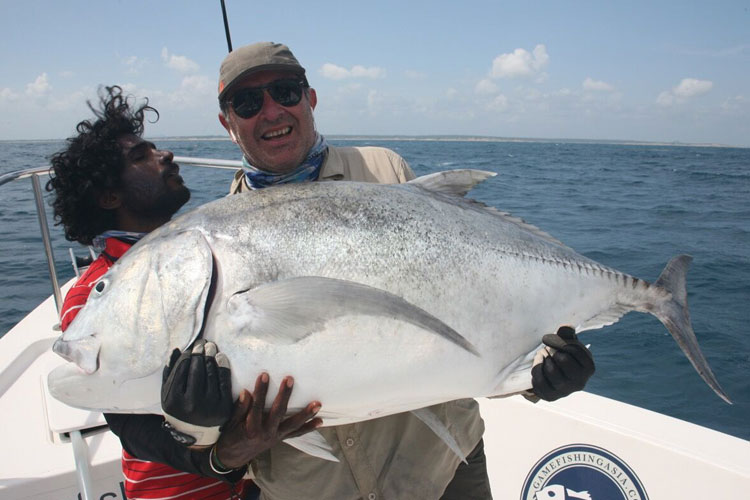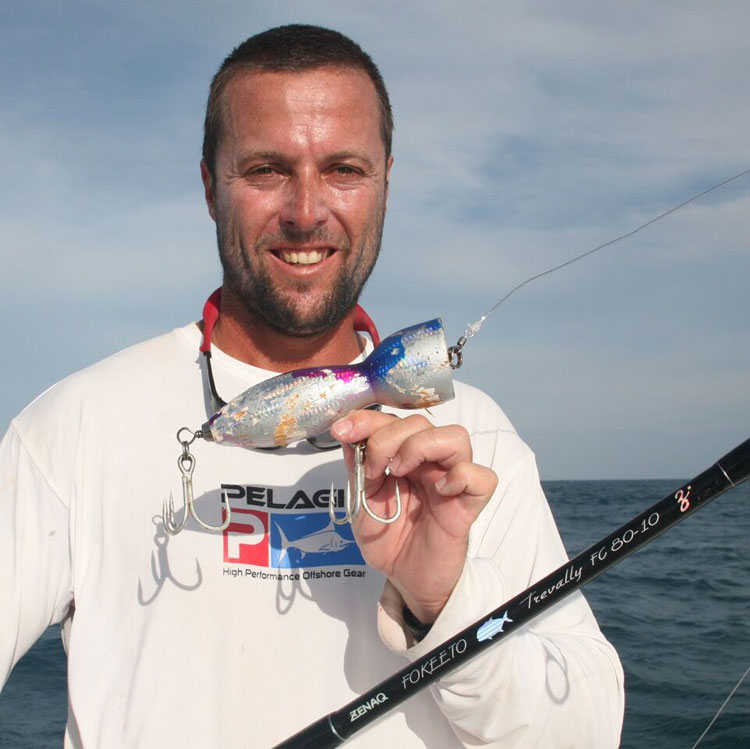 This trip started slow but finished with some great catches. Adam and Oli caught their first GT ever and Oli caught two very nice fish of 35 and 40 kg – not bad for his first GT fishing trip! David realised his dream of catching a big GT. The reef in Kirinda offered the opportunity of a monster and David was in the right place at the right time and landed a monster. Well done!! Philippe enjoyed his trip. He told me it's the first fishing trip where he's seen so many big GT on one trip and he wants to come back to take his revenge. James was not so lucky on board but he learnt a lot from this trip and wants to come back again and have a chance and landing one of the monsters GT of Kirinda.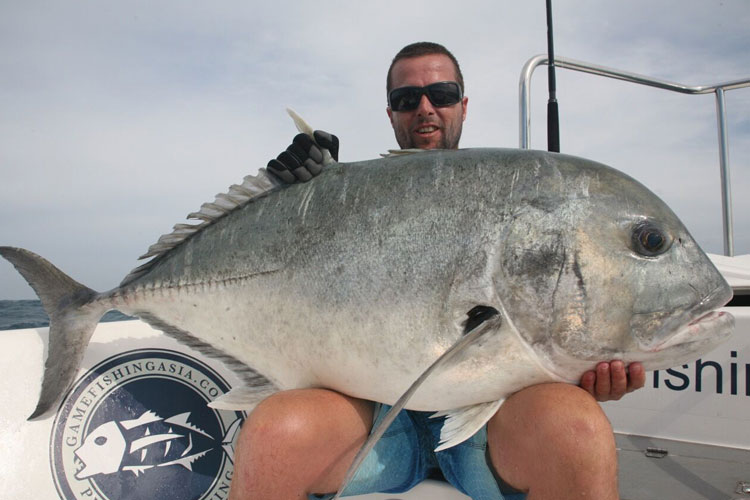 Thanks guys for a great report.
As promised, here is your chance to travel to this awesome part of the world in search of your very own little piece of paradise and you can travel as a single angler at no extra charge. Simply click on the date you are interested in and you can view the full details.
The below dates are set up for single anglers:
Week 1: 07/11/2016 – 15/11/2016 (SOLD OUT)
Week 2: 27/11/2016 – 05/12/2016 (4 Places remaining)
Week 3: 07/12/2016 – 15/12/2016 (2 Places remaining)
Week 4: 19/02/2017 – 27/02/2017 (3 Places remaining)
They are 9 Days 8 Nights with 6 full days fishing and include all flights, transfers, accommodation, all meals, trolling tackle and fishing licences
We have with our partners come up with some great weeks for the 2016 – 2017 season and these have proved very popular indeed, so much so that we are already planning some dates for 2017 – 2018 season.
If you are undecided of what dates to pick then call us and we can run through each week in detail. You can call us on 01603 407596
Tight lines
Paul Stevens