The past two weeks have been a blast! And it's nice to be able to say that in spite of the tough fishing conditions that we've had due to still ongoing low water levels. As the river had been dropping, our leaders were getting longer, our tips lighter and our flies increasingly smaller. Although last week did finally bring some rain, the water stayed nearly unaffected and the river remained low. On the bright sight, we had just the right groups to tackle these tough conditions, not only with skillful angling, but with the right attitude, an open mind towards the experience, and most importantly with lot of humor.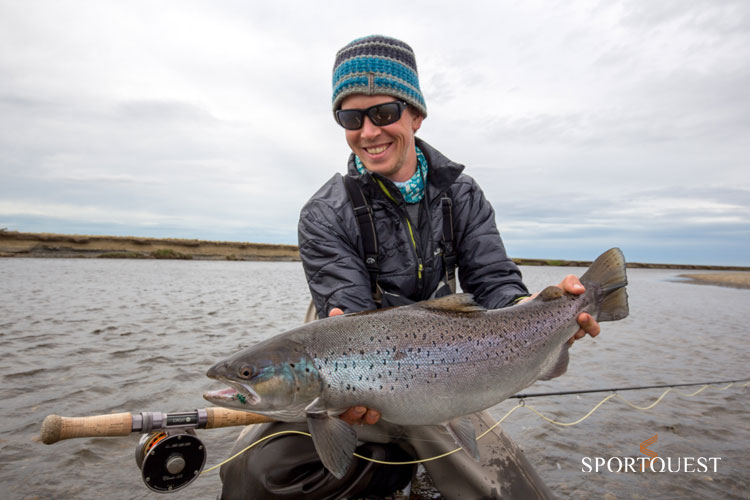 Janet, Bill with their son Frost, who we had the pleasure to host for many years already always bring a lot of laughs and a great mood over from Cali. Along with them their good friend Rodney, who picked up spey casting incredibly quickly and was covering the water already from day one! For us it's always lovely to welcome the same bunch of people every year – to revive old memories over a good glass of wine and to make new ones on and off the river bank. It makes us all feel like a big family and we do appreciate that a lot. I for my part learned to cherish this place even more, seeing guests like Bill and Janet, who have been here so many years, yet still finding joy and excitement in every detail of the adventure, whether it's the wildlife around the lodge, the washed-out stones on the gravel banks or the crazy colors in the sky during the evening hours.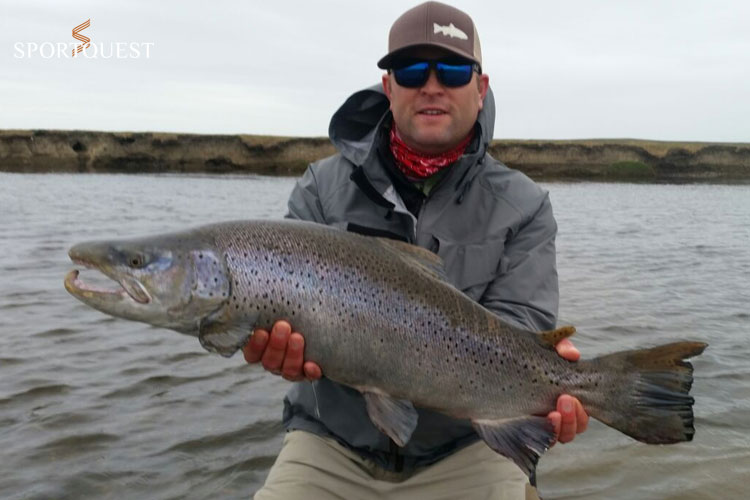 David and Rich, who had met on a fishing trip years back and have been travelling together ever since, where just a bliss to spend time with, listening carefully to every tip and detail and improving their way of fishing by the hour. Jim, who fished with us here last year brought his good friends David and Ted, who we dearly learned to love with their appreciation for a good laugh and always the right attitude on the water. Although their home-water fishery back in Oregon for Steelhead is quite different, they could see many parallels between the two fish and properly covered the water already from the very beginning, although being quite new to spey casting techniques. Finally, James, who was with us for only a few days, but made the most out of his short stay before continuing his journey to Antarctica.
Low water conditions and inconsistent weather: it only makes sense that the fishing was quite inconsistent as well. Although most of the pools were holding good numbers of fish, some beats were working better than others. A fresh run of smaller sized fish that was pushing in stirred up some pools more than others, and the activity between the beat on some days differed quite a lot. Consistency was only to be expected during the last hour of the day, which seemed to be the most productive time on slower days. It felt really like a tough week, but looking at the catch numbers and the average size after the last day of fishing, we could rest assured that we did have a pretty productive week after all, regardless of the tough going.
Although the conditions were not ideal, the week started off with a great day of fishing, producing fish for almost every rod, amongst them a 22 pounder for Bill and a great 20 pound kype for Ted. As the week went on, the fishing took turns between slower and more productive days, but all of our dear guests ended the week with a fair amount of proper double-digit fish hooked and landed, and most importantly with many fond memories made along the way, that hopefully make them want to come back here next season. I do think this particular group "clicked" really well right off the beginning, everybody seemed to get along very well and the kind of humor and comedy that was central to ever lunch and dinner, as well as during our sessions let us rest assured, that everyone was on the same page and had a splendid time. Not much more we, as the host, could wish for in a group of anglers.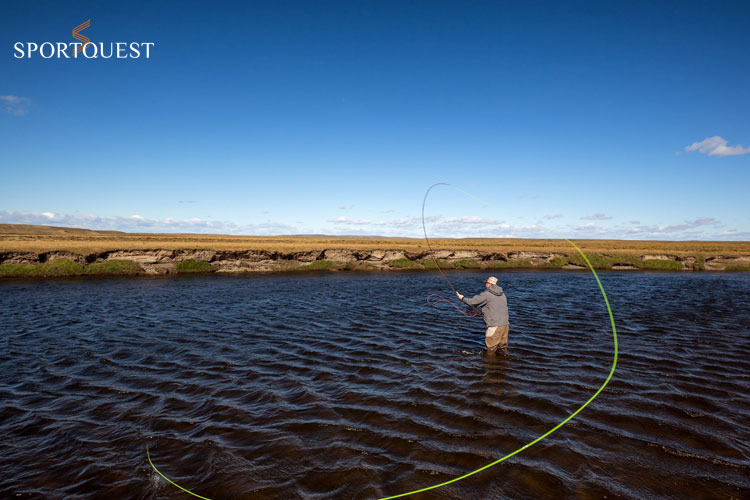 As we waved goodbye to one group, we were happy to welcome the next one — a great bunch of friends. Seven chaps from all over the world, who's friendship is tied together by shared family, mutual work and the shared passion for fishing. Paul and Robert from the UK, Anthony, Mark, David and his son Brett from South Africa, Peter from Greece and Gordon, Hamish's father who came over from Scotland to visit him. Due to some last-minute cancellations, we were only fishing 8 rods during our past week here, which gave all the guides the advantage of choosing from even more "open" water for our guests to fish.
Compared to the previous week, the water had not changed much. But colder nights made for quite low water temperatures during the morning. Often times, the fishing started out quite slow, but then picked up towards the midday or afternoon, as the water was warming up a few degrees. But just like previously, fishing was fairly tough on some, but then picked up significantly on other days. Especially in these kind of conditions, it is great to have a group like we did during that particular week. While the fishing is of course a big part of the trip, it's also an excuse to get the group of friends reunited again. Every day, fishing partners changed within the group and from a guide's perspective it is especially interesting, as you get to know more facets of every angler – it made for such great fun for us as well and the group dynamics could not have been more balanced. A lot of times, this was what it was all about: Having a good time with friends, that you might not get to see that often in your everyday life. The appreciation for the landscape, the wildlife and the culture was overwhelming, the fishing was just the reason to get out here, it seemed like. And considering that we were only fishing with 8 rods during that week, of which many where quite new to spey casting, we cannot complain about the numbers of the end of this week either. Next to David's two over-20-pound fish, that he would manage to land during this week, we did end the week with a fair amount of proper fish landed on all rods. And I think besides the splendid time that was had on the water, around the fireplace and around the dinner table, we here at Kau Tapen have won a new group of dear friends and have made many great memories to look back at.
To see the full details of this lodge and all our Sea Trout lodges in Argentina Click Here
Until next week tight lines
Regards Peter