Kau Tapen Fishing Report Week 3 and we had a group of seven Scotsmen joined by two Kiwi's and a Canadian. All first timers to the lodge they revelled not only in the Kau Tapen experience but also in each others company.
With two to three fish sessions being the norm the atmosphere in the lodge soared and late night singing sessions occurred regularly that were fuelled with lots of drink..
The keys to the success for the week was all the experience your guides have built up. the trip for the weeks were, sun rays needed to be shorter with less volume, green machines smaller, apple green nymphs with a hares ear thorax, even one of our Patagonia wading belts got ripped to shreds as our rubber legs were thought to be too rigid while the elastic material within the belt was deemed to be the perfect diameter. Such was the production of flies that buckets of water were kept on standby to keep the vices from over heating. The end result saw us having the best week of the season so far.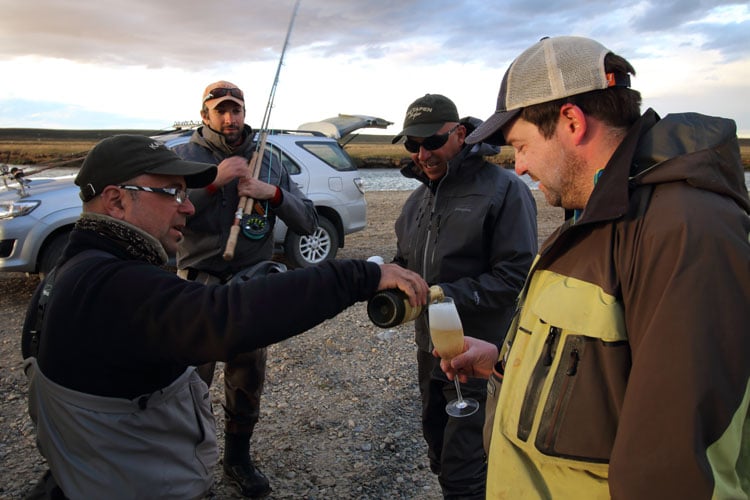 Under Colin Nisbet's stewardship, the head of the table and a high visibility jacket was awarded to the angler who landed the biggest fish of the session. Michael Dudgeon, Vince Moores, Russell Lister and Mike Smith all got to don the jacket landing fish in the high teens, while Colin himself sat at the head of the table on Wednesday after landing an 18 pound fish on his single handed rod. The fish of the week however goes to Gordon Turner who landed a 21 pounder in Athol Rocks.
I would like to reiterate Carolina's words from Friday night and congradulate our guests for not only catching so many fish but for the manner in which they embraced the week, enjoying each others company and the experience as a whole and taking the fish as a bonus. We also promise to have much more Johnnie Walker in stock if they ever pay us a visit again.
For those guests coming in the near future I am glad to report that our holding pools are literally stuffed with fish and when they decide to show themselves the pools just come alive. Having witnessed, in the space of half an hour, close to twenty fish running the shallows below Isabel's pool this morning, the future looks bright and Kau Tapen is certainly an exciting place to have on your travel schedule at the moment. A forecast of heavy rain midweek may hamper some of our current guests fishing but this will bode well in the long term, encouraging even more fish into our waters and keep good flows in our pools.
If you would like to see all our Sea Trout destinations Click Here and we hope to have you join us on one of your trips next year. Plus remember ALL of our destinations come with our price guarantee.