The first week of the 2019 season at Kau Tapen Lodge is in the books – and not only are we happy to have made some new friends along this week, but the overall results have us all excited about what the rest of the season might bring.
When we welcomed our guest, we saw a very mixed first group with some old and some new faces. Timo from Sweden and Iver from Norway; Daved and John from NZ; Mike from Canada; and Ed, Delbert, Tom, Tyler and his dad Tahsin out of the US. After a quick warm up session and an early "Tapas Night", where the lodge staff, all guides and our new guest had a chance to get to know each other, everyone was happy to get some rest for the week ahead.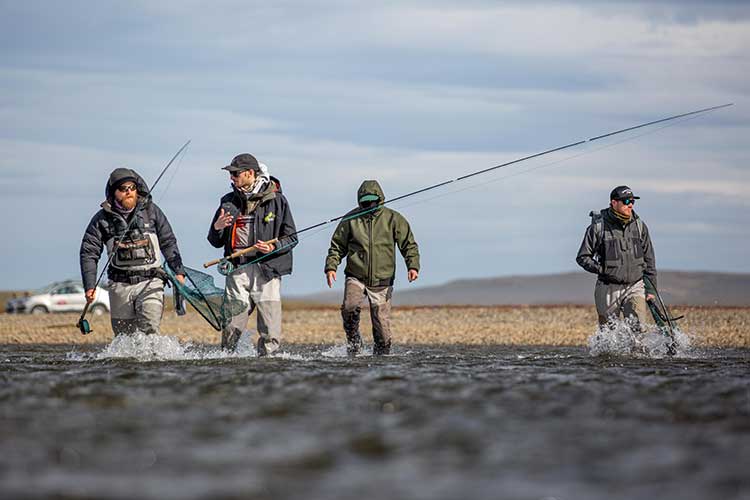 Compared to the previous week, the level of the river dropped a few inches, but temperatures stayed stable between 10 and 14 °C! Although the river was clear and looked great, conditions were far from easy. Changing wind, that surprised us with gusts from all imaginable directions made fishing quite tough in some pools. And due to some pretty cold nights, the fish were most active during late morning and early evening hours, while the fishing after sundown did not deliver the desired results.1

Usually, the first day of each week starts a bit slower, as everyone has to acclimate to the new environment and fishing techniques. Not for Mike though, he kickstarted his week with a "bang", landing a great 18 lbs and a couple of 16 lbs fish amongst others on Day 1. Also, Daved could kick his week off with a proper 15 pounder. While Timo and Iver were catching good numbers of fish in the mid teens on a very consistent basis throughout the entire week, Mike just did not want to end his streak and kept landing big fish, ending his second day with an amazing 23 lbs whooper. But Tom's perfect 19 lbs fresh fish out of the same pool did not go unnoticed.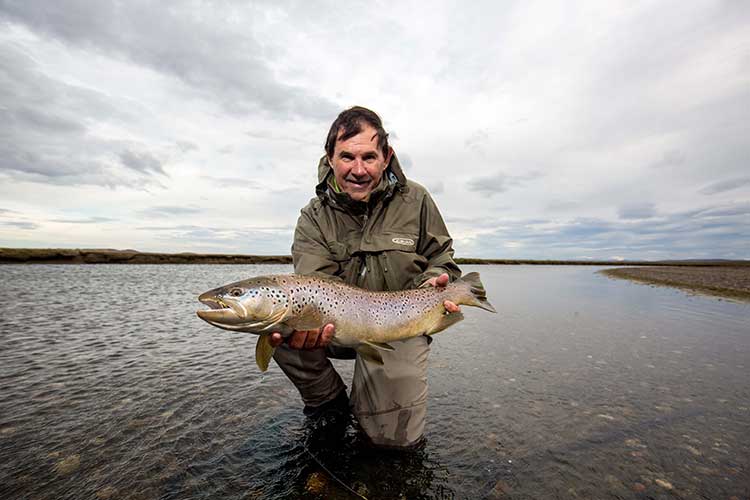 Daved did not waste much time on his third day, landing a splendid 19 pounder about 5 minutes into the morning session. And also Tahsin managed a proper fresh 15 lbs specimen later that day. But like so often, being at the right place at the right time is paramount, and that phrase fit extremely well to this particular fishing week. Some pools were working very well, while others seemed a bit "shut down" at times. But which pools were working and which not could change any day or time of day. The fresh fish that were coming in seemed to run at a pretty high pace and a pool, where fresh fish were showing (and taking) in the morning, might not work quite as well at night. While Mike kept catching fish everywhere he went, Day 4 did produce a lot more fish in the mid teen range on all beats, especially during the evening session, where almost every rod got hooked up, amongst them a proper fresh 15 pounder for Tyler.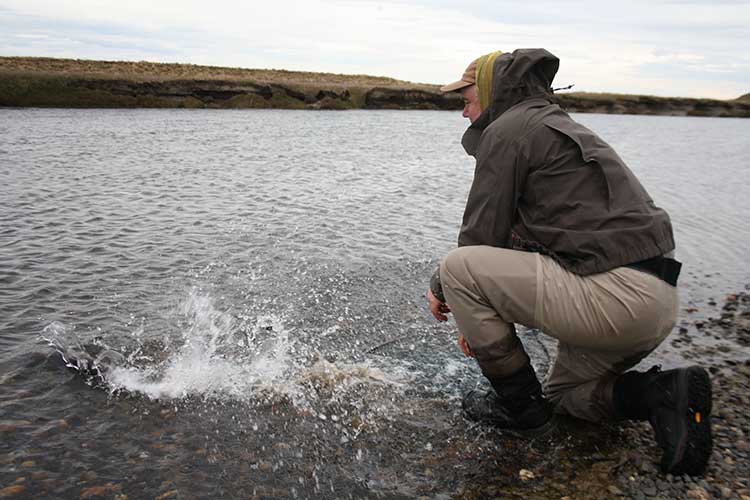 Fishing slowed down dramatically during the last couple of days and finding good sized fish became a lot tougher. Despite the very tough conditions, John managed to finish his week during the very last hours with a proper 14 pound fish.
Ending a week on a tough day sometimes blurres the reality a bit and might leave you with the feeling of a tough week in general. However, across the board, the numbers and sizes landed during the week were great, especially thanks to those very productive first four days we've had. Seeing everybody relaxed and tired, however, equipped with a good glass of Malbec at our last "Tapas Night" together, laughing and sharing memories of their week with us, has us rest assured that even these last couple of days, despite the hard conditions, did not sour up the experience for anybody in this group.
And when we had so wave goodbye to everyone, it seemed like a group of close friends rather than a random mix of fishing clients. And this is exactly what a stay at Kau Tapen should be about. Thanks for a great week full of fun, laughter, good food and new friends.
Paulo Hoffmann, Kau Tapen Fishing Guide