The river remained at its very low water level, as the new group of clients arrived. Our prayers for more rain had not been answered and the sticks that we put right at the waterline every other day just confirmed our fear, that the water was still dropping. But our new guests understood that there is not much anyone could do about tough conditions and kept their positive spirit up. A through and through positive group – familiar and new faces alike. Peter and Cheryl (US), who have been coming here for more than a dozen times; Jim, for whom it was his fourth time here with us brought his good friend Owen (NZ); Mark and Kim (US), Vini and Luke (Chile and US), Jim and his son Robert (US), who we all welcomed their very first time and we all were excited to get to know a bit better; and our good friend Stephan (Germany), who had been here a few times to host weeks and take images.
Despite these very low water conditions, we were still fishing quite deep with rather fast sinking tips at the end of our lines. The delicate approach that the low water would suggest did not deliver any good results, as the fish were not active in their pools. Strong wind almost every day did not make it easy for our speycasting beginners. Everybody was working hard, however, to tackle these rather tricky circumstances and the first good fish were brought to net on the first day. Mark and Cheryl helped to put some double digit fish on the board with two cracking 15 and 17 lbs silver bullets. And also Luke's very first seatrout cracked the 10 lbs mark and put him into the game quite early in the week. Day 2 started with a very slow morning session, which was quickly forgotten after Owen's amazing fight with a 15 lbs fish in Menendez, and Jim's absolutely stunning 20 lbs cockfish on that same evening.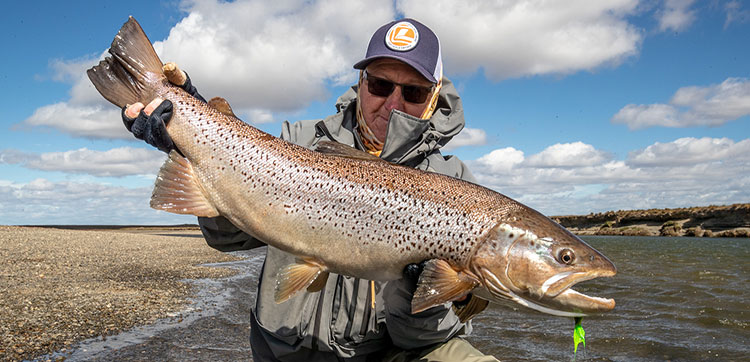 It was nice to see how well the group got along, better and better with each passing day, and the mutual excitement for the achievement of a good fish, no matter who caught it, was a very pleasant observation in a tough fishing week like this. While the morning sessions seemed to be a quite slow on most days this week, the evening sessions oftentimes made up for it. Tuesday's evening session for instance produced another good amount of double figure fish. Stephan alone managed to land 3 fish above 10 lbs that night. But also Cheryl and Robert helped to ramp up the numbers with a nice 16,5 lbs and a beautiful fresh 15 lbs fish during dusk.
Wednesday started with heavy overcast and only very little wind. Everyone could feel it already that this would be the day to grind the pools. Perfect weather conditions and a group of already dialed in anglers made this the most prolific day of the week. Luke and Vini landed 7 fish alone in the morning session, amongst them a fresh 15 lbs fish in perfect conditions and a spanking 13 pounder. Also Kim had a very nice 13 lbs fish and Jim managed an airborne 14 pound fish, both landed in the lower Menendez. The evening continued to be prolific. Stephan's perfect fresh male 17 lbs annihilated a sunray on a floating line and also Cheryl was able to put another incredible 17 pounder on the board. Robert had an incredible day that he made complete with two great fish in the last 20 minutes of the day: 14 and 16 lbs of pure dynamite that both hit his leech like a freight train!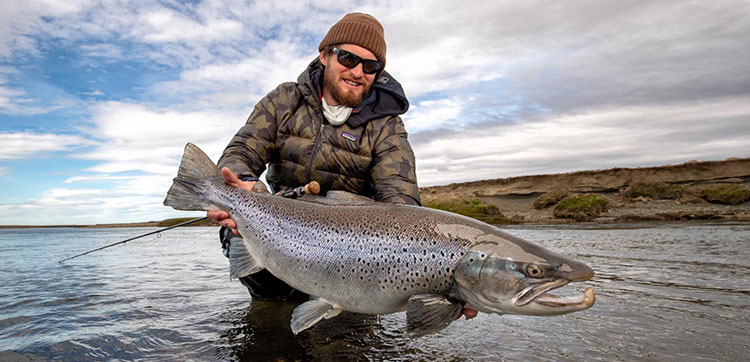 While the second last morning was a tough one for most – extremely windy with gusts up to over 100 km/h and sunny – Jim and Owen, however, were able to move a few proper fish on big sunrays in the uppermost part of the river, of which they landed two very nice specimen: 15 and 17 lbs, both very fresh. The fishing picked up towards the evening, while the wind only got weaker for the last 30-60 minutes of the day. The wind had colored up the river a bit and bigger leeches and bright intruders started working. Stephan was able to bring in a super fresh 17 pounder and also Mark got hooked up to a couple of very nice fish, of which he landed a super fresh and feisty 12 pounder that simply destroyed his large sunray. Cheryl kept grinding and her persistency rewarded her with a 19 lbs kyped cockfish at dusk.
Similar weather conditions with bright sun and gusty wind persisted for the last day of the week. Jim started his session with a spanking 15 pounder and also Mark put another 12 lbs fish on the board. Owen, who had immensely improved his casting throughout the week and was covering the water like a champion, ended his trip with an extremely fresh and well deserved 12 lbs fish.
The last couple of days were tough from a fishing perspective, but everybody took it very easy. The atmosphere was relaxed and the group had developed into a homogenic unit, everybody had landed good fish and the pressure was off after day 4 already. While I am sure we will see the already familiar faces in upcoming seasons again, we dearly hope for the same with the new friends we've made during this week. As for the weather conditions we can do nothing, but pray for some serious rain to cause the river to rise a few inches and make the fish move in their pools. Fingers Crossed for our next week of clients – we are very much looking forward to it, no matter the weather conditions!
~ Paulo Hoffmann, Kau Tapen Fishing Guide.