We can't believe that our annual 2-week Hosted Skrei trip is finally over and by the looks of Kev's final report of week 2, sounds like the fishing was as excellent as week 1. Just would like to say thanks to all 16 anglers who fished this year up at Havoysund and hopefully we all managed to make your dreams of a huge Cod a reality and finally thanks to Nordic Sea Angling for looking after the whole group and of course last but certainly not least, thanks to Kevin McKie for hosting these two weeks.
If you are interested in fishing for these huge Cod then we have very few places available for the 2018 Skrei fishing so if you want a new PB Cod then call us today on 01603 407596
Also if you are interested in fishing with Kevin McKie out in Norway then we have a very exclusive trip based on the Lofoten Islands fishing for Halibut and Coalfish. Call us on the above number for full details.
WEEK 2 FISHING REPORT:
All the lads arrived in high sprints after hearing about how good the cod fishing has been over the last week.The first day was cancelled due to 40mph west winds and the lads where itching to get out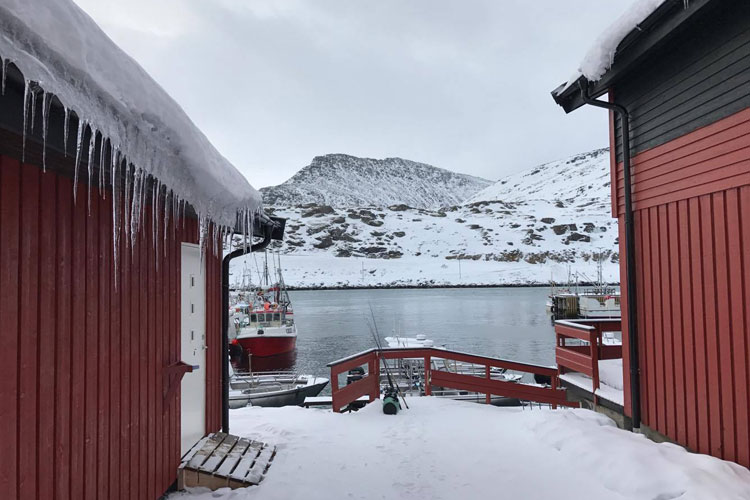 When we did get out the conditions where very difficult with snow blizzards and swells up to four meters to deal with.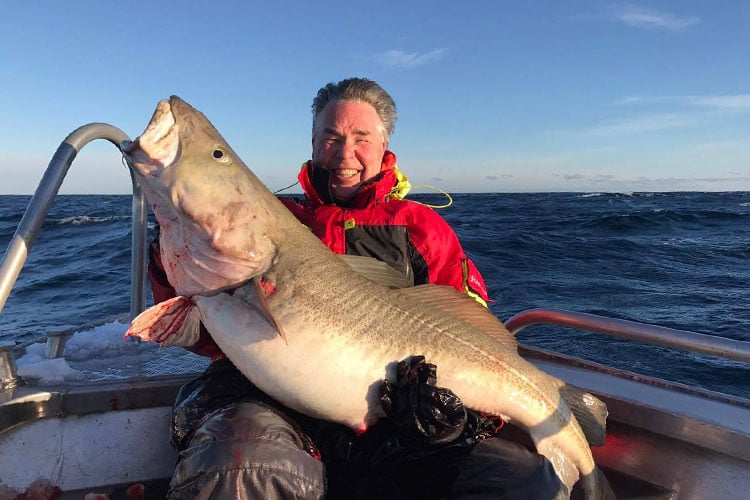 This resulted in not being able to fish the best places for the monster cod, but the lads still managed to catch cod to 54lb!! Douglas one of the camp guides said to me there is no such thing as bad weather only bad clothes ha ha I liked that saying!
Then on day 4 and day 6 the weather was on our side and the lads got the chance to witness the world class cod fishing this part of Norway has to offer at this time of year. All the boats were in to cod from the off most were from 20lb to 30lb with a few to 65lb.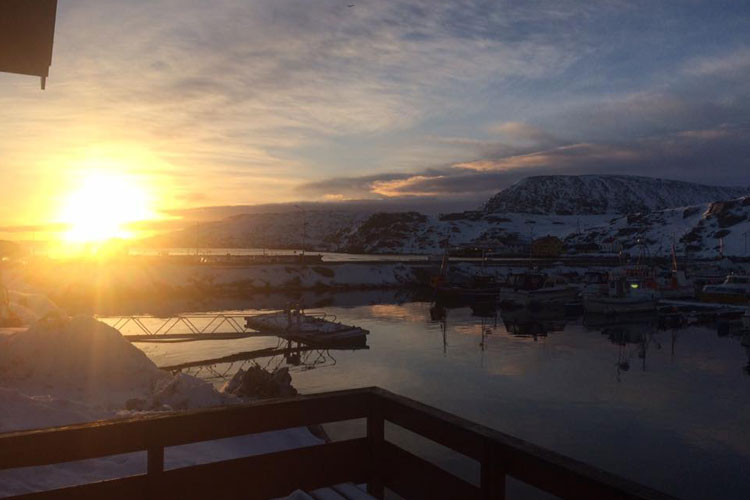 It didn't matter what lure you put down the cod where on to it, the only way to describe the cod fishing is it's like mackerel fishing back home; sometimes your lure never gets to the bottom!! Out of the 8 lads 7 of them caught their personal best cod, that's the same as the week one.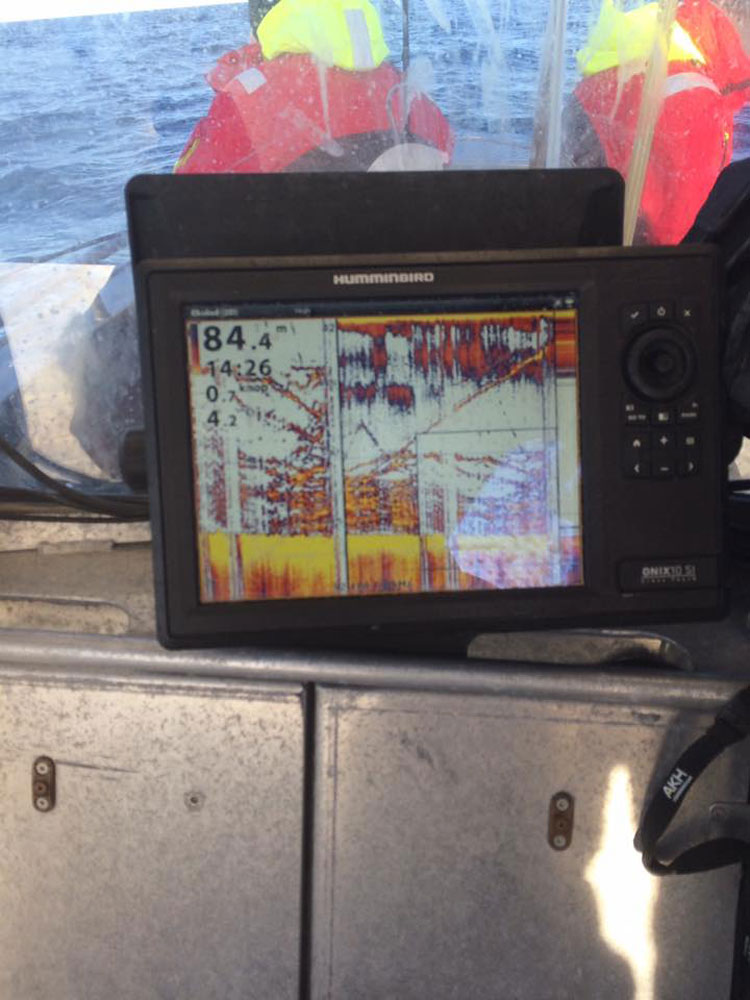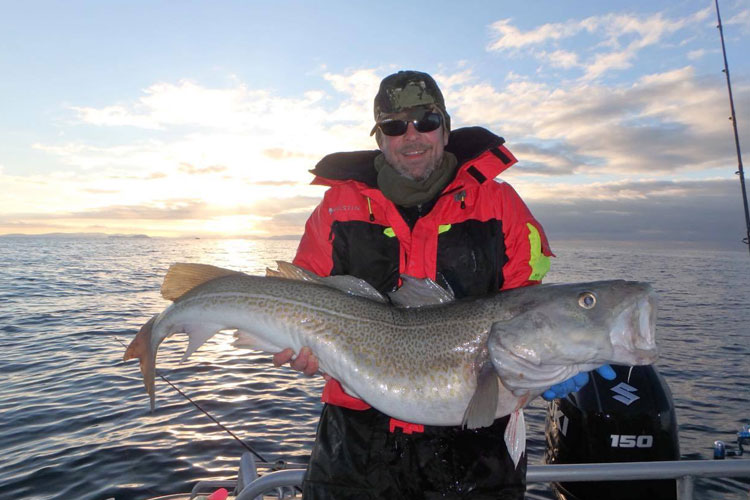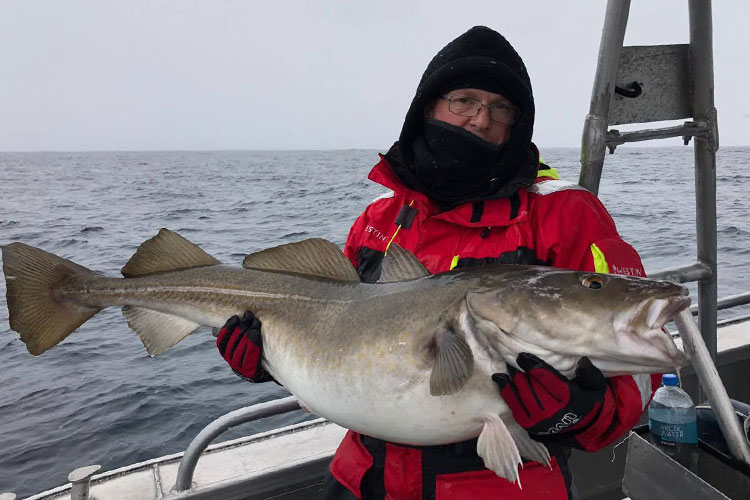 Ian Birks was on his first ever cod fishing trip he landed the biggest cod out of our lads a cracking fish of 64lb followed with a cod of 54lb. Ian said to me on the last day while we were fishing, " I have caught two cod over 50lb and I don't even know what I am doing". It just goes to show you don't have to be an expert to catch these monster cod, just listen to your guide and fish how he tells you. All you need then is a bit of luck and you will make your dreams come true of catching a monster cod.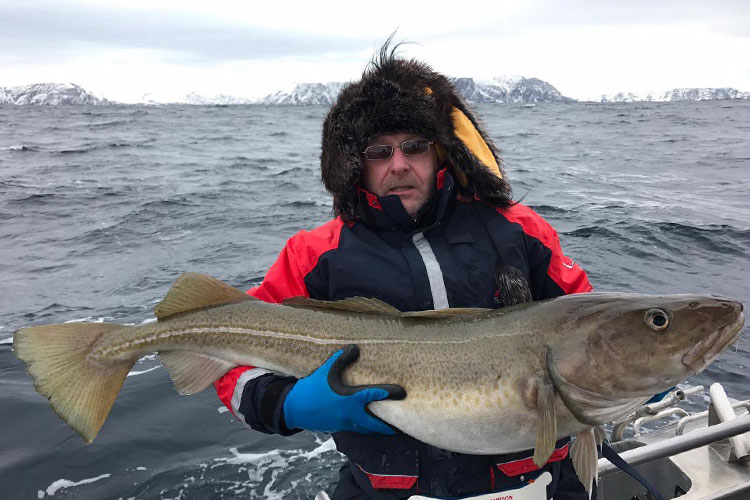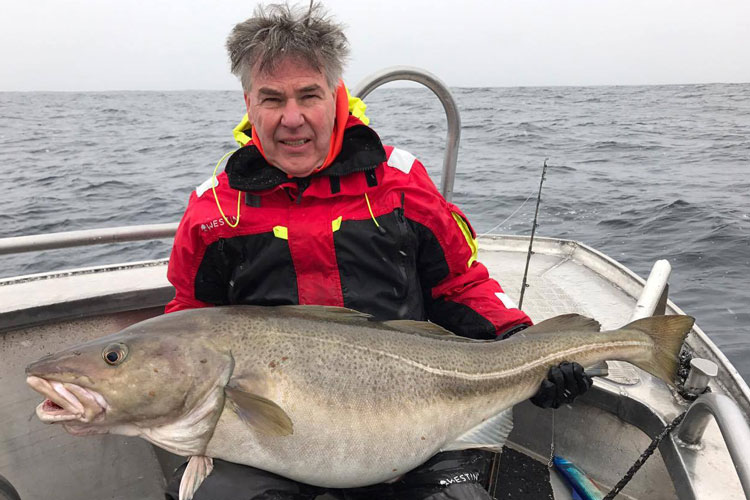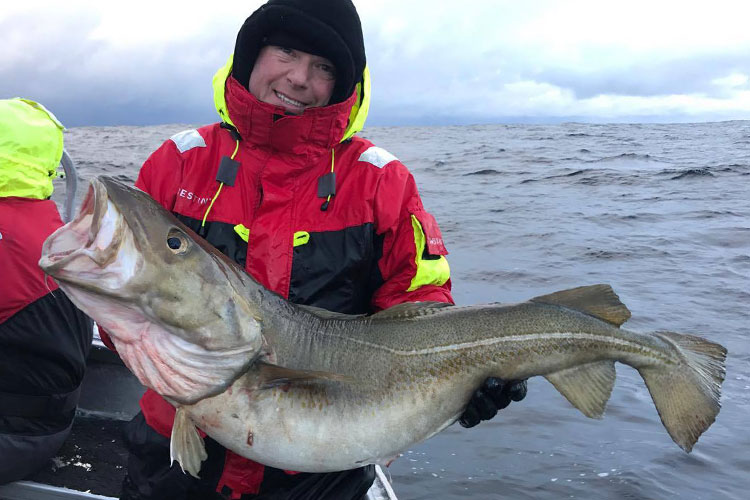 If you would like to join Kevin Mckie on his next guiding trip for Sportquest call the office and we will give you available dates. Or if you fancy a day fishing with Kevin on his charter boat Size Matters based in Plymouth during the summer give him a call on 07999628511.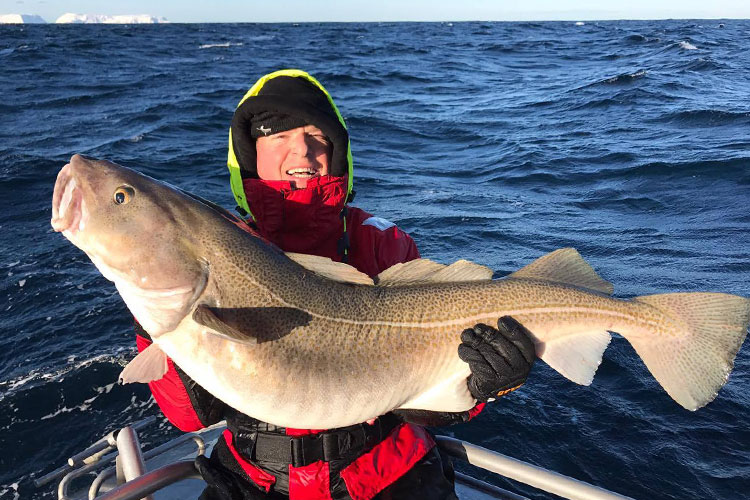 Forgot to add we had Halibut to 35lb and a Swedish angler landed a cod of 75lb on the last day
Once again, thanks Kev for keeping us all up to date with the catches and we look forward to your next hosted trip. If you would like to see the full details of this fully hosted trip fishing for the Skrei Cod then Click Here
Tight lines
Paul & Kev