Las Buitreras End Of Season Report
and a few days ago, we put the lid on possibly the best season at the Rio Gallegos ever. A season that offered many remarkable moments, a new lodge record fish, very consistent fishing results as well as an increase in double figure catches; especially those soughed after + 25lb pigs. Below is our round up and Las Buitreras End of Season Report.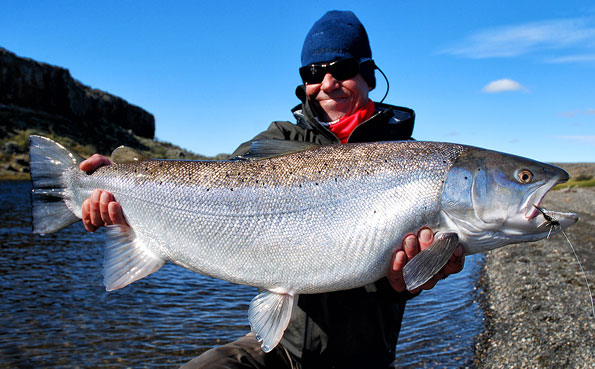 Lawson Jones with a spanking fresh pig!
 A lot of factors in our favour aligned to make this season as unforgettable as it turned out. Most of all, the water situation which has been consistently a little higher than normal. Already in November 2013, our resident guides and friends predicted us a very humid season based upon the heavy snow in den Andes and the city of Rio Gallegos itself. For an over all pretty shallow water shed like the Rio Gallegos, more water automatically triggers more fish to move…
With a good bunch of weeks where our max 10 rods managed to catch over 100 fish and our top week with 164 fish (… with 17 fish over 14lb, 10 fish over 20lb and one fish over 30lb) this foreboding was more than just hot thin air.
Rio Gallegos Record Fish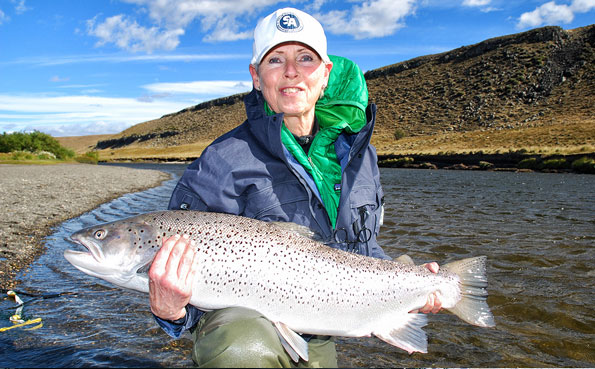 Annakarin Sjöberg with the record fish – 31 1/2lb. chrome!
Despite the fruitful conditions for a strong run, all long term conservation efforts were hitting us in form of more and more big fish. A tendency that remained strong through out the last 4/5 years. Not only did we get plenty double digit kilo fish, we also put a fish into the books that might very well be the biggest recorded and officially measured Sea Trout in the history of the river itself. Some might remember Diego "Pollo" Coscia's giant Sea Trout that could only be estimated – a true river monster with an incredible girth pushing the scale up to the 30lb; now we have it officially. Annkarin Sjöberg hooked and successfully landed a chrome fish that tipped the scale at 14,1kg – that's 31 1/2lb of pure chrome with the measurements 105cm (lenght) x 63cm (girth). A fish that left guide Hernan Garcia awestruck and lost for words.
Girls girl wild on Sea Trout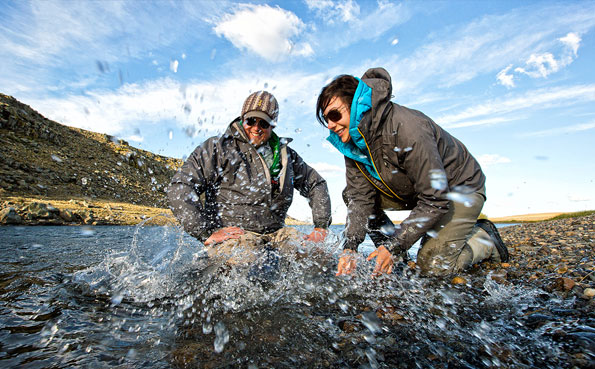 April Vokey sends another one back…
If one closely observes the catch record books, it's more than just intuition that has made female anglers extremely successful not only in Buitreras over the years. Persistence, focus and dedication plus something that all us men haven't all figured out completely yet. (…the words of some humbled men) It no wonder then, that the biggest fish ever came to one of our female anglers, but she was not alone.
Just check out some of the other great females we have enjoying the fishing this year with us.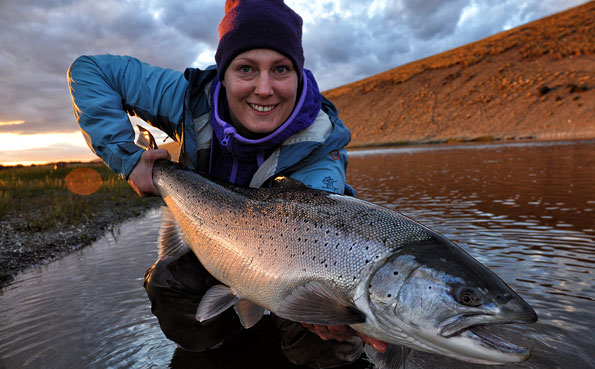 Marie with some solid chrome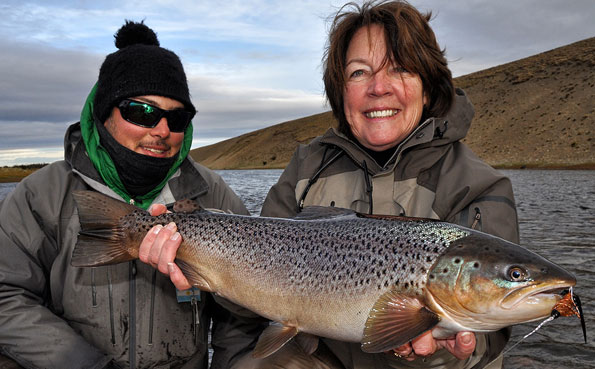 Elizabeth with a coloured hen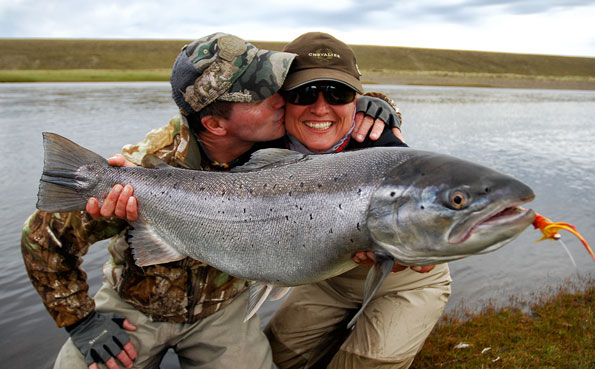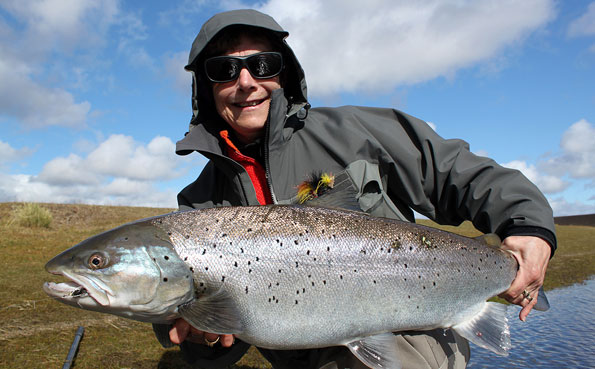 Meta and a spanking fresh 19lb fish
The significant difference…
Due to it's structural splendor and overall pretty shallow water shed of the Rio Gallegos, we at Las Buitreras are blessed to ambush some of the biggest Sea Trout on the planet with light tackle, floating or intermediate lines and tapered leaders. More often than not, one will encounter aggressive surface takes. Nothing more exciting than seeing the last bit of sunlight glimmering on the water surface being teared apart by a big Sea Trout splashing upon it!
The sporting virtues of Patagonia are available for a very limited number of devoted fly anglers. The beauty of this lodge is there is no sharing of the fishing with any neighbours, we have over 40km of private water, double bank fishing all the way down to the mouth of the Rio Gallegos. With over 50 named pools plus many more that do not even have names all just for 10 rods per week.
Hosted Weeks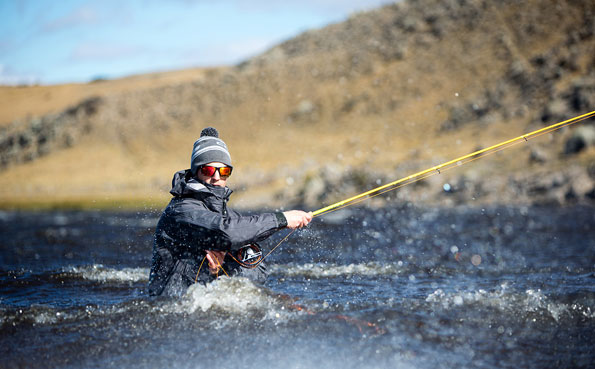 Rick fighting the elements at "Old Bridge"
We are pleased to have Peter Collingsworth (Managing Director) of Sportquest Holidays coming over in January hosting a group for the week. This is going to be a special trip for not only is it one of the peak weeks, but also during the week we will celebrate Peters birthday, Christers birthday along with the camp managers birthday. Think it's going to be a lively week and that's a lot of cake…
With this years successes for the female anglers, its also great to see on this week they will be bringing some female rods for their first ever Sea Trout fishing experience.
If anyone is interested contact Peter Collingsworth on 01603 407596 or Click Here to see the trip full details.
You can also view ALL our fly fishing destinations in Argentina 
Click Here
Kind Regards
Christer Sjöberg