When the going gets tough, the tough get going. With challenging low water conditions this week goes down as one of the toughest of the season so far. Fortunately some fine gentlemen had teamed up and decided this is fishing and no low water conditions were going to interfere in their search for chrome seatrout! With endless optimism and never tiring efforts they sure made good of their plans! Our good friends charge and side by side with the rest of the crew from GB were working it hard.
Long and relatively thin leaders racked up the count of fish that got away including some really solid chromers that would have tipped the scale at 20lb+. These fish fight hard and sometimes dirty so when we have to go down in leader size the consequences sometimes stings a little! Hooking into a solid 15-20lbs chromer knowing you have a leader that might break on any given jump or rush is indeed a nerve-racking experience. But it's the price all anglers have to pay when the water is low and clear! Inspite of all the let downs with fish that got away, the group's persistence paid off. Fish up to 15lb for most of the anglers this week really reminds us how spoiled and almost deflationary we are expecting the 20lb fish that are by any means, big big fish.
The group was a match made in heaven with true anglers that embrace the challenge rather than grieving about the hard conditions. Coincidentally, a push of water just arrived at our top-beats on the turn over day changing the game for the next group of anglers to arrive. A much needed push of water that will shuffle the deck and boost both fish numbers and sizes. Not long now and we will witness the first autumn run fish. Fat chrome sea run browns in top shape are just around the corner.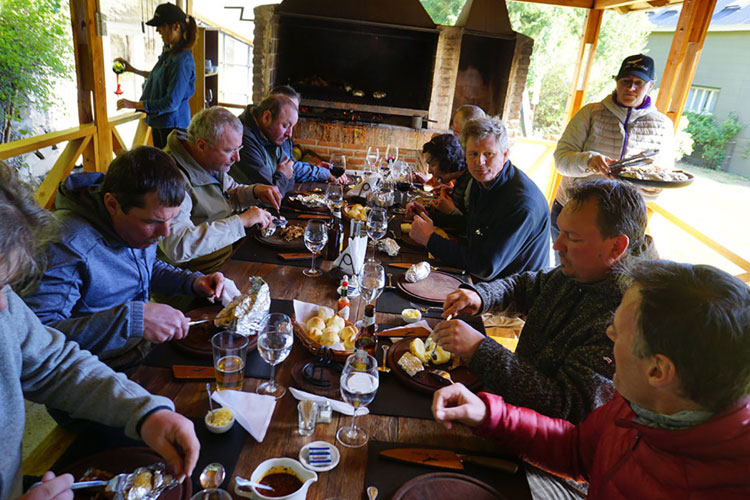 Total Nr of Fish caught: 108
Total Nr of Sea Trout caught: 36
Biggest Sea Trout: 15lb Vadim / Vasilius / Mark
Average Weight for Sea Trout: 9.2 LB
If you would like to know more about this destination or ALL our fly fishing destinations in Argentina
Click Here