Exciting times at Las Buitreras. A full group of Las Buitreras and Rio Gallegos first timers – quite unusual for us but a miuch welcomed change of pace. Good people from all over the planet have united once again under the banner of catching their first Patagonian Sea trout.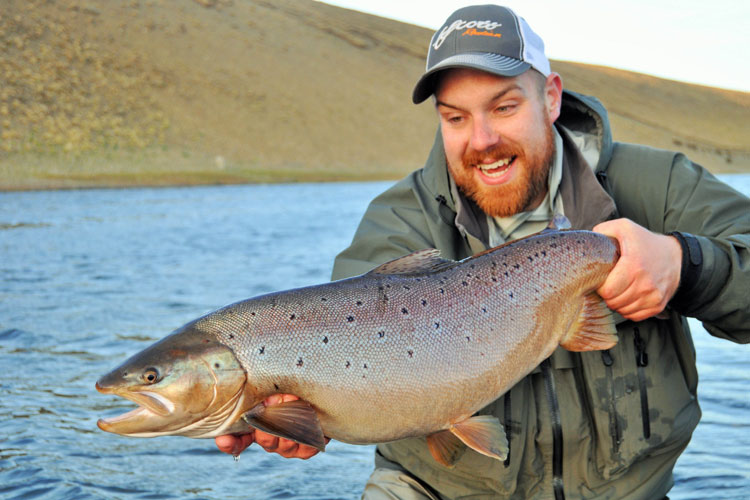 The push of water at the end of the previous week lasted only a day really – the river stabilized again and went back to normal low for this time of the year. It was Tim who opened up the big fish board with a colored buck on his first session – a gentle reminder from the river that produces some of the world's biggest trout. A very good start.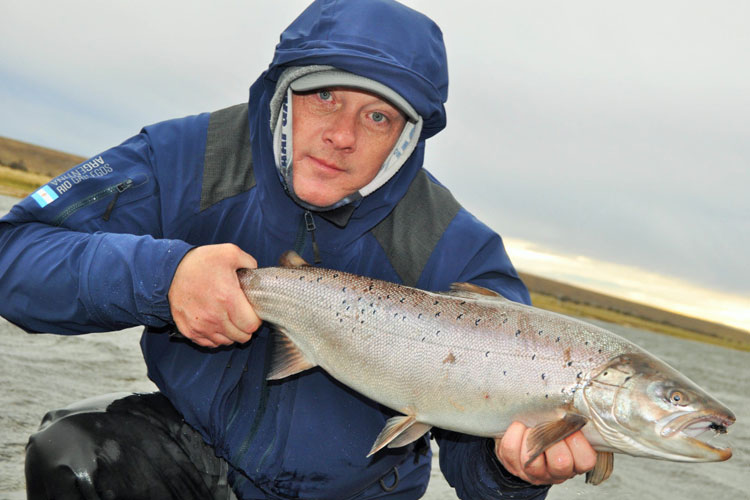 Scott raised the bar to a spanking fat 23lb fish – An amazing archivement under harsh conditions and a hard to beat treshold for the rest of the group.
Rumor has it that the guides did a naked rain-dance to please the river-gods, especially Hernan was said to be very enthusiastic about the idea. Whatever it was, it worked. Known as the late march floods, they never fail to fire up the fishing. With the floods comes the autumn run – the third and last run of the season that last long into April and delivers spanking fresh chrome seatrout till the lodge closes. Autumn run seatrout have only a fraction of time to reach the spawning grounds but they also had more time to feast on the rich seafood diet. As a result, they are more aggressive and very buff for their length.
The 50cm raise of water shuffled the deck and gear setups a bit. Back to intermediate lines and our beloved big rubberleg flies. Long story short, the fishing improved! Despite the good fishing the group celebrated over the last days, the staff did their best to give our esteemed guest a taste of Argentina – especially the praised "crucified Lamb" gaucho style from our Chef Pipa never ceises to amaze.
Sea trout: 58
Brown trout: 86
Top fish: 23lb – Scott Noyes
Average weight sea trout: 9,89lb
Top rod: Tim Angeli: 14 fish
If you would like to know more about this destination or ALL our fly fishing destinations in Argentina Click Here