The autumn season has begun and with it the chase for those obese chrome autumn run fish that rejoice the heart of both regulars and newcomers. What's the difference? To make a long story short: Autumn run fish spend more time in the sea feasting on a heavy diet. When entering the river, they have less time to make it to the headwater spawning beds – naturally they got no time to lose and are a bit on the agressive side. Result: Strong, corpulent chrome fish.
Another side effect of the autumn run fishery, even if the water is low, it's still cold and wont shut they fishing down as low water usually would. The conditions are less of a worry because of the late march floods that usually kick up the waterlevel a notch. This week stands exemplary for it. With a waterlevel of 10cm+, the highway was wide open. Out dearest regulars Lawson and Anders capitalized on both the waterlevel and fresh run with both over 16 fish in the books – Anders scored toprod with 18 fish on his side. Knowledge really does pay pay off.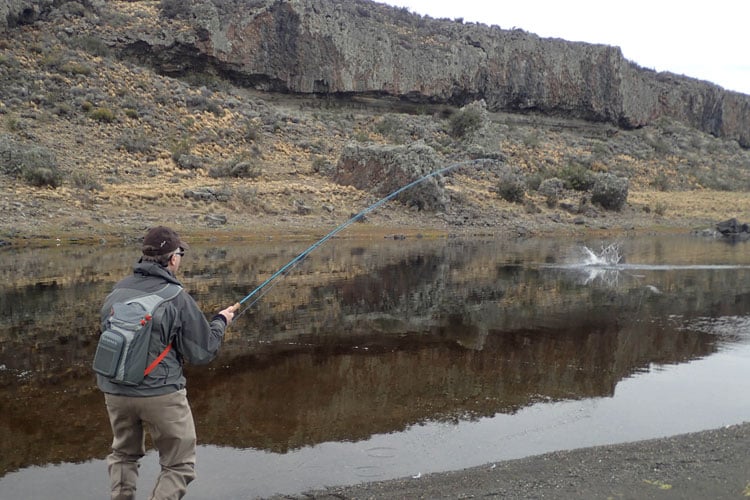 Patrik and Bo were enjoying themselves. The void of lush forests and vegetation that the emptiness of the desert creates was filled with the joy over Bo's first Gallegos Seatrout. Walter and Thea, another couple, shared this amazing experience too. While Thea was hiking and following her husband along the riverbank, Walter landed his personal best and best fish of the week – a stunning 19lb. fish. Well done!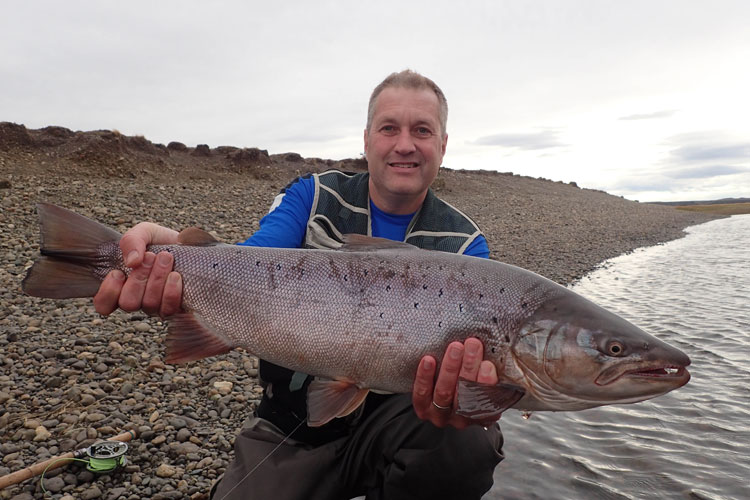 Wind and weather do affect the fishing quite a lot. Despite the perfect water conditions, odd winds made it though at times. Winds from the west is what we prefer at Las Buitreras – our guest this week understand why. During west wind periods, we do catch a lot more fish. Wind from the west aids the way we swing or drift the flies across the river. It's just easier to get a perfect cast and swing.
Top Pools this week, Little Corner and the Limits – an oldschool classic!
Sea trout: 54
Top fish: 19lb Walter
Average weight sea trout: 8,1lb.
Top rod: Anders: 18
If you would like to know more about this destination or ALL our fly fishing destinations in Argentina Click Here