Fishing Report Canada and the moment every one has been waiting for, the full report from our latest Hosted Sturgeon trip to Canada hosted by our very own Mathew Rickard. By the look of things the fish were hungry the guys were excited and all that was left to do was to be set up with the best guides in Canada. Mathew the Host has sent us a great little report and you will soon find your self-dreaming of being attached to one of these mighty Sturgeon
MIGHTY STURGEON Fishing Report Canada:
The long wait had finally come to an end as it was time to meet up with the 6 guys at Gatwick airport ready to board the plane and head for BC to fish the mighty Fraser river in search of the ever popular hard fighting, jumping prehistoric sturgeon.
With everyone together the chitchat began, old takes, stories and past fishing holidays were spoke about and of course the week ahead. A few had said a 100 pounder would be nice and a few weren't letting on what they really wanted, but I could see on their faces that they didn't really know what to expect. So the 10-hour flight began to what will be our home for a week. What happened in these next 6 days know one expected.
Fishing Report Canada DAY 1
Everyone was up bright and early for breakfast in the anticipation of what the day will bring. With everyone full up and 8am fast approaching it was time to meet up with our guides for the week. Marc the head guide and owner of cascade fishing adventures had the larger boat which I will be on for most of the week along with 3 others in which we will rotate everyday. The other 3 guys were to fish with Clayton Marc newest member of guides. So with everyone happy in their groups it was off to the launch area on the mighty Fraser.
A 10 min drive and we were at the launch site. It was stunning, not a breath of wind and nearly 30c and we were going fishing in one of the most stunning places I've been too. What more could you ask for.
Soon we were motoring up river to our first location and what a ride it was too. These aluminium jet boats are something else, designed perfectly for these waters as they have a very shallow draft, couple this with a huge v8 Chevi engine it don't take long before your fishing.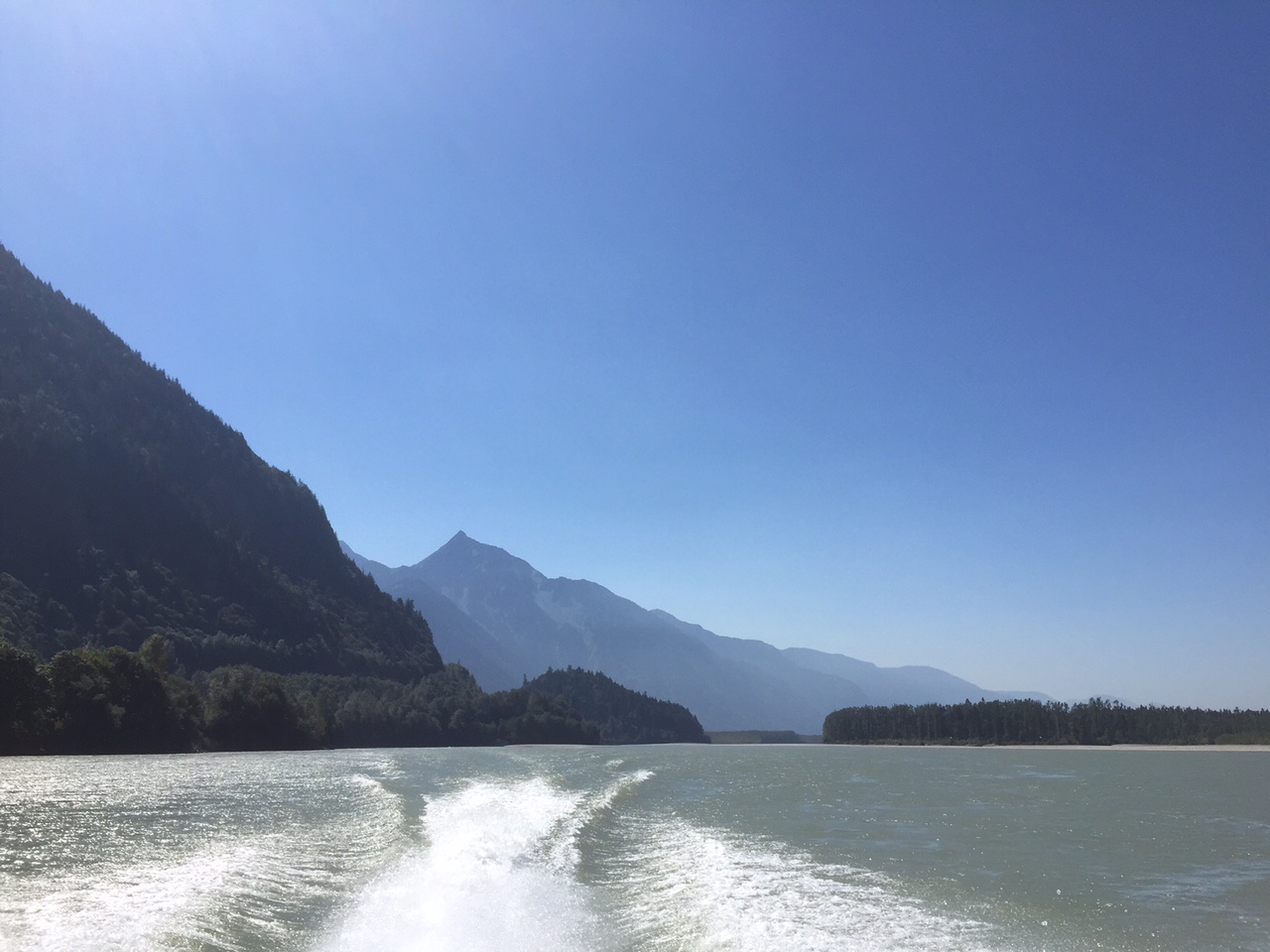 The amazing Fraser River excellent Sturgeon fishing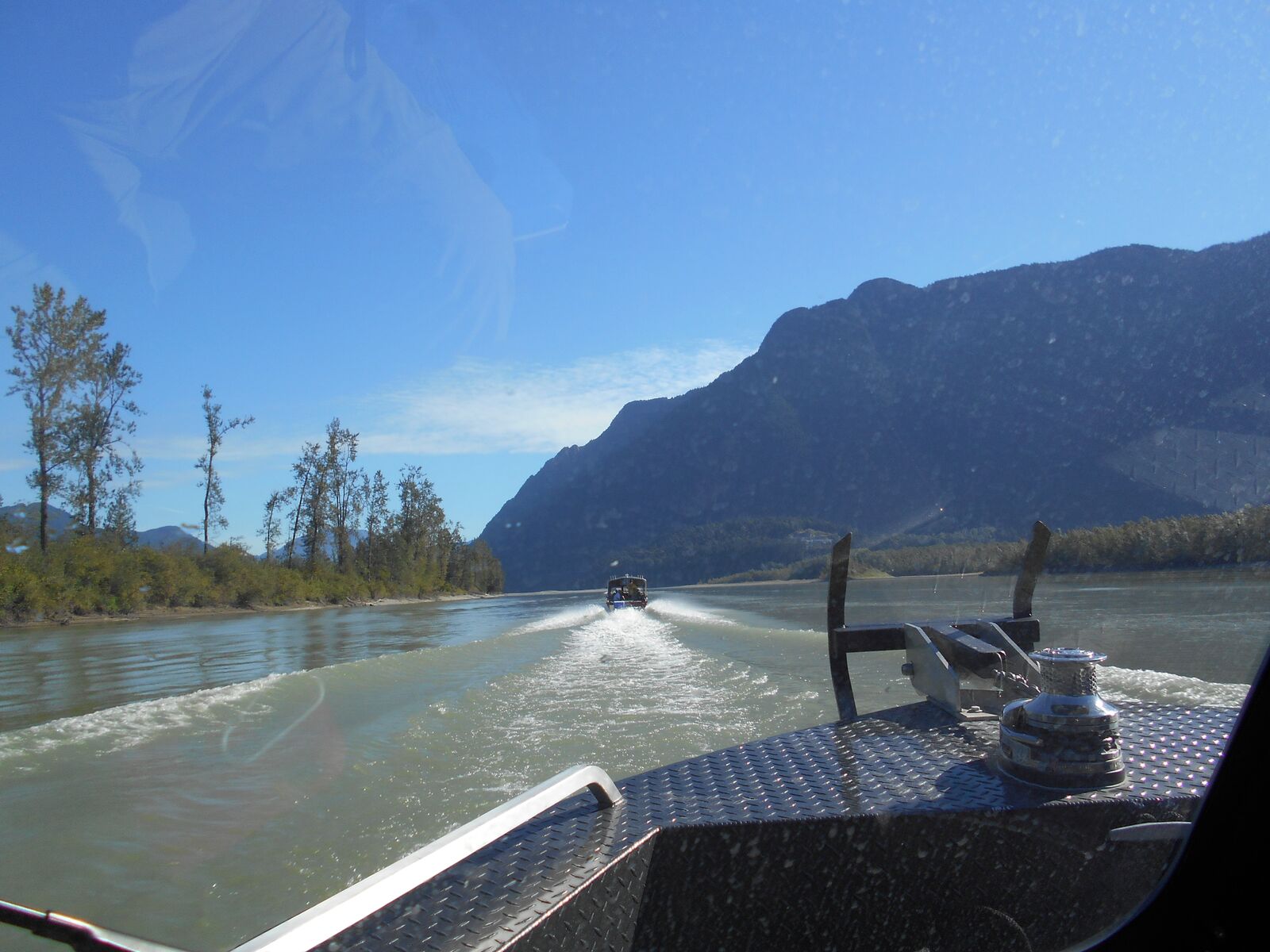 Awesome shot of the jet boats on the Fraser River
So with the anchor set and everyone excited (well wouldn't you be in these surroundings) we played the waiting game for the first bite. Head guide Marc explained that the fishing has been quite but they have had fish here the previous day. There was hope, the first sign of a sturgeon around our baits as one rod was getting a bit of action. FISH ON, reel screaming and fish jumping. 20 min later we beached the fish and it was an impressive 140 pounder for Nigel. Then followed another, this time for Liam a little cracker at 80lbs. As the day was passing things went a little quieter, so we headed on back down river to another of Marc's favourite spots. This time it was Allan's turn, his eyes never turned away from the rod and after 45 min it screamed off, didn't even have chance to get rid and set the hook properly. 10 to 15 min into the battle, Allan had to hand me the rod, he had got that worked up, he tensed up his arms had locked and his legs had gone with excitement as all he wanted to do was get the fish in (it's not easy). In it came up the shingle bank, a quick photo and back she went. Estimated at 120lbs.
What a great Sturgeon, well done lads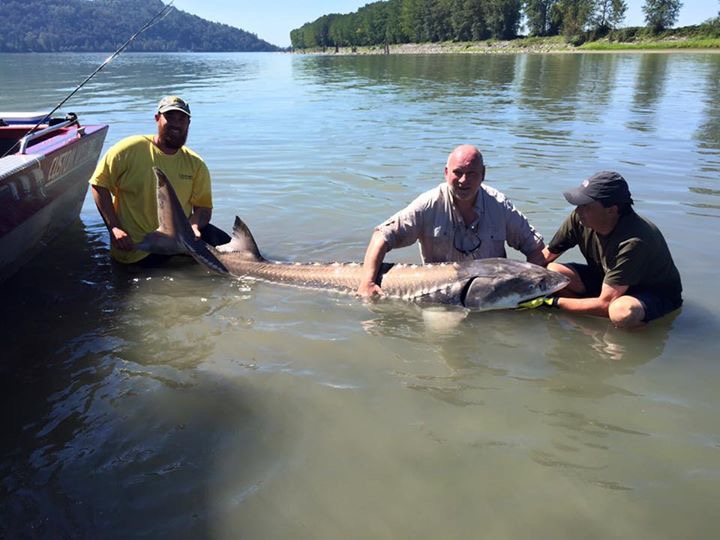 Yet another huge Sturgeon caught from the Fraser River Canada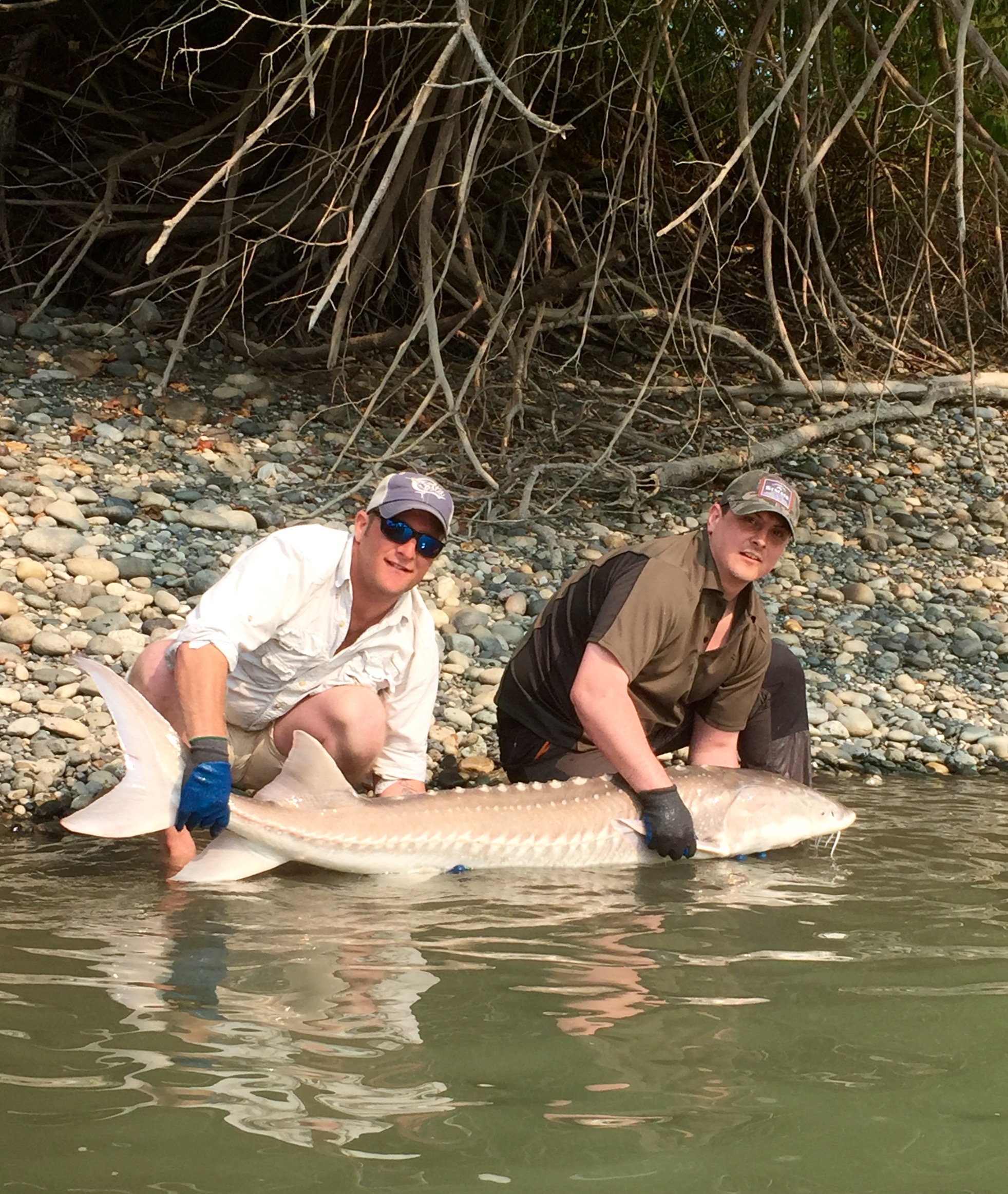 Even Host Mathew Rickard had a go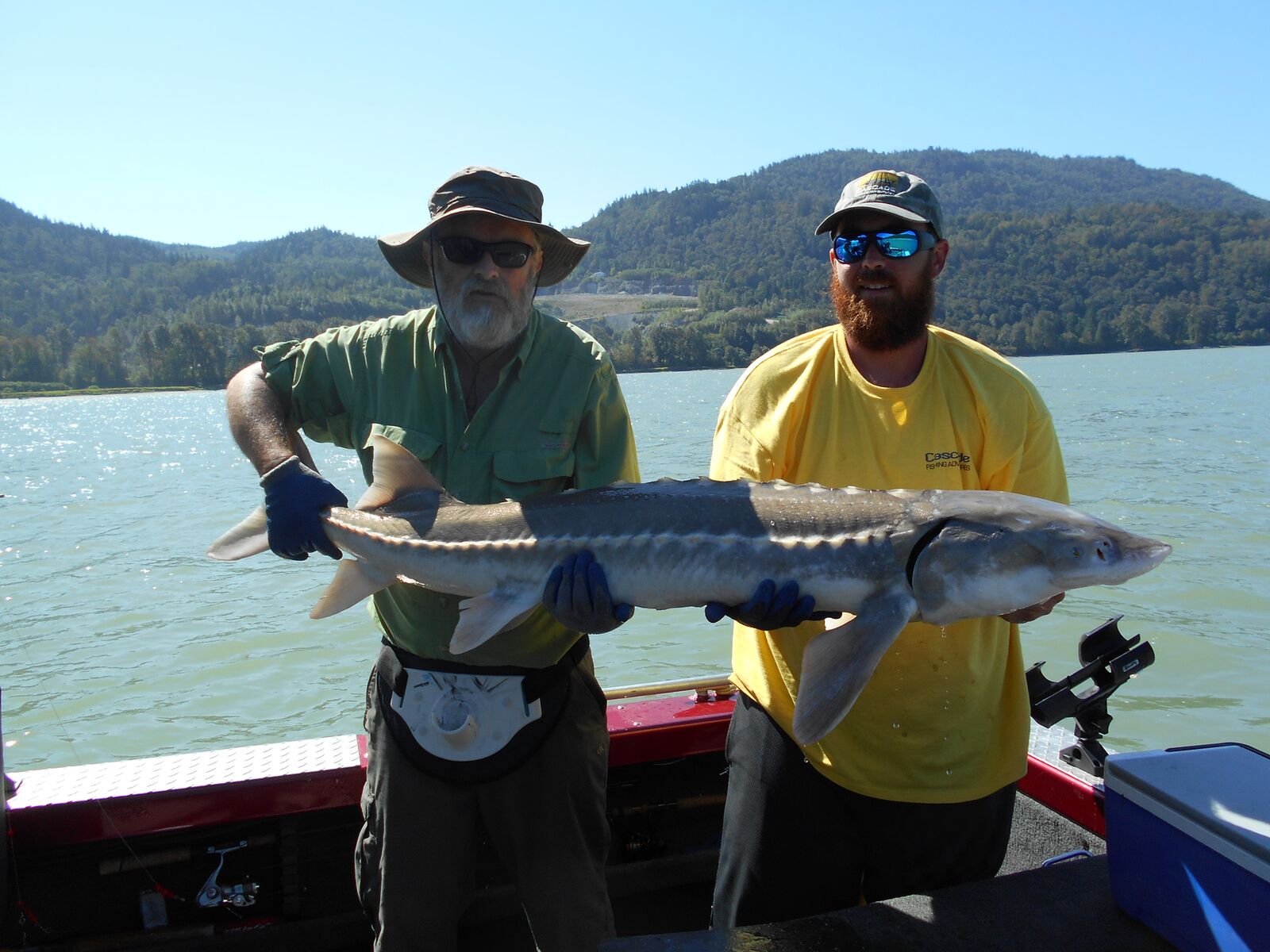 Nigel with a small Sturgeon from the Fraser
The day had gone and back to the hotel we went. We didn't have a clue what the others had but by the smiles on their faces it must of been good. Stephen had a 380 pounder, Les had a 350 pounder and Geoff had one about 180, incredible all fish of a lifetime in one day
Thats one big Sturgeon caught on our Hosted trip
Fishing Report Canada From day 2 to 6 we rotated boats so everyone got to fish with different guides. Each day was very much the same and everyone wanted that big fish. It didn't matter where you were on the river, the scenery just seemed to get better and better.
With an average of 5 fish to the boat a day all the guys were getting plenty of action from these hard fighting jumping river monsters. There were some very impressive fish landed, everyone had a fish over a 100lbs, which was nice. There was the 380, 350, numerous 250s to 300s, 180s and 160s. The amount of big fish coming out even surprised the guides as the fishing wasn't that hot until we arrived.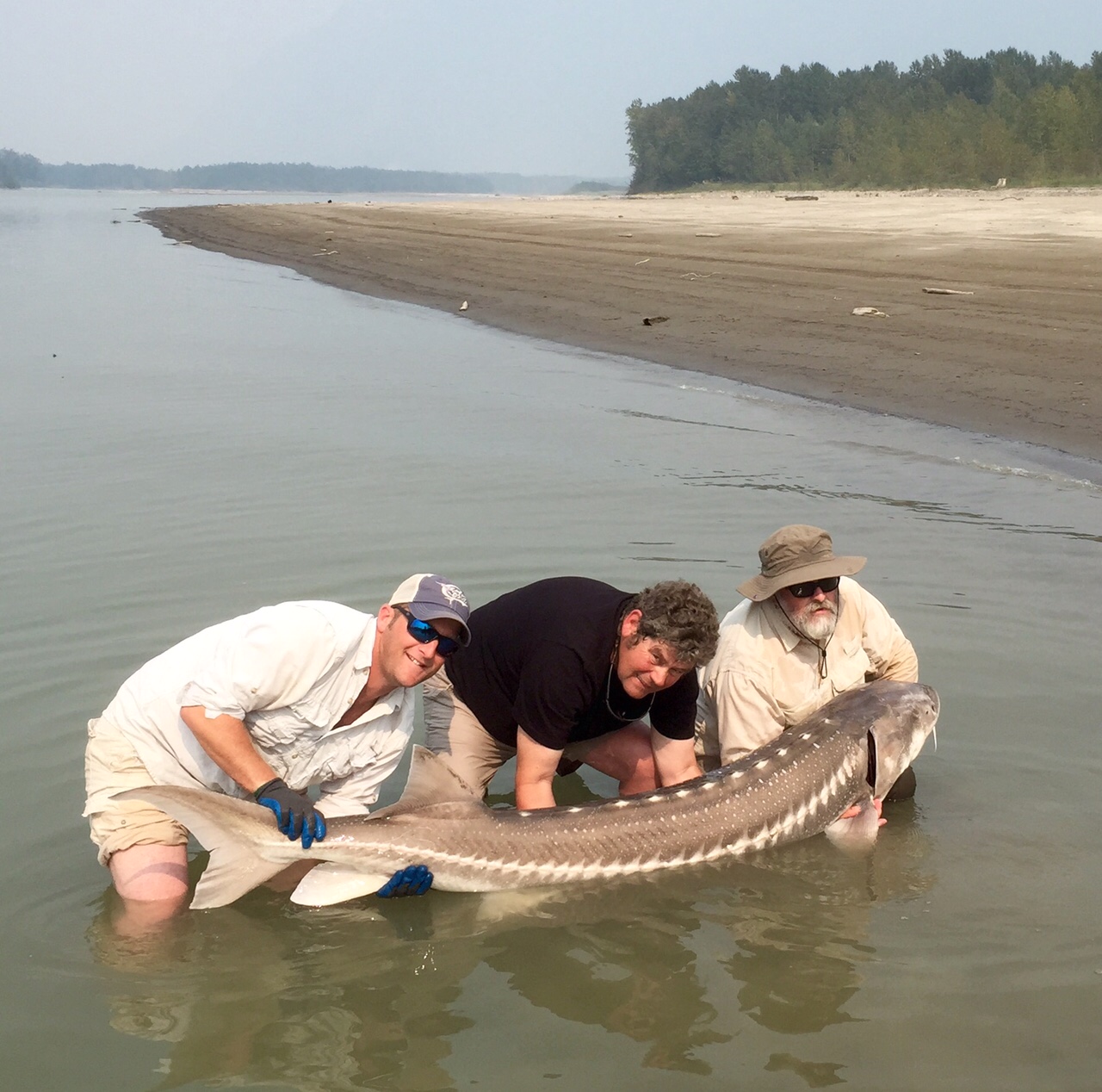 Look at the length of that huge Sturgeon from Canada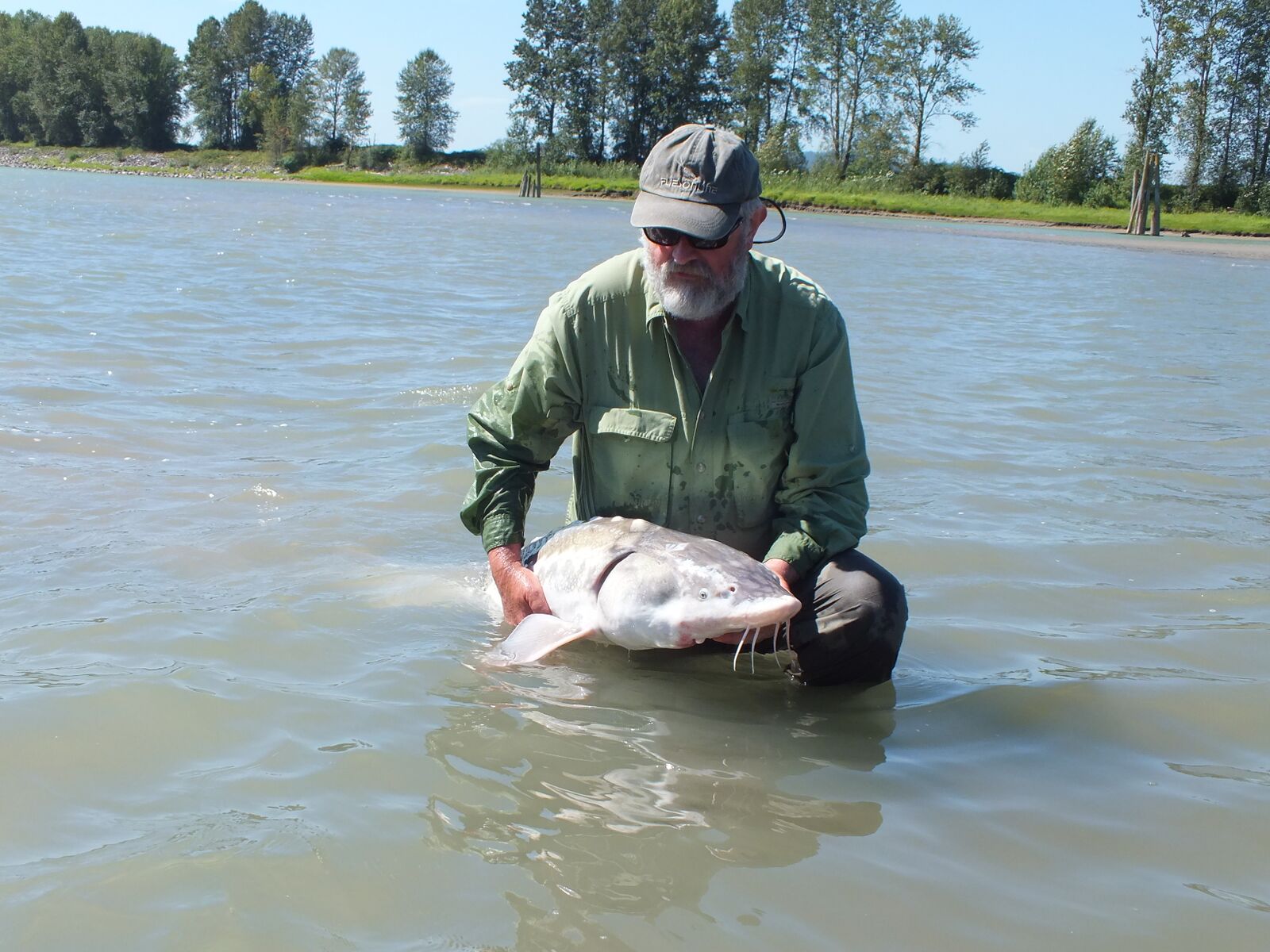 Well done Nigel thats a lovely Sturgeon
What stood out the most for us all was on day 5 when we had about an hour to go before heading home. We were fishing along side rob one of the other guides for cascade who had Andrew on board, who he had also booked up with Sportquest. The banter began between guides then Andrews line was screaming off the reel. Off they went chasing the fish down river whilst we would wait another 40min.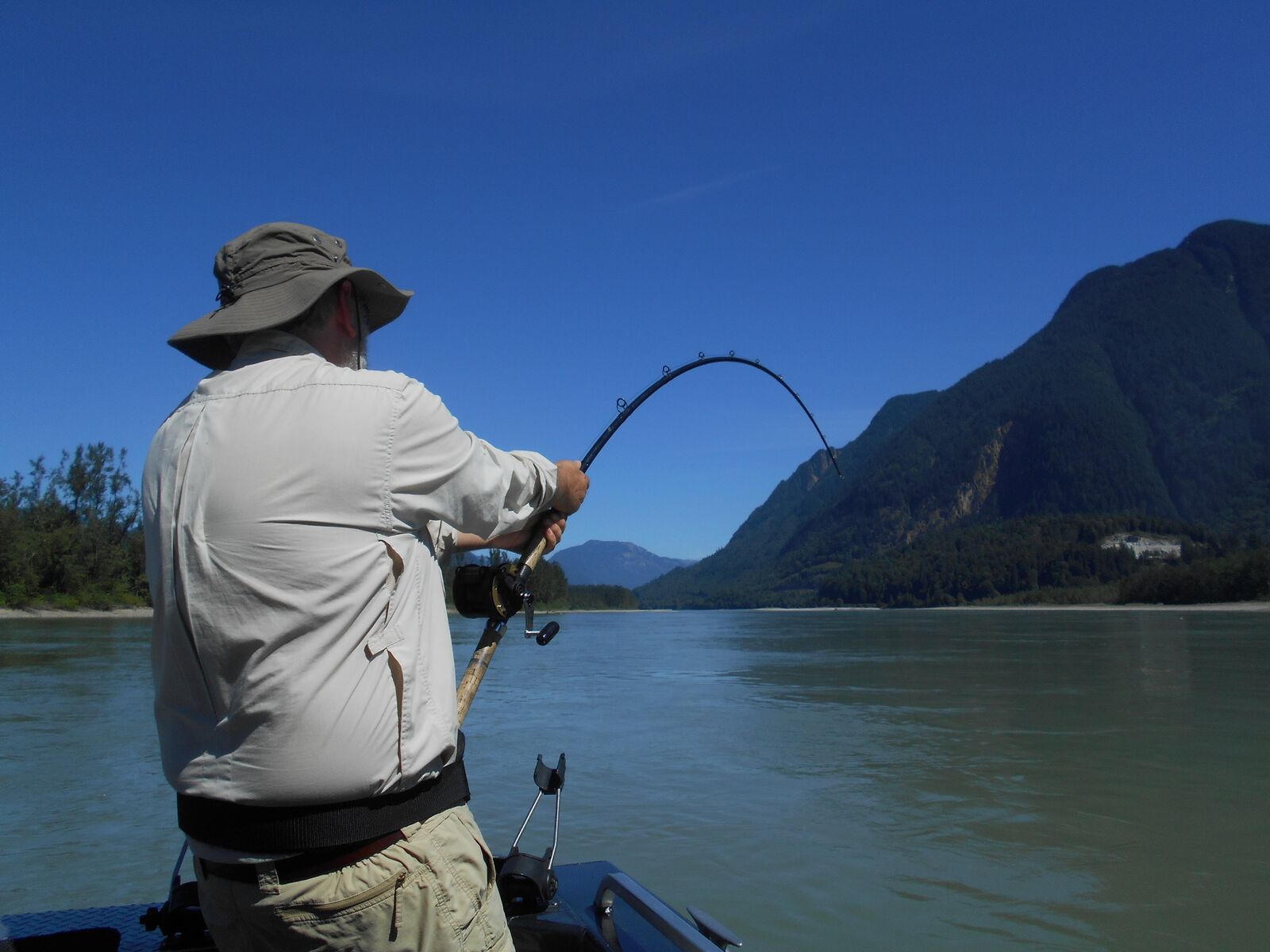 Well bent in, this is going to be a big one
The call came in from Rob saying Andrew might need a hand playing this fish as it was a biggie. So down the river we went and it was evident that this was no minnow as the amount of pressure that was on that rod was incredible.
The phone rang again to say they needed me on the boat ASAP. A boat transfer might seem easy but not on the Fraser whilst playing a pig of a fish.
I got on the boat swiftly and Andrew passed me the rod (boy did it have some power) we took it in turns 10 min at a time until we could do no more with the rod. By now an hour and 50 min had gone by. In the end rob has to hand line the last 30yds and get the fish to shore. It was fish of a lifetime, and one that many might not witness again.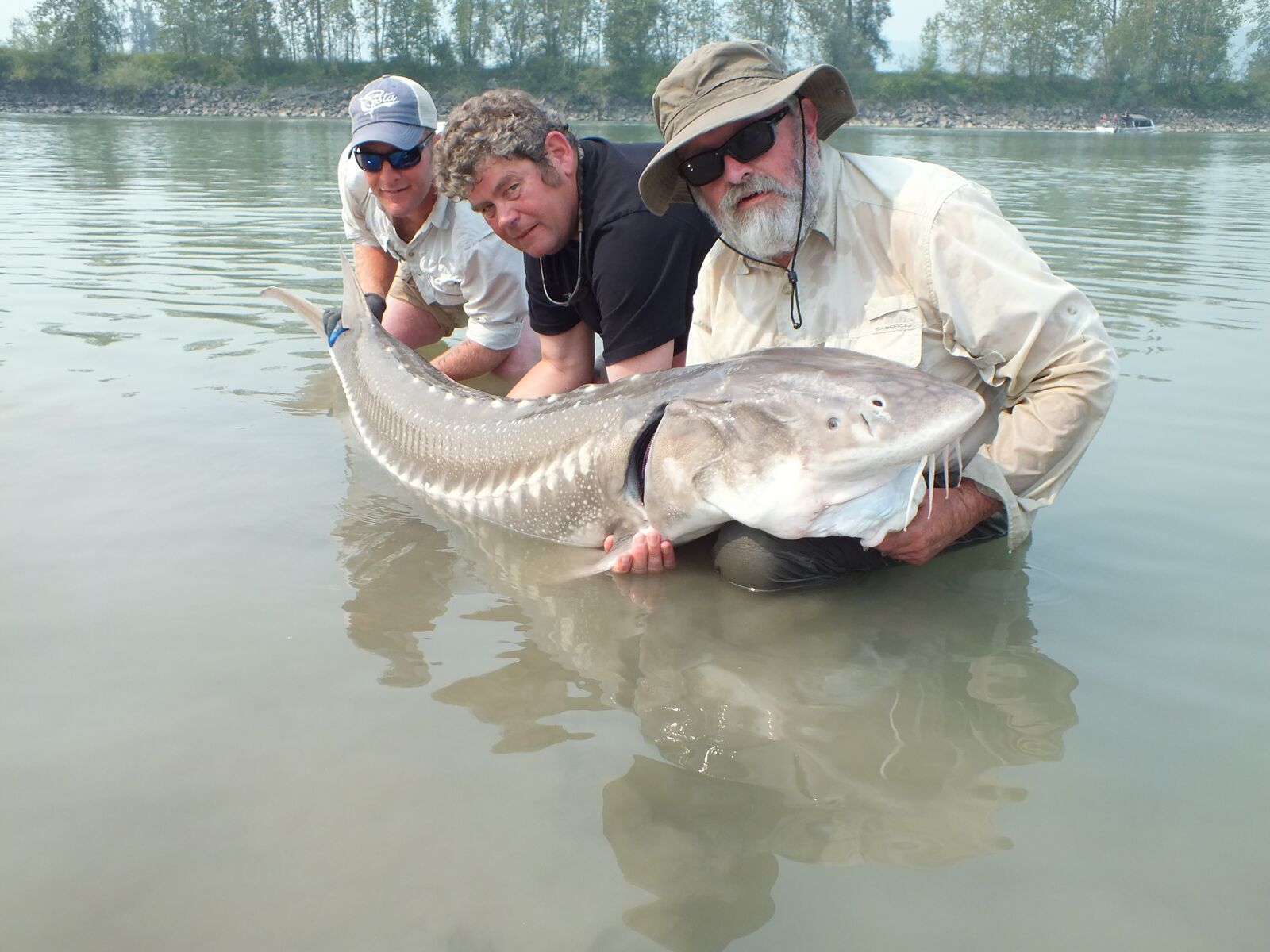 What a cracker, huge Sturgeon from the Fraser River in Canada
This river monster was 8ft 4in long and had a girth of 4ft and was broad all the way down to its tale. Rob estimated the fish to be around 450 to 500lbs. An amazing battle, amazing fish and amazing scenery. It was one of those (HOLY COW) moments. Photos were taken and off it went into the gloomy waters of the mighty Fraser to fight another day.
The final day had arrived here in Chilliwack BC and we were soon on our way back to the airport and back to Blighty. Everyone hates this day but everyone was on such a high from the week's events they didn't care.
If you've never visited Canada especially Chilliwack BC the centre of Sturgeon fishing on the Fraser then get yourself booked up. It is truly stunning, couple this with great people, great food, amazing guides and outstanding fishing you won't be disappointed.
Why not get booked up on my hosted trip back here in July 2016 as we only have a couple of spaces left and that next big fish may well be on the end of your rod. Click Here to view the details of the trip or simply call Paul or Peter at Sportquest Holidays on 01603 407596 and they will help your dreams come true
Until next time
Tight lines
Mat.