The moment we have been waiting for in the office and that's Mathews report of his recent hosted trip to Mexico fishing the Sea of Cortez for all matter of big game fish and by the looks of things the entire group and had the best time ever.
Mathew is a great host and if you are interested in going on any of his hosted trips to various places around the world then just call us on 01603 407596 and we can talk to you about any of his trips.
Hope you enjoy Mathews report and we have even included a review sent to us from one of the guys on the trip:
FISHING REPORT
It's only been a few weeks since I was back from my trip to BC and now I was heading off with a group of guys to the East Cape Baja staying in the Palmas de Cortez.
I had been to this place last year, so I knew what the guys would be in for. Now you can't guarantee the fish at any place you travel to around the world but I knew from talking to a good captain and friend of mine and also to the hotels fishing manager that the guys were in for a treat.
So after a couple of plane journeys and a small taxi ride we were soon sat at the bar in readiness for what the next day would bring.
Day 1.
So with everyone assigned to there boats for the week and breakfast sorted our names were called out to jump aboard for the first days fishing. Tuna was the order of the day and we were soon surrounded by other boats and lots of feeding tuna.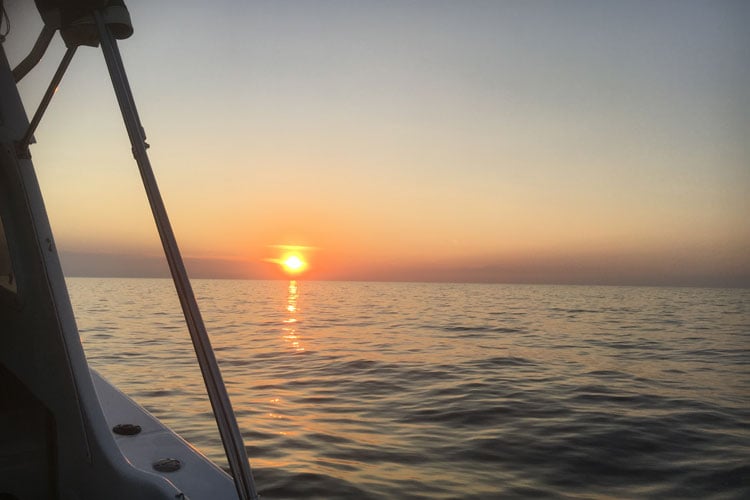 Live sardines free lined were the preferred choice of catching these super charged fish, but for myself and not to miss out on an opportunity, I opted for the jig. Sadly I only picked up a small bonito as these Yellowfin were to occupied on live bait. So not to be out done I set the fly rod up. This time just letting the fly sink through the water column with the occasional twitch. This resulted in 3 smashed up fly's with no fish to show. It just wasn't to be!
Meanwhile while I was trying to do my bit, Malcolm and Matt were having an epic time hooking Yellowfin one after the other and they loved it. So much so, that there was 3 hours fishing time remaining and they decided to call it a day.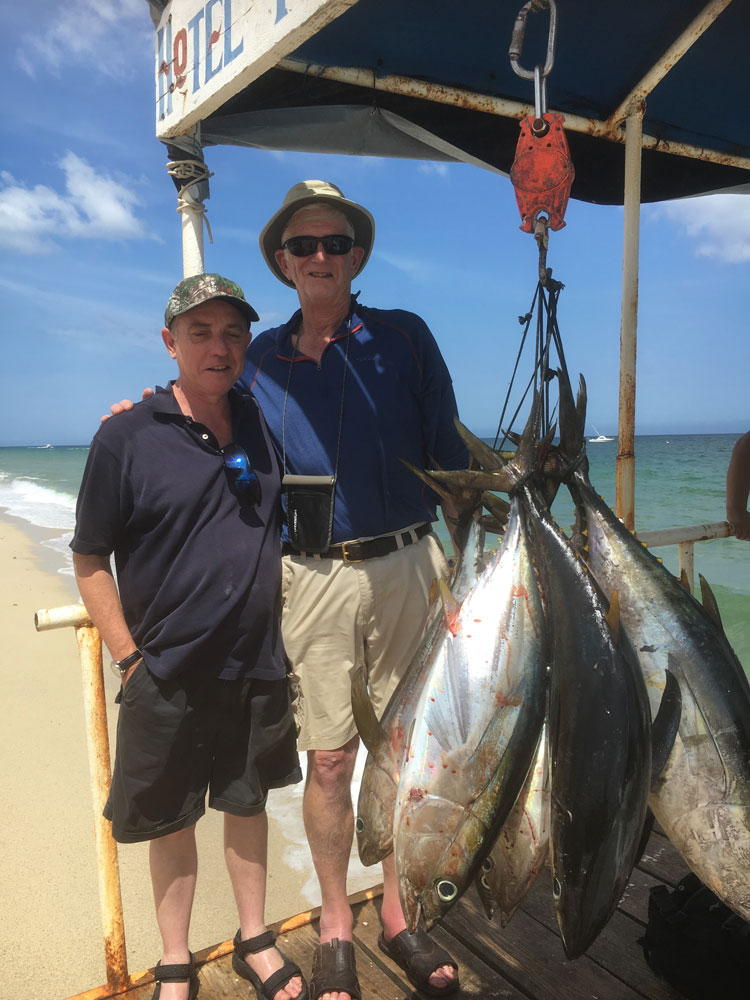 Meanwhile whilst we were sat at the bar, Brian and Chris were still at it. They even had a few Dorado along the way nothing big but bloody great fun. I think that biggest tuna went 25lbs and Dorado 10lbs but Malcolm lost a nice bull around 30lbs. What an epic first day!!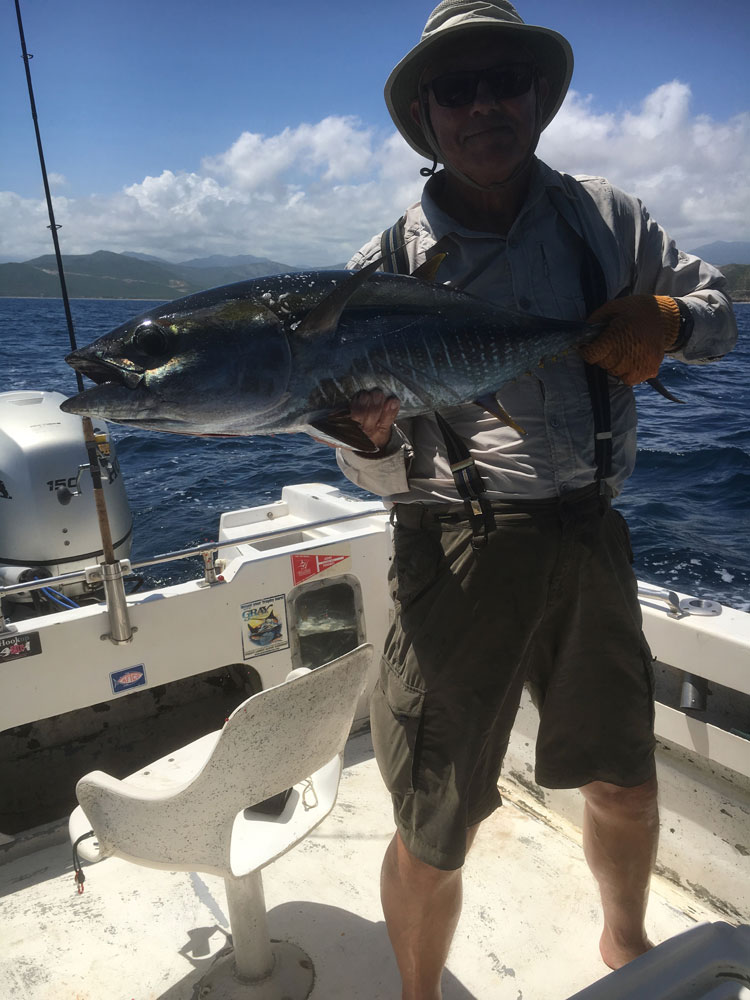 Day 2
With the guys fully recharged after a few beers and a good nights sleep we were at the dock waiting for our boat. This time I was out with Chris and Brian. They opted to go after Roosters and Snapper first light and then anything else during the day.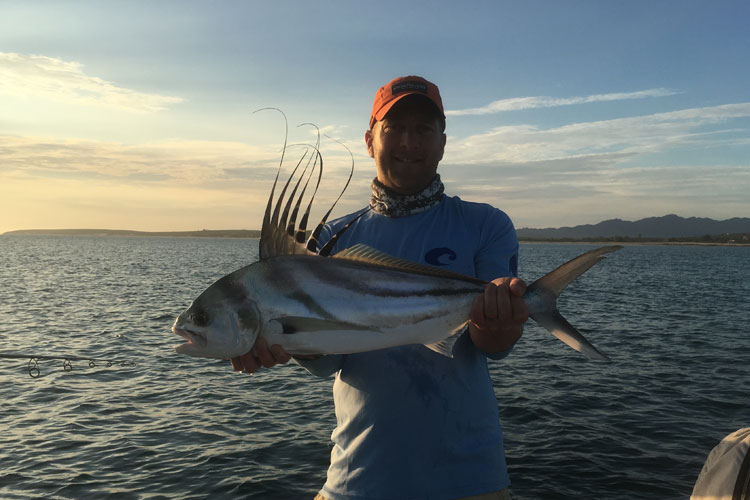 So with the live baits out it was just a matter of time before we had our first hit. Brian's reel was screaming after a minute of trolling. Sadly we lost it as it took him to the cleaners. A big snapper took him deep in the rocks. Shortly after my line went screaming off this time it was a rooster and fine one too. Probably around the 12lb mark but my god they fight hard. We had another several hits and runs but all lost or bit off by big snapper. We tried some trolling afterwards but to no avail.
Malcolm and Chris did the same as we did first light and had a great time too. A few small Roosters, Jacks, small Snapper and a Pallometa.
Day 3
This day we were on the super cruisers. Both parties wanted either Sailfish or Marlin. It didn't seem like 2 minutes had gone and the lures were doing their thing out the back. The first 3 hours went by without a sniff then from nowhere a nice Sailfish appeared slashing at the lures. Sadly though it did not take, we even threw a dead bait for it and still nothing. Another hour went by still without a strike then the captain had a radio call from our other boat, saying they had just had 2 strikes from Blue Marlin. So in the lures came and it was full steam ahead until we got near the other guys. By the time we got there, Chris had landed a lovely 350lb blue.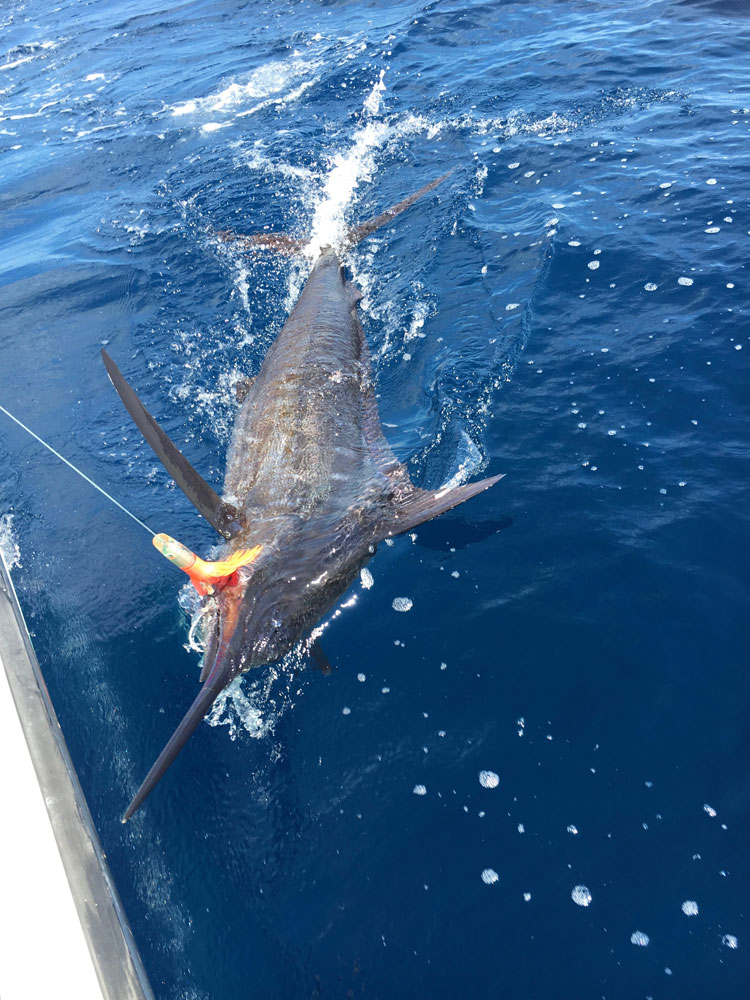 Things were looking promising. 20 mins later snap goes the line from the clip and the reel singing and as fast and hectic as it was, it was off. 10 mins later the line singing again, this time it was on. It was Malcolm's turn 15 min later she was alongside, a nice 175lb blue Marlin. Quick photo and away she went. Next up was Matthew's turn. We had a hit straight away but nothing come of it. It came down to the wire hoping for that next Marlin then bang, reel singing yet again and the mighty Blue Marlin giving its full acrobatic display. 30 min later she was alongside for a photo, the angler on the other hand was more tired than it was. Well done on your first Marlin and a cracker of around 250LB. That was the end of the day and back to the hotel we went. I caught up with Chris and Brian and in total they had 6 hits and landed 2. Now that's a bloody seriously good days Marlin fishing.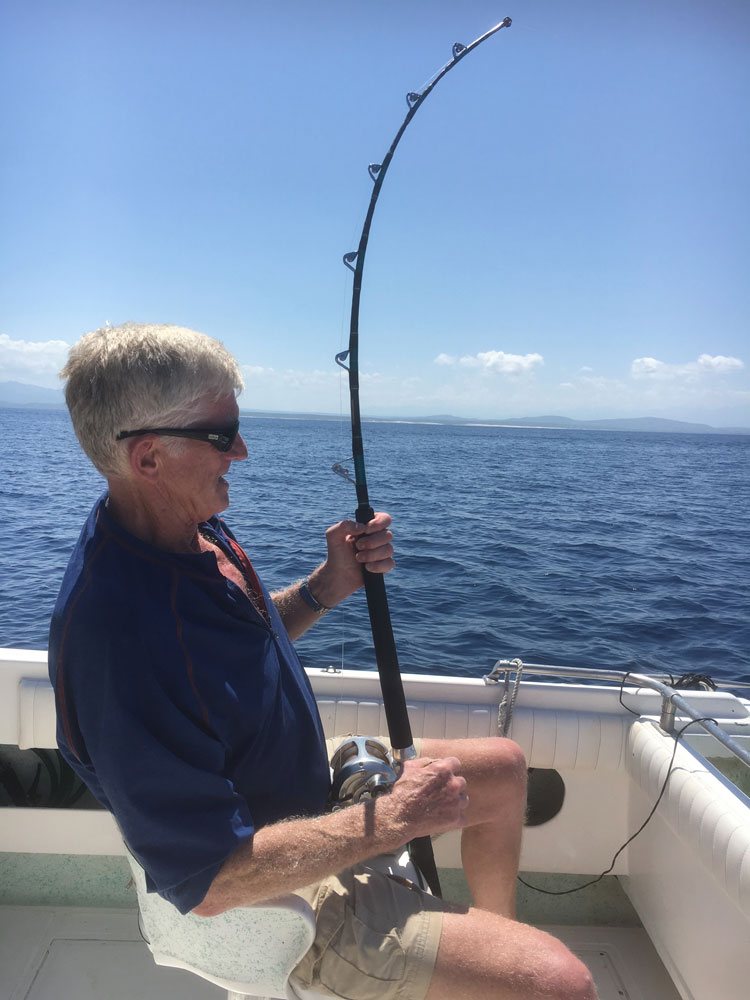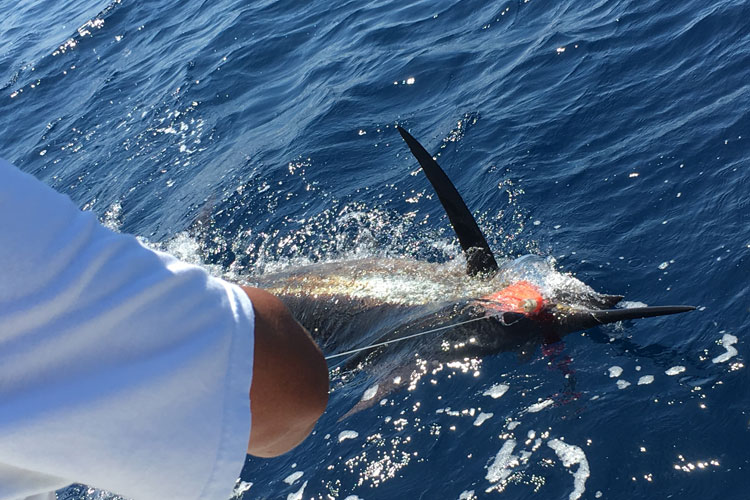 Day 4
This time we mixed it up a bit as both parties had a Marlin each, which was their target during the week. So they opted for some bottom fishing and jigging for either Pargo or Amberjacks etc.
We were soon bringing up a few Pargo for the first hour or so, which was great fun even though it was 250ft deep. Then back on the Marlin, a little slower this time but we still had hits and Marlin to the boat for both boats.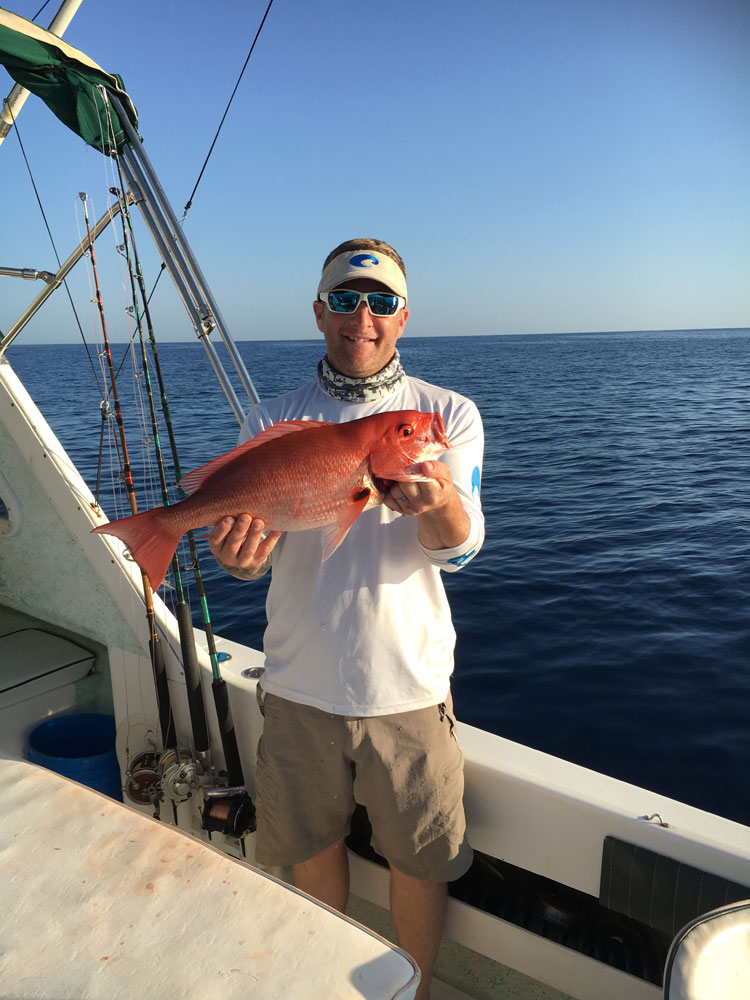 Day 5
The last day, the day that no one wants to come. Same again this morning for both boats, Pargo first then on to Marlin.,
Both boats were pretty close to each other and I could see both rods bent on the other boat. The one rod looked like a good fish as he had it on for 15 min or so. What happened after that I didn't get to find out until we were back at the hotel. I could here shouting but didn't know why. That fish Chris had on was a 40lb Yellowfin Tuna. It was about 60ft below the boat when all of a sudden the Tuna shot out of the water at a rate of knots only to be engulfed by a big Blue Marlin as it landed back in the sea. Chris did lose the fish pretty sharpish but from what I can gather, that memory will stay with him for the rest of his life.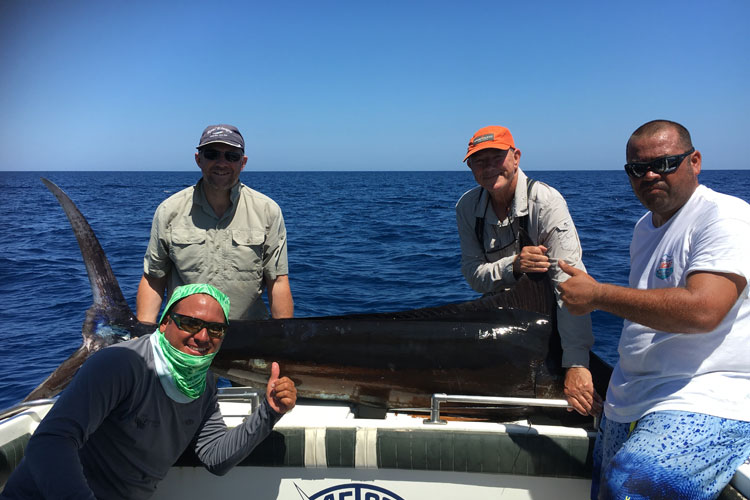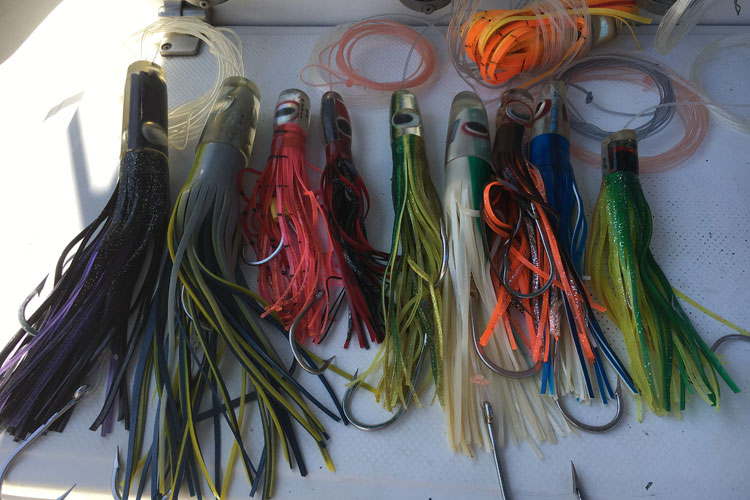 Anyhow the day went on, there were plenty of Pargo, a few small Tuna, Dorado, some nice Amberjacks to 50lbs and also a couple of Marlin to finish off.
CUSTOMER REVIEW:
Great holiday with excellent fishing + Tequila!
The rooms were adequate and air conditioning worked. Thank goodness.
The fishing captains and mates were very good and worked hard to find the fish we wanted. There was an abundance of fish.
I wanted a Marlin and got two! The company was fun with or without Tequila! It was nice to have female company. The host was excellent. It was the best holiday i have had with Sportquest!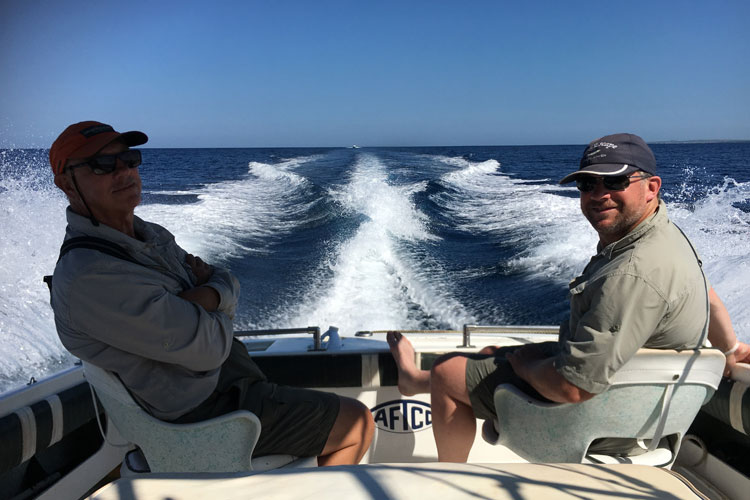 So that was it, the final day over. Our week here at the Palmas de Cortez was over. I would just like to say what a fantastic week it was yet again here in Baja. The hotel is great, the staff are great and the fishing is epic, plus without my great customers it would not of been the week it was. So thank you guys for that.
So, if anyone is thinking of going on a big game fishing holiday, seriously have a look at this destination, it really is impressive. So much variety, inshore and offshore you won't be disappointed. So until next time
Tight lines
Mat.
Thanks Mathew for your report and a huge well done to all the guys that travelled on this hosted trip, hope it all lived up to your expectations. If you would like to join any of our hosted trips CLICK HERE and fill out the form and we will contact you with some details.
All the best and of course tight lines
Paul