We know that we have said this before, but it is so great when our customers send us reviews of the lovely destinations that you all travel to.
Mike and Christine are a lovely couple who travel the world, Mike takes a few days out fishing whilst Christine takes in the stunning surroundings of the exotic places they travel to. Mike contacted us a while ago to help him organise a trip to South Africa in search of a few Yellowfin Tuna and by the sounds of it he was not disappointed one bit. Plus hearing that Christine loved it as much as Mike is what makes our jobs so very rewarding.
Remember that most of the exotic destinations we offer are not just all about the fishing, we can tailor any trips with free days for you to investigate the area. I speak to many anglers that say they have been to all these lovely places but never seen outside of the hotel as they spend all their time fishing. So why not next time you are organising that fishing adventure, just tag a couple of extra days on so you can take a look around.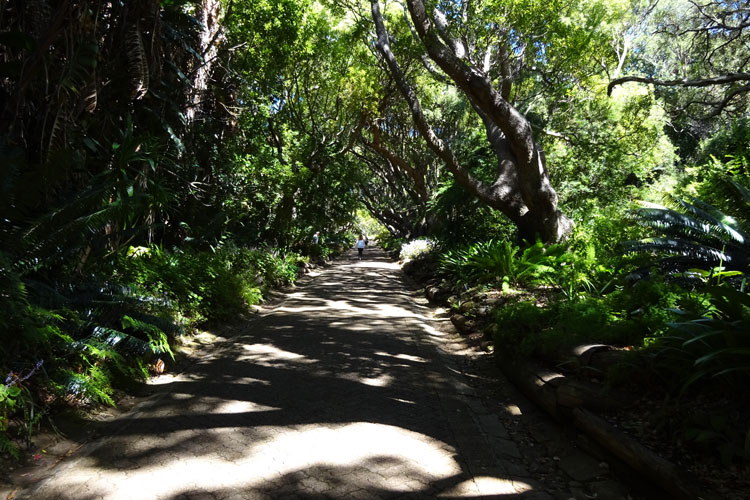 Botanical Gardens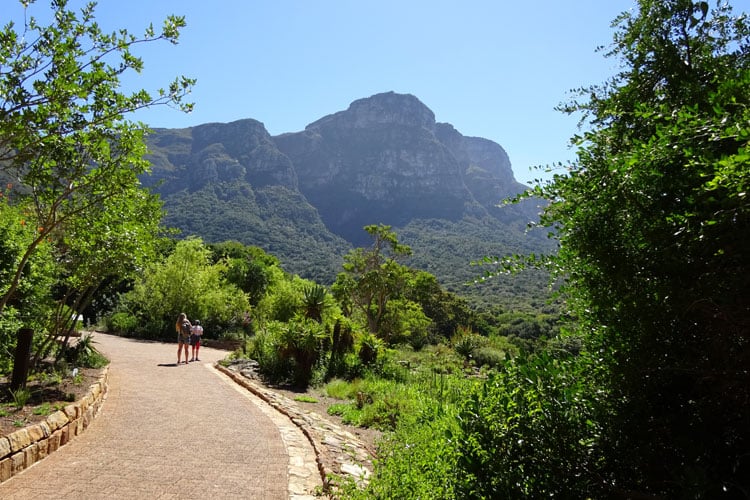 Botanical Gardens
I will hand you over to Mikes very kind words and stunning pictures and once again, thanks Mike and Christine for this report and pictures.
FISHING REPORT
South African holiday March/April 2017
We arrived at Cape Town airport on 26th March after a stopover in Dubai. We were told it rarely rains in Dubai but it did for the 2 days we were there!
We were met by Matthew Preen one of Extreme Charter's partners who drove us to our hotel in Hout Bay.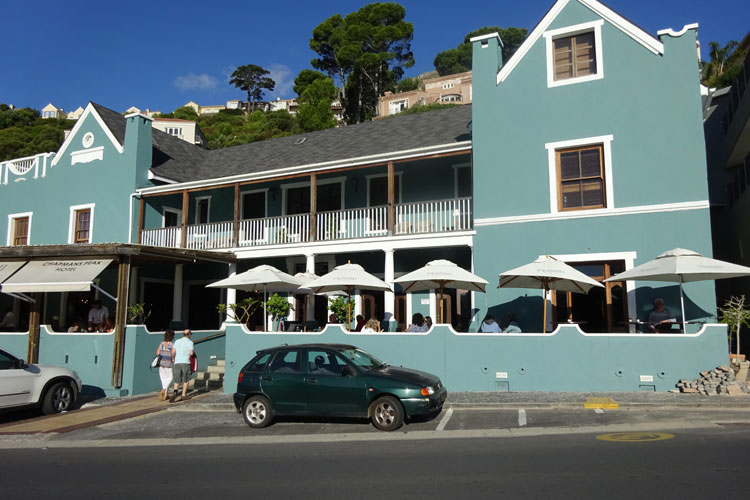 Chapmans Peak Hotel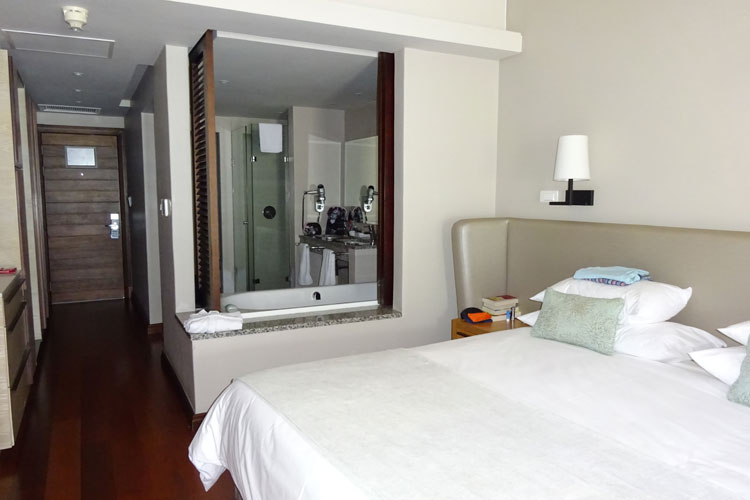 Ocean View Room
We stayed at the Chapmans Peak Hotel where we had a spacious very comfortable room with a queen size bed and 2 balconies looking out over the bay. The staff were friendly and helpful & the food was excellent & reasonably priced.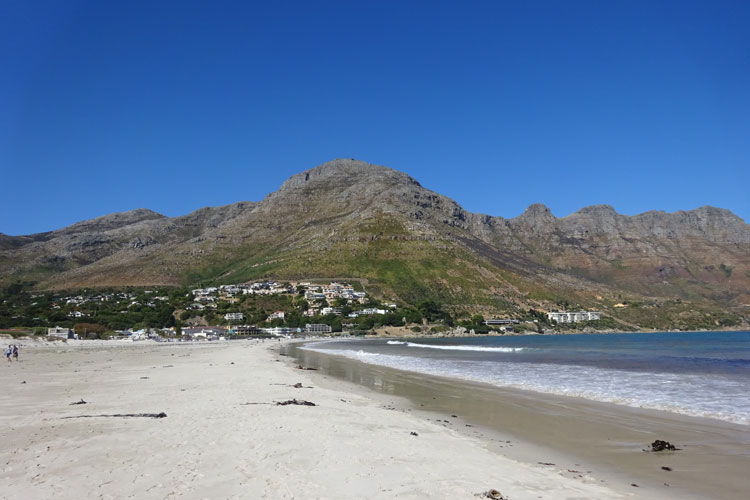 Hout Bay Beach
Fishing was from "Kahuna" which is skippered by James Sara who is Extreme Charter's other partner. James's deck hands Guy & Sharkey were so hard working, helpful & friendly. James & his crew were fantastic! Tuna fishing days were 27th March, 30th March, 1st April & 4th April.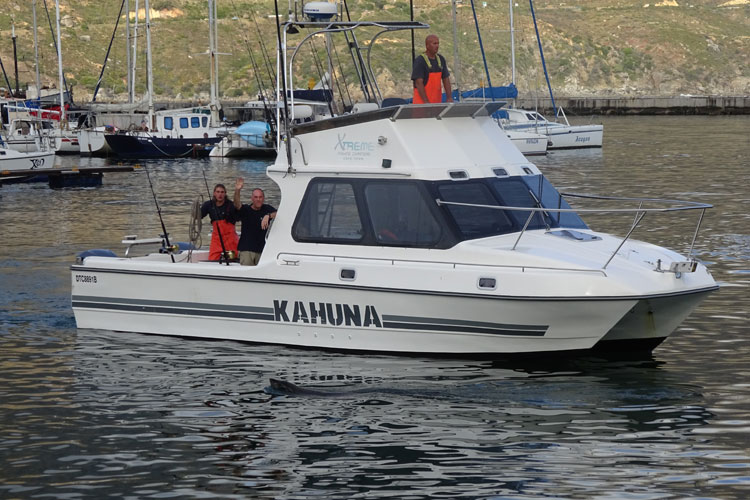 The boat for the week
Day 1: I had yellowfin of 88kg & 91kg.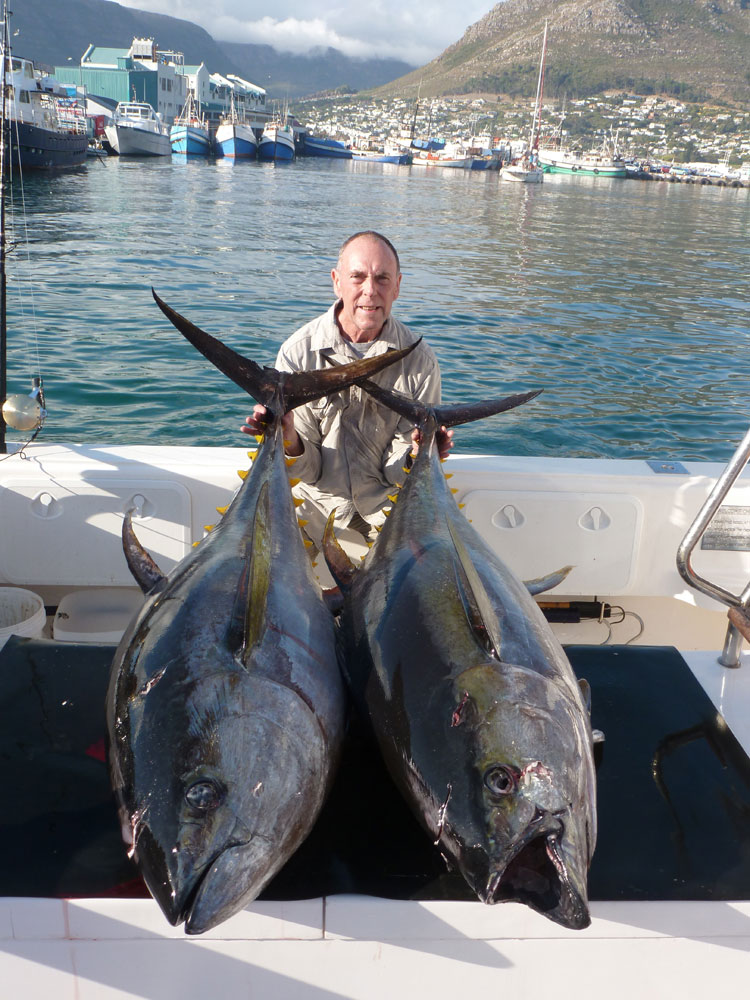 91KG & 88KG Yellowfin Tuna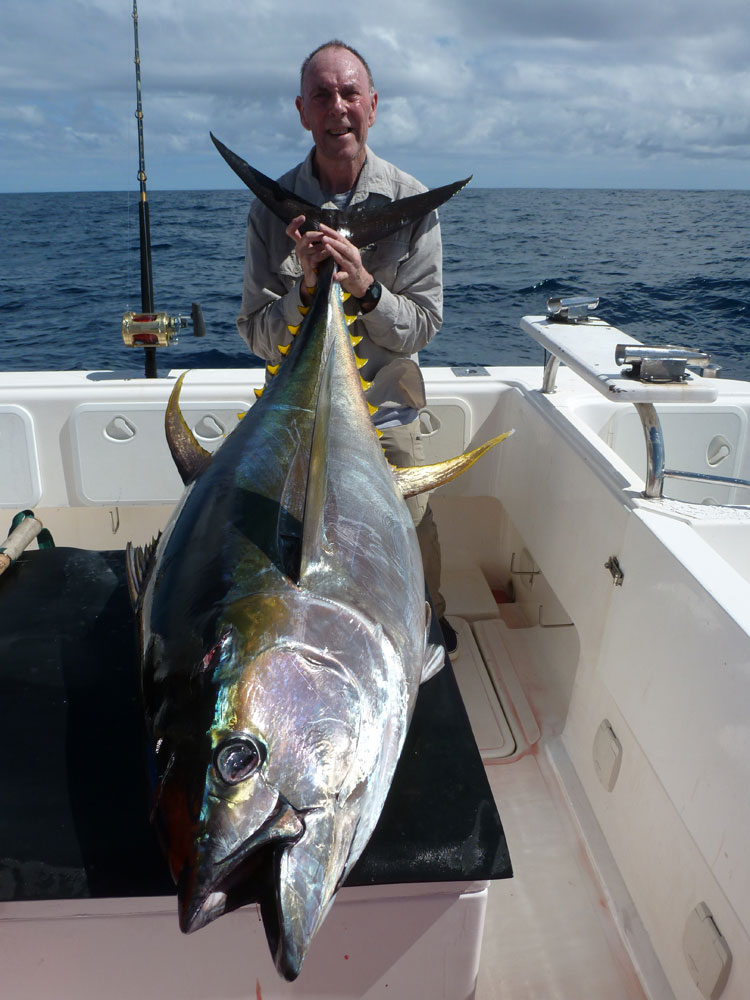 91KG Yellowfin Tuna
Day 2: I caught 2 fish 15kg to 20kg which James organised to be cooked 3 different ways and which were enjoyed by all who were in the Atlantic Boat Club that evening.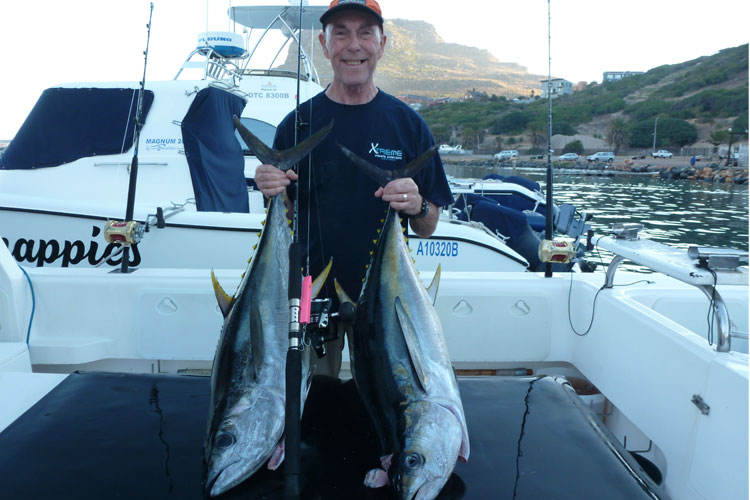 Our dinner for tonight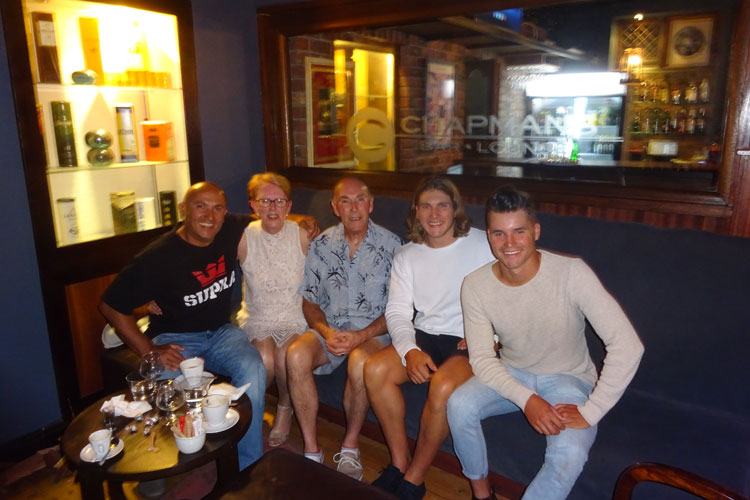 The crew got invited for drinks
Day 3: fishing produced 2 yellowfin of 90kg & 45kg.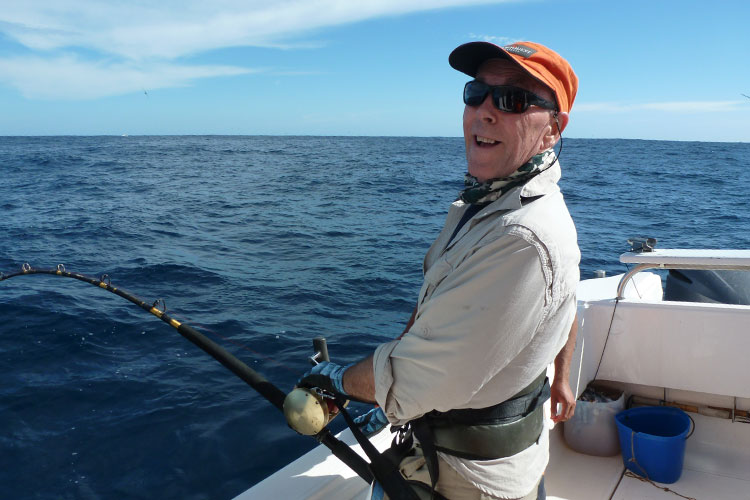 This fish fight hard and long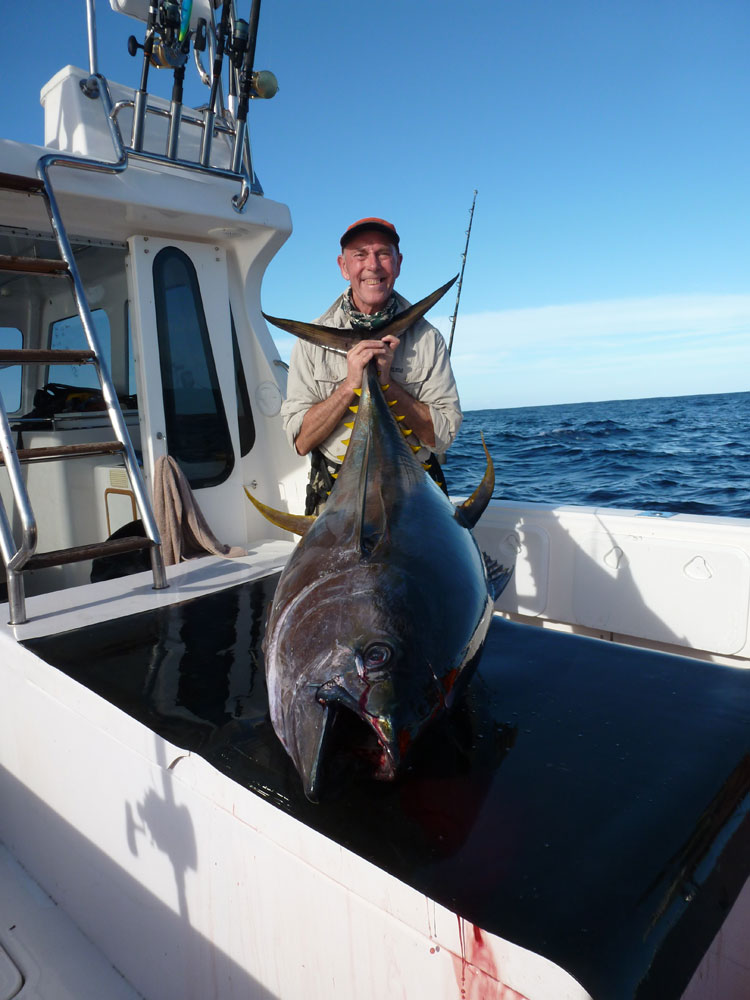 Check out this 90KG Yellowfin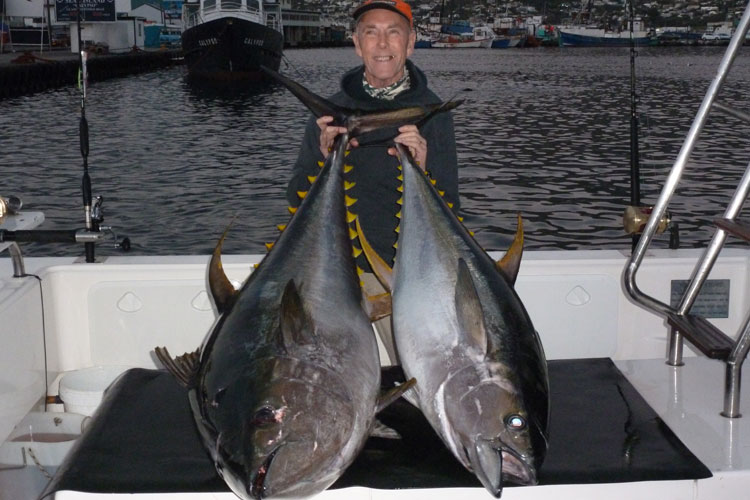 What an awesome days fishing
Day 4: I was fortunate to boat a fish of 95kg! All of the yellowfins fought tremendously hard & fights with the big fish lasted between one & a half to two hours. Tiring but oh so much fun!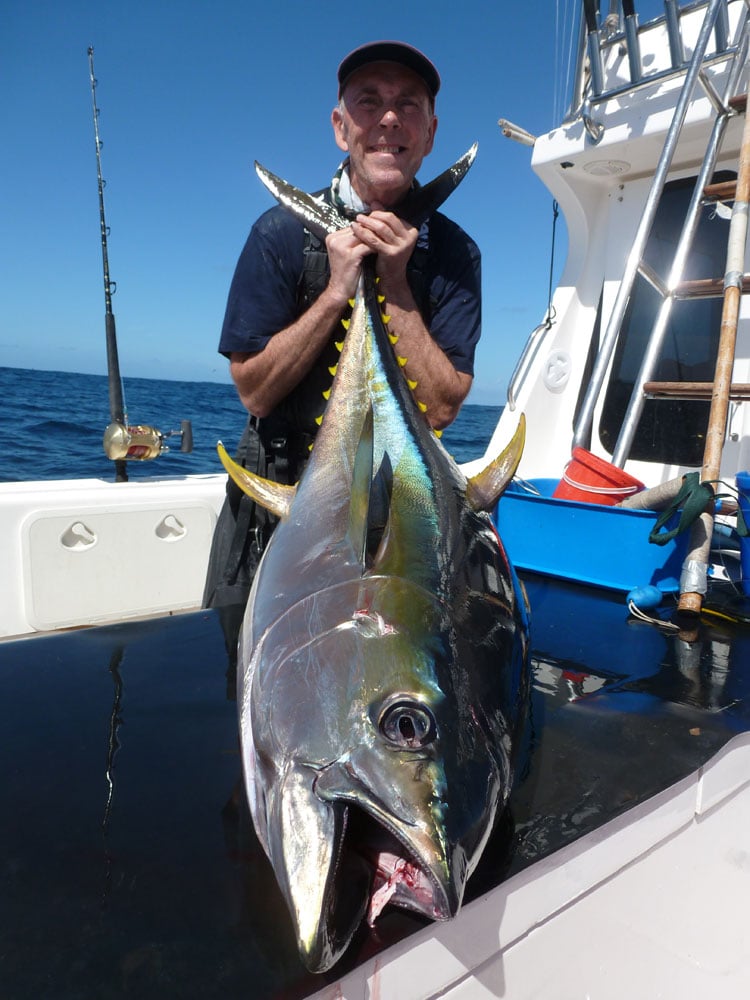 A huge well done Mike on your fish
My wife accompanied me on the trip so we made this a sightseeing holiday as well by adding extra days. The view of Hout Bay from our hotel balcony was fantastic. We did a reasonable amount of sightseeing as there is so much to see & enjoy in & around Cape Town. The hotel can organise a taxi for the day at a very reasonable price & the driver who was both friendly & knowledgeable, will take you where you want to go. Public transport is good as are the "Big Bus" tours which are available in most cities in the world.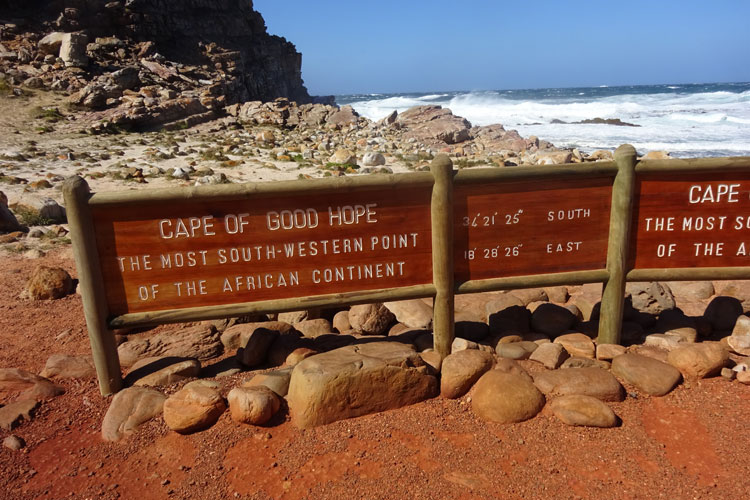 Cape of Good Hope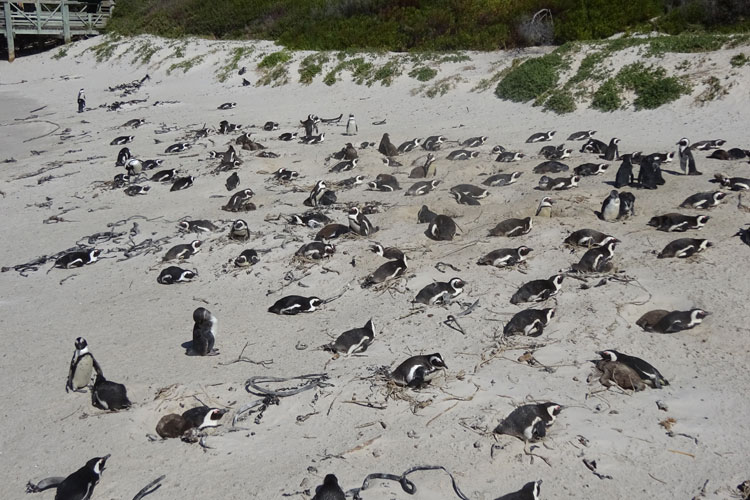 Boulder Beach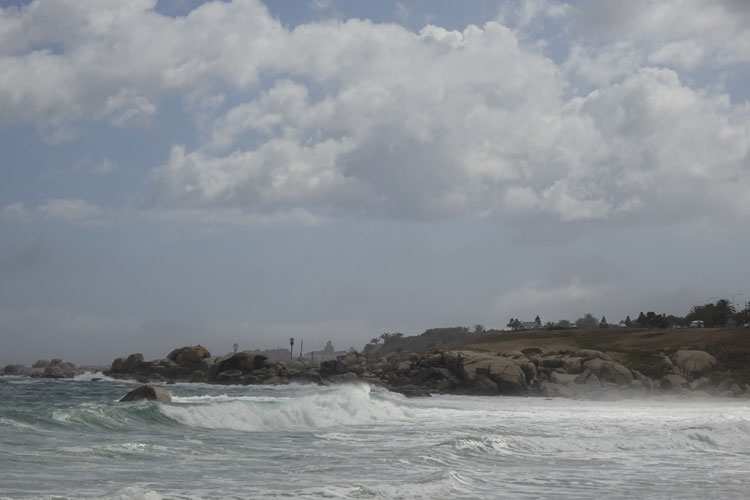 Camps Bay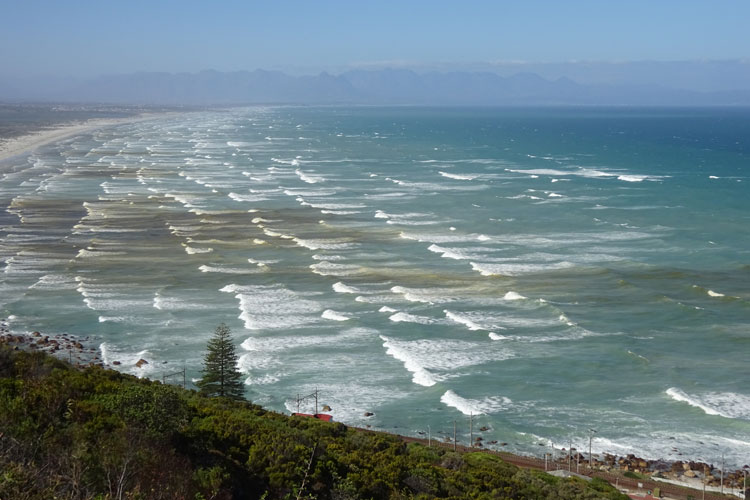 False Bay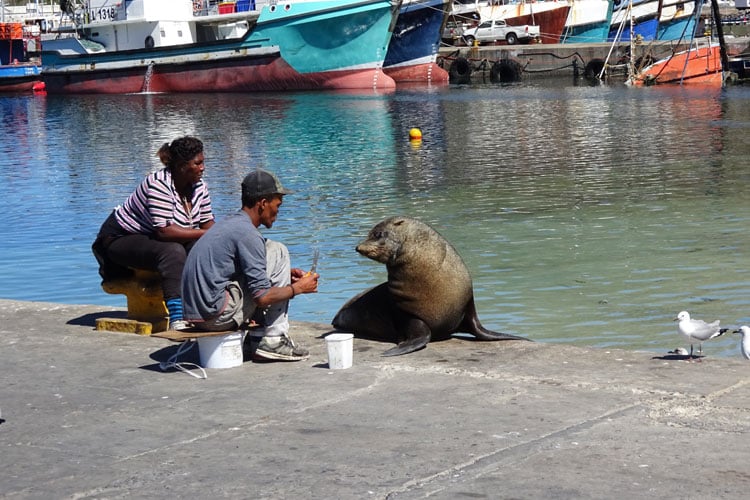 Hout Bay Harbour
The whole holiday experience was really excellent. Extreme Charter's James & Matthew were brilliant, the fishing was great, the hotel was good, the sun shone most days & the locals were friendly. All in all a fantastic experience!
Wow, it sounds like you guys had a great time. If you would like us to tailor a holiday for you simply call us on 01603 407596 and we can recommend some other activities you can take part in whilst on your next fishing adventure.
To view this Yellowfin Tuna trip CLICK HERE
Tight lines
Paul