There have been some truly monster fish caught from Å this last week, take a look at this report we have received from the guides out there.
The fish on Å this season have been well above expectations when it comes to Cod and Halibut. And the start of this week was definitely no exception.
The first day of this week started with rainy weather, sunshine and full wind.
The fishing was a little slow before all the boats managed to find the fish, Cod to the right and left, no insane amounts but still okay results.
In the middle of the day, we heard from Boat 8 that Fredrik Melander just landed a true dream Halibut over 190cm (223lb est) and with it one rated best of the year on Å.
Congratulations!!.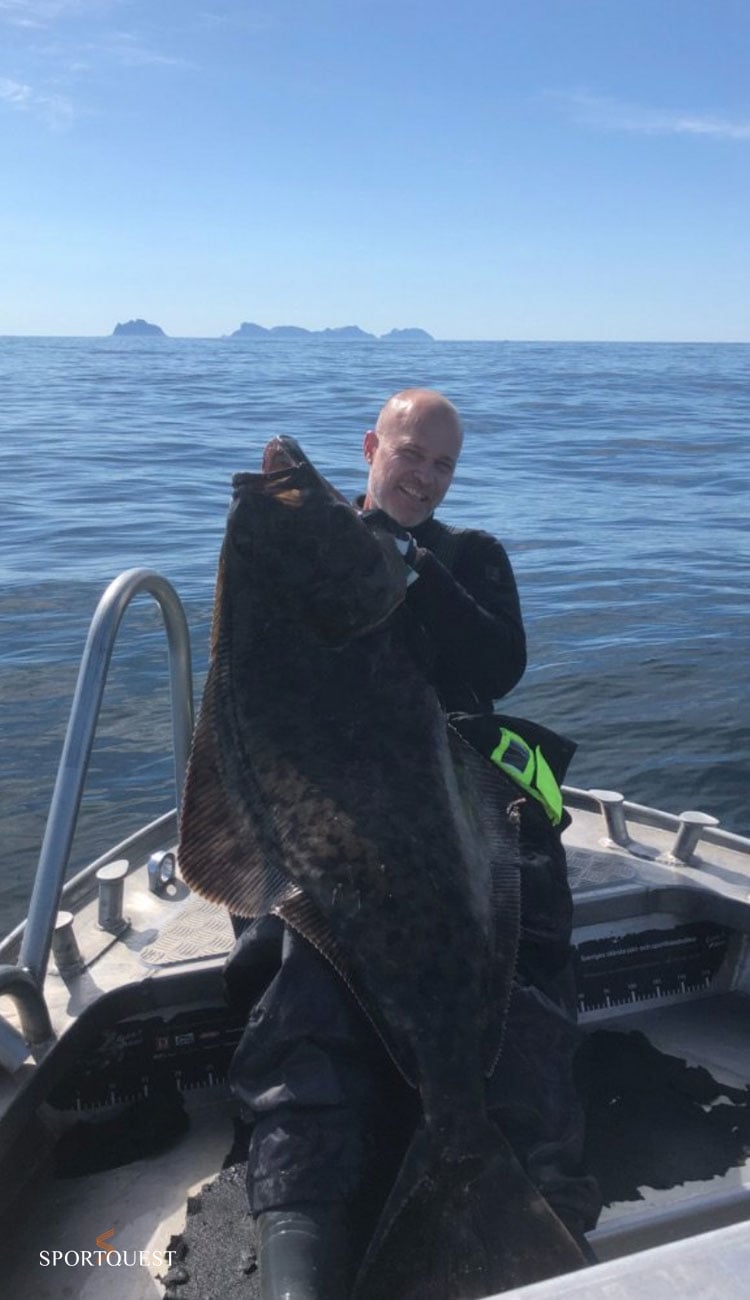 The fishing continued and it was reported on the radio that many cod were being caught to 21kg and a few nice Halibut just over 1 metre.
Later in the evening when all boats came in, we got a summary from all the boat teams, and in boat 5 that Mattias "boa" Johansson was a very happy man and has landed a dream fish and the first 200cm (263lb est) Halibut of the year from Å. Absolutely crazy day with two real giants, both of whom were allowed to swim away after measurement and some beautiful photos.
Day # 2 Friday,
The pilot boat left the port just after 8 o'clock in the morning to drive for a longer distance of about 1 hour and look for Cod in a place not previously fished in the season. Once on the mark we drove around and searched some fish using the echo-sounder and found a lot of baitfish but not a lot of Cod. We decided to search a steep edge down 105m deep where we could see fish so everyone let down jigs and when we hit the bottom bites were instant. This continued throughout the morning where we got lots of fish between 8-15kg and a massive top fish of up to 23kg +. Before lunch we decided to stop fishing in this area as we had enough fish for today's handling in the harbour.
André went out with one of our two British groups day to fish for Halibut. It took only 2 minutes for André to hook the first Halibut of the day and in the same spirit it continued during the first few hours where they landed a total of 4 Halibut in their boat.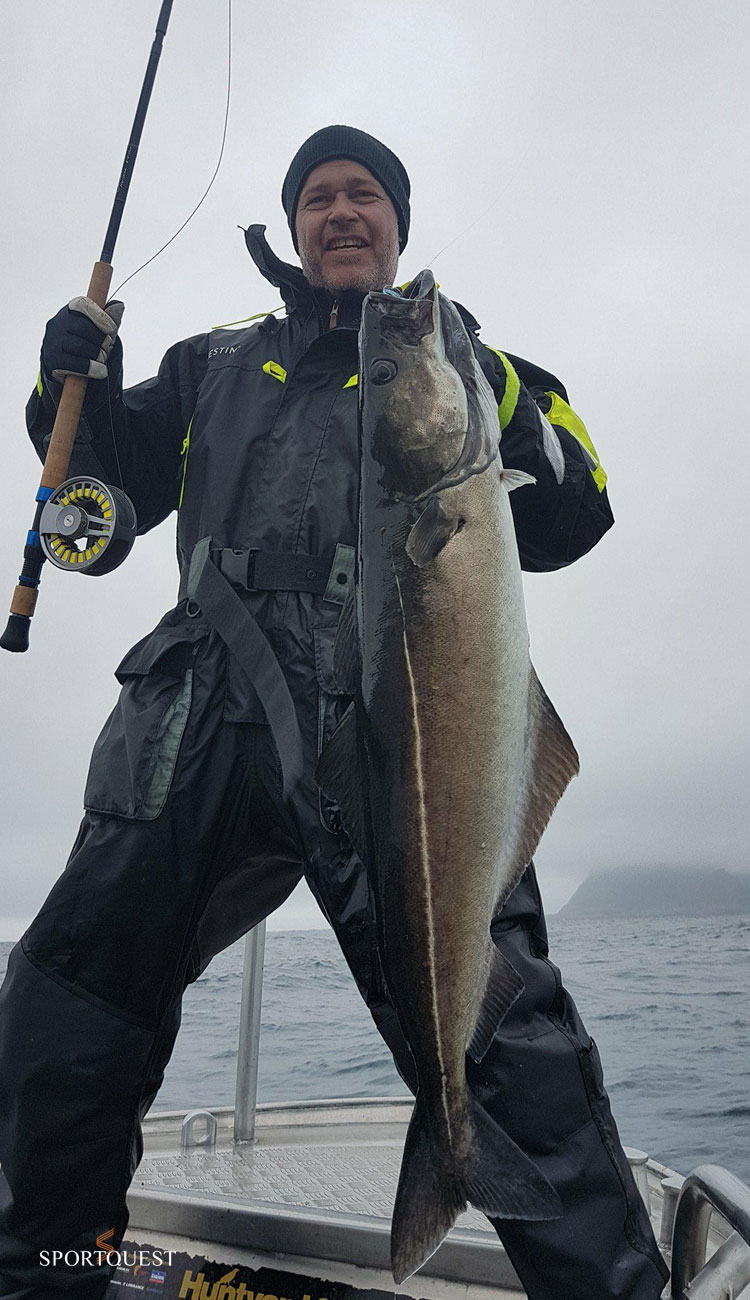 Day # 3 Saturday
We took the guide boat out to fish for Halibut at 08:00. The weather conditions were slightly worse on the first two days but we went to the places we wanted to fish anyway. Even in the first operation, Mikael gets a nice flounder of 82 cm (14.6lb), and it also fishes in the neighbouring boat where they got a fish of just over a metre.
Boat 8, which steered north, had a little slower fishing in the morning, but later in the day, the boat caught two Halibut at just over the meter and a 3rd Halibut in the aftermath. On their way home they stopped to see if there was any active hunting birds hitting the water.
Most of the boats from the camp left at 08:00 with a view to fish for Cod, and then went to the same place where the guided boat had been on Friday. It did not take long before all the boats hooked large cod between 10-16 kg with a pair of nice fish just under 20kg and a real Monster cod of 24kg + amazing in June !! !!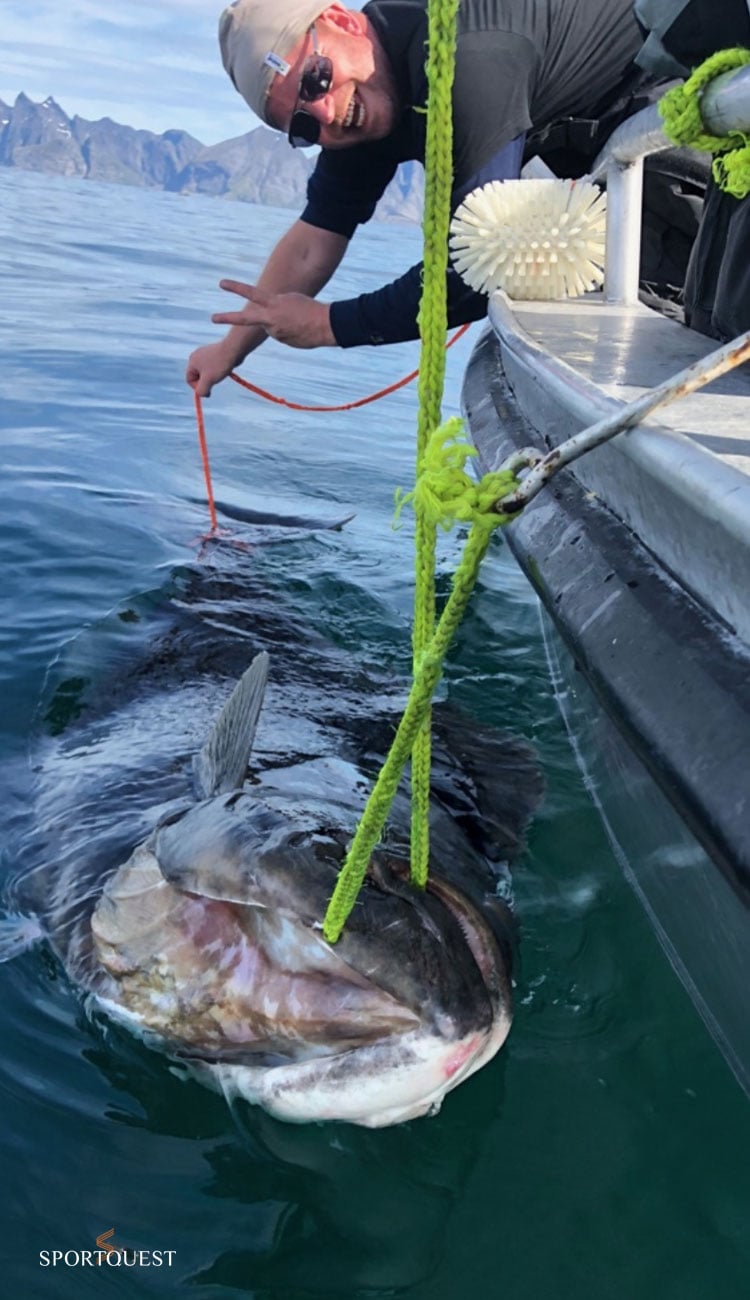 Now the weather forecast looks really tough the next few days left for this week, but we can only take one day at a time.
Tight lines!
Alexander Lindgren & André Starkenberg.
WOW!! Those are some truly massive Halibut, thank you both Alexander and André for sending us the report, hopefully next time we will hear of even bigger Halibut being caught.
Tight Lines
Matt