Yet again the destination of Å is producing some monster fish! The guides have sent us a report from the last few days and it appears the halibut are there in numbers and some of them are complete monsters.
This week we have had the annual Catch With Care week here on Å. 27 devoted anglers with a lot of routine and knowledge arrived on Wednesday night. The conditions for the coming week looked perfect and the feeling was that the next monster was not far away. The boats left the harbour on Thursday morning in the glorious sun, all boats fished in the same area where we know that there is a lot of fish and very large fish too.. Eino has previously landed large fish and is a very good fly fisherman, but this was something heavier than he previously fought. After a long and hard battle, he and his comrades aboard Tomas Szalai and Tomas Johansson secured a huge 213 cm (322lb est) fish. A new year best here on Å and a new impressive personal best for Eino. After a quick photo session, she was allowed to swim home again.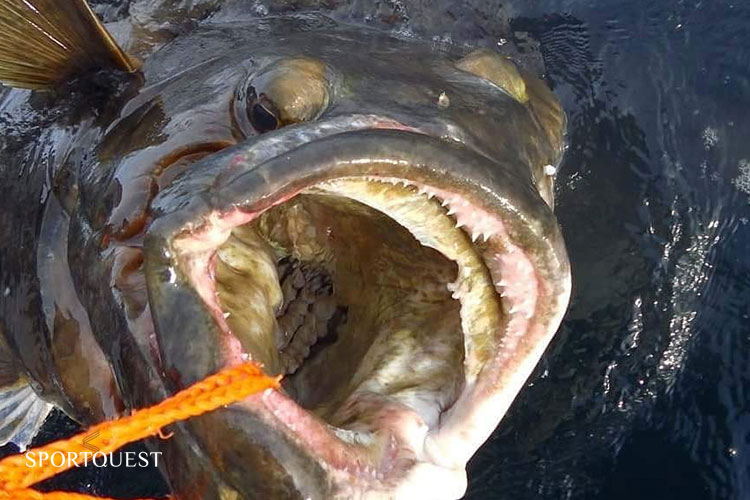 My colleague Alexander has had a holiday in this beautiful weather and has had his brother, father and cousin visiting and of course there has been a lot of fishing for their part as well. After listening to the radio on Eino's dream fish, they were all excited and the goal was clear. Only a few fish counted… An hour after Eino caught and released his halibut Christoffer's rod slammed over and now it was heavy, really heavy at the other end! After a couple of minutes of fighting, the fish comes up to the boat and it's huge. Alexander takes the punch to pull the halibut the last bit to put the halibut hook, but then it turns down to the bottom again. Christoffer pumps on but after a couple of minutes, the hook releases and the weight disappears. Alexander estimates that the fish was somewhere between 220-230 cm (360 – 410lb est). So sad to lose such a fish, Bosse in boat 9 also catches him in the afternoon a real dream fish of 185 cm (204 lb) est.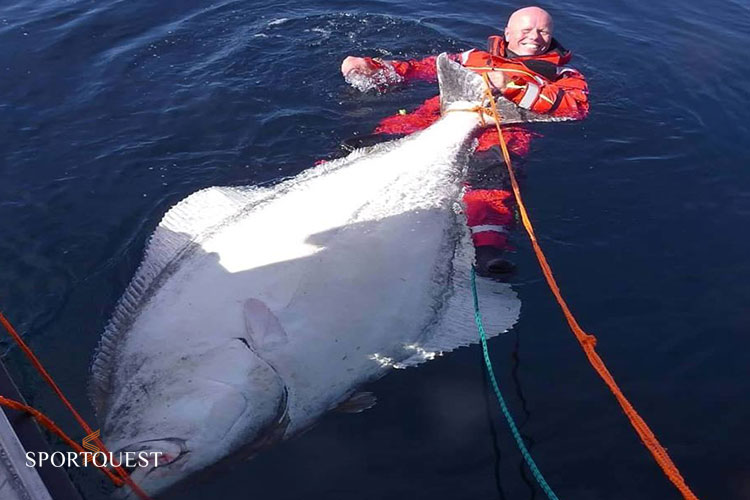 During the following days, all the boats fish really well with several really fine fish up to 150 cm ( 103lb est) in the top. But on Sunday it would be time again! This time Eira gets the fight of her life and after a long battle, her comrades Stefan Trumstedt and Torbjörn Osén in the boat help her secure a huge 218 cm fish (347lb est)! Which we know is the third largest halibut ever captured by a woman. Not only that, it's the year's best in Nordic sea angling. Big big congratulations to a huge fish and a huge well done, amazingly impressive!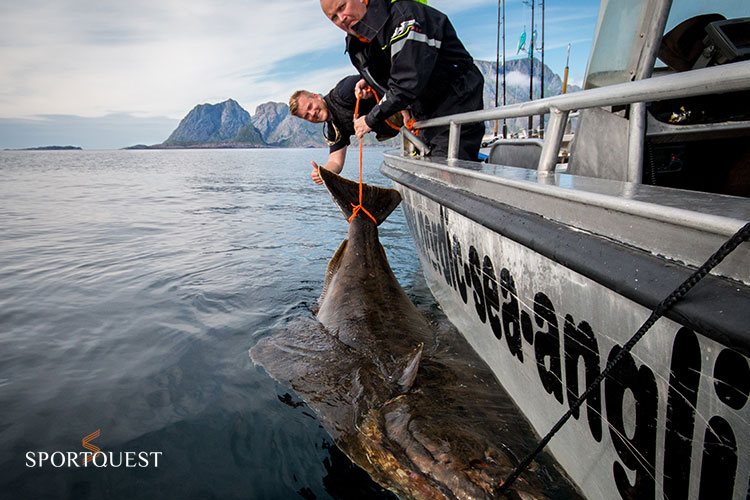 But that would not be over there. A little later in the day, Alexander calls out that they fight really big fish again. After a few minutes of fighting, the fish breaks the surface and Alexander secures it wit. "Light 220 cm" says an excited Alex on the radio and after measurement it turns out that his eye measurements are as impressive as the fish. It measures exactly 220 cm (360lb est) and another year's best for Nordic sea angling is a fact. The fish is caught by Alex brother Christoffer who earlier in the week dropped a fish of the same caliber, what a result !!!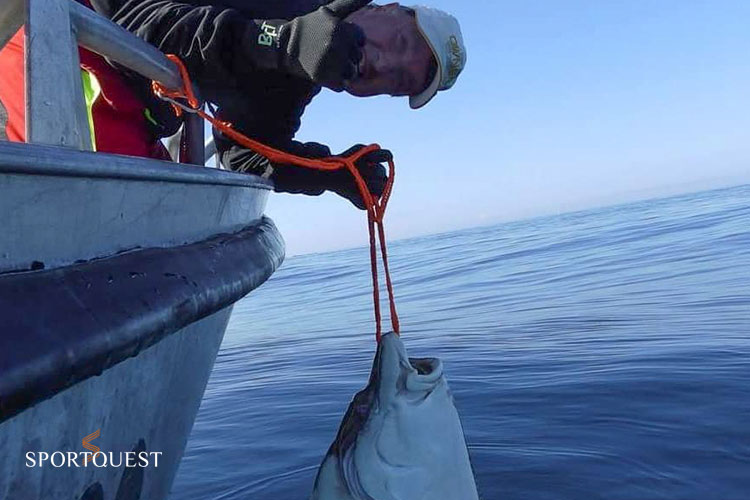 As if this would not be enough, the king Eino landed another dream fish shortly thereafter at 196 cm (246lb est)!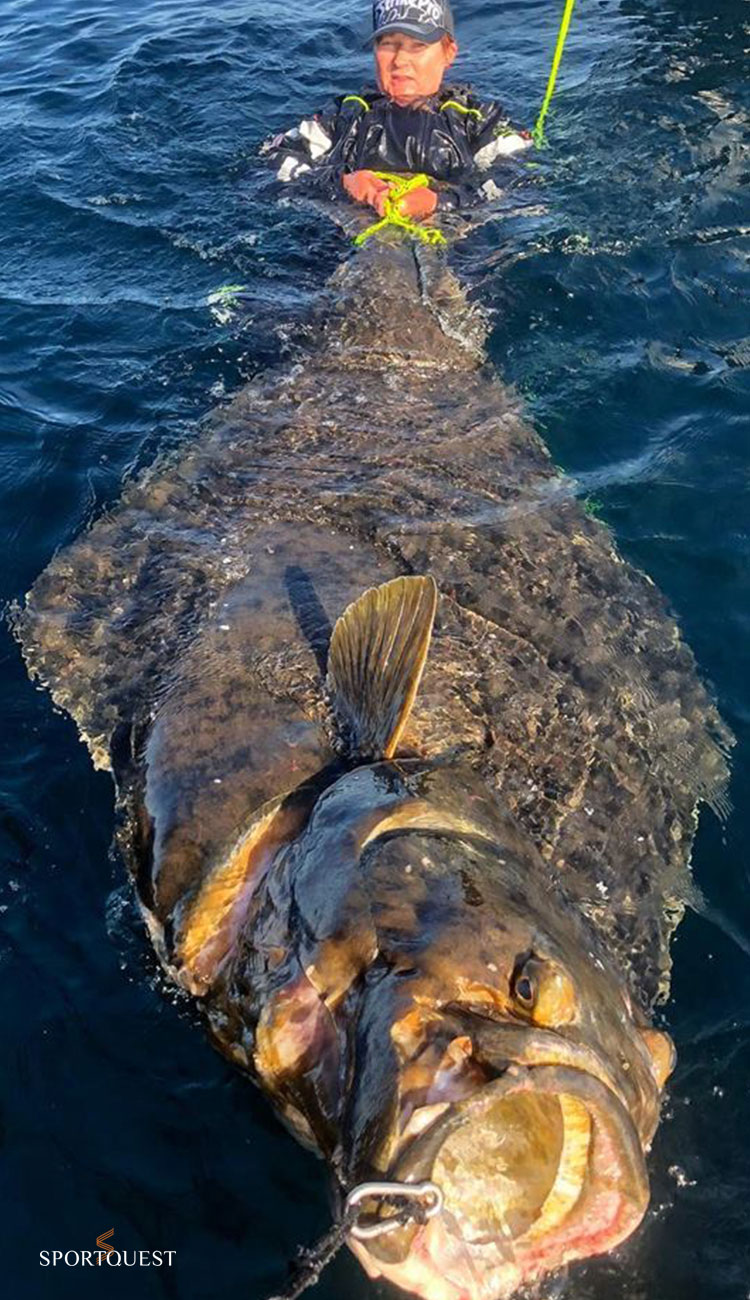 During the Monday we will take a leap and we will take a rest day. During Tuesday's fishing, landing again is a great deal of fine fish and Stefan Trumstedt draws today's biggest of 156 cm (117lb est) a good end to a cruel week and I do not know what superlatives can describe these days.
A good week at Å simply!
Tight lines!
André Starkenberg and Alexander Lindgren
WOW! Those are some truly monstrous fish, it looks like Å is fast becoming the place to go to hook into a massive halibut.
Why not take a look HERE and get yourself booked up ready to do battle with these big brutes in the near future.
Tight Lines
Matt