The camp of Nappstraumen closed a few weeks back but the guides are still there on a navigation course, whilst there they have been getting a little bit of fishing time in and the Halibut fishing is proving to be very good still. Have a read of this report we have been sent by the guides that are there and see for yourself how the Halibut are still on the feed.
Our course has finished up here on the Lofoten Islands. We have spent the weekends at the school desk reading navigation, shipwreck, engine learning, safety, etc. Today we have been driving an 83-foot fishing boat to learn some manoeuvring, navigation and radar navigation.
It's not as easy to steer as the Arron boats but it's always fun to learn new things, you never know when it's possible to get new experiences.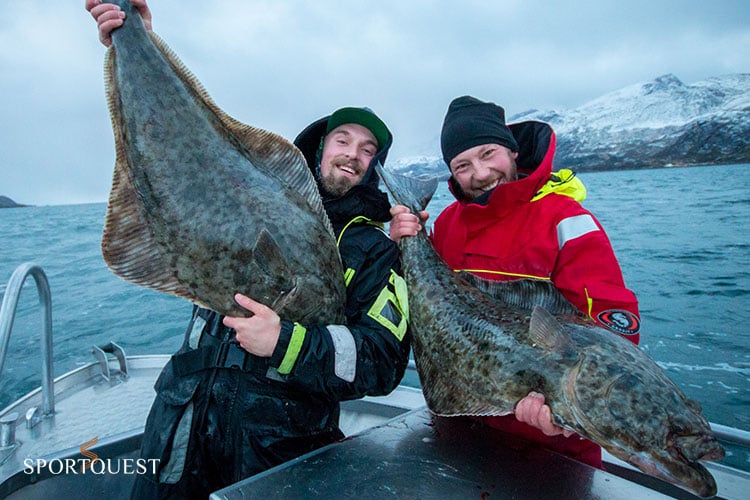 But of course we have had free time at the weekend and of course we have a boat in the water and there have been a couple of trips in search of big halibut in Nappstraumen. The days are short here up now, so fishing time is limited. We do not have more than an hour's fishing a day, but despite this it has been really good action this weekend.
On Saturday we kicked out just after 9 o'clock, we started catching some bait fish, which took some time,  the current was quite strong and we found it hard to find the bait fish. But at 10 o'clock we were in place and fished the flood using anti-twist rigs.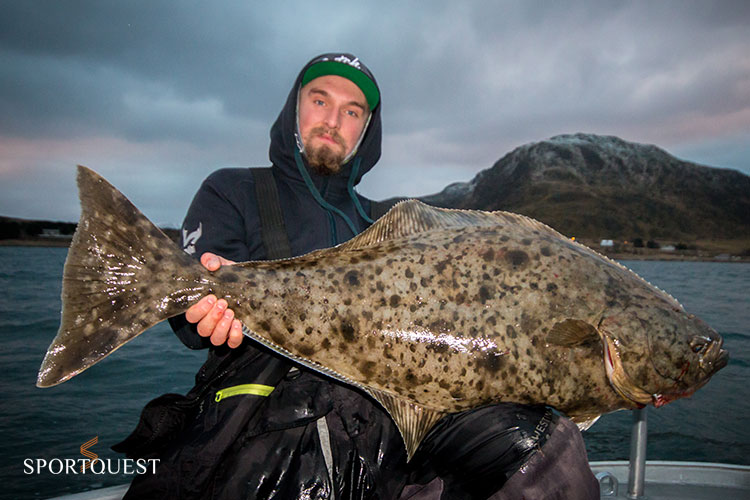 Once fishing we saw a nice fish coming up on the echo and it sucked Douglas shad right in. Halibut have a really good fight in them and we are a little fond of these big flatfish, once looking at the fish when we landed it she went 107 cm (35lb est).
We have 5 more contacts during the day but the halibut are biting carefully and we cannot hook any more fish …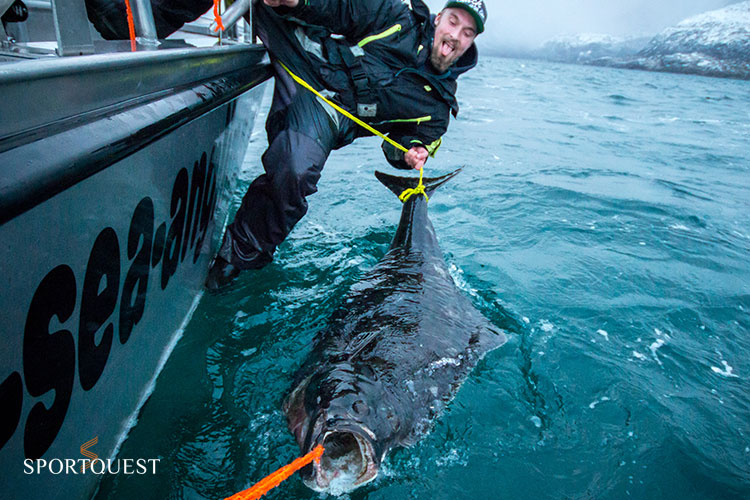 On Sunday morning we get out again, the weather is about the same as the day before, with northwest wind brings snow with it as well, winter is coming! It takes a couple of hours before we have the first hit, just when the day's worst now/ wind comes in, a nice echo comes up from the bottom and takes Douglas baitfish. Douglas puts on the brake when the fish goes to the bottom but unfortunately, he pulls the baitfish out of the mouth of the halibut. Only a few seconds later, it hits in Andrés shad and he hooks the fish. Two seconds later Douglas rod goes over, this time it holds DOUBLE HOOK UP! We land both fishes measuring 100 and 112 cm (38 – 40lb  respectively). Only 10 minutes later it's time, again it's on Douglas rod and when he hooks the fish it's heavy at the other end, after a really good fight it comes up to the boat and we can secure and measure the fish to 150 cm (104lb est). After a few pictures, she is allowed to swim home again!
On Friday the course is over and we return home to Sweden. The darkness is around the corner here in Lofoten  and winter awaits, the boats will rest for a couple of months before we return to hook into big halibut. For us it is now a calm winter and some other adventures before we return to Norway. In a week André and Douglas are in the Maldives popping for the GT, a bit warmer and almost as fun as learning about sea charts.
Tight lines!
André Starkenberg, Douglas Dahlberg, Alexander Lindgren and Marcus Eriksson
Thank you for sending this report over, it looks like you are having some great fun in your down time from your course.
Join Sportquest Holidays in 2019 or 2020 in Norway and sample the superb Halibut fishing for yourselves.
Tight lines
Matt