This Unique Hosted Trip Exclusive to Sportquest Holidays is a combination of the two most famous Atlantic Salmon fishing destinations in Quebec, Salmon Lodge & Camp Bonaventure.
We are extremely excited to announce this new hosted trip for 2017, which is not normally available, as the fishing at both these destinations is in set weeks. By working with Glenn the owner we have managed to tailor a itinerary with 7 days full fishing but with 4 days at Camp Bonaventure followed by 3 days at Salmon Lodge. The benefits of this hosted trip will be that everyone will get to fish and have access to the whole of the three rivers & beats covered by both lodges. Thats over 80 miles of crystal clear rivers at a peak time to target the Atlantic's both on wet and dry flies.
OVERVIEW
The first half of the week everyone will stay and fish from Camp Bonaventure, which provides the opportunity to fish three, fabled Atlantic Salmon Rivers.
The Bonaventure which is legendary for its water clarity and its sight casting opportunities, where underwater visibility exceeds 150 feet.
The Petite Cascapedia is also known for its gin clear picturesque pools holding big Salmon.
Half way through the week, we will all transfer to the famous Salmon Lodge, where you will fish the Grand Cascapedia, renowned for producing some of the largest Salmon in the world.
Mountain streams and spring fed brooks supply these rivers with cold water throughout the entire summer keeping them cool and clear and great fishing conditions remain consistent all season long.
Fishing each day will be based on only two anglers per guide, plus the Sportquest host will rotate each day between the group, ensuring that everyone is having a very enjoyable time.
Our hosted trip is designed to travel at a peak time of the season, when there will be lots of opportunities to fish for big Atlantic Salmon using wet flies and even dry flies. If you have ever wanted to fish Quebec's famous Atlantic Salmon rivers but are a single angler, this trip is perfect for you.
All levels of fly fishing experience are welcome as our job is to make sure you catch fish and have an amazing time.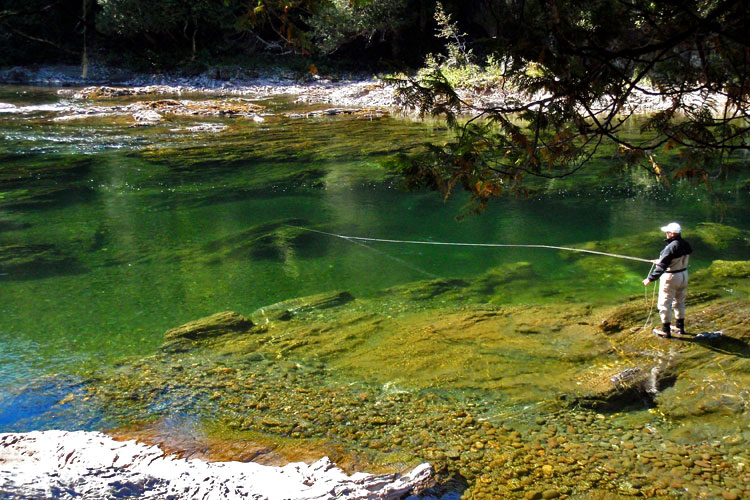 Imagine Atlantic Salmon fishing in these crystal clear rivers.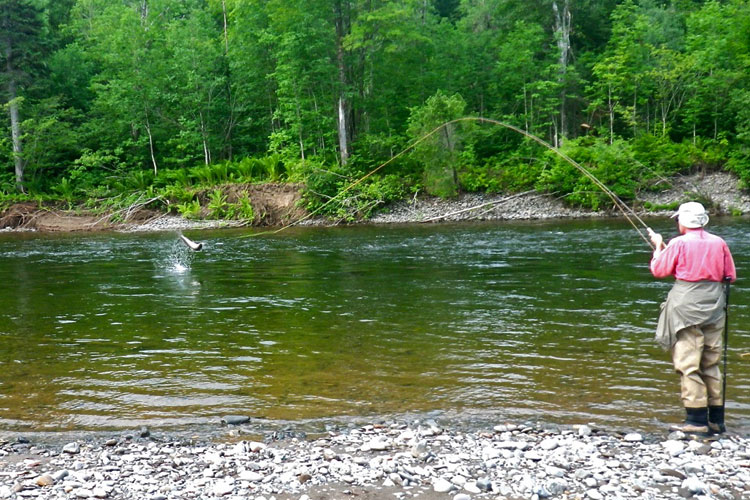 BRIEF ITINERARY
Day 1: Depart UK arrive Bathurst
Day 2: Transfer to Camp Bonaventure
Days 3 to 5: Full days fishing at Camp Bonaventure (based on 2 anglers to 1 guide)
Day 6: After full days fishing transfer to Salmon Lodge
Days 7 to 8: Full days fishing at Salmon Lodge (based on 2 anglers to 1 guide)
Day 9: full days fishing before transferring to Bathurst
Day 10: Depart Canada
Day 11: Arrive back UK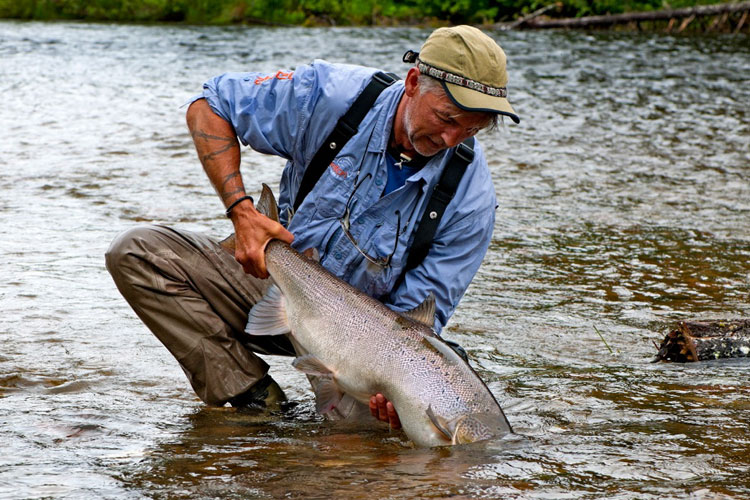 A big hen Atlantic Salmon being sliced back by a very happy customer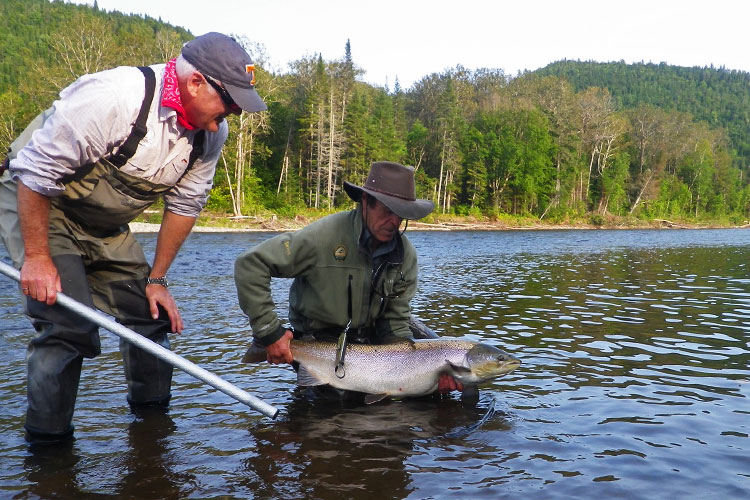 Sportquest Holidays is proud to be different and still the one and ONLY specialist tour operator to offer you complete fishing holiday packages from around the world, detailing exactly what are both included and excluded. Plus all our destinations are shown and charged in UK Sterling.
WHATS INCLUDED & EXCLUDED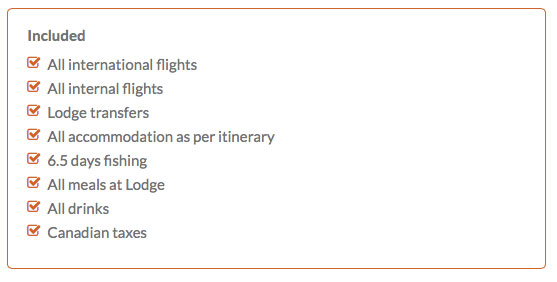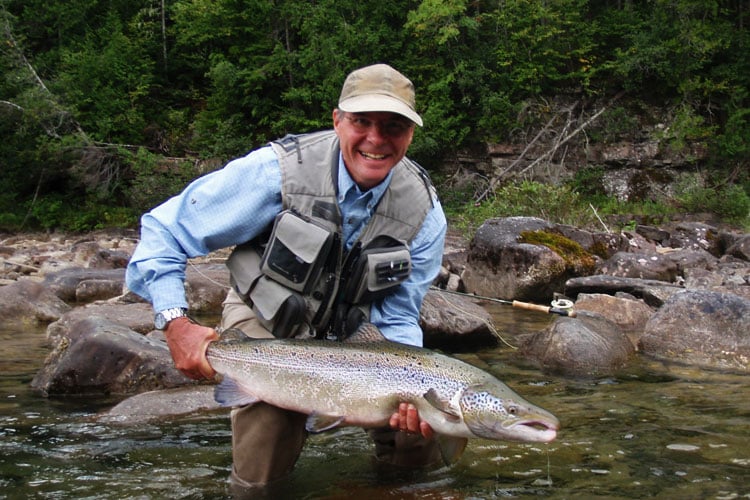 Great memories & happy customers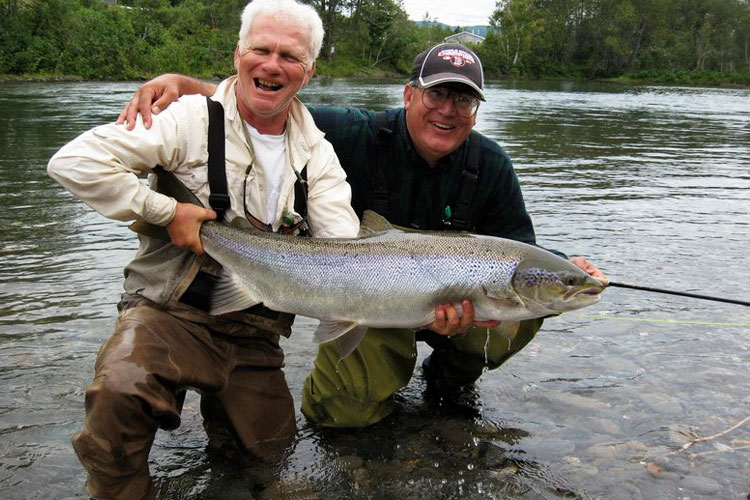 DATES & AVAILABILITY
Depart UK 02/09/2017
Return UK 12/09/2017
If you have ever wanted to fish for Atlantic Salmon on 3 rivers surrounded in the most stunning scenery and fish with top guides, this is a trip that you definitely do not want to miss. But you do not have to take our word for it as past seasons results speak for themselves.
View all the previous season fishing reports Here
To see the full trip details & prices Click Here
If you have any questions or want to find out more about this fabulous trip, feel free to contact myself personally in our office on 01603 407596 as I will be hosting the trip.
I very much look forward in spending time with you on the river.
Tight Lines
Peter Collingsworth