We are pleased to announce and release our BRAND NEW hosted week fishing for Steelhead on the Santa Cruz River Argentina.
With our partners we have managed to open up this well kept secret of outstanding Steelhead fishing, for a few privileged anglers each season.
OVERVIEW
This special hosted Steelhead fishing trip on the Santa Cruz River that flows out of Argentina's largest lake is home to a huge population of Steelhead.
These fish have often been credited as being one if not the hardest fighting migratory fish and the specimens in Santa Cruz are no exception.
From late February to May chrome bright Steelhead enter the river from the ocean in huge numbers. We've been able to set our cabins next to probably the most productive piece of water in this river due to its structure holding and spawning water.
On this hosted trip we have divided the fishing into four different beats and over 30 named pools. Guests will rotate among the different zones to fish the most productive pools and runs. In case of difficult weather conditions, we've made a river road that parallels beats 2 and a part of 3, accessible by truck and only a few minutes away from the cabin.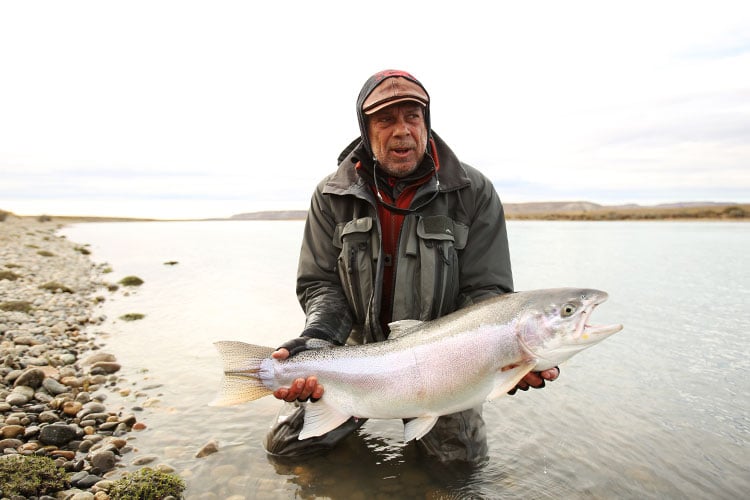 What a cracking fresh run Steelhead from the Santa Cruz River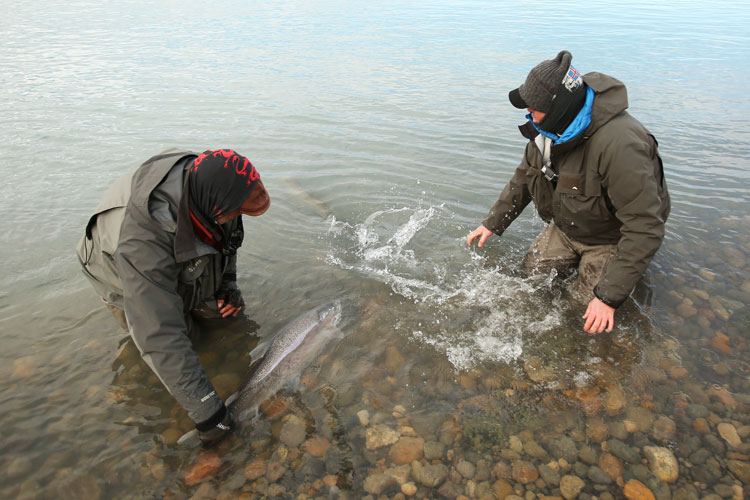 BRIEF ITINERARY
Day 1: Depart UK
Day 2: Arrive Buenos Aires, Depart Jorge Newbery, Arrive Rio Gallegos
Days 3: Early morning driven to Santa Cruz, Afternoon fishing
Days 4 to 8: Full days fishing (based on 2 anglers to 1 guide fishing a rotation system)
Day 9: Full morning fishing driven to Rio Gallegos, Depart Rio Gallegos, Arrive Jorge Newbery Overnight Buenos Aires
Day 10: Depart Buenos Aires
Day 11: Arrive UK
Note: We do have an add-on program to fish for Sea Trout the week before should you wish to have a 2 week fly fishing adventure.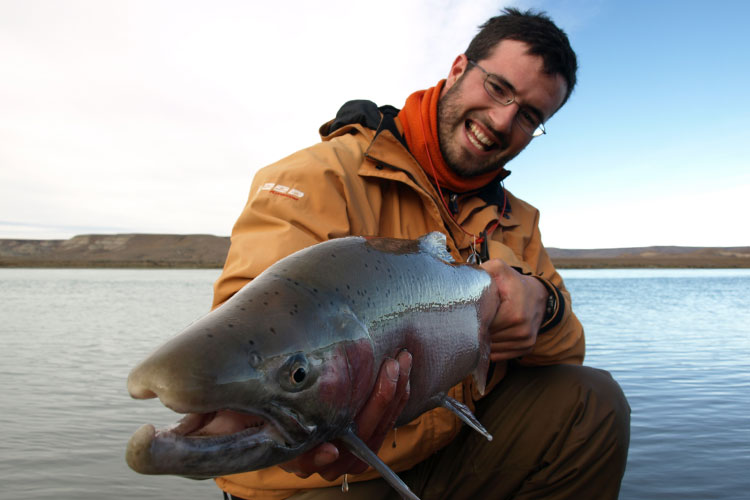 Two of our excellent guides from the Santa Cruz River, Argentina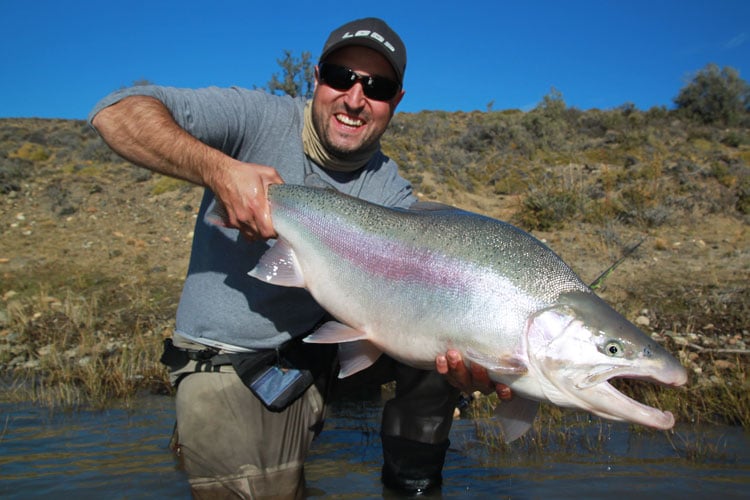 WHATS INCLUDED & EXCLUDED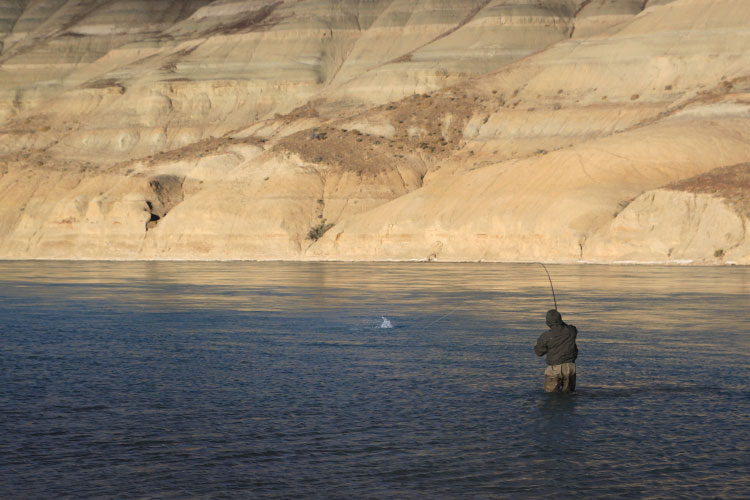 Fly fishing on the Santa Cruz River Argentina for Steelhead, in stunning surroundings.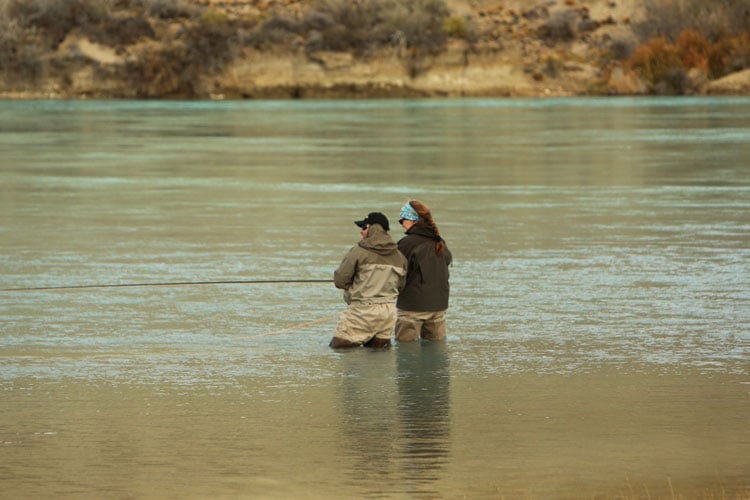 DATES & AVAILABILITY
Depart UK 23/03/2017
Return UK 02/04/2017
Steelhead on the Santa Cruz hit the fly hard and because of the powerful environment they live in, often run out huge lengths of line in acrobatic fashion. Once you hook a fish, your life won't be the same. Some of the strongest and biggest fish of Patagonia swim upstream every year to spawn.
The takes are aggressive and the flow of the river can make you get rapidly to your backing. Chasing these fish is a profound experience and the magnificence of the river and landscape will make you feel its magic.
This is going to be a very special trip and as each week is LIMITED to just 4 rods per week, you are certainly going to get lots of special attention.
To give you a good picture of what to expect you can view all past fishing reports and see just what you have been missing.
View all the previous season fishing reports Here
To see the full trip details & prices Click Here
Note: you can also join me on a hosted week fishing for Sea Trout the week before this trip, making the ideal 2 week fly fishing adventure for both Steelhead & Sea Trout. To see full details of the hosted Sea Trout Click Here
If you have any questions or want to find out more about this fabulous trip, feel free to contact myself personally in our office on 01603 407596 as I will be hosting the trip.
I very much look forward in spending time with you on the banks of the Santa Cruz River.
Tight Lines
Peter Collingsworth