With the weather staying blowy this last week in Vesterålen the boats have been only just able to get out and the fish have been feeding well.
This week we have a wonderful bunch from England, Holland and Poland. Oscar Lundahl flew up at the same time as the Poles and will be here at Vesterålen to help in the camp and with guided tours.
The days here in Vesterålen have been difficult and the cods have not been so much, but the larger seas have been cumbersome and the majority of around 10kg have seen the inside of the boat.
Yesterday, boat 2 chose to fish closer to the camp and found a couple of nice marks on the other side of the fjord. They began to search for the peaks after baitfish and found the baitfish swimming around a small island. At the bottom they saw beautiful echoes and dropped down. It started to fish pretty soon and nice coalfish began to roll over the rails. After about half an hour of fine cod it became a bit worse, and boat 2 chose to fish for halibut instead but this time they could not fool any halibut and after a couple of hours they chose to turn home.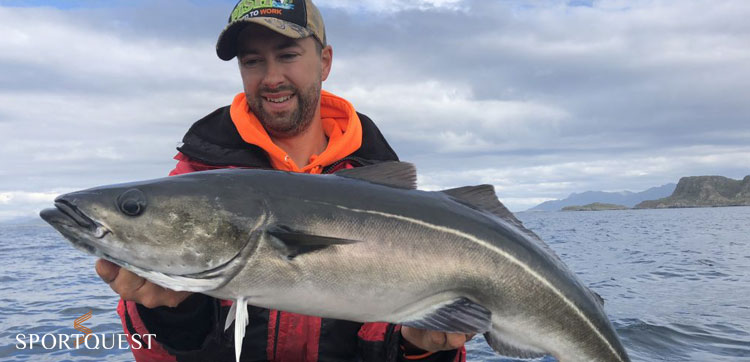 Even boat 3 that was about the same place had fine cod fishing. Boats 4 and 5 with Marcus in boat 4 chose to drive west and search for the cod but found it hard to find them out there. Marcus then chose to change tactics and fish near the bottom with a dead blow and then the result became much better. So after the end of the day we had gathered a whole lot of cod and went home to rest ourselves ready for an evening session.
In the evening Oscar drove out with boat 5 and the plan was to go a little more southwest and try out a few peaks out there. When they came to one of the peaks they saw birds working and the water was boiled by baitfish. It was mostly small, but they could also find mackerel in the mood. Oscar saw a couple of nice echoes on the bottom but when they let down they were finding the cods hard-fledged but they still got a pair of nice coalfish before Oscar decided to turn the boat home and take tomorrow! On Monday we will take a new look and aim for a long trip!
// Marcus and Oscar
Thanks for the report guys, its always nice to hear that the fishing is going well at our destinations, hopefully the weather improves and the fish keep feeding.
To see what the amazing destination of Vesterålen has to offer CLICK HERE
Tight Lines
Matt