Norway Shore Fishing Report Season 2016 What an awesome start to our Shore fishing season in Norway. All weeks are now full for the 2016 season and the guys out there now are having a dream trip with lots of Halibuts being caught and some very impressive Cod. We have been sent a great little report from owner and head guide and if you fancy this style of fishing in Norway then call us on 01603 407596 as 2017 is starting to fill already. Make your dreams come true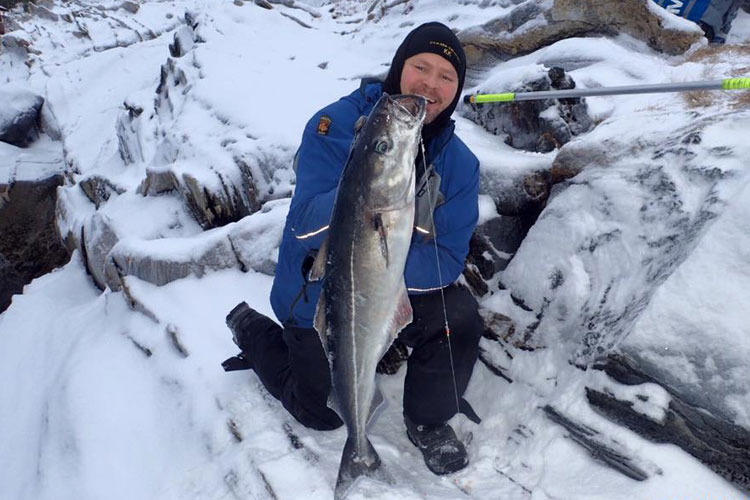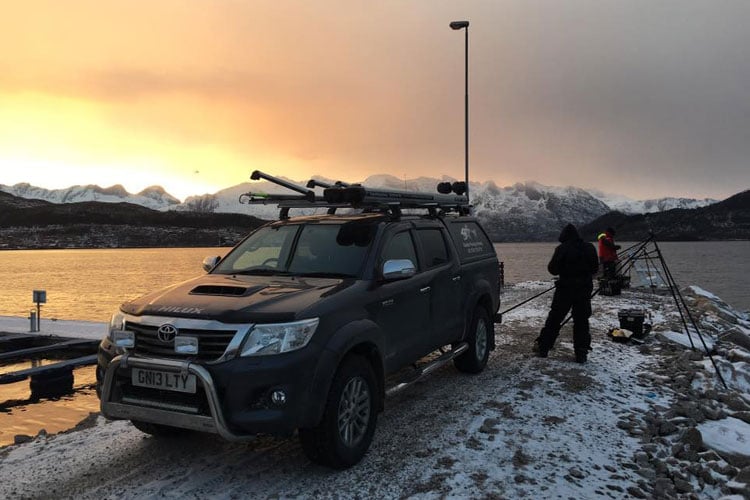 First weeks report from Saltstraumen.
If you go and find a very powerful fan and a cold store freezer room, then try standing in it for 8 hours at a time, you will begin to understand exactly how cold it's been this month!!!
But with the right clothing and plenty of enthusiasm we did this every day and most nights in the pursuit of monsters.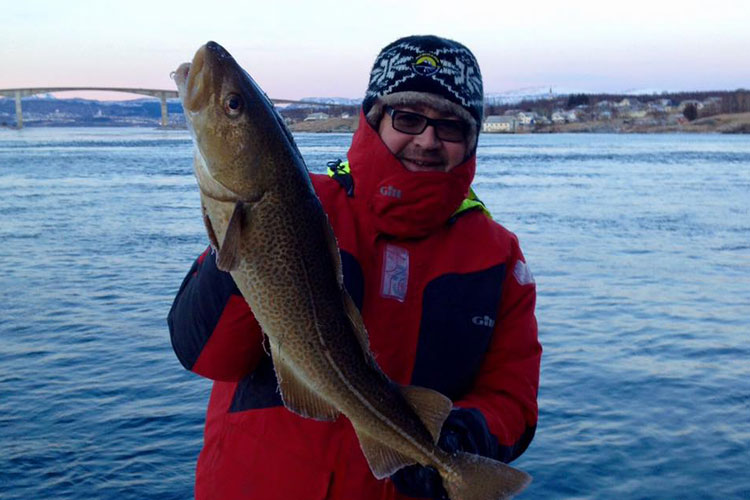 The week began brilliantly with a 30lb Halibut falling to Phil on just about his first cast at a mark 300m from the house. It gave him a new PB for the species and he was over the moon.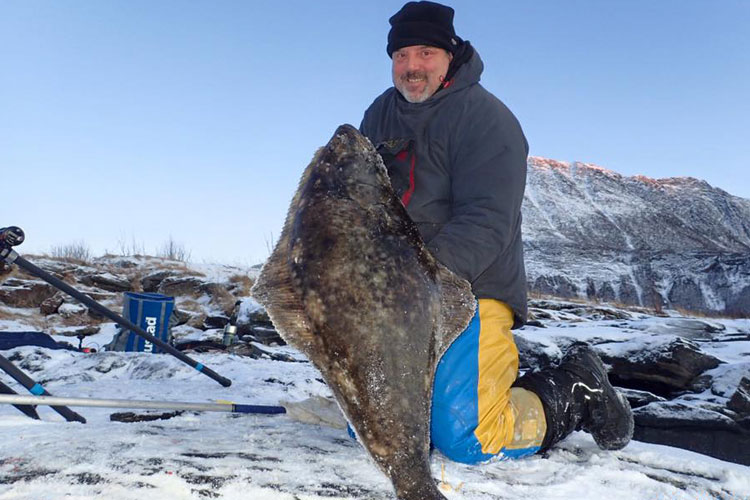 The following day Wayne & Lee fished the same mark. About an hour into the session Waynes rod arched over and his ratchet screamed into life. Wayne's had Halibut from this same mark to over 50lb before, and he thinks this fish was at least that big. Sadly the fish went to ground after a 20-minute struggle and was lost. They are unsure if it was a Halibut or a huge Cod.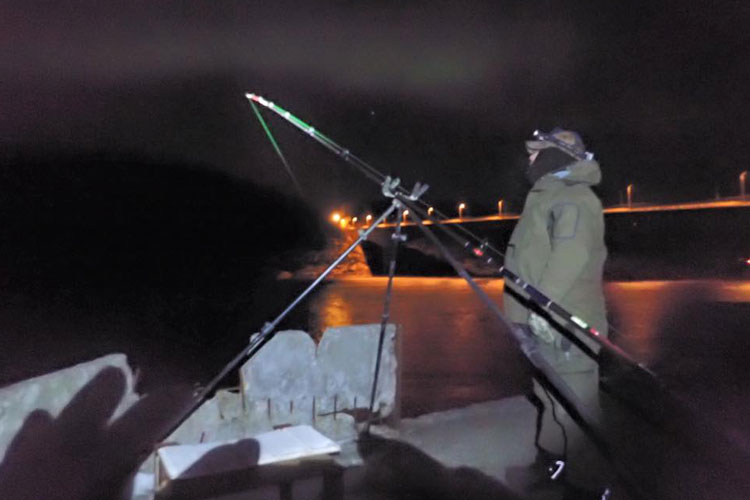 Conditions worsened over the next few days, with the wind gusting to 55mph it made fishing anywhere very very difficult. But we soldiered on and were rewarded with a few tidy fish.
A change of plan was needed so I took the lads for a drive South. We were exploring a new area, which I'd wanted to try for a while.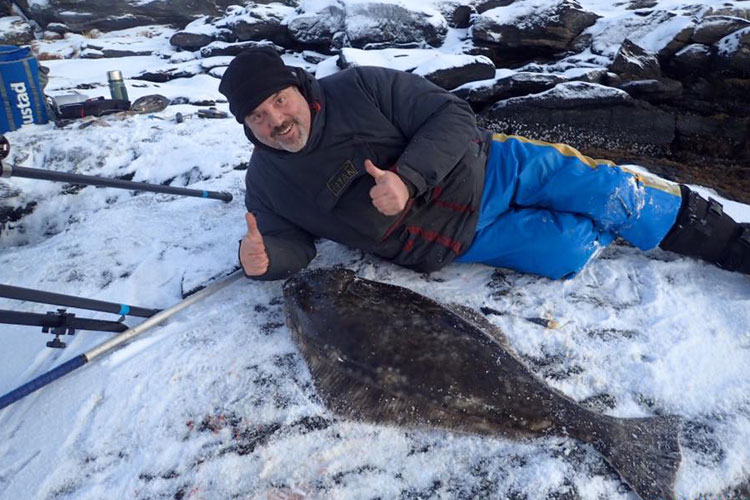 When we arrived at 8.30am we were met with calm seas and no winds. It was still minus 8-10 but felt positively balmy!! We set up at the easiest looking mark, and were into Cod from the start. We all had doubles, except Phill who's fish dropped his bait! I had a fish grab a codling and scream off before it let go!!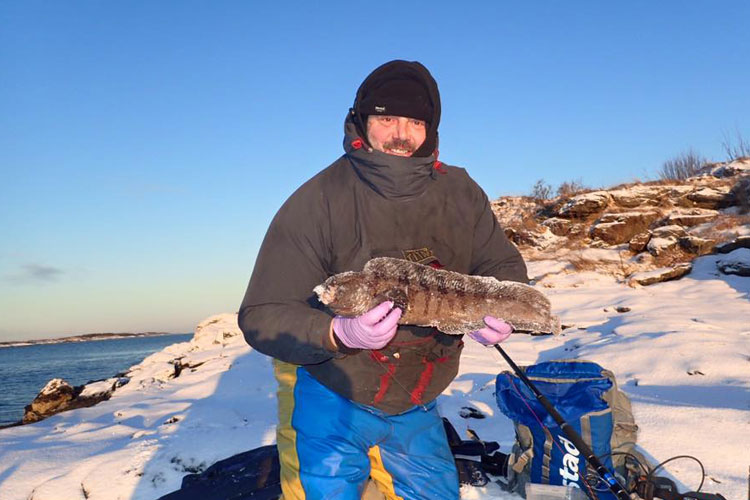 All in all it was a great day, and just the tonic after the hard days we'd faced. As the week drew to an end we decided to try the mark near the house, both on the morning and the evening tides. Wayne and Lee were up at 4am and fishing by 5..!!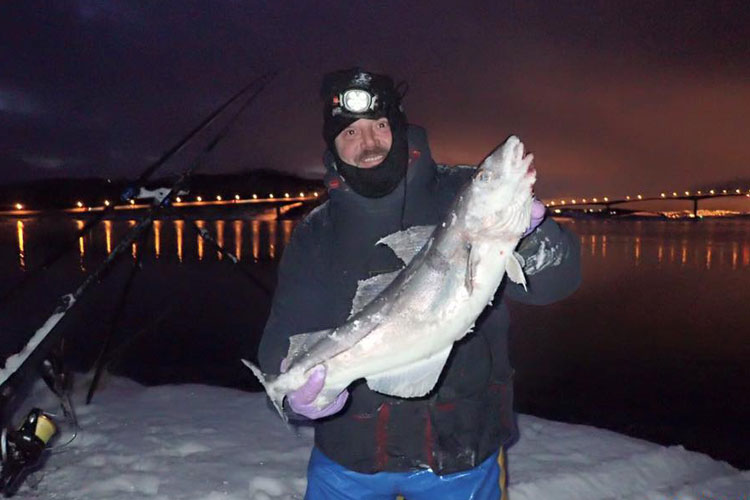 Unluckily for them the mark wasn't holding many fish that tide, with just a couple of codling for their efforts.
Phill and I were to fish the last session that night, but didn't have our hopes too high.
We started at 5pm and fished till 12.30am
It was bitterly cold, but we had fish in front of us so we hardly noticed. Phill had a steady run of Coalfish, beating his pb with an 8lb fish. They fight really well so he was having great sport. I chipped in with Codling and Cod to 12lb. Then Phill hooks into a better fish so I climb down and wait to land it. After an epic battle up pops a huge Coalie of 16lb 4oz. Wow what a fish!
Sport slows down after that, however we were then treated to the most amazing display of the Northern Lights. It went on till midnight, then the tide once again turned and it was time to call it a night. That's Norway in a nutshell. It can slap you round the face a bit, and then reward you with an unforgettable night.
Our tally for the week included 7 doubles, so even when the fishing is "hard" there's still quality sport to be had.
The lads left this morning and are due back late March, hopefully too much much nicer conditions!! Off to pick another guest from the airport this evening, and with slightly milder and calmer weather forecast the fishing should pick up a bit.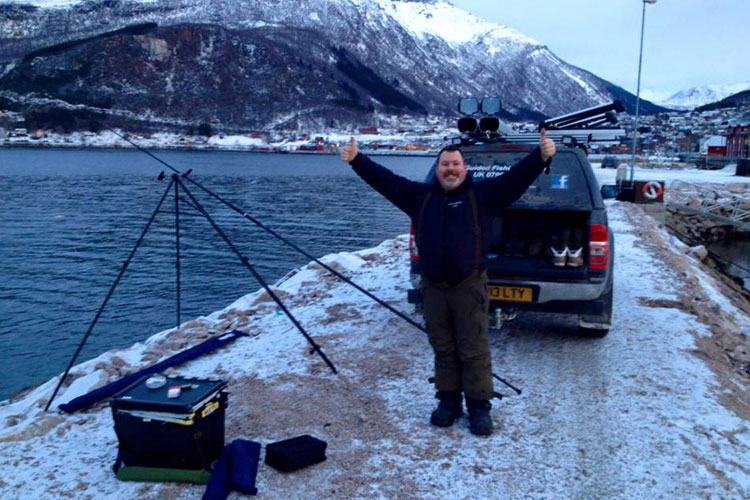 Thanks for the great report and we are sure there will be a lot more reports to come, so watch this space and if you have always wanted to go to Norway but have not fancied the boat fishing, then this trip will be right for you. Call us to see what we can offer you. We can organise everything for you, just turn up at the airport with your clothes and we will take care of everything. Hopeully you guys have enjoyed reading this report and be sure to keep an eye out for more as we have received yet another great report this morning and boy the fishing is getting better and better but that's for next time.
Until then, tight lines
Paul Stevens