Crocodile Bay in Costa Rica is one of my personal favourite saltwater destinations in the world and was the home to 6 of our anglers on the latest Sportquest Holidays hosted trip. We spent 5 awesome days fishing for the many different species Costa Rica has to offer in this lush tropical location.
With British Airways now offering a direct flight to San Jose in Costa Rica on certain days of the week, makes the journey a lot easier on us all and after an 11.5hr flight we found ourselves making our way to our overnight hotel just outside of the airport. After some very good food and a sleep it was time for the short 40-minute flight to the resort.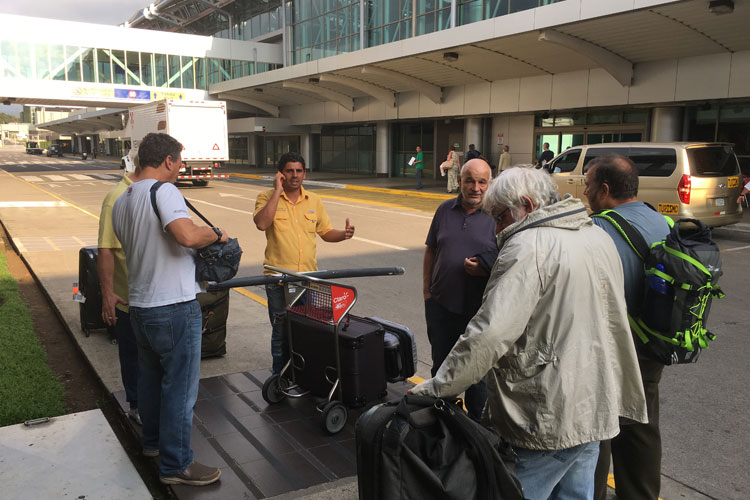 The group once we had arrived at San Jose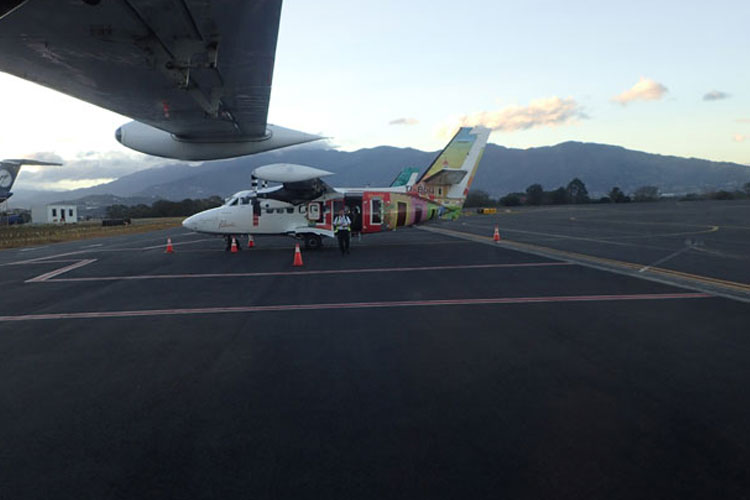 The little 40 minute internal flight to the resort
It really is a little plane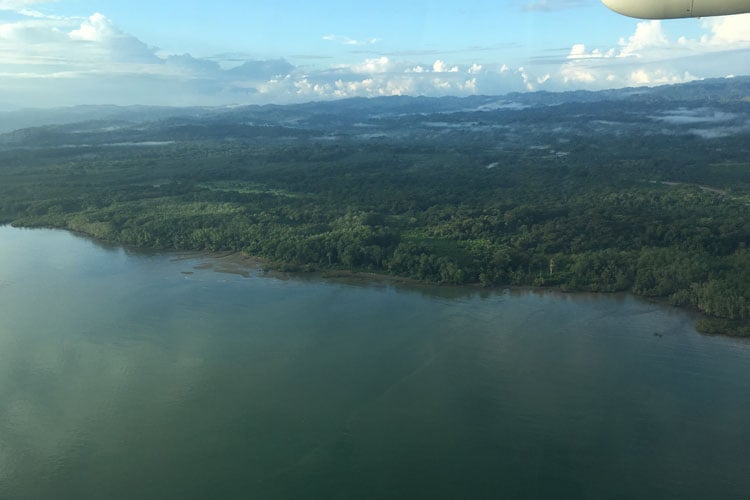 Stunning views as we fly in to the resort
For some of the guys on the trip, this would be their first visit to this idyllic resort set amongst some of Costa Rica's finest rainforest. We were greeted with freshly made cocktails before being taken to our rooms to prepare for our first days fishing, which we all decided to start off with some inshore fishing for Roosters and Jacks.
Breakfast consumed and it was time to make our way down to the boats for the very first time. The little walk down to the boats only takes around 5 minutes, however the walk down there takes you through some of the rainforest and every morning we would see amazing wildlife, from Howler Monkeys to the vibrant Macaw Parrots.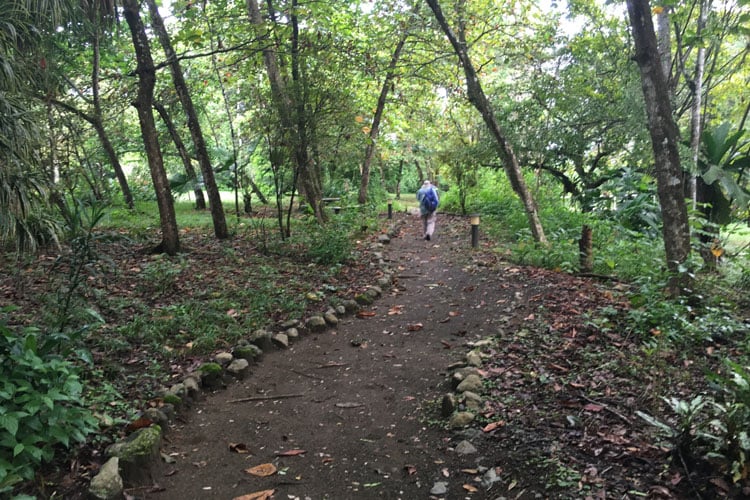 The little trek through the rainforest to get to the boats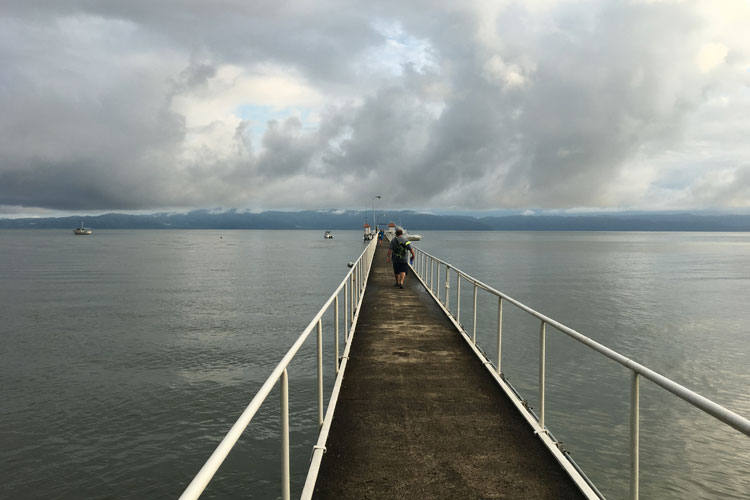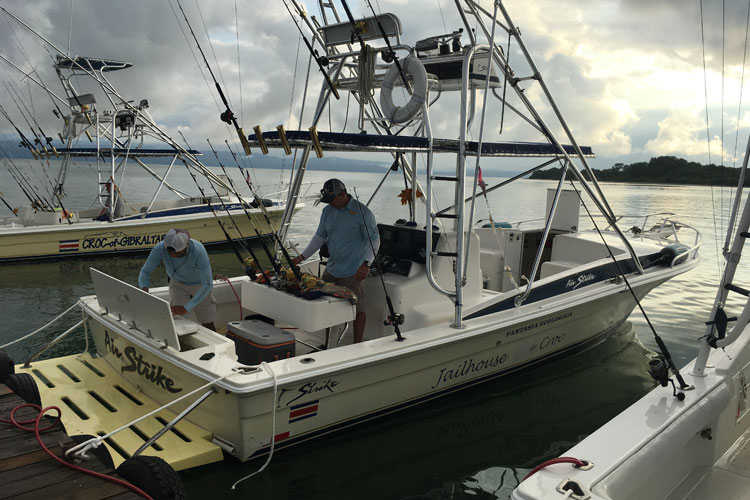 These boats are fishing catching machines
Once we arrived at the boats we were assigned our boats and captains for the following 5 days. Our captain was Oldemar with deck hand Jaison, which I have fished with before. So with introductions done it was time to head to catch some baitfish before commencing the inshore fishing.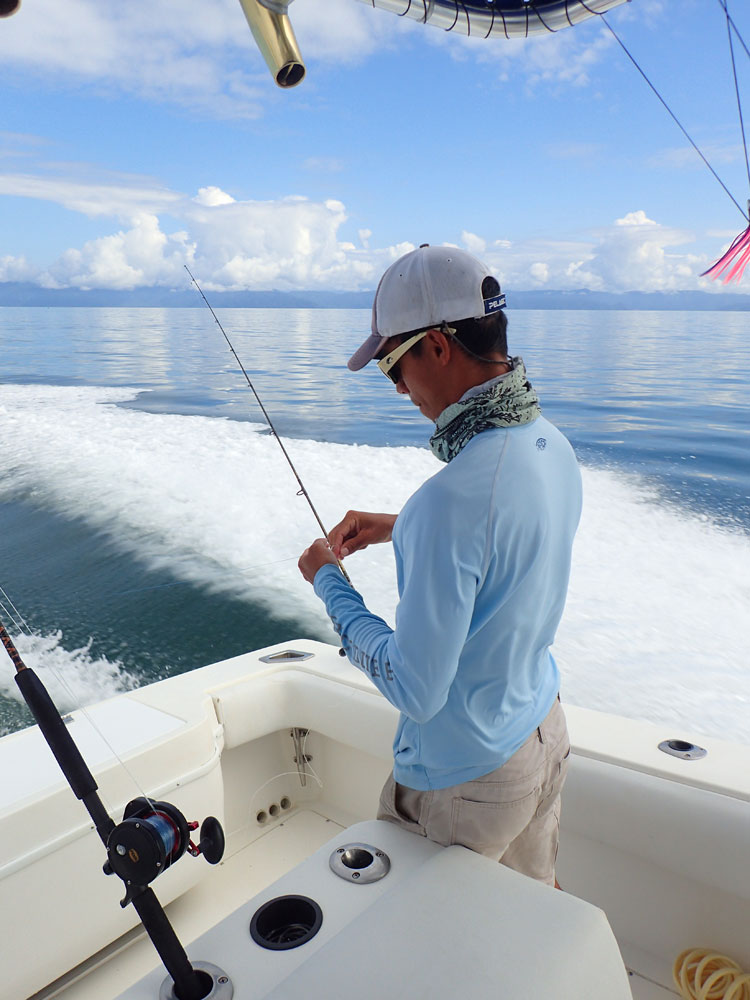 Jaison getting the bait rods ready
With the Live well full of bait we made the short steam to what we named "Big Arse Rooster Rock" this area screamed fish as the waves were crashing over the top and boiling the other side. With all rods baited we set about fishing for the first time and after only 30 minutes of fishing John had a bite and by the look of the bend in his rod it looked to be a good size fish.

The named "Big A**E Rooster Rock"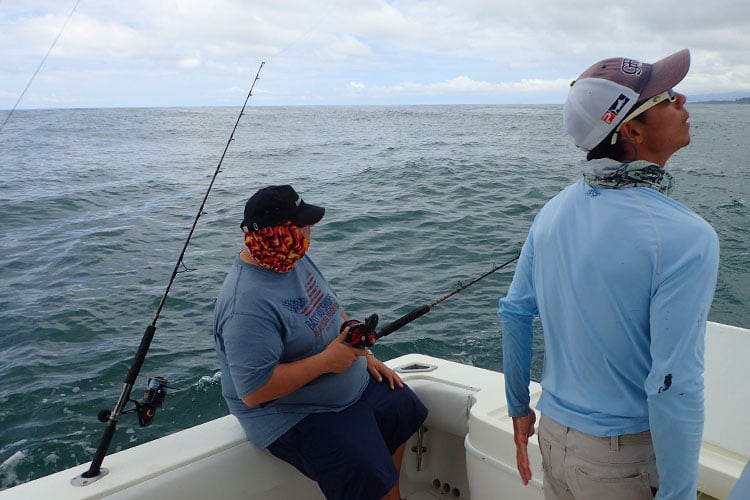 Stuart patiently waiting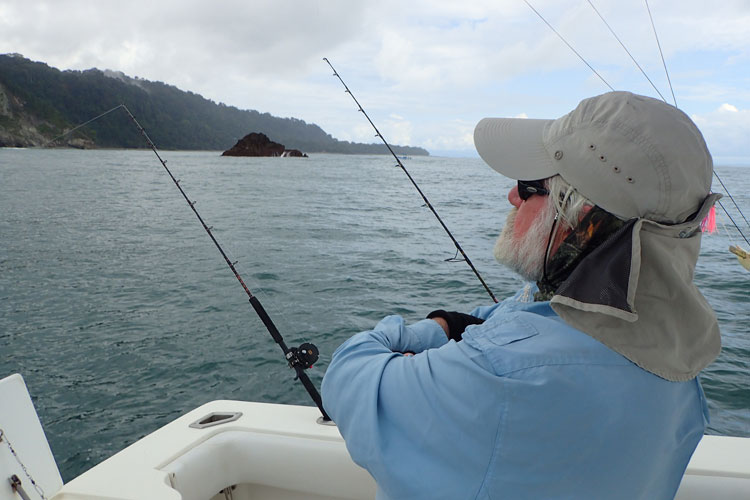 John in his usual relaxed manner
After 40 minute fight, and not even catching a glimpse of the fish, everybody on the boat were trying to guess what it was. Giant Rooster, big Jack or Cubera Snapper and to everybody's amazement an absolute giant of a Rooster appeared by the side of the boat. Now I have seen many Roosters in my time and this blew all of them out of the water, this was really something very special and looked to be every part of 100LB.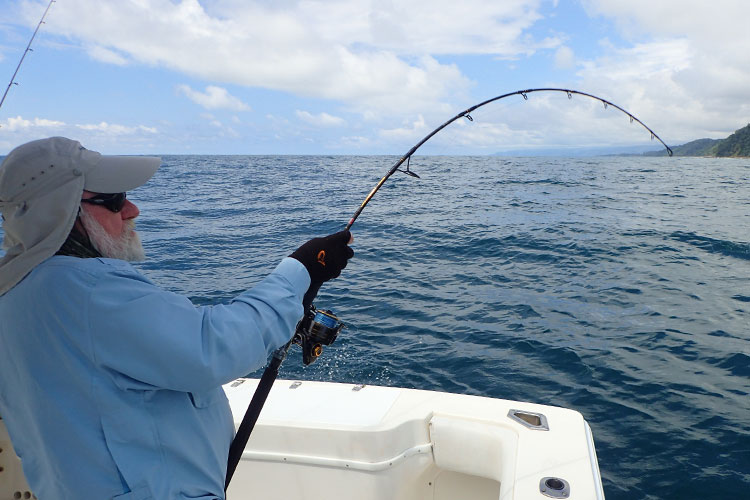 Go on John, give it some!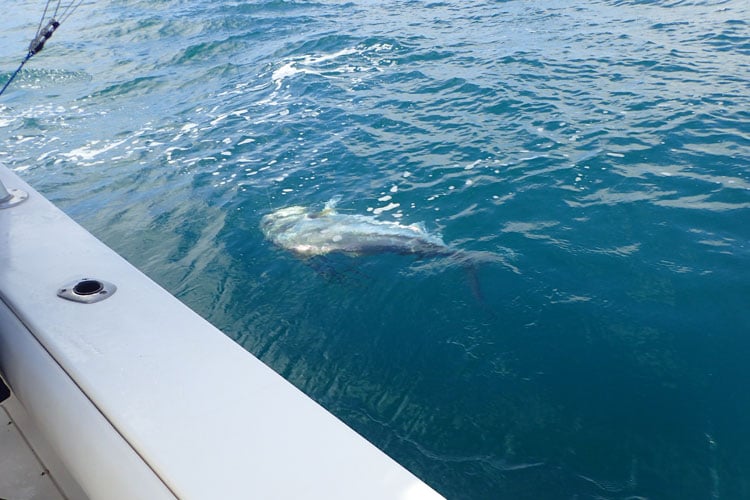 WOW….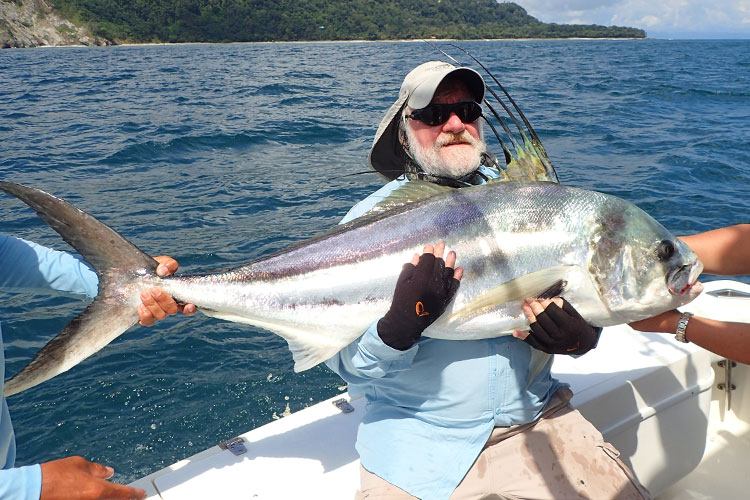 Blown away with this 80LB + Rooster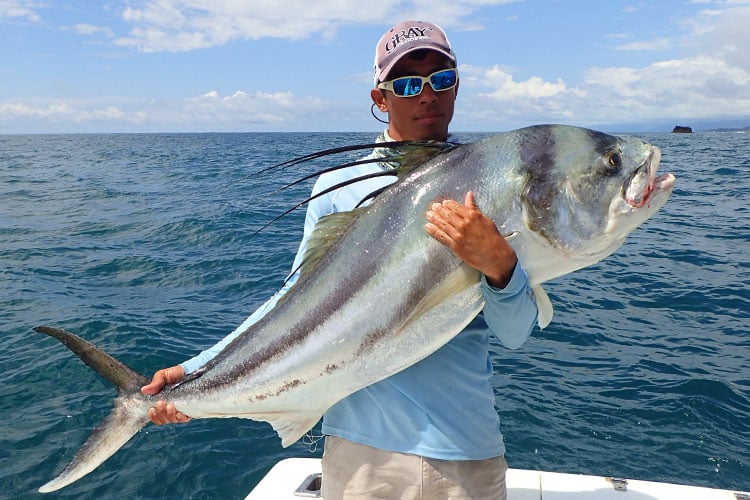 The guide wanted a picture as it was his biggest ever Rooster
The deck hand done a superb job of landing this fish and we soon stood around in amazement staring down at possibly one of the biggest Roosters we would ever likely see. John done a super job of playing this fish and looked a little beaten up so after we all composed ourselves, we set about lifting this magnificent fish on to John for the trophy shot before being released. A huge congratulations John you deserved that fish.
After we had all calmed down we decided to move locations and try along the many miles of beaches for some more Roosters and possibly some Jacks. Stuart was the next to get in on the action with a little 10LB Rooster, which looked so small after what we had all just experienced, but Stuart was pleased to get off the mark. A little while after he was away again and after a couple of minutes Stuart was cradling another baby Rooster of around 15LB, oh well Stuart at least they were getting bigger. Once the guys had a few fish I asked if it was ok for me to have a go. So with my rod baited with a fresh live bait we started a new drift and with in seconds of the bait going in the water I had a good bite and was hoping it may be as big as Johns Rooster. After a very spirited fight we were all looking down at yet another good sized Rooster of around 35LB. Soon lifted on aboard we set about getting the trophy shot as quickly as possible before releasing her. Wow what a first days fishing this place always amazes me!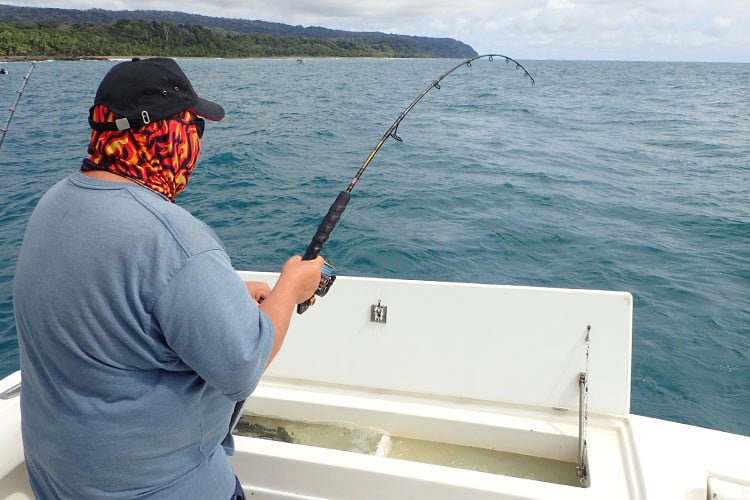 Stuart finally got some action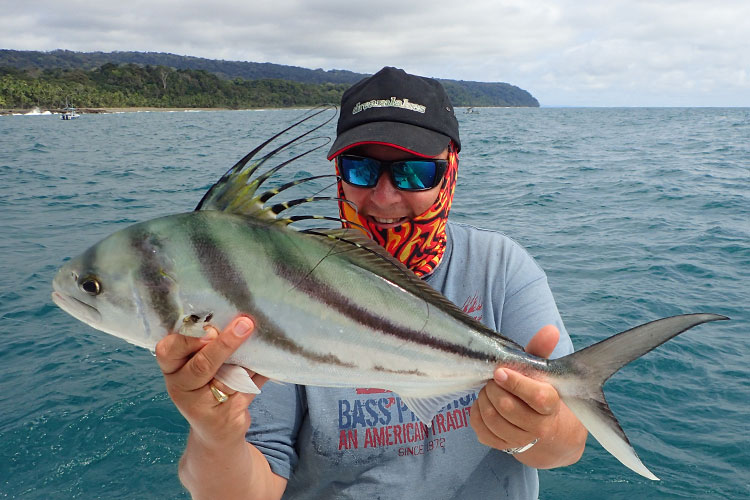 Well its a start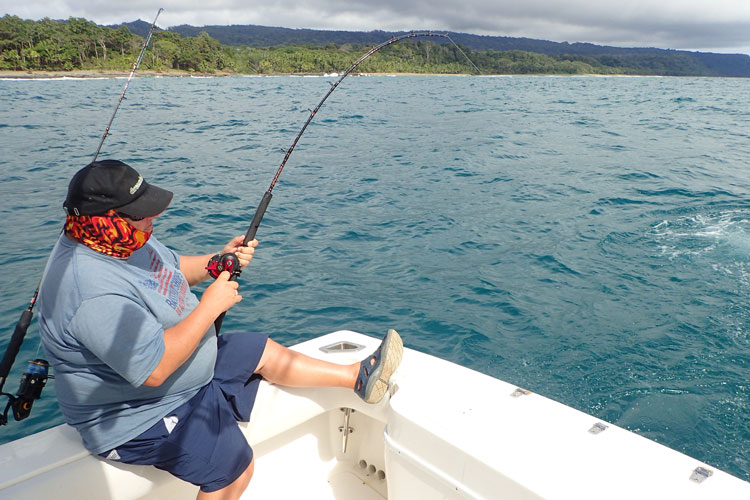 10 minutes later and Stuart is in again, will it be bigger?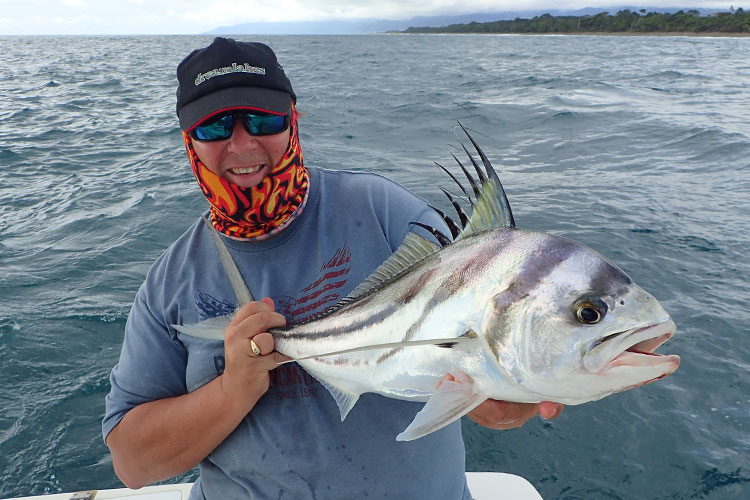 Only just….!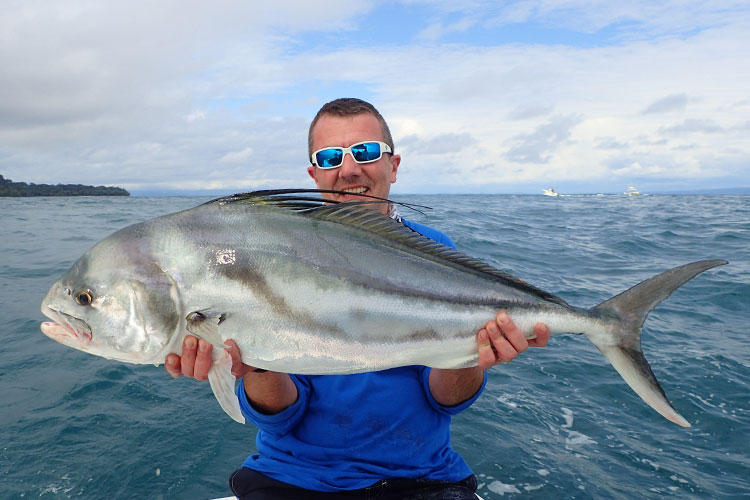 The guys offered me a go, so I jumped at the chance
Day 2 and we decided to go offshore in search of a Marlin or two and with the amount of Dorado being boated there must be a few Marlin following these so expectations were high. On the way offshore we came across a very large tree floating in the sea so not wanting to miss out on an opportunity like this we circled the raft looking for signs of life. The captain soon shouted down, 'Dorado' and that's all we needed to hear. Out went lures and live baits and within seconds two Dorado were hooked. These have to be one of my favourite fish to catch; they give an excellent account for themselves and jump lots. So after 5 minutes of arm aching runs we had 2 stunning looking Dorado on board, which were to be released. The fish around the tree then disappeared so we carried on with steaming offshore in search of Marlin.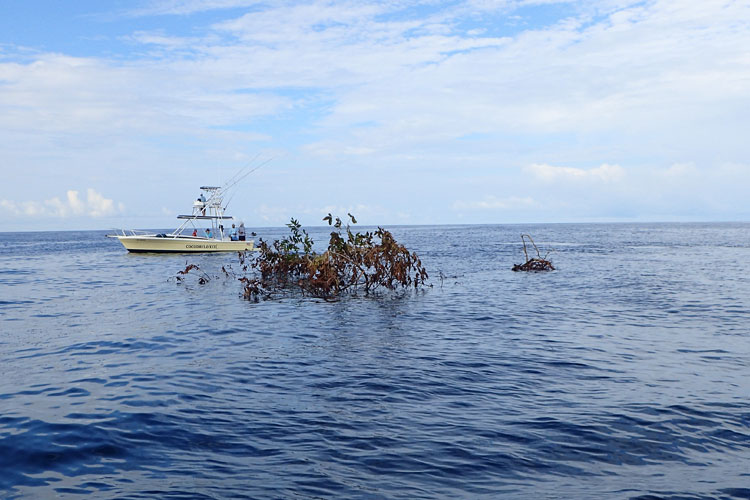 Structure like this is a game anglers dream find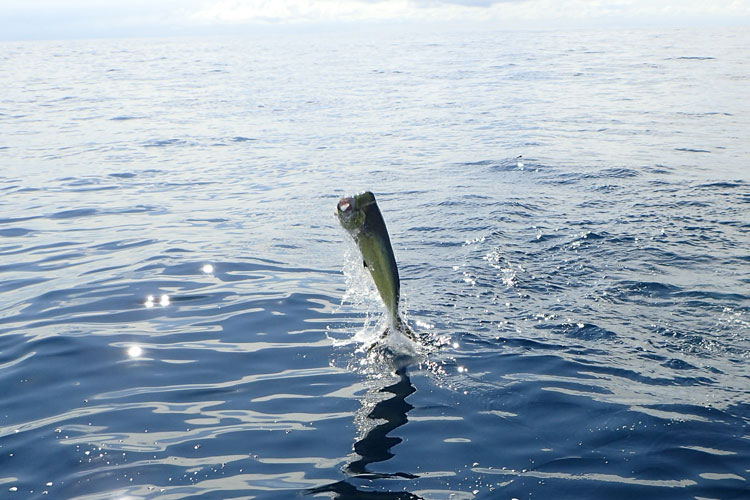 Dorado surrounded the dead floating tree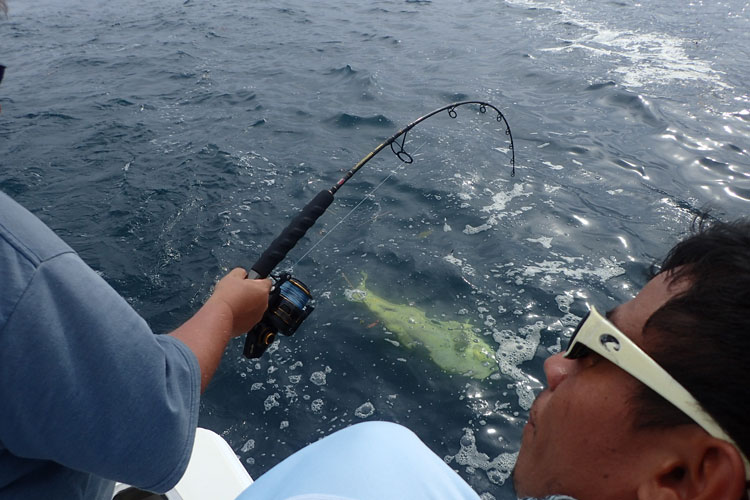 Thats the way Stuart, give it some teddy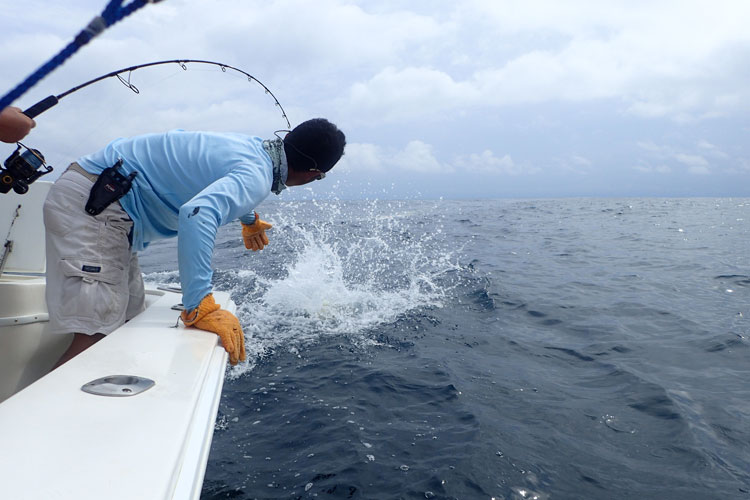 Jaison poised ready to land the first Dorado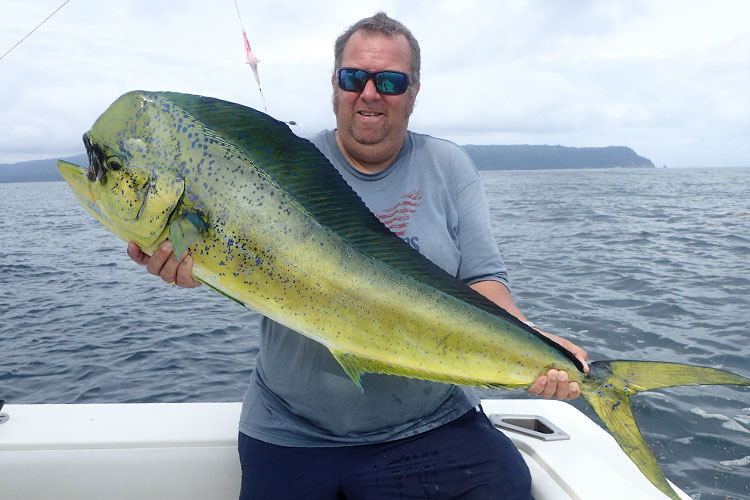 Well done Stuart thats a cracker
Location found, all the lures and teasers were set and we were trolling. After only 10 minutes the captain called down saying that some other boats near by were catching lots of Tuna and did we want to go and join them? We didn't need much encouragement and jumped at the chance. It didn't take long before we found the massive pod of Dolphins, birds diving and Tuna leaping. To cut a long story short we spent the next 4 – 5 hours catching Tuna after Tuna on all rods and all methods. In total we landed 22 Tuna ranging from 10 – 50LB and then time was called on yet another amazing days fishing.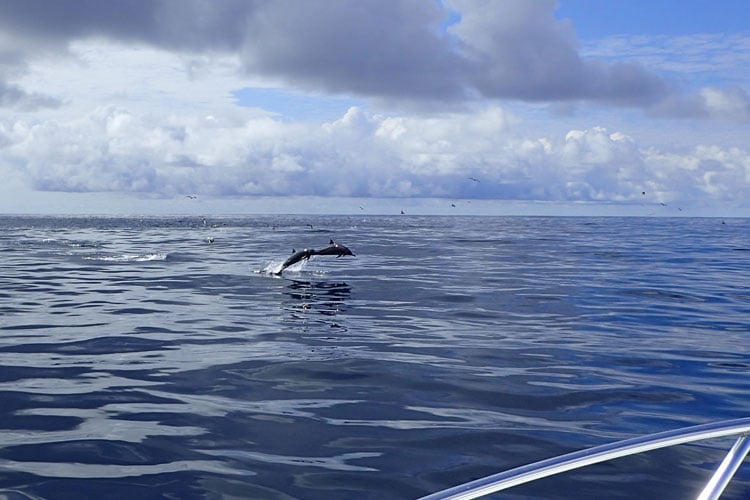 It would be rude to ignore the feeding frenzy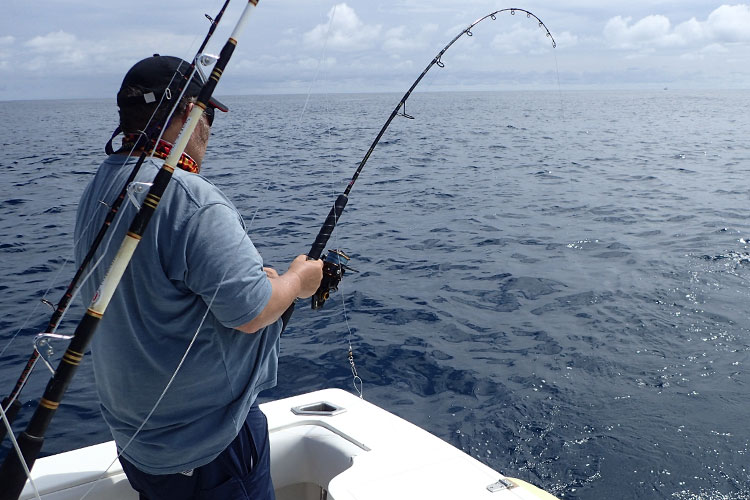 The day flew by catching loads of football sized Tuna to 50LB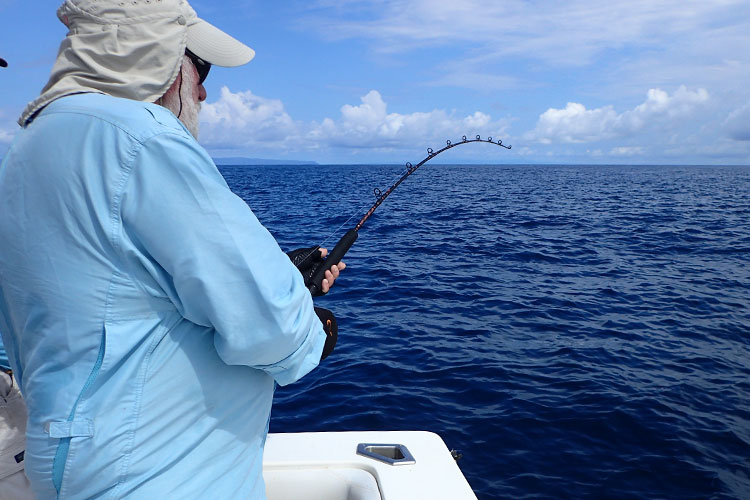 John making the most of the frenzy
Day 3 and it was raining and I mean raining so our boat again decided to fish inshore hoping we could get Stuart a bigger Rooster than the previous inshore day. Live well full and set out to the named rock. This time, stopping just short to lower some baits down to a reef in hope of a snapper or two. Baits down near the bottom and Stuarts rod bent double and after a spirited fight an African Pompano laid on the surface. A quick photo and release, saw our baits down there again and it was Stuart again who had the bite this time the fight looked a little different and the culprit was a Bluefin Trevally. Next bite was mine and a first for me with another African Pompano. The reef then died so the captain suggested we try and find some Dorado and with his suggestion we all jumped at the chance.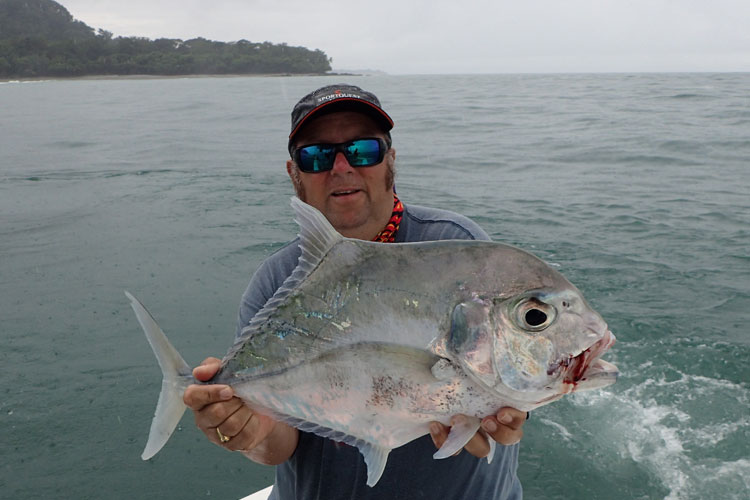 Stuarts first African Pompano off the reef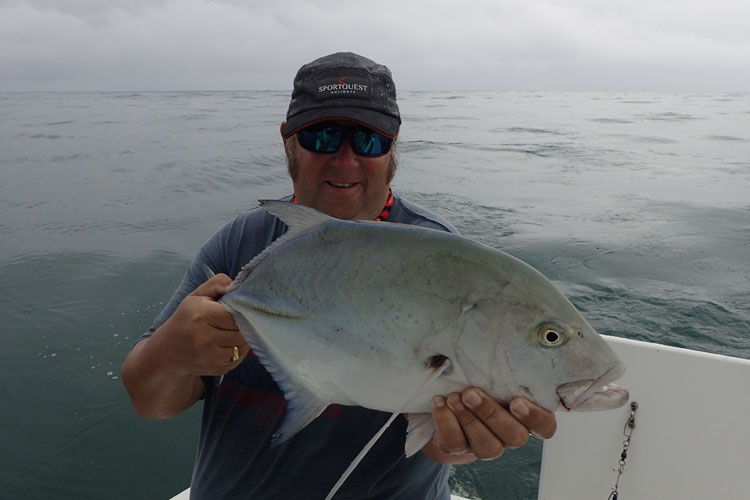 He then followed it up with a great Bluefin Trevally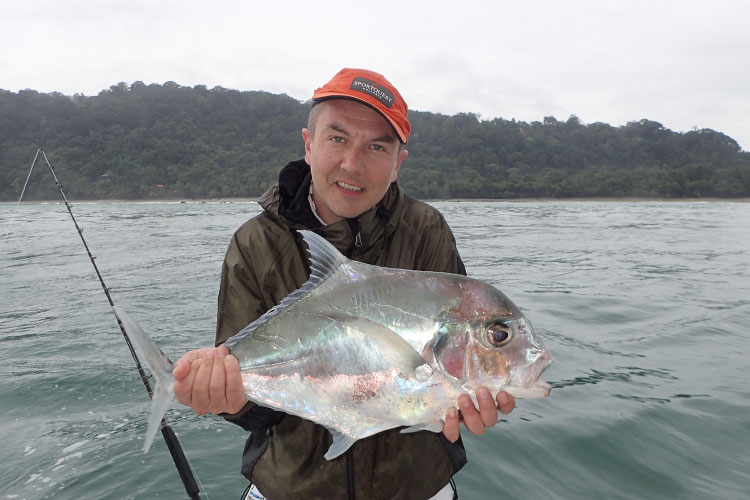 My first ever African Pompano
After a little motoring around we found what we were looking for and that was the current line where lots of debris was floating. We set about trolling some lures to see if we could entice some Dorado out of hiding to take some lures. The captain soon shouted down 'Dorado' and the rest was a blur! We then proceeded to catch 22 Dorado ranging from 15Lb to 50LB on all sorts of methods from lowering live baits in front of them to catching them on poppers, it really was one of the best fishing days of my life and we all retired back to the hotel very happy anglers.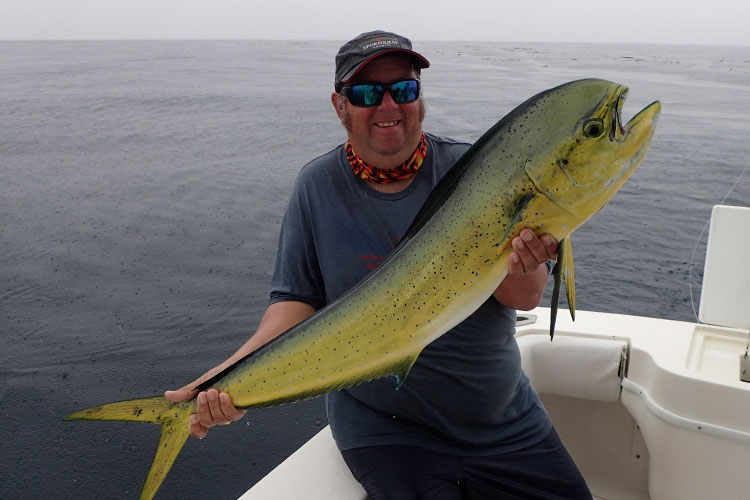 One of so many Dorado landed that day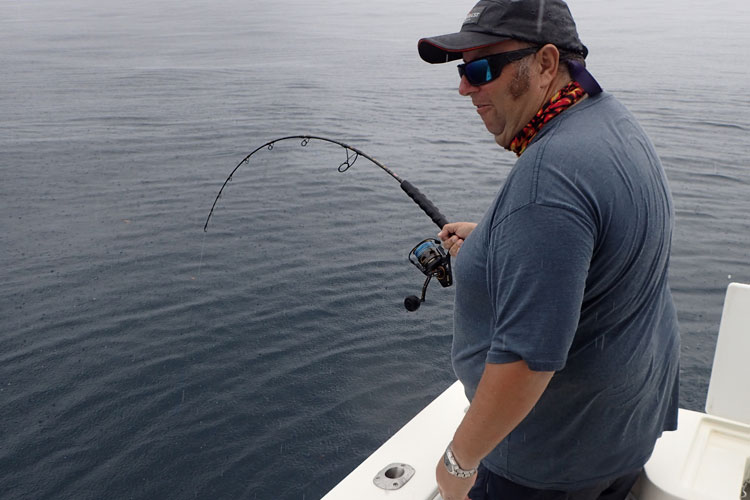 This one is pulling Stuarts arm off and looks a lot bigger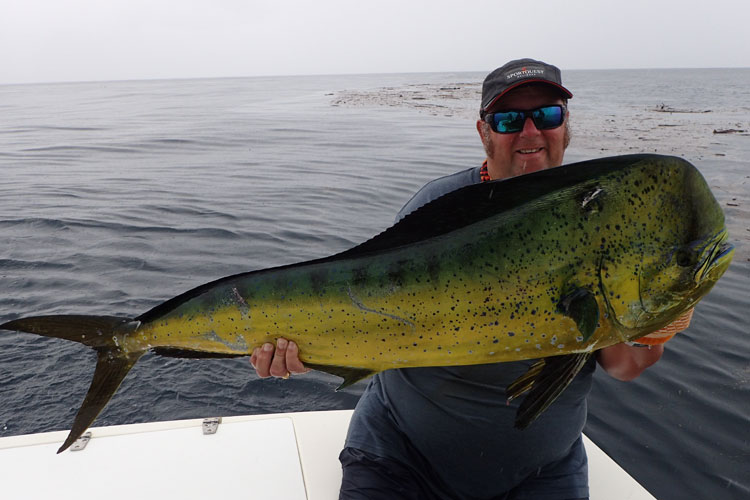 The biggest of the day around 50LB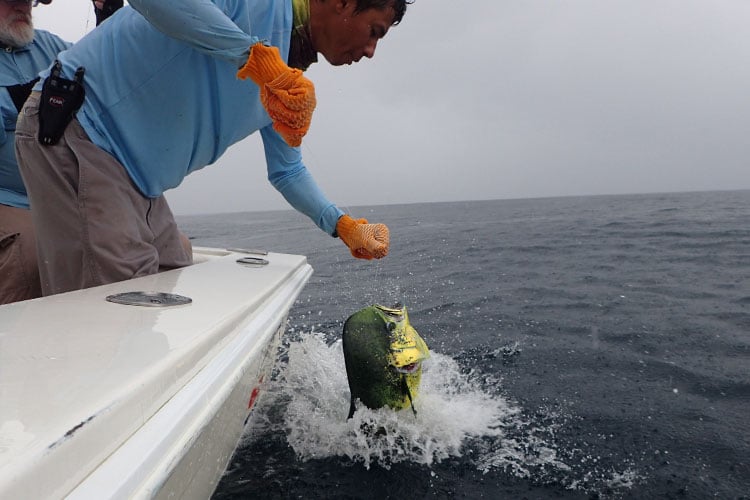 John managed a handful of the super charged Dorado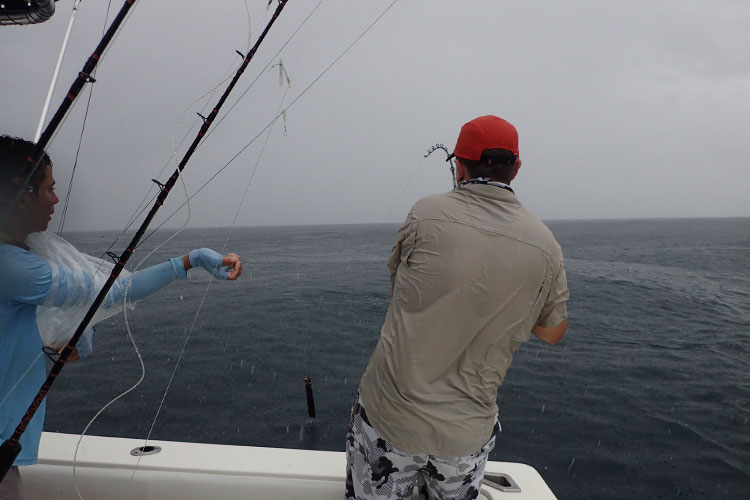 Check out how wet we are and also the deck hands make shift rain jacket
This one led me a merry dance around the boat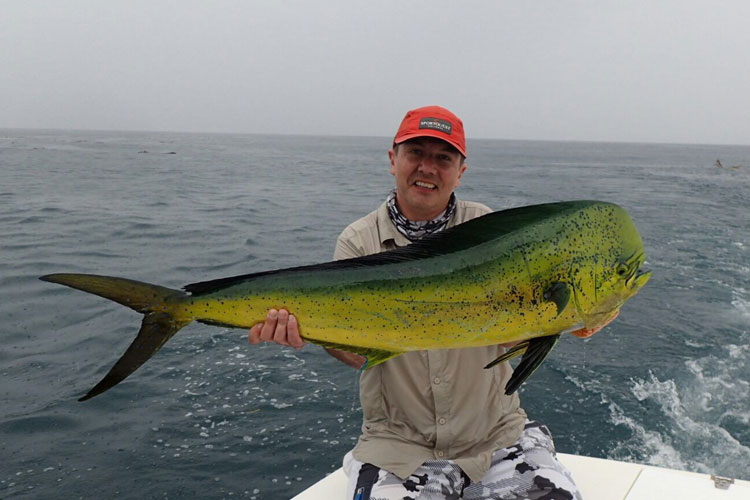 My best of the day around 35LB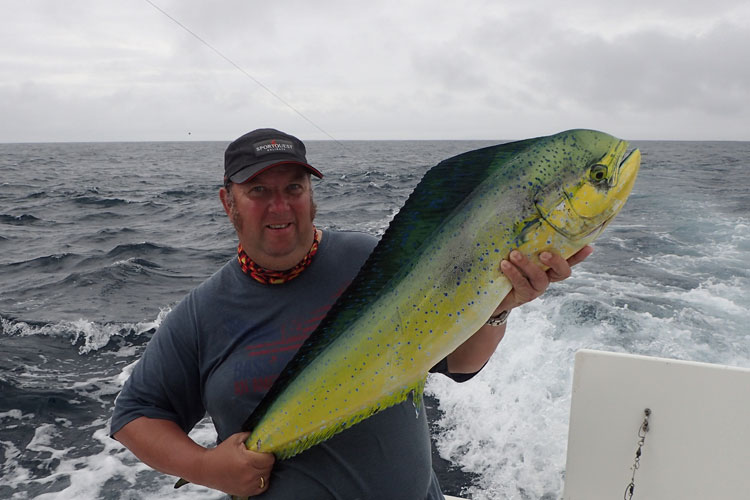 Stuart caught the last fish of the day
Fishing Day 4 was a little slower than previous days as we really wanted to get a billfish so we decided to head offshore in search of the mighty Marlin. Well the day was very slow as we managed only a couple of Dorado for our efforts, we literally throw everything at the Marlin but we just couldn't raise anything, but that's fishing you can't win them everyday.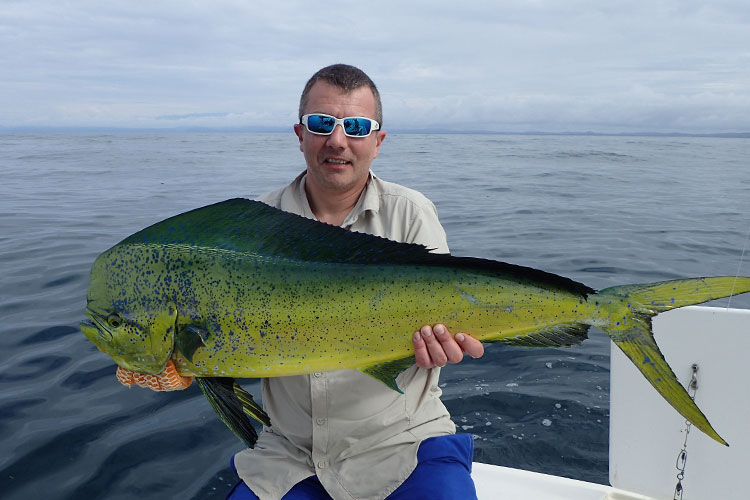 One of the Dorado from a slow offshore day chasing Marlin
Last fishing day and we made a decision to try and get Stuart a big Rooster. So with a plan hatched we filled the live well with baits and set about trying to find him his prize fish. It was back to Rooster Rock for one final try and after what felt like hours Stuart got the take he came here for and after a great fight with some excellent jumps, Stuart had a good sized Rooster beaten on the surface. Jaison the deck hand lent over the boat to retrieve Stuarts fish and the Rooster had second thoughts and made one last rush for freedom when the worst thing possible happened… the hook came free! The look on Stuarts face said it all.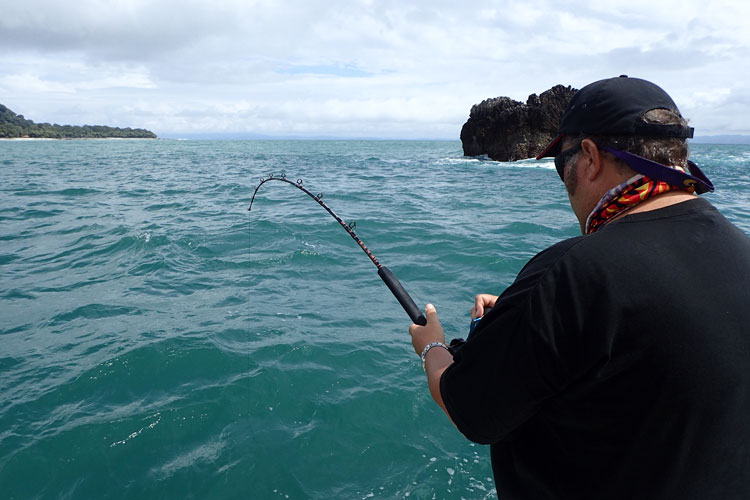 Come on Stuart this is what you came for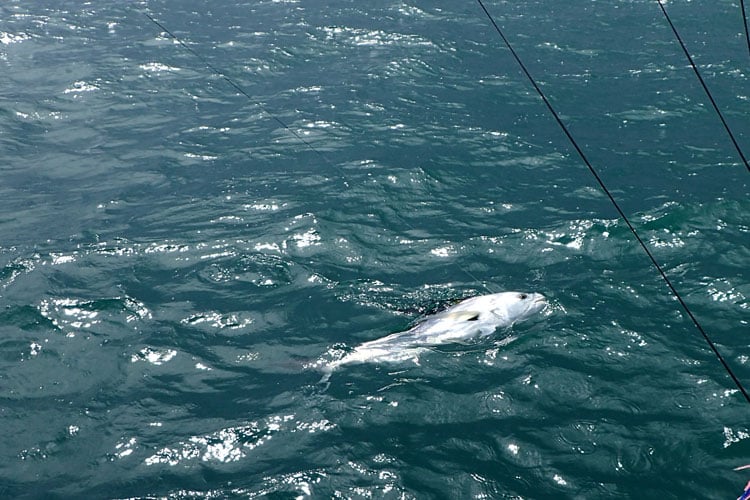 Unfortunately this is the only picture we got of Stuarts Rooster, estimated at about 40LB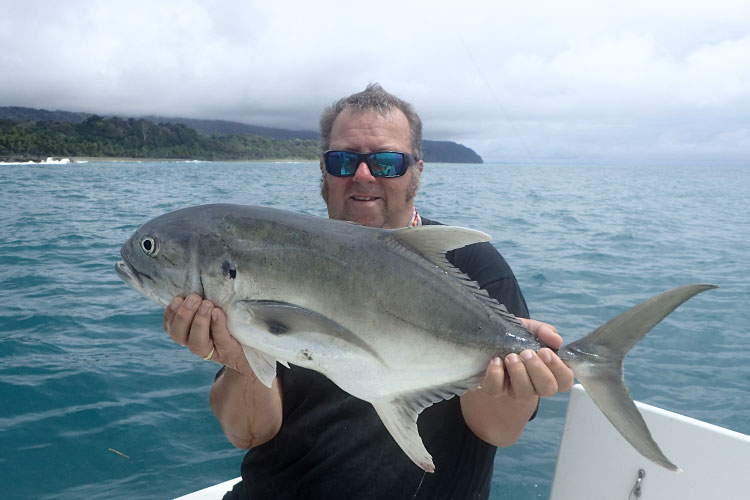 Loads of Jacks this size chasing lures and baits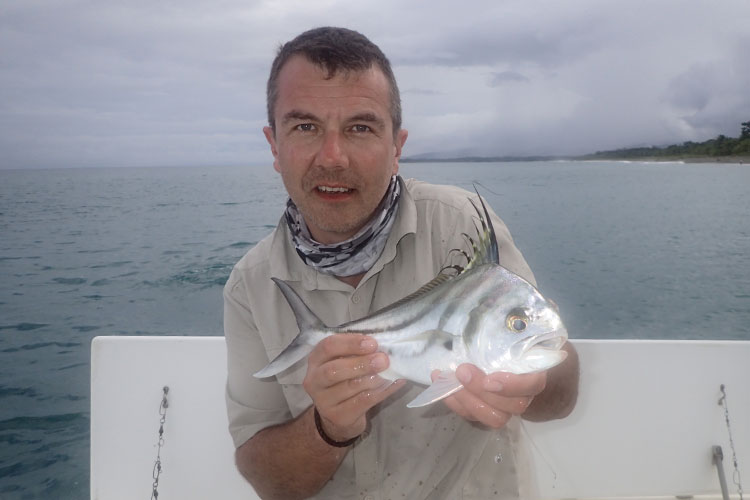 Surely I must win a prize for the smallest Rooster
The rest of the day was spent trying different areas and different baits trying so hard to tempt a big Rooster for Stuart, but it just wasn't meant to be. Such a shame as Stuart fished very hard and I would of loved to have seen him with what he came here for. Time was called on our very last days fishing and back to the resort we headed.
So to sum up the fishing, it was very mixed on our boat as John had caught a dream fish in the shape of his 80LB Rooster and Stuart had unfortunately not caught the big one this time. Would we have caught a Marlin if we had spent more time offshore? I am sure we would of as there was Marlin being caught by other boats that spent all their time offshore. I think personally the high light of the trip was seeing John's Roosterfish, it truly was a specimen and the pictures really do not do it justice as this fish absolutely blew me away, you should of seen the size of its head it simply was huge! The Dorado bite was some of the best fishing I have experienced at any saltwater destination and kept us entertained. Crocodile Bay staff are excellent at their job and nothing is to much for them they really make you feel at home, so a massive thanks to Allan, the fishing manager and all the staff.
Crocodile Bay Resort in Costa Rica is stunning and I can highly recommend visiting there either as a fishing holiday or why not take the family, they will love it as the resort is set amongst some of the finest tropical rainforest in the world. Costa Rica, I will be back.
Pura Vida…..
Tight lines / Paul
To view this destination CLICK HERE or simply call me for more details on 01603 407596. We have now released our hosted Costa Rica 2018 dates so if you are interested in coming along next year then act quickly. Remember, you do not need to bring anything as everything is included even if you want to go popper fishing.