Seems like the winds have been affecting most parts of North Norway. This report has been sent to us from Alex and André who are the guides fishing out of Å on the Lofoten islands.
They have been desperately trying to battle through the high waves and winds to make sure the anglers are getting the most from their holidays, but sometimes it is not possible. But like we have said before 'don't give up'
FISHING REPORT:
After a dull start of the week with real dirty weather, we could finally go fishing again after Monday, having been completely blown on Sunday.
The wave height was still high when we went out on Monday morning but the wind was finally gone. Cod fishing was on schedule for most of the boats and we were looking out on the west side of Lofoten to some of our favourite places for cod. Once in place, it took a little while before we found a nice shelf of about 70 meters deep. Almost immediately we had cod on all rods. In the first hour the cod were biting everything but after such a good start of fishing it suddenly became really hard to get some cod bite. A little later in the afternoon the cods started running again and there were several pieces over 20 kg with a top of 22 kg! We even managed a very fine Halibut of 151cm.
Tuesday and the last day of the week, the weather was okay when we left the harbour. In the guide boat the sight was set on halibut, cod we had already taken a lot but now we were looking for the really big flat fish. When we started fishing, it took about 2 hours before the first Halibut was landed. During the Halibut fishing a whole bunch of cods around 4-5 kg were hooked and then Claes landed a 77 cm halibut, which, after measuring, swam home again.
The fishing for most others was sluggish with some cod that came up but no real big ones. We heard over the radio about a Halibut from one of the other boats of around 110 cm, but otherwise it was not the same good Halibut fishing as the day before. At 15 o'clock in the afternoon, Hasse managed to hook up to a Halibut and after a couple of runs to the bottom we managed to boat a great Halibut of 107 cm. After this fish it was time for the guests to go back to harbour to get ready to depart.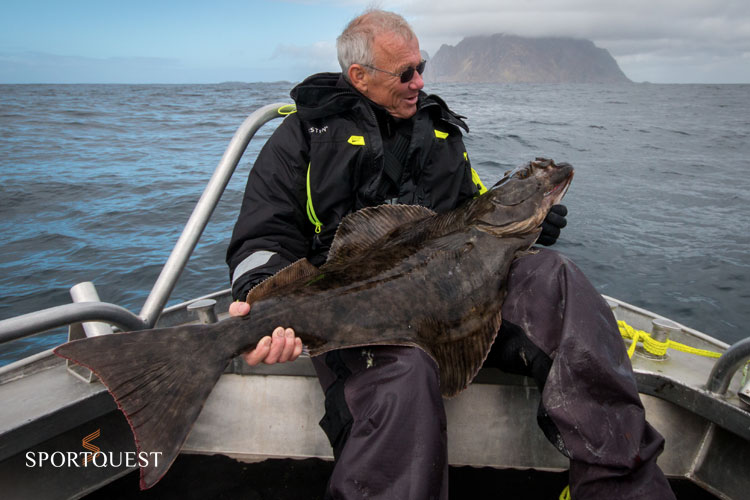 Tight lines!
André Starkenberg & Alexander Lindgren
If you would like to read the full details of this destination on the Lofoten islands simply click HERE
Tight lines / Paul