We have had this recent report come through from Bolivia, the Golden Dorado fishing out there is on fire at the minute, lots of fish are being caught by the guests including some absolute crackers.
The weather was nice and warm this week when we welcomed seven new anglers, we experienced muddy water the first two days due to rain in the foothills, but as soon as the water cleared up, it stayed clear, and we had beautiful conditions.
The Lower Secure was high and slow the first day. But after that we hooked several dorado in the 8- to 10-pound range, and six fish were over 20 pounds and two were over 25 pounds. We also lost a few that were larger, including a monster 28-pounder that broke Greg's wire leader on the last day.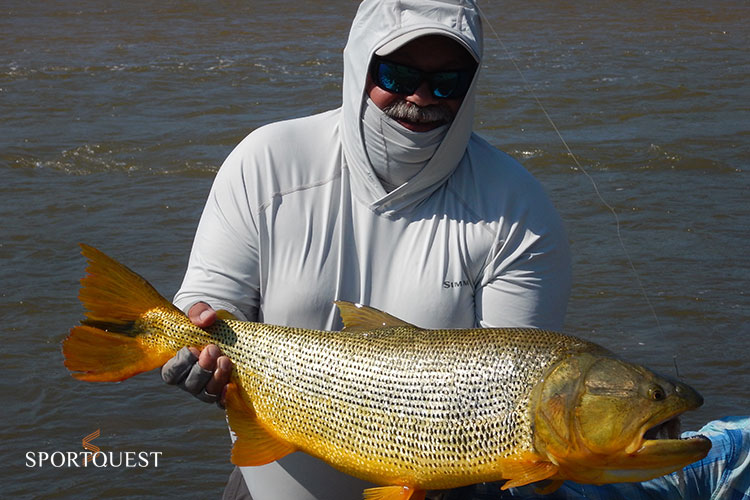 On the Main Pluma, even with the muddy water on the first day, we landed a fish that was easily over 25 pounds – and just like Greg, Anton also got a chance to throw a NYAP popper in a feeding frenzy, and he ended up with another 25-pounder. In the following days, we hooked many 5- to 10-pounders. And two more fish over 20 pounds were landed by Anton and Mick during the last morning session.
The Itirizama was affected by the rains the first two days, but after that, the only word to describe it would be unbelievable.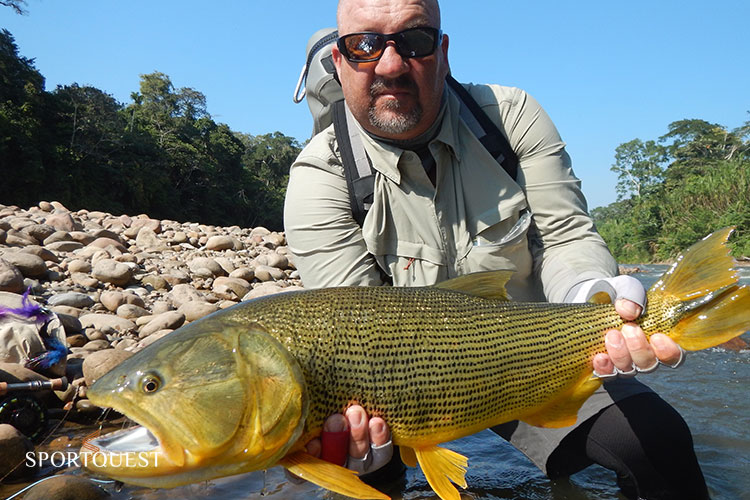 The highlight of the week came on Thursday, when Robin showed off her amazing skills. She had unbelievable accuracy and speed when casting – and she sight casted and hooked a fish that took the breath away from all the guides who were there. A hidden treasure from the Itirizama River came up to the surface to hit the EP-style pattern that Robin was throwing. After a long fight, one of the native guides grabbed the monster by the tail. This fish was the biggest catch of the season at 107 x 72 cm, and easily 40 pounds of massive yellow power. Judging by its shape and size, we estimated it to be 14- to 16-years-old. It returned to the river in excellent shape due the very careful handling and the barbless hook. No more fishing was done that day.
Thanks to all our guests for this great week and the unforgettable memory of that monster.
Ready for more adventures,
The staff of Pluma Lodge.
What a brilliant report, many thanks to the guides out there for sending it over to us
For your chance to visit this magical part of the world and catch your very own lump of gold then take a look at what we can offer you HERE
Tight Lines
Jonny