Yet more unusual species being hooked in Norway! This time a big shark has been hooked…. Read this report and make your own mind up on what it was. Vesterålen in North Norway is a fantastic destination for all sea anglers and with more and more reports coming in from here, we can see it being one of the best around.
FISHING REPORT
On Monday, all the boats steered west with different goals of the day. Boat 2 with Marcus, Oscar and Magnus had the aim set to Halibut while the other boats had cod on the schedule.
Boat 2 went out a little later than the others and when they arrived, boat 6 called for the first Halibut to be landed! They also reported that they had good cod fishing between 90-120m and that the halibut had taken their jigs deep. So boat 2 decided to drive a bit deeper and started drifting a fine area of ​​60m but it did not matter so they tested a bit deeper and then a bit more. Fine cods up to 15 kg they got when they were driving a little deeper, but the Halibut was not active at that time. It would be until the last sunlight before it was time. Boat 2 had a long run of 60m and would just pick up before it hit Marcus jigg. At first, everyone in the boat thought that it was a big cod when it came up, but it did not take long before they realized that it was impossible to be a cod. Line started shooting from the reel and they knew directly that this was a better fish and Marcus felt the weight in the rod. An incredible relief came when Marcus realized that this could probably be a new personal best for him and, very right, it was. Halibut measured 145cm and a joke of joy echoed between the mountain peaks while the camera worked hard to get a perfect picture at the moment. After viewing and photographing the amazing fish, it once again had to swim in the depths!
Before the end of the day, they had a couple of contacts, which unfortunately did not want to be hooked, and it was too dark to continue fishing so they had to put the rod in the holder and head home!
The day after it was time for a long trip and all 5 boats were ready! Because it had blown up during the night and the morning it was a little later trip and the boats met at 9.00 at the dock before they started out. The waves from the strong winds were still there and became a tough journey but it was absolutely fishable and all boats started to get baitfish on a couple of peaks before moving further out to sea. We in our boat started to drift over the long edge, and it does not take long before we fish for fish. We experienced a huge amount of fish, especially on cod and if we remember correctly, we did not have a single cod less than 10 kg! Unfortunately no real big ones, but plenty up to 15-16 kg!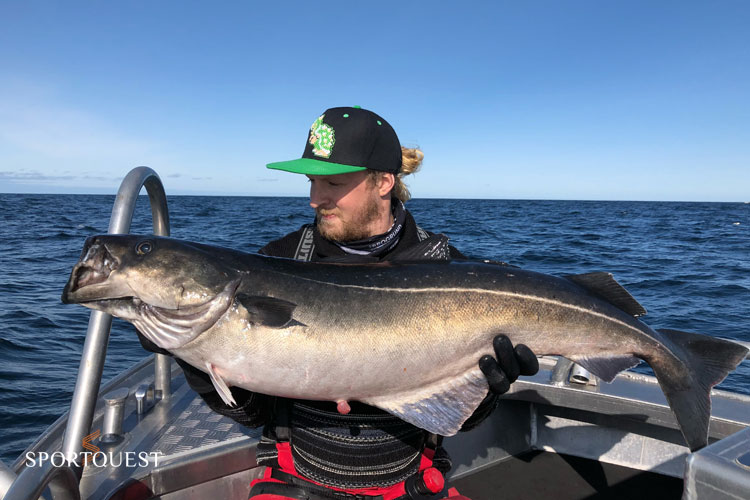 After a few drifts it was time for lunch for us in the boat. We all wind up, and Oscar in the boat stops only 10 meters below the boat when he said something has taken his lure. After a little while, it started to really spray line from the reel, and we thought straight away that it was big! Oscar let the fish run a good bit before he buckled up and hooked the fish, of which we noticed how far it went sideways. We understood nothing of the strange behaviour, but had to drive for the fish so it did not empty the reel of line. Oscar battles the fish for about 5 minutes for it only 15 meters from the boat, crosses and the hook loosens. At the same time, we see a big figure coming to the surface just a meter behind the engine, and we immediately saw that it was a big shark we estimated at about 2-2.5 meters long, quite crazy!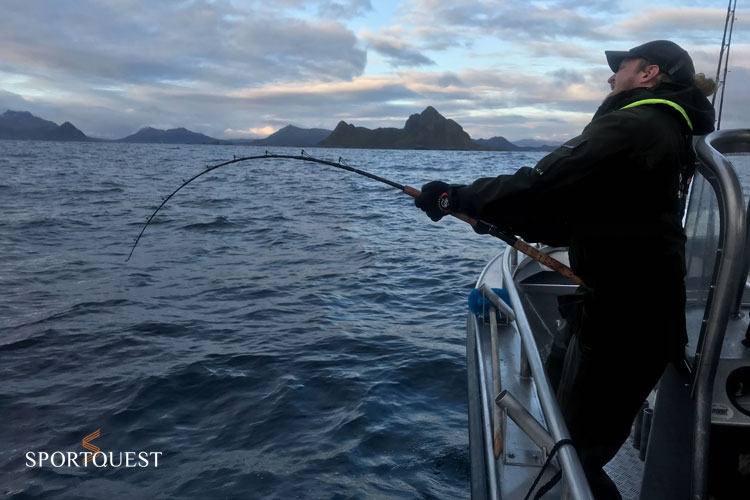 Other boats were about the same place and also had good fishing on cod and they had also got nice Cod up to 15 kg!
Wow, Norway is throwing some surprising fish species up this year and we think as the climates get warmer we will see more and more different species appearing…watch this space. To view the full holiday details of Vesterålen Click HERE
Tight lines / Paul & Matt