This fishing report from our newest destination in Norway, Vesterålen, will make any sea angler jealous. It is full of big fish, new potential world records plus many aching arms and huge smiles.
We have some amazing weeks available for 2019 but once these reports get out there, you will find the weeks will sell out. If you would like to speak to me about this destination in north Norway call me on 01603 407596
FISHING REPORT
The last few days here in Vesterålen,  has been very sick fishing with ridiculously many big Ling and Cod!
New guests Jimmy and Dan were set and went off at full speed against the big blue sea with a completely carzy idea of catching a Ling on a float…The weather for the day was foggy and cloudy but eerie still, almost like in a horror movie.
They immediately searched the edge where really big Ling and Cod have been caught and laid up the boat for an drift. Jimmy and Dan rigged each of their floats with dead bait and threw it out. It was quiet to start with but then Dan's float slid away and the fight was on. After a hard fight, Dan managed to win and up comes a thick Ling that weighs the scale to 20.65 kg or 45LB. Which meant he probably had caught the biggest Ling that has ever been taken on a float in the world!!! We say great congratulations to Dan Becirov to a completely crazy record! And what a start of the day! …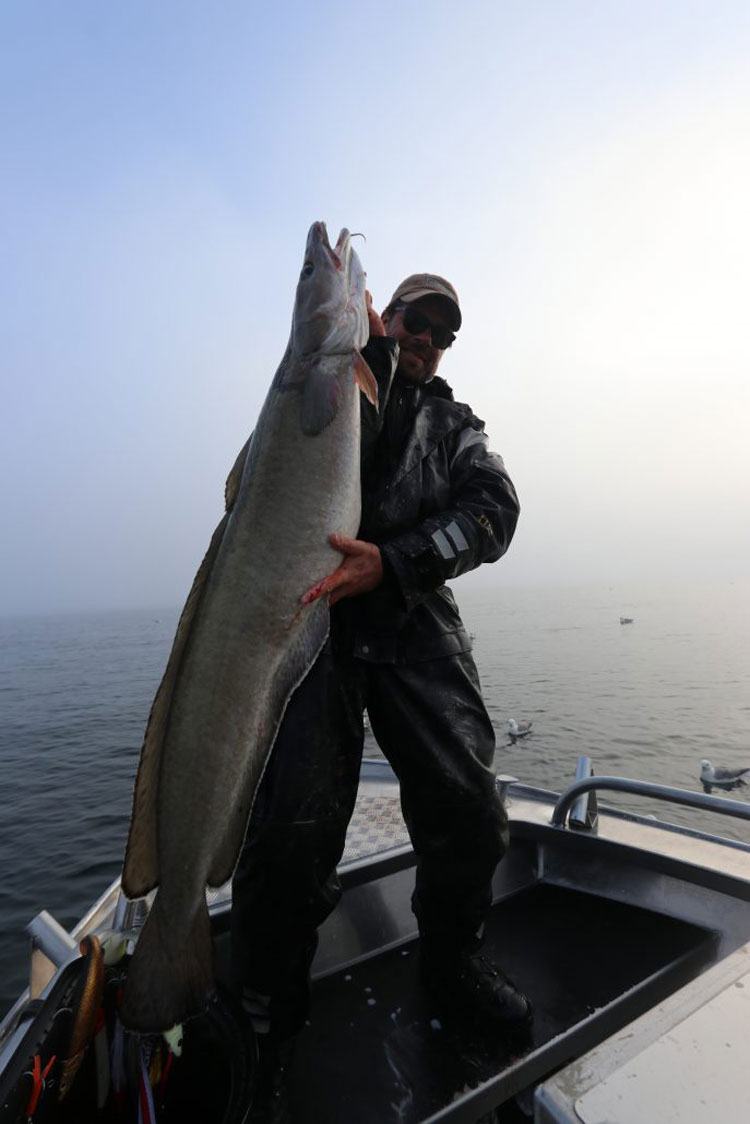 After cheering about the record fish, Jimmy was still determined to continue to nudge on the edge of an even bigger monster. It wasn't long before Jimmy got his bite but it wasn't just Jimmy everyone in the boat was in to a fish and good fish at that. After good fights three fine cod came up and all looked to be over the 20 Kilo mark. Which is probably again the biggest cod that has been caught on a float!! Congratulations Jimmy Andersson and others for a really awesome bet that delivered in two record fishes! By the end of the day, all the boats had a great fishing on both cod and Ling, even really nice Coalfish had seen the inside of the boat!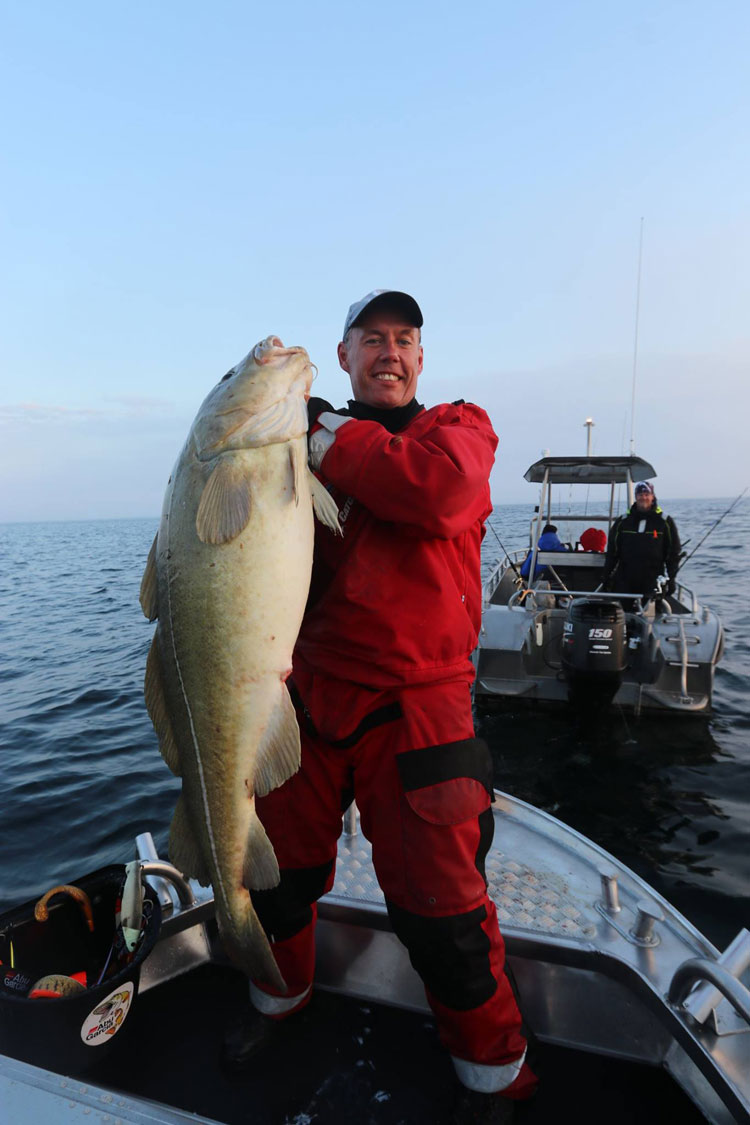 Yesterday, it was time for another long trip and the expectations were soaring after Jimmy and Takida the guys had been there and had a great fishing on cod with many cod over 20 kg! We talked together during the evening and planned for tomorrow.
It was a messy trip but as soon as we were in place, the wind dimmed and the sun looked out behind the clouds. We started searching for large areas where Jimmy and the guys had been fishing the day before on both cod and Ling but did not give the result we were looking for ie big cod! So we started moving out to new areas and searching the fish on new tops because we knew they were not far away and after just over an hour of exploration, Marcus who drove boat number 5 saw a good shoal on the bottom at a peak of 58 meters. We let down immediately and felt the fish chew on the jigs but they were not really hungry so we switched tackle and just stood and held jigs and pirks near the bottom. It did not last long, there were 4 curved rods in the boat and all playing fish.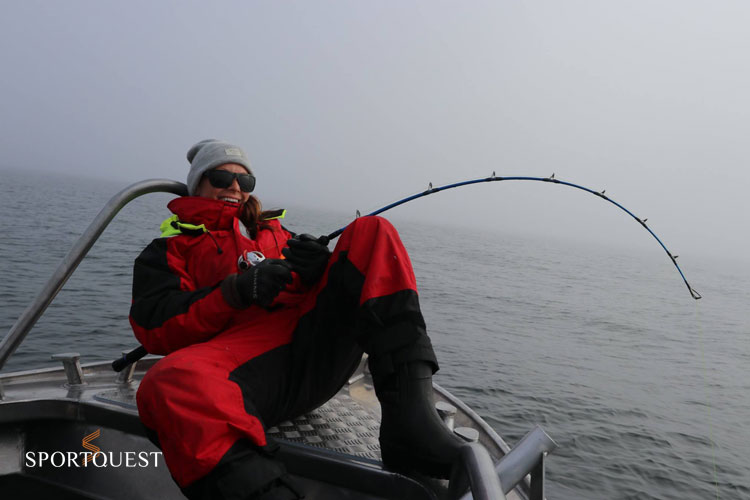 The average weight of the cod was really good and we started to get very nice cod in the boat, but one fish stood out above the rest when Gunnar's rod had a big bend. The fish started taking line while the sweat ran on the forehead of Gunnar and when the fish broke the surface, a brutal thick fish came and just showed the belly to all of us in the boat. It turned out to be a really nice cod! You saw Gunnar how tired he was, but no rest as we wanted to weigh and take photos. This Cod was a new personal best of 24 kg or 53LB! But then Mike in the boat would not be beaten and hooked a huge looking fishing. After a really good scrap a very fine Cod broke the surface it had to be over 27Kilo…
After we had fished for a couple of hours and filled our backs with nice cods, we decided to move back to the camp, and we did that with the smiles only to the ears while the sun was bright and gave us a nice colour on the face
Once we got back to land we weighed the fish and it weighed down the scale to 29.1 kg or 65LB. which is the best for the year in Vesterålen! Big congratulations on a real dream fish!
Many thanks guys for the report and a huge congratulations to Jimmy and his gang for even being crazy enough to attempt such a record…..
If you would like to view the full details of this destination click HERE
Tight lines / Paul