Salmon Lodge Fishing & River Report Aug 14th to 20th
What a week it has been, it was tough the water conditions and bright sun combined to make fishing difficult and challenging. Water levels on the Bony, Petite and Grand are really low, we sure need some rain. Last week even with tough conditions we hooked over 90 salmon but this week was even tougher, however we did still manage a good number of fish, just nothing like we should be for this time of year. The rivers are full of fish but they are just not in the correct mood with the given conditions.
Now for the good news! Water temperatures are still cool and the weather man is calling for a few days of rain next week. Its actually raining as I'm writing this weeks report. I just looked and the gauges are showing an increased volume on all three rivers. The Bonaventure has a great run of fish this season. with excellent numbers of fish especially in our low water and holding pools. The Petite Cascapedia is much the same with good numbers of salmon in all the major pools. Water levels on the Grand Cascapedia are the lowest of our three rivers, the rain will give it a much needed boost. That being said, we're having a great run on the Grand this season.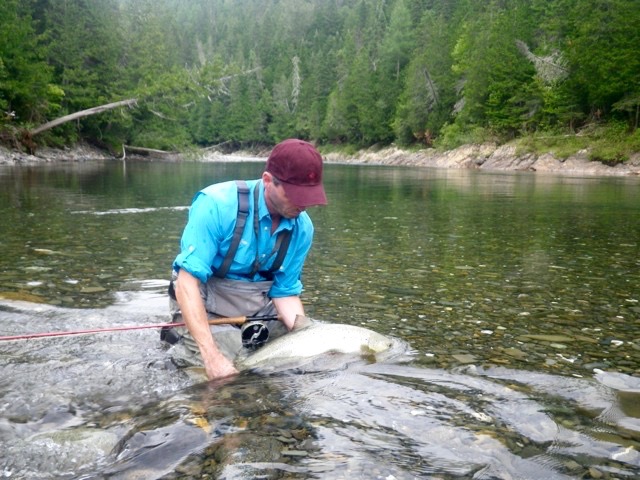 Salmon Lodge regular Peter Norby puts one back on the Bonaventure, Nice one Peter!
The Bonaventure is flowing at 10 Cubic meter per second which is about half of where it should be at this time of the season, normal for the end of July should be in the 20 range. The Petite Cascapedia is flowing at 9 cubic meters per second, the norm for this time of year is 15. The Grand Cascapedia is flowing at 17 cubic meters, normal for mid August is around 20, we're not too far off.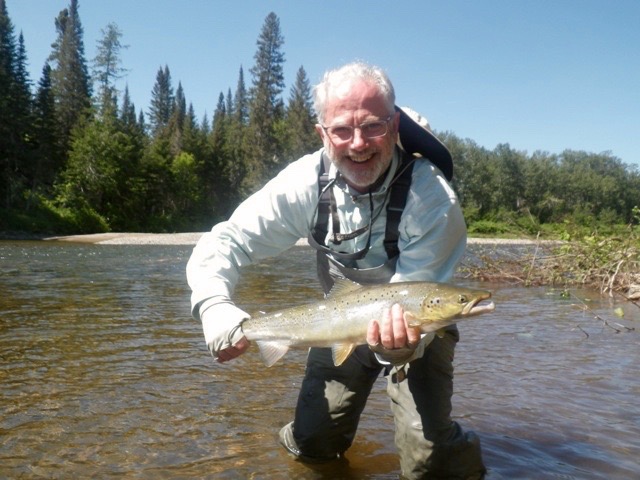 Soren Hjortgaard with yet another fine salmon from the Bonaventure, congratulations Soren, see you next year!
Lower water conditions call for smaller fly's and especially dry's. We're catching most of our fish on the surface with free floating dry's. The hot wet fly's this week have been the Stone Ghost, Blue Charm and Black. Drys, especially Dark Green, Dark Brown and Blue were doing the job.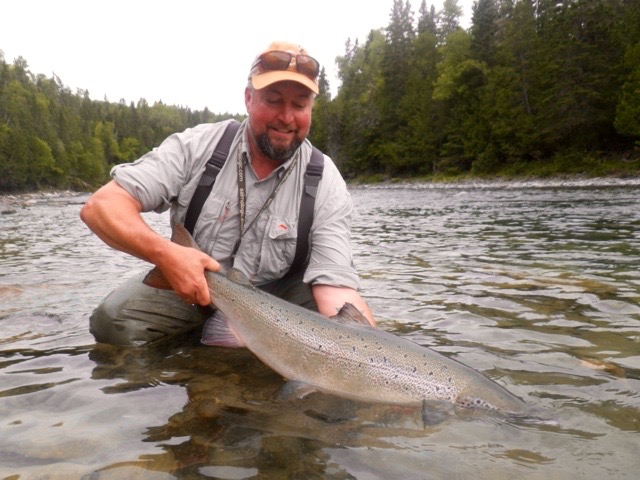 Nick Edwards is no stranger to Salmon Lodge of salmon fishing, nice one Nick!
I hope you enjoy our weekly little river and fishing reports, so keep checking once a week for all the updates.
If you would like to join us in 2018 Click Here to see the full trip details.
Until next week
Kind Regards Peter
PS it is just over 1 week before I will be there hosting trips so between now and then I will be doing lots of praying for rain and more water in the rivers for everyone. However whatever the conditions I am sure we will all have a great time.