Salmon Lodge Fishing & River Report July 17th to 23rd
This past week has been our best so far this season. Low water conditions since the beginning of the season have slowed down our run of fresh salmon. There are plenty of fish in the estuary just waiting for a bump in water levels. Dont get me wrong, we have good numbers of salmon in our rivers but a little rain would certainly help and give us a much needed boost. That being said, we did see a good run of fresh salmon over the past week.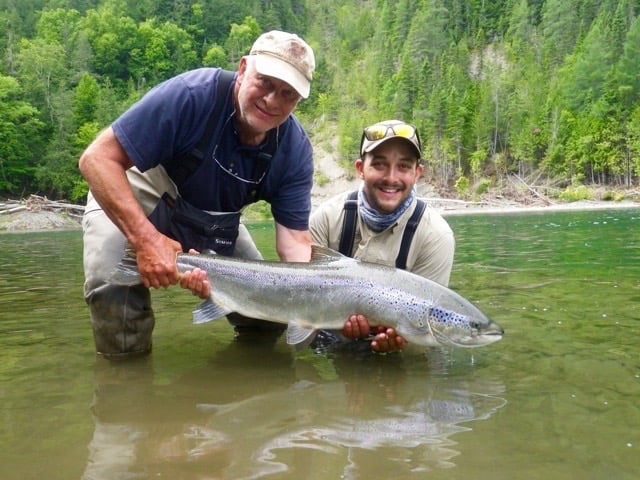 Long time Salmon Lodge guest, Claude (left) releases a fine salmon on the Petite Cascapedia with Alex Mallais, the newest addition to our fine team of guides!
Water temperatures are still relatively cool for this time of year and the high tides this weekend and early next week should bring us another nice run.
The Bonaventure is flowing at 16 Cubic meter per second which is not too far from normal for the end of July. Fishing on the Bony has been very good with good numbers of salmon and grilse in the book each day. The Petite Cascapedia is flowing at 13 cubic meters per second, for this time of the season is 20 is the norm. The Petite is low at the moment however with a nice number of salmon in the river and cool water temperatures, we're doing very well.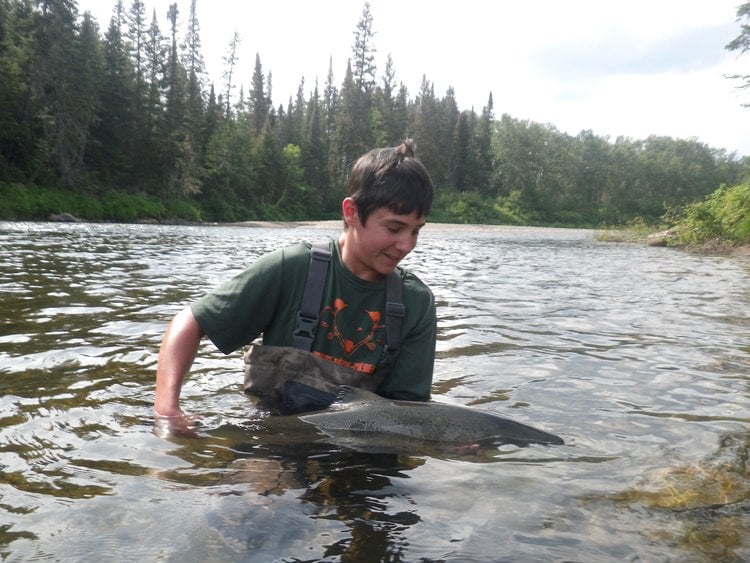 Jerome AKA "KING OF THE RIVER" This was Jerome's first time Atlantic salmon fishing, three days three salmon! way to go Jerome!
The Grand Cascapedia is flowing at 24 cubic meters, normal for the end of July. The Grand has been giving us some nice fish but it could use some rain. as well.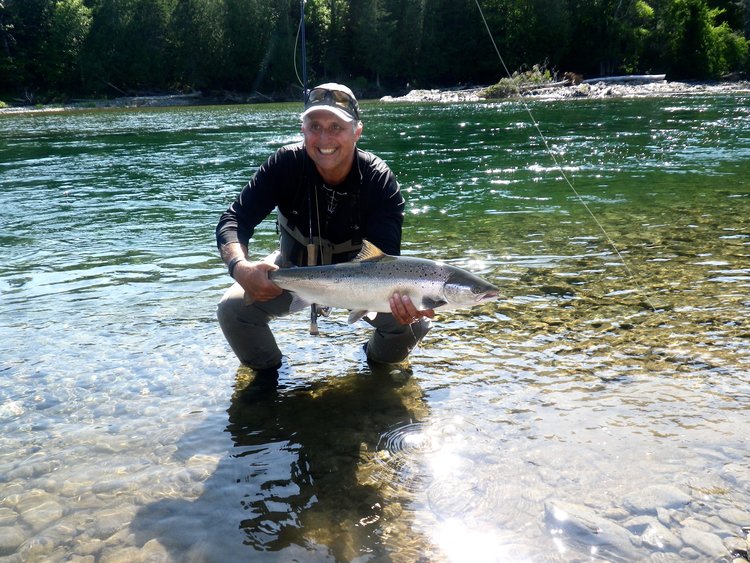 Long time Salmon Lodge guest Luce with nice one on the Petite, congratulations Luce!
The hot fly's for the week have been a mixture of dry's and small wets. Green, Blue and Dark Brown Bombers were responsible for most of the catches. In the wet fly depatment, the John Olin, Green Butt and Silver Rat did the job. The Out to Lunch and Green Spey also did well on the Grand and Petite. The sizes that are working best are number 8's 10's and 12's.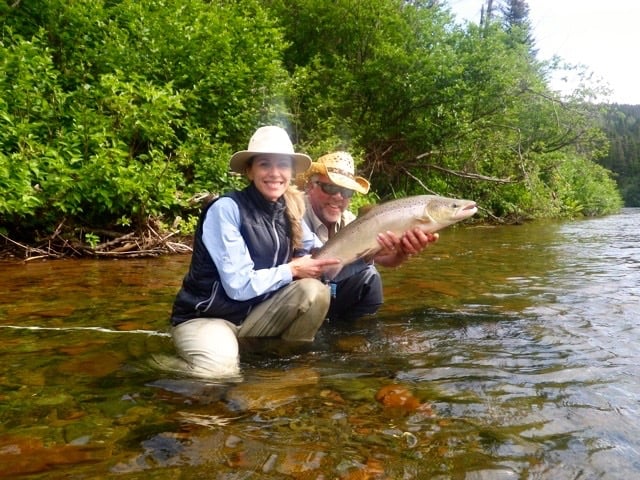 Patricia and Salmon Lodge Larry Dee, this was Patricia's first salmon, congratulations! well done.
I hope you enjoy our weekly little river and fishing reports, so keep checking once a week for all the updates.
If you would like to join us in 2018 Click Here to see the full trip details.
Until next week
Kind Regards Peter
PS it is ONLY 6 weeks before I will be there hosting trips and I can not wait, everything is looking like the fish are running late so it means there are going to be huge runs of fresh fish when we arrive. Lucky boys ?