Salmon Lodge Fishing & River Report June 26th to July 2nd
Last weeks fishing was controlled by the weather, some days were rainy and cool while others were warmer and sunny. The high tides associated with the full moon at the end of last week brought in a nice run of salmon. It seems the Bonaventure and Petite Cascapedia are about two weeks behind schedule this season but the Grand seem to right on schedule.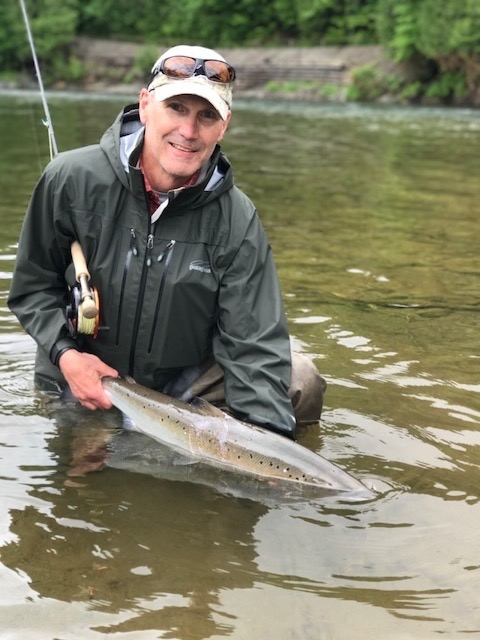 Bill knows how to catch them, Way to go Bill!
Our lower pools are in good condition and holding fresh salmon, water conditions on the Bonaventure and Petite all our rivers are a little lower than normal for this time of the year. We'd like to see a couple of rainy days to freshen thing up a bit.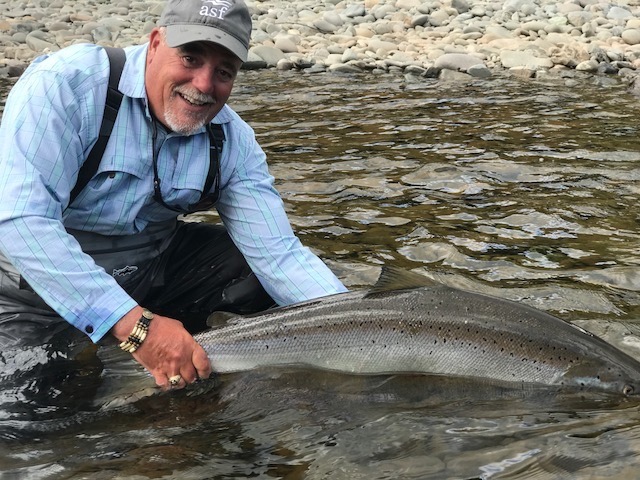 Jim releases this fine salmon back to the Grand Cascapedia, Nice one Jim!
"Glenn and his team of guides take such good care of all our customers most wish to return year after year"
The Bonaventure's flowing at 20 cubic meters per second with water temperatures in the 50 degree range. The Petite Cascapedia is flowing at 18 and fishing very well. The Petite received a nice run of fresh salmon during last weeks high tides . Most pools on the Petite are holding fish and water temperature are in the low 50's.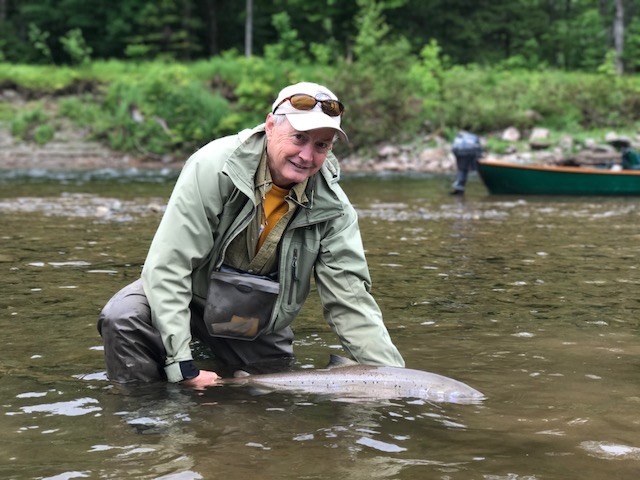 Andy with his first one of the season n the Grand, congratulations Andy!
Fishing on the Grand Cascapedia continues the been excellent, the flow rate is at 33, right where it should be at this time of year. Like the Bony and the Petite water temperatures are perfect on the Grand Cascapedia.
The ammunition of choice this week were bombers, especially the Green , Blue and Dark Brown patterns. Wets also did very well , the top wet fly's for the week were the John Olin, Silver Rat and Green Machine.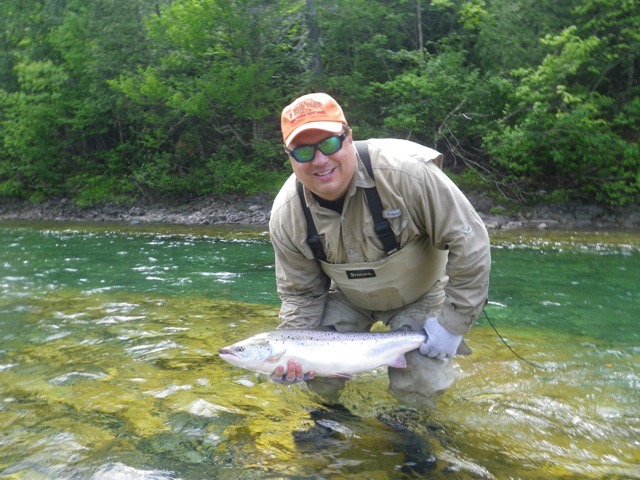 Thomas with his first Atlantic salmon, Congratulations Thomas!
I hope you enjoy our weekly little river and fishing reports, so keep checking once a week for all the updates.
If you would like to join us in 2018 Click Here to see the full trip details.
Until next week
Kind Regards Peter