Sorry for the slight delay in getting out the Steelhead reports, we have very limited access to the internet and as the guides are working hard fishing long hours it does not leave much time. However we are pleased to publish Santa Cruz Steelhead Fishing Report – Week 2
This week we had a group of four fisherman who arrived for the second week of April. Three of the customers were following their trip from Las Buitreras -Río Gallegos and a fourth customer spending the summer with us fishing around Argentina and Chile.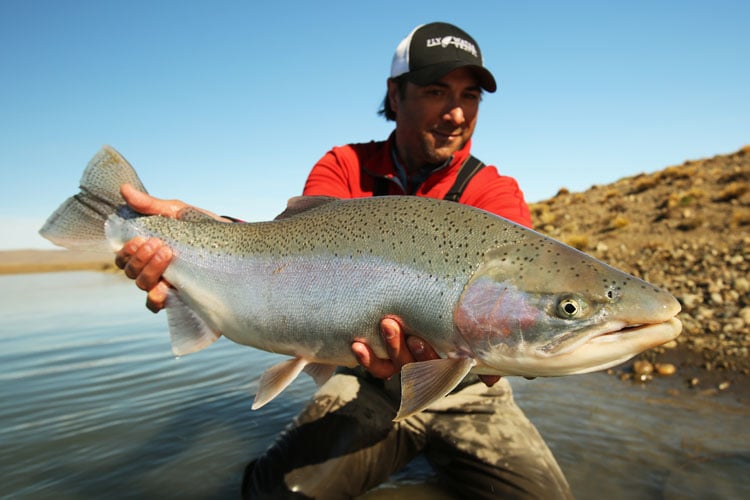 Lunch was waiting upon the arrival of the group, and after enjoying chef José's steaks it was time to tackle up.
The team set up rods from 7 to 9 weight, all with Skagit lines and started with tips of 15 ft of T-14, what suits most of the spots planned for the first half day.
Kevin and Tony started right away at our "warming-up" session with a fish each! The black intruder and the Orange Prawn caught a 10 lb and an 8 lb fresh Steelhead.
The first full day was also the most productive one. The team heading to the upper beat on the jet boat started at Power Plant, the other team went on the truck straight the the White Elephants, one major holding pool in the Santa Cruz river.
The Result, 7 fish hooked and 6 landed, with the biggest one, a 20 pounder that Kevin managed to land in the Power Plant run.
With its normal ups and downs, the river kept delivering some of its finest fish. Two days after that, another 7 fish were hooked among the four rods.
Last days of the week the activity decreased due to a sudden change of weather and drop of the barometric pressure, still with a few more Steelhead caught.
One amazing week for all of us at Santa Cruz, being able to share great moments with great people, our true pleasure Kevin, Kyle, Tony and Gary!!!
The results for the group were spot on considering that 3 of the anglers were only fishing a half week trip with only 1 angler doing the full week itinerary. Full results below.
Steelhead takes: 20
Steelhead hooked: 17
Steelhead landed: 12